Apple and the art of introducing innovative new products
22 February, 2011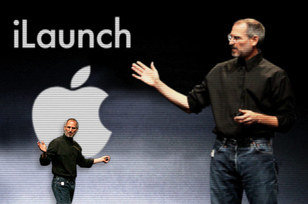 Apple has a long track record of introducing innovative new products, such as the iPod and the iPhone, to popular and critical acclaim. In a witty satire piece, The Onion suggests that the next step for Apple is to create the iLaunch, an innovative way of introducing innovative products:
---
"...Today, Apple is releasing a piece of

innovative new technology that will forever change the way innovative

new technology is released.
The iLaunch, as the new product is called, was then raised up from
below the stage, prompting the audience of technology journalists,
developers and self-professed "Apple fanatics" to burst into a
five-minute standing ovation.
"Get ready for the future of product introduction," said Jobs,
looking resplendent in a black turtleneck and faded jeans. "The iLaunch
will be able to make announcements from this, or any other stage,
making human participation in generating consumer awareness almost
entirely unnecessary."
The iLaunch runs Keynote-formatted presentations in high definition
through a built-in projector while displaying a 3D rotating image of
the product. Voice-recognition software, Apple's most advanced to date,
can recite a speech highlighting the features of the device while
injecting several clever digs at competitors. Should a product
demonstration experience a glitch or malfunction, the iLaunch boasts a
complex algorithm that can automatically produce humorous and
distracting quips.
Described in its patent filing as a "hype-generating mechanism with
fully integrated Mac compatibility," the iLaunch is powered by Intel
dual-core processors optimized to calculate a product's gravitas. Apple
claims the iLaunch can garner the same amount of press attention as a
major scientific discovery, high-court ruling, celebrity meltdown, or
natural disaster at 200 times the speed of a traditional media-fostered
launch."
In addition, the iLaunch automatically saves discussion of a significant product feature for the end of the presentation, to "surprise and
delight audiences," along the lines of a typical Steve Jobs presentation. Any iLaunch-powered presentation, of course, must come after months of rumors and whispered speculation that the product will be "huge" and "change everything."
[image: Steve Jobs and the iLaunch]
Antimicrobial resistance is growing worldwide, rendering many "work horse" medicines ineffective. Without intervention, drug-resistant pathogens could lead to millions of deaths by 2050. Thankfully, companies like Pfizer are taking action.
Image courtesy of Pfizer.
Antimicrobial-resistant pathogens are one of the largest threats to global health today.
As we get older, our immune systems age, increasing our risk of life threatening infections. Without reliable antibiotics, life expectancy could decline for the first time in modern history.
If antibiotics become ineffective, common infections could result in hospitalization or even death. Life-saving interventions like cancer treatments and organ transplantation would become more difficult, more often resulting in death. Routine procedures would become hard to perform.
Without intervention, resistant pathogens could result in 10 million annual deaths by 2050.
By taking a multi-faceted approach—inclusive of adherence to good stewardship, surveillance and responsible manufacturing practices, as well as an emphasis on prevention and treatment—companies like Pfizer are fighting to help curb the spread.
Sponsored
No, the Syrian civil war is not over. But it might be soon. Time for a recap
Strange Maps
The War in Syria has dropped off the radar, but it's not over (yet)
This 1-minute video shows how the fronts have moved – and stabilised – over the past 22 months
Watching this video may leave you both better informed, and slightly queasy: does war need a generic rock soundtrack?
Sarco assisted suicide pods come in three different styles, and allow you to die quickly and painlessly. They're even quite beautiful to look at.
The Sarco assisted suicide pod
Technology & Innovation
Death: it happens to everyone (except, apparently, Keanu Reeves). But while the impoverished and lower-class people of the world die in the same ol' ways—cancer, heart disease, and so forth—the upper classes can choose hip and cool new ways to die. Now, there's an assisted-suicide pod so chic and so stylin' that peeps (young people still say peeps, right?) are calling it the "Tesla" of death... it's called... the Sarco! 
Entrepreneur and author Andrew Horn shares his rules for becoming an assured conversationalist.
content.jwplatform.com
Videos
To avoid basing action on external validation, you need to find your "authentic voice" and use it.
Finding your voice requires asking the right questions of yourself.
There are 3-5 questions that you would generally want to ask people you are talking to.
Big think's weekly newsletter.
Get smarter faster from the comfort of your inbox.
See our newsletter privacy policy
here
Most Popular
Most Recent
Big think's weekly newsletter.
Get smarter faster from the comfort of your inbox.
See our newsletter privacy policy
here
© Copyright 2007-2018 & BIG THINK, BIG THINK EDGE,
SMARTER FASTER trademarks owned by The Big Think, Inc. All rights reserved.