Big ideas.
Once a week.
Subscribe to our weekly newsletter.
MOOCs are here. How should state universities respond?
A short essay argues that most institutions should immediately institute moratoriums on hiring new faculty and building new facilities, and that universities need to focus on clarifying their value proposition in a world of 'commodity [higher] education.'
28 January, 2013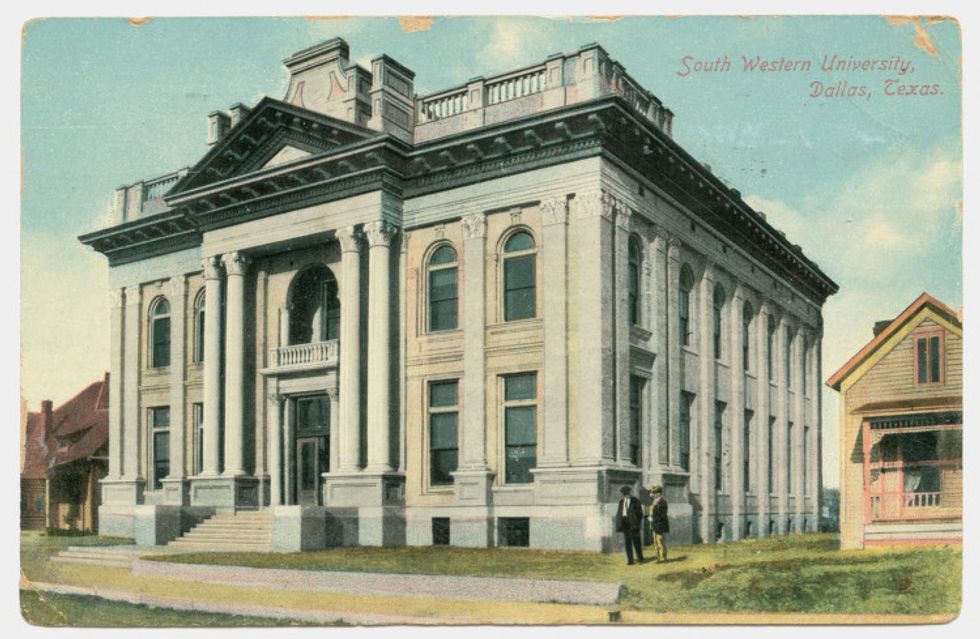 Here is a short essay on MOOCs that Drs. Steve Vardeman and Max Morris, Statistics faculty at Iowa State University, gave me permission to share. Their essential premises? That MOOCs are going to rock state (and other) universities' worlds, that most institutions should immediately institute moratoriums on hiring new faculty and building new facilities, and that universities need to focus on clarifying their value proposition in a world of 'commodity [higher] education.'
---
The full essay is below. What do you think? 
--- 
The Inevitable Coming Impact of Online Education on State Universities and Rational Response to What is Coming, Stephen B. Vardeman and Max D. Morris
The recent appearance and publicity of organizations created to provide "massively open online courses" (MOOCs) is a truly revolutionary development in higher education. The free-for-anyone web-based courses offered by professors at select universities, and produced by Coursera, EdEX, and Udacity, were initially offered without traditional college credit. But this is already changing; participating universities are already offering credit for courses delivered through these outlets, at prices (split between the university and the MOOC provider) well below standard tuition levels. It seems clear that in relatively short order, there will be MOOC versions of many of the large-enrollment freshman- and sophomore-level courses taught at most major universities, and that students will be able to acquire transferable credits for these courses at the accredited schools for substantially less money than the tuition now charged for similar on-campus courses. In 21st century America, where many new college students reach graduation only by acquiring a mountain of personal debt, this can be regarded as welcome news. But for the nation's educational institutions, the changes (which we believe will unfold very quickly) will present massive challenges.
In the following, we outline what we see as the "realities" and "consequences" of this revolution, and "options" that should be considered now for university administrators and faculty. Our particular perspective is in the context of the generic "Well Respected State University" (WRSU), which represents an enormous proportion of the traditional American college system.
Realities
The coming impact of MOOCs is begin made possible by a number of factors. First among these is clearly the technical capability, via the evolving internet, to physically produce courses that can be viewed at little or no expense by a huge proportion of the world's population. But there are other factors involved as well, including the public perception of the nature and value of higher education, and economic forces. In particular,
The American public now views most of "higher" education (extending through masters level) as a "commodity," something thought of primarily in business terms, that will be sold primarily on the basis of price and convenience, subject to meeting of a minimum standard of quality (for the given species of product). University administrators have generally adopted this viewpoint as well, often using terms such as "customer," "stake holder," and "marketing" to describe how the school relates to students, their parents, and others.
Technology is now enabling mass production and mass distribution of increasingly low cost coursework of acceptable (and increasing) quality. The organizations that produce MOOCs are well-funded and have selectively associated themselves with universities that have the capability of meeting any "quality" challenge that could arise. 
The economics of commodity education (as with all other commodities) will always be driven by competition toward increasing efficiency, lower cost, and improved quality. The innovation of combining high-quality on-line education with traditional college credit at a reduced cost can be compared to the innovation of the Model T Ford. Just as mechanization forever changed agriculture and mass production forever changed the making of hard goods, these innovations will change commodity education forever.
Specialty/niche markets can exist where "hand crafting" with relatively high "profit" margins carries on, while commodity prices decline drastically. Highly respected liberal arts colleges will continue to attract the small minority of students for whom the element of personal involvement is important … and who can afford to pay the required fees. The majority of state universities, however, will not be able to continue operating as they have in the past.
To be absolutely clear, in almost every case, WRSU is not positioned to be at all successful competing for commodity sales. The well-funded start-ups and consortia already have huge professional production staffs working with the best academic institutions on delivering very carefully made courses. In contrast, most university "Distance Ed" programs could be carried out as effectively by arming every faculty member with a tablet PC and capture software. Existing (or even improved) on-line courses, produced by most educational institutions, offered at present rates of tuition, cannot hope to compete with the coming alternatives. And there will be no incentive for any of the current MOOC providers to affiliate with more schools than are really needed to support the new system. The inevitable fate of most state universities is that more and more of their future graduates will be taking (and paying for) fewer and fewer of their courses at their alma mater.
Consequences
The realities described above carry with them consequences which will constitute a massive change in the environment in which WRSU must operate. Our belief is that these will evolve more quickly than most people expect, but whether the time-frame is 1 year, 2 years, or 5 years, these consequences are very predictable:
For most state universities, tuition income will drop precipitously, as students do more and more of their courses at their kitchen tables. In addition, the state revenue reductions of the last few decades will surely continue, especially as on-campus enrollments drop and legislators are even more tempted to spend public money elsewhere. Together, these two trends will force dramatic decreases in funding available to state universities. Except at the very best research institutions (and despite the self-images that may exist on campus, very few WRSU's can claim to be these exceptions), funded research cannot begin to cover these losses.
It will be increasingly hard to justify the expense required to maintain the faculty and physical plants of most state universities. In the worst case, draconian measures will be necessary to reduce faculty head counts, some institutions will simply close down, and university assets, no longer needed to physically educate so many on-campus students, will be sold. In general, pressure on faculty and departments will increase dramatically as the issue becomes one of institutional survival.
Especially for large departments that have, in the past, justified faculty lines with large-enrollment service courses, there will be increased pressure to justify their relatively large departmental budgets. 
Options
As outlined above, the rapidly changing environment of higher education will impose severe constraints on most public universities. However, there are choices that can be made. While many of them will be unpleasant (at least in the minds of those invested in the traditional system of higher education), they should be addressed by WRSU administrators and faculty now, because delay will only reduce the number of alternatives available. First of all, current strategic plans, based primarily on pre-MOOC logic, should be immediately reviewed, and much in them modified. In particular:
For most state universities, a hiring freeze should be seriously considered immediately. Even if enrollments have seen recent increases, the evidence that this cannot continue is overwhelming.
For most state universities, serious consideration should be given to radically changed building plans immediately. In place of big lecture halls, testing centers should be built. Physical inefficiencies should be addressed, and the overall strategy of physical plant development should be reoriented toward the idea that less, rather than more, facilities will be needed.
But simple reduction without a strategy for what comes next is not sufficient. WRSU will need to develop a clear value proposition, and put full energy into delivering it:
Institutions and departments must immediately face up to the value proposition required in commodity education. Most state institutions cannot participate in the MOOC movement and do not have the capability to justify themselves by shifting from "education" to "research." The question that must be answered by WRSU is: What do we have, or can we quickly develop, that is of real value and can be delivered at a price the new market will bear and will support us going forward? And the first step in answering this question must be an honest reflection on the "ground truth" of the institution; these decisions cannot be made with a "Lake Woebegone" mentality that insists on an "above average" self-image.
Each institution will need to come to terms with what its role can be in commodity education. In nearly all cases, it will at best be a user of MOOCs, NOT a provider. One of its major roles will be in offering the kind of assistance that can only be provided personally (e.g. tutoring), and testing/providing credit for what is learned from externally provided course material. It is likely that courses that contain hands-on experience in laboratory facilities (e.g. chemistry), require one-on-one interaction (e.g. music), or rely on group experiences (e.g. engineering design) will be difficult to adapt to the MOOC model – How can WRSU make the most of its ability to continue this kind of education? Specific strategies will vary by institution, but they will all require huge changes.
All WRSU units, both administrative and academic, need to immediately focus on efficiency and activities that deliver unique value to the institution and students. Administrators must become much more responsive to the new, real challenges that face their institutions, focus on what roles their institutions can realistically play, and become much more willing to make well-reasoned hard choices concerning change. Faculty must understand that former cultures of "entitlement" cannot continue, that the concept of "academic freedom" is likely to be reshaped to focus more on the needs of the institution than the individual faculty member, and that these challenges will require substantial sacrifices from everyone. 
Almost inevitably, the advent of large-enrollment, on-line college courses will put many colleges and universities out of business, and dramatically reduce the size of many others. In this new environment, there may also be opportunities for some educational institutions to offer new and valuable components to college education (even if much-reduced in scale relative to plans they have made in the past). But this will not happen without serious and realistic thought and planning – of a qualitatively different nature than has ever been needed before -- by administrators and faculty.
Image credit: South Western (sic) University, Dallas, Texas
Inventions with revolutionary potential made by a mysterious aerospace engineer for the U.S. Navy come to light.
Credit: Getty Images
Surprising Science
U.S. Navy holds patents for enigmatic inventions by aerospace engineer Dr. Salvatore Pais.
Pais came up with technology that can "engineer" reality, devising an ultrafast craft, a fusion reactor, and more.
While mostly theoretical at this point, the inventions could transform energy, space, and military sectors.
The U.S. Navy controls patents for some futuristic and outlandish technologies, some of which, dubbed "the UFO patents," came to light recently. Of particular note are inventions by the somewhat mysterious Dr. Salvatore Cezar Pais, whose tech claims to be able to "engineer reality." His slate of highly-ambitious, borderline sci-fi designs meant for use by the U.S. government range from gravitational wave generators and compact fusion reactors to next-gen hybrid aerospace-underwater crafts with revolutionary propulsion systems, and beyond.
Of course, the existence of patents does not mean these technologies have actually been created, but there is evidence that some demonstrations of operability have been successfully carried out. As investigated and reported by The War Zone, a possible reason why some of the patents may have been taken on by the Navy is that the Chinese military may also be developing similar advanced gadgets.
Among Dr. Pais's patents are designs, approved in 2018, for an aerospace-underwater craft of incredible speed and maneuverability. This cone-shaped vehicle can potentially fly just as well anywhere it may be, whether air, water or space, without leaving any heat signatures. It can achieve this by creating a quantum vacuum around itself with a very dense polarized energy field. This vacuum would allow it to repel any molecule the craft comes in contact with, no matter the medium. Manipulating "quantum field fluctuations in the local vacuum energy state," would help reduce the craft's inertia. The polarized vacuum would dramatically decrease any elemental resistance and lead to "extreme speeds," claims the paper.
Not only that, if the vacuum-creating technology can be engineered, we'd also be able to "engineer the fabric of our reality at the most fundamental level," states the patent. This would lead to major advancements in aerospace propulsion and generating power. Not to mention other reality-changing outcomes that come to mind.
Among Pais's other patents are inventions that stem from similar thinking, outlining pieces of technology necessary to make his creations come to fruition. His paper presented in 2019, titled "Room Temperature Superconducting System for Use on a Hybrid Aerospace Undersea Craft," proposes a system that can achieve superconductivity at room temperatures. This would become "a highly disruptive technology, capable of a total paradigm change in Science and Technology," conveys Pais.
High frequency gravitational wave generator.
Credit: Dr. Salvatore Pais
Another invention devised by Pais is an electromagnetic field generator that could generate "an impenetrable defensive shield to sea and land as well as space-based military and civilian assets." This shield could protect from threats like anti-ship ballistic missiles, cruise missiles that evade radar, coronal mass ejections, military satellites, and even asteroids.
Dr. Pais's ideas center around the phenomenon he dubbed "The Pais Effect". He referred to it in his writings as the "controlled motion of electrically charged matter (from solid to plasma) via accelerated spin and/or accelerated vibration under rapid (yet smooth) acceleration-deceleration-acceleration transients." In less jargon-heavy terms, Pais claims to have figured out how to spin electromagnetic fields in order to contain a fusion reaction – an accomplishment that would lead to a tremendous change in power consumption and an abundance of energy.
According to his bio in a recently published paper on a new Plasma Compression Fusion Device, which could transform energy production, Dr. Pais is a mechanical and aerospace engineer working at the Naval Air Warfare Center Aircraft Division (NAWCAD), which is headquartered in Patuxent River, Maryland. Holding a Ph.D. from Case Western Reserve University in Cleveland, Ohio, Pais was a NASA Research Fellow and worked with Northrop Grumman Aerospace Systems. His current Department of Defense work involves his "advanced knowledge of theory, analysis, and modern experimental and computational methods in aerodynamics, along with an understanding of air-vehicle and missile design, especially in the domain of hypersonic power plant and vehicle design." He also has expert knowledge of electrooptics, emerging quantum technologies (laser power generation in particular), high-energy electromagnetic field generation, and the "breakthrough field of room temperature superconductivity, as related to advanced field propulsion."
Suffice it to say, with such a list of research credentials that would make Nikola Tesla proud, Dr. Pais seems well-positioned to carry out groundbreaking work.
A craft using an inertial mass reduction device.
Credit: Salvatore Pais
The patents won't necessarily lead to these technologies ever seeing the light of day. The research has its share of detractors and nonbelievers among other scientists, who think the amount of energy required for the fields described by Pais and his ideas on electromagnetic propulsions are well beyond the scope of current tech and are nearly impossible. Yet investigators at The War Zone found comments from Navy officials that indicate the inventions are being looked at seriously enough, and some tests are taking place.
If you'd like to read through Pais's patents yourself, check them out here.
Laser Augmented Turbojet Propulsion System
Credit: Dr. Salvatore Pais
China has reached a new record for nuclear fusion at 120 million degrees Celsius.
Technology & Innovation
This article was originally published on our sister site, Freethink.
China wants to build a mini-star on Earth and house it in a reactor. Many teams across the globe have this same bold goal --- which would create unlimited clean energy via nuclear fusion.
But according to Chinese state media, New Atlas reports, the team at the Experimental Advanced Superconducting Tokamak (EAST) has set a new world record: temperatures of 120 million degrees Celsius for 101 seconds.
Yeah, that's hot. So what? Nuclear fusion reactions require an insane amount of heat and pressure --- a temperature environment similar to the sun, which is approximately 150 million degrees C.
If scientists can essentially build a sun on Earth, they can create endless energy by mimicking how the sun does it.
If scientists can essentially build a sun on Earth, they can create endless energy by mimicking how the sun does it. In nuclear fusion, the extreme heat and pressure create a plasma. Then, within that plasma, two or more hydrogen nuclei crash together, merge into a heavier atom, and release a ton of energy in the process.
Nuclear fusion milestones: The team at EAST built a giant metal torus (similar in shape to a giant donut) with a series of magnetic coils. The coils hold hot plasma where the reactions occur. They've reached many milestones along the way.
According to New Atlas, in 2016, the scientists at EAST could heat hydrogen plasma to roughly 50 million degrees C for 102 seconds. Two years later, they reached 100 million degrees for 10 seconds.
The temperatures are impressive, but the short reaction times, and lack of pressure are another obstacle. Fusion is simple for the sun, because stars are massive and gravity provides even pressure all over the surface. The pressure squeezes hydrogen gas in the sun's core so immensely that several nuclei combine to form one atom, releasing energy.
But on Earth, we have to supply all of the pressure to keep the reaction going, and it has to be perfectly even. It's hard to do this for any length of time, and it uses a ton of energy. So the reactions usually fizzle out in minutes or seconds.
Still, the latest record of 120 million degrees and 101 seconds is one more step toward sustaining longer and hotter reactions.
Why does this matter? No one denies that humankind needs a clean, unlimited source of energy.
We all recognize that oil and gas are limited resources. But even wind and solar power --- renewable energies --- are fundamentally limited. They are dependent upon a breezy day or a cloudless sky, which we can't always count on.
Nuclear fusion is clean, safe, and environmentally sustainable --- its fuel is a nearly limitless resource since it is simply hydrogen (which can be easily made from water).
With each new milestone, we are creeping closer and closer to a breakthrough for unlimited, clean energy.
The symbol for love is the heart, but the brain may be more accurate.
Videos
How love makes us feel can only be defined on an individual basis, but what it does to the body, specifically the brain, is now less abstract thanks to science.
One of the problems with early-stage attraction, according to anthropologist Helen Fisher, is that it activates parts of the brain that are linked to drive, craving, obsession, and motivation, while other regions that deal with decision-making shut down.
Dr. Fisher, professor Ted Fischer, and psychiatrist Gail Saltz explain the different types of love, explore the neuroscience of love and attraction, and share tips for sustaining relationships that are healthy and mutually beneficial.
Sex & Relationships
A new study suggests that reports of the impending infertility of the human male are greatly exaggerated.
Scroll down to load more…