Scott McLeod
Scott McLeod, J.D., Ph.D., is an Associate Professor of Educational Leadership at the University of Kentucky. He also is the Founding Director of the UCEA Center for the Advanced Study of Technology Leadership in Education (CASTLE), the nation's only academic center dedicated to the technology needs of school administrators, and was a co-creator of the wildly popular video series, Did You Know? (Shift Happens). He has received numerous national awards for his technology leadership work, including recognitions from the cable industry, Phi Delta Kappa, and the National School Boards Association. In Spring 2011 he was a Visiting Canterbury Fellow at the University of Canterbury in New Zealand. Dr. McLeod blogs regularly about technology leadership issues at Dangerously Irrelevant and Mind Dump, and occasionally at The Huffington Post. He can be reached at scottmcleod.net.
16 February, 2011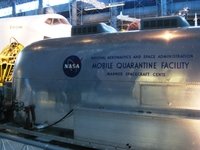 [cross-posted at the TechLearning blog]
---
\n\n
This\nis a picture of the Mobile Quarantine Facility built by NASA for astronauts returning from\nthe Moon. It's basically a modified Airstream\ntrailer. The idea was to isolate the astronauts until it was determined that\nthey didn't have 'moon germs.' Neil Armstrong, Buzz Aldrin, and Michael\nCollins stayed in this quarantine trailer for 65 hours after their return to\nEarth (Welcome back, heroes. Get in this trailer!).
\n
Of course my pathetic brain saw this and immediately started thinking about\neducational technology. How sad is that?!
\n
This MQF (gotta love those government acronyms!) got me thinking about\nwhether we technology early adopters need a self-imposed moratorium on talking\nabout new technology tools, at least in certain settings. One of the most common\nrefrains heard from teachers or administrators who listen to us talk or blog\nabout all of these new cool tools is "Why do I care about this as an\neducator?" In our eagerness to share our nearly-palpable glee and\nexcitement, we often struggle to adequately answer the "So what?" question in\nways that are substantive and meaningful to the average teacher or\nadministrator.
\n
So when a new tool comes out – Twitter,\nDiigo, whatever – maybe we should hold off\nfor a bit before we start blabbing to educators who don't live as close to the\ned tech edge as we do. Maybe we should voluntarily follow a process that looks\nsomething like this:
\n\n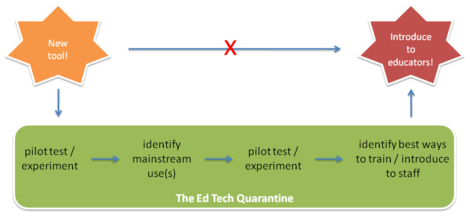 \n\n\n
\n\n
I believe that an emphasis on pilot testing, experimentation, and\nidentification of both mainstream educator use(s) and optimal training\nmechanisms before introduction to other educators\noften would help us quite a bit. Instead of turning off the very educators that\nwe want using many of these tools, some time spent in the ed tech\nquarantine might go a long way toward facilitating our overall\ngoal of greater technology adoption in K-12 classrooms.
\n
I don't know if I've gotten the quarantine process exactly right. And of\ncourse many of you already do some version of this. But I think this is a\nconcept that generally should be kept closer to the forefront of our brains.\nWhat do you think?
\n
The ability to speak clearly, succinctly, and powerfully is easier than you think
Former U.S. President Barack Obama speaks during a Democratic Congressional Campaign Committee rally at the Anaheim Convention Center on September 8, 2018 in Anaheim, California. (Photo by Barbara Davidson/Getty Images)
Personal Growth
The ability to communicate effectively can make or break a person's assessment of your intelligence, competence, and authenticity.
Researchers discover a link between nonverbal synchronization and relationship success.
Pixabay
Sex & Relationships
Scientists say coordinating movements leads to increased intimacy and sexual desire in a couple.
The improved rapport and empathy was also observed in people who didn't know each other.
Non-verbal clues are very important in the development stages of a relationship.
What defines a dark horse? The all-important decision to pursue fulfillment and excellence.
Big Think Books
When we first set the Dark Horse Project in motion, fulfillment was the last thing on our minds. We were hoping to uncover specific and possibly idiosyncratic study methods, learning techniques, and rehearsal regimes that dark horses used to attain excellence. Our training made us resistant to ambiguous variables that were difficult to quantify, and personal fulfillment seemed downright foggy. But our training also taught us never to ignore the evidence, no matter how much it violated our expectations.
Big think's weekly newsletter.
Get smarter faster from the comfort of your inbox.
See our newsletter privacy policy
here
Most Popular
Most Recent
Big think's weekly newsletter.
Get smarter faster from the comfort of your inbox.
See our newsletter privacy policy
here
© Copyright 2007-2018 & BIG THINK, BIG THINK EDGE,
SMARTER FASTER trademarks owned by The Big Think, Inc. All rights reserved.