A Chinese Riddler Keeps Americans Guessing
Thorsten J. Pattberg
Dr. Thorsten J. Pattberg (裴德思 Pei Desi) is a German writer, linguist, and cultural critic.
\r\n
He attended Edinburgh University, Fudan University, Tokyo University, and Harvard University, and earned his doctorate degree from The Institute of World Literature at Peking University. He studied under the guiding stars of Ji Xianlin, Gu Zhengkun, and Tu Weiming, whom he considers his spiritual masters.

Dr. Pattberg is currently a Visiting Fellow at the Institute for Advanced Studies on Asia, University of Tokyo; and a former Research Fellow at the Institute for Advanced Humanistic Studies, Peking University. He is the author of four monographs 'The East-West dichotomy,' 'Shengren,' 'Holy Confucius,' and 'Inside Peking University,' and some of his representative articles are 'Language hegemony – It's shengren, stupid!,' 'Long into the West's dragon business,' 'China: Lost in Translation,' and 'The end of translation.'

27 June, 2014
Chen Guangbiao - The Mysterious Entrepreneur Who Vowed to Buy The New York Times and to Dine America's Homeless
---
BEIJING/NEW YORK – The Chinese millionaire in green has struck again in New York City, the Washington Post reports, dishing out $300 dinner coupons to America's homeless. He is a self-made superstar from the trash business (aka Renewable Resources Ltd.) who discovered philanthropy; a marketing genius, the "most interesting man in China," easily, some say, the biggest Sino-US publicity stunt of our time. His Tencent Weibo account features an impressive 6,411,952 followers (as of today), while the master in return is following -none. The financial elites love this guy.
His ultimate aim, to be true, is everyone's guesswork. Is it attention seeking, is it profitable, is it art? His choosing, ever so often, a comical toxic-green suit (which apparently evokes little or no association with nature or the environment, nor do those green 'environment-friendly' bikes or soda green cans –see pictures), walking on cars while singing cheesy ballads. He even threatened to buy (backed by an anonymous consortium of benefactors) America's flagship paper, The New York Times,in order to turn it into a Chinese syndicate -just for the fun of it!
His boldness and the moral creativity combined with the vanity of a peacock (and too many graphic novels? Robin Hood? The Green Lantern?) never failed to attract Anglophone media attention, with journalists as well as social critics asking themselves: Is this for real or just brilliant stand-up comedy? He certainly comes across as fairly obnoxious with this group photo fetish -Him, He and his Money!
Oh and, yeah, he once smashed a Mercedes Benz with a gigantic remote-controlled jackhammer (see picture below). He refers to himself as a 'demolition expert' and... HOLY COW...have you seen his BUSINESS CARD?!!!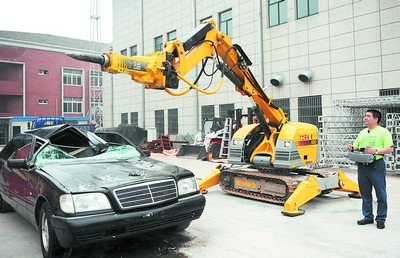 "I may be a maverick, but it doesn't mean I like playing tricks. I want to purchase the New York Times."
In a recent bid for diplomatic controversy, the Washington Post continues its report, Chen promised to feed at least 1,000 homeless Americans and provide them with 300 dollars in cash. (He later seemed to have retracted from the part with the cash hand-outs, it appears.)
Some critics say that his stellar rags-to-riches story from a wretched, starving farm family to one of China's richest entrepreneurs is partly to blame for his exegesis of things –watching his risky, hyper-active behavior and over-the top celebrity cult surrounding an otherwise deeply mysterious and complex personality haunted by a tremendous urge to give back, combined with a great pull of comic stardom, and driven by an even bigger humanitarian heart.
Image credits: The Riddler/Wikia.com; Chen Guangbiao/Reuters
To keep up to date with Dragons and Pandas you can also follow me on Twitter: @worldethics; my website: East-West-Dichotomy.com; or my other blog: You've Heard About It.
A federal judge ruled that the Trump administration likely violated the reporter's Fifth Amendment rights when it stripped his press credentials earlier this month.
WASHINGTON, DC - NOVEMBER 16: CNN chief White House correspondent Jim Acosta (R) returns to the White House with CNN Washington bureau chief Sam Feist after Federal judge Timothy J. Kelly ordered the White House to reinstate his press pass November 16, 2018 in Washington, DC. CNN has filed a lawsuit against the White House after Acosta's press pass was revoked after a dispute involving a news conference last week. (Photo by Alex Wong/Getty Images)
Politics & Current Affairs
Acosta will be allowed to return to the White House on Friday.
The judge described the ruling as narrow, and didn't rule one way or the other on violations of the First Amendment.
The case is still open, and the administration may choose to appeal the ruling.
Protected animals are feared to be headed for the black market.
(VL.ru)
Politics & Current Affairs
Russian news network discovers 101 black-market whales.
Orcas and belugas are seen crammed into tiny pens.
Marine parks continue to create a high-price demand for illegal captures.
New research identifies an unexpected source for some of earth's water.
Surprising Science
A lot of Earth's water is asteroidal in origin, but some of it may come from dissolved solar nebula gas.
Our planet hides majority of its water inside: two oceans in the mantle and 4–5 in the core.
New reason to suspect that water is abundant throughout the universe.
Big think's weekly newsletter.
Get smarter faster from the comfort of your inbox.
See our newsletter privacy policy
here
Most Popular
Most Recent
Big think's weekly newsletter.
Get smarter faster from the comfort of your inbox.
See our newsletter privacy policy
here
© Copyright 2007-2018 & BIG THINK, BIG THINK EDGE,
SMARTER FASTER trademarks owned by The Big Think, Inc. All rights reserved.