A Chinese Riddler Keeps Americans Guessing
27 June, 2014
Chen Guangbiao - The Mysterious Entrepreneur Who Vowed to Buy The New York Times and to Dine America's Homeless
---
BEIJING/NEW YORK – The Chinese millionaire in green has struck again in New York City, the Washington Post reports, dishing out $300 dinner coupons to America's homeless. He is a self-made superstar from the trash business (aka Renewable Resources Ltd.) who discovered philanthropy; a marketing genius, the "most interesting man in China," easily, some say, the biggest Sino-US publicity stunt of our time. His Tencent Weibo account features an impressive 6,411,952 followers (as of today), while the master in return is following -none. The financial elites love this guy.
His ultimate aim, to be true, is everyone's guesswork. Is it attention seeking, is it profitable, is it art? His choosing, ever so often, a comical toxic-green suit (which apparently evokes little or no association with nature or the environment, nor do those green 'environment-friendly' bikes or soda green cans –see pictures), walking on cars while singing cheesy ballads. He even threatened to buy (backed by an anonymous consortium of benefactors) America's flagship paper, The New York Times,in order to turn it into a Chinese syndicate -just for the fun of it!
His boldness and the moral creativity combined with the vanity of a peacock (and too many graphic novels? Robin Hood? The Green Lantern?) never failed to attract Anglophone media attention, with journalists as well as social critics asking themselves: Is this for real or just brilliant stand-up comedy? He certainly comes across as fairly obnoxious with this group photo fetish -Him, He and his Money!
Oh and, yeah, he once smashed a Mercedes Benz with a gigantic remote-controlled jackhammer (see picture below). He refers to himself as a 'demolition expert' and... HOLY COW...have you seen his BUSINESS CARD?!!!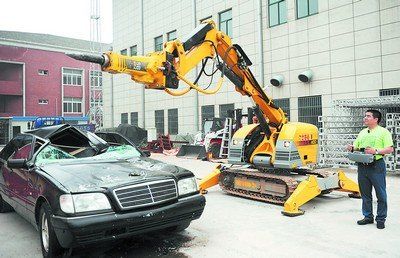 "I may be a maverick, but it doesn't mean I like playing tricks. I want to purchase the New York Times."
In a recent bid for diplomatic controversy, the Washington Post continues its report, Chen promised to feed at least 1,000 homeless Americans and provide them with 300 dollars in cash. (He later seemed to have retracted from the part with the cash hand-outs, it appears.)
Some critics say that his stellar rags-to-riches story from a wretched, starving farm family to one of China's richest entrepreneurs is partly to blame for his exegesis of things –watching his risky, hyper-active behavior and over-the top celebrity cult surrounding an otherwise deeply mysterious and complex personality haunted by a tremendous urge to give back, combined with a great pull of comic stardom, and driven by an even bigger humanitarian heart.
Image credits: The Riddler/Wikia.com; Chen Guangbiao/Reuters
To keep up to date with Dragons and Pandas you can also follow me on Twitter: @worldethics; my website: East-West-Dichotomy.com; or my other blog: You've Heard About It.
Upstreamism advocate Rishi Manchanda calls us to understand health not as a "personal responsibility" but a "common good."
Sponsored by Northwell Health
Upstreamism tasks health care professionals to combat unhealthy social and cultural influences that exist outside — or upstream — of medical facilities.
Patients from low-income neighborhoods are most at risk of negative health impacts.
Thankfully, health care professionals are not alone. Upstreamism is increasingly part of our cultural consciousness.
A plan to forgive almost a trillion dollars in debt would solve the student loan debt crisis, but can it work?
Photo credit: Drew Angerer / Getty Images
Politics & Current Affairs
Sen. Elizabeth Warren has just proposed a bold education reform plan that would forgive billions in student debt.
The plan would forgive the debt held by more than 30 million Americans.
The debt forgiveness program is one part of a larger program to make higher education more accessible.
A new method promises to capture an elusive dark world particle.
Surprising Science
Scientists working on the Large Hadron Collider (LHC) devised a method for trapping dark matter particles.
Dark matter is estimated to take up 26.8% of all matter in the Universe.
The researchers will be able to try their approach in 2021, when the LHC goes back online.
In most states, LGBTQ Americans have no legal protections against discrimination in the workplace.
(Photo by Andres Pantoja/SOPA Images/LightRocket via Getty Images)
Politics & Current Affairs
The Supreme Court will decide whether the Civil Rights Act of 1964 also applies to gay and transgender people.
The court, which currently has a probable conservative majority, will likely decide on the cases in 2020.
Only 21 states and the District of Columbia have passed laws effectively extending the Civil Rights of 1964 to gay and transgender people.
Big think's weekly newsletter.
Get smarter faster from the comfort of your inbox.
See our newsletter privacy policy
here
Most Popular
Most Recent
Big think's weekly newsletter.
Get smarter faster from the comfort of your inbox.
See our newsletter privacy policy
here
© Copyright 2007-2019 & BIG THINK, BIG THINK EDGE,
SMARTER FASTER trademarks owned by The Big Think, Inc. All rights reserved.