U.N. to Establish Protocols for When We Make Contact With Aliens
Michio Kaku
Michio Kaku is a futurist, popularizer of science, and theoretical physicist, as well as a bestselling author and the host of two radio programs. He is the co-founder of string field theory (a branch of string theory), and continues Einstein's search to unite the four fundamental forces of nature into one unified theory. He holds the Henry Semat Chair and Professorship in theoretical physics and a joint appointment at City College of New York and the Graduate Center of C.U.N.Y. He is also a visiting professor at the Institute for Advanced Study in Princeton and is a Fellow of the American Physical Society.
Kaku launched his Big Think blog, "Dr. Kaku's Universe," in March 2010.
27 September, 2010
The United Nations Office of Outer Space Affairs (UNOOSA) has announced that it will consider drafting protocols for what to do when we finally make contact with extra-terrestrial civilizations in space. What's prompting the UN to consider this possibility is the fact that astronomers are expected to announce, perhaps later this year or next year, that our satellites (such as Kepler and Corot) have identified earth-like planets in space. So far, almost 500 large Jupiter-sized planets have been discovered, but earth-like planets are much more difficult to identify.
---
The KEPLER SATELLITE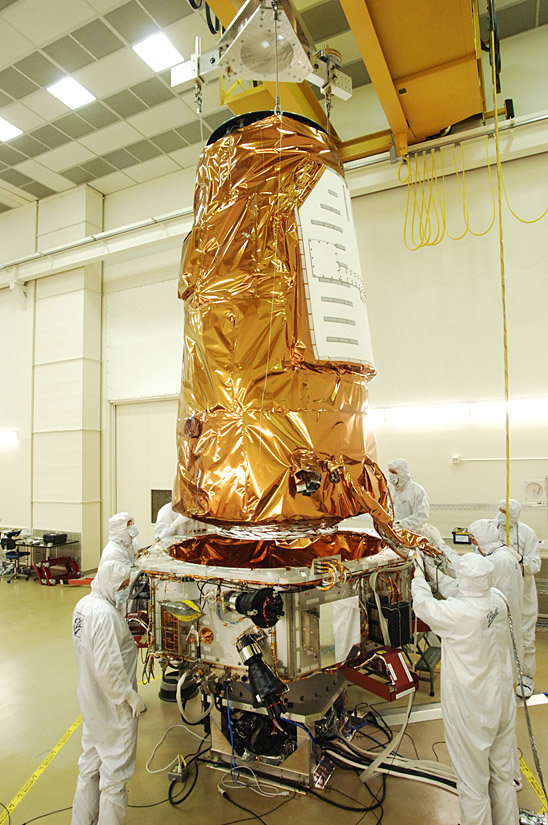 THE COROT SATELLITE
Personally, I think it is a bit premature to draft official protocols for such a historic event. However, at some point, such protocols should be drafted, if only so that the earth can give a unified, coherent response to such an event.
There are several problems facing such an attempt, however. If the SETI Project can eaves drop on messages from extra-terrestrial civilizations, then it will take many decades to centuries for us to return the message, because the aliens could be many light years away. So it would be a one-way conversation. Even a simple conversation would be impossible. All we can do is listen to their communications.
Second, most earth-like planets we find in space, even if they have oceans and life forms, will probably only have microbial life on them. So simply finding such planets is not enough. Advanced civilizations in space are probably very rare. Third, we should wait until we find out if the aliens are hostile or not. We should monitor them for years before actively trying to reach out to them.
The only way that a two-way dialog can take place with such aliens is if they actually visit us, e.g. land on the White House lawn. Then we can make direct contact with them. (But the problem here is that, if they can travel such vast distances to reach us from distant stars, then they have probably already done so, and have been observing usfor  years. So, even if we find evidence of earth-like planets, it does not guarantee that our protocols will mean anything.)
So, personally, I think it is prudent to draft such protocols. However, there is no guarantee that we will ever have to use them.
It's the first time the association hasn't hired a comedian in 16 years.
(Photo by Anna Webber/Getty Images for Vulture Festival)
Culture & Religion
The 2018 WHCA ended in controversy after comedian Michelle Wolf made jokes some considered to be offensive.
The WHCA apologized for Wolf's jokes, though some journalists and many comedians backed the comedian and decried arguments in favor of limiting the types of speech permitted at the event.
Ron Chernow, who penned a bestselling biography of Alexander Hamilton, will speak at next year's dinner.
Progressive America would be half as big, but twice as populated as its conservative twin.
Image: Dicken Schrader
Strange Maps
America's two political tribes have consolidated into 'red' and 'blue' nations, with seemingly irreconcilable differences.
Perhaps the best way to stop the infighting is to go for a divorce and give the two nations a country each
Based on the UN's partition plan for Israel/Palestine, this proposal provides territorial contiguity and sea access to both 'red' and 'blue' America
A study on flies may hold the key to future addiction treatments.
Scott Barbour/Getty Images
Mind & Brain
A new study suggests that drinking alcohol can affect how memories are stored away as good or bad.
This may have drastic implications for how addiction is caused and how people recall intoxication.
The findings may one day lead to a new form of treatment for those suffering from addiction.
Big think's weekly newsletter.
Get smarter faster from the comfort of your inbox.
See our newsletter privacy policy
here
Most Popular
Most Recent
Big think's weekly newsletter.
Get smarter faster from the comfort of your inbox.
See our newsletter privacy policy
here
© Copyright 2007-2018 & BIG THINK, BIG THINK EDGE,
SMARTER FASTER trademarks owned by The Big Think, Inc. All rights reserved.