U.N. to Establish Protocols for When We Make Contact With Aliens
27 September, 2010
The United Nations Office of Outer Space Affairs (UNOOSA) has announced that it will consider drafting protocols for what to do when we finally make contact with extra-terrestrial civilizations in space. What's prompting the UN to consider this possibility is the fact that astronomers are expected to announce, perhaps later this year or next year, that our satellites (such as Kepler and Corot) have identified earth-like planets in space. So far, almost 500 large Jupiter-sized planets have been discovered, but earth-like planets are much more difficult to identify.
---
The KEPLER SATELLITE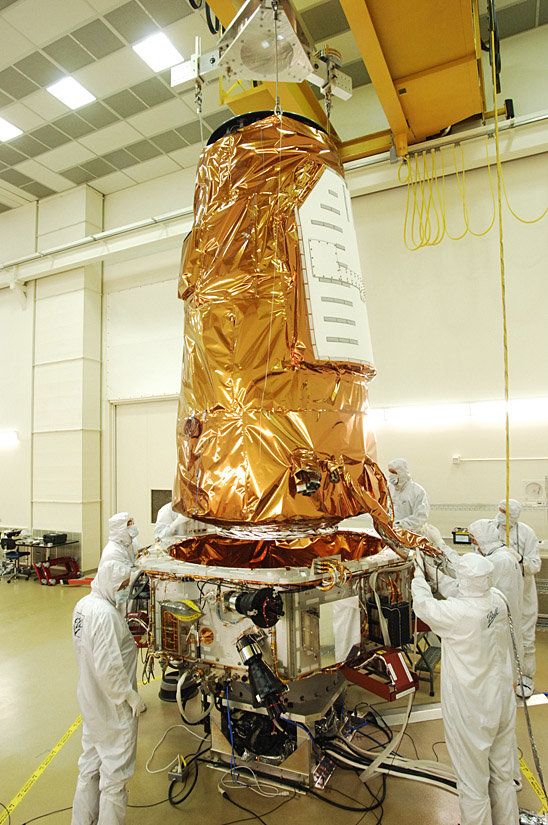 THE COROT SATELLITE
Personally, I think it is a bit premature to draft official protocols for such a historic event. However, at some point, such protocols should be drafted, if only so that the earth can give a unified, coherent response to such an event.
There are several problems facing such an attempt, however. If the SETI Project can eaves drop on messages from extra-terrestrial civilizations, then it will take many decades to centuries for us to return the message, because the aliens could be many light years away. So it would be a one-way conversation. Even a simple conversation would be impossible. All we can do is listen to their communications.
Second, most earth-like planets we find in space, even if they have oceans and life forms, will probably only have microbial life on them. So simply finding such planets is not enough. Advanced civilizations in space are probably very rare. Third, we should wait until we find out if the aliens are hostile or not. We should monitor them for years before actively trying to reach out to them.
The only way that a two-way dialog can take place with such aliens is if they actually visit us, e.g. land on the White House lawn. Then we can make direct contact with them. (But the problem here is that, if they can travel such vast distances to reach us from distant stars, then they have probably already done so, and have been observing usfor  years. So, even if we find evidence of earth-like planets, it does not guarantee that our protocols will mean anything.)
So, personally, I think it is prudent to draft such protocols. However, there is no guarantee that we will ever have to use them.
The Russian-built FEDOR was launched on a mission to help ISS astronauts.
Most people think human extinction would be bad. These people aren't philosophers.
Shutterstock
Politics & Current Affairs
A new opinion piece in The New York Times argues that humanity is so horrible to other forms of life that our extinction wouldn't be all that bad, morally speaking.
The author, Dr. Todd May, is a philosopher who is known for advising the writers of The Good Place.
The idea of human extinction is a big one, with lots of disagreement on its moral value.
Picking up where we left off a year ago, a conversation about the homeostatic imperative as it plays out in everything from bacteria to pharmaceutical companies—and how the marvelous apparatus of the human mind also gets us into all kinds of trouble.
Think Again Podcasts
"Prior to nervous systems: no mind, no consciousness, no intention in the full sense of the term. After nervous systems, gradually we ascend to this possibility of having to this possibility of having minds, having consciousness, and having reasoning that allows us to arrive at some of these very interesting decisions."

"We are fragile culturally and socially…but life is fragile to begin with. All that it takes is a little bit of bad luck in the management of those supports, and you're cooked…you can actually be cooked—with global warming!"