The Voyager Interstellar Golden Records & How They Represent Humanity (Part 1 of 2)
Michio Kaku
Michio Kaku is a futurist, popularizer of science, and theoretical physicist, as well as a bestselling author and the host of two radio programs. He is the co-founder of string field theory (a branch of string theory), and continues Einstein's search to unite the four fundamental forces of nature into one unified theory. He holds the Henry Semat Chair and Professorship in theoretical physics and a joint appointment at City College of New York and the Graduate Center of C.U.N.Y. He is also a visiting professor at the Institute for Advanced Study in Princeton and is a Fellow of the American Physical Society.
Kaku launched his Big Think blog, "Dr. Kaku's Universe," in March 2010.
04 August, 2010
Part One of Two
---
I often receive e-mails from my fans who state that my ability to popularize science and technology is reminiscent of the late Carl Sagan; This got me to thinking about the Voyager spacecrafts and the infamous 12-inch, gold-plated copper disks that are more commonly referred to as "The Golden Records" or "Voyager Interstellar Records." There is a copy of the record on each Voyager spacecraft and contain images and sounds selected to portray the diversity of life and culture here on Earth. Each individual record was accompanied by a stylus and a cartridge with a set of instructions on how to play it and retrieve it's contents.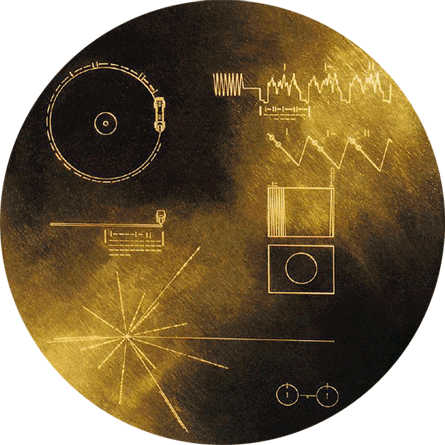 It was a committee that was chaired by Carl Sagan that chose the sounds and images for the record and was ultimately responsible for the design of the record. They are intended for any intelligent extraterrestrial life-form who may find them. Sagan noted that this was like launching a bottle full of messages into the cosmic ocean. NASA's Jet Propulsion Laboratory offers a wonderful interactive presentation about Voyager and the Golden Record where you are able to hear the sounds, greetings and view the images.
The sounds include greetings in 55 languages, a personal greeting from President Carter and the Secretary General of the U.N., and music from various countries including India, Peru, China, Japan and Mexico. Some of the artists include Mozart, Bach, Beethoven—and even Louis Armstrong and Chuck Berry. Also included are 100 sounds from nature, including babies crying, dogs barking, a crashing surf, birds chirping, and a mountain breeze.
The 116 images on the record are encoded in analog form and composed of 512 vertical lines. Amongst the images are a solar location map, simple mathematical definitions, physical unit definitions, solar system parameters, the solar system & planets, chemical definitions, DNA structure, human anatomy, a woman giving birth and a nursing mother, a schoolroom, animals & insects, famous architecture, scenery & landscapes from around the globe and there is even one of a woman eating a grape in a supermarket. These are the images that would generally describe who we are as a people, the different cultures we have and how it is that we go about our daily lives.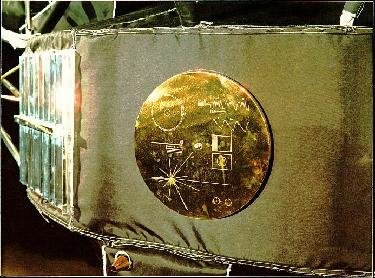 (The Golden Record is attached to the each Voyager Spacecraft underneath a protective cover plate)
To be continued...
Related Articles
It's a development that could one day lead to much better treatments for osteoporosis, joint damage, and bone fractures.
Image: Nissim Benvenisty
Surprising Science
Scientists have isolated skeletal stem cells in adult and fetal bones for the first time.
These cells could one day help treat damaged bone and cartilage.
The team was able to grow skeletal stem cells from cells found within liposuctioned fat.
Gut bacteria play an important role in how you feel and think and how well your body fights off disease. New research shows that exercise can give your gut bacteria a boost.
National Institutes of Health
Surprising Science
Two studies from the University of Illinois show that gut bacteria can be changed by exercise alone.
Our understanding of how gut bacteria impacts our overall health is an emerging field, and this research sheds light on the many different ways exercise affects your body.
Exercising to improve your gut bacteria will prevent diseases and encourage brain health.
A groundbreaking new study shows that octopuses seemed to exhibit uncharacteristically social behavior when given MDMA, the psychedelic drug commonly known as ecstasy.
Surprising Science
Octopuses, like humans, have genes that seem to code for serotonin transporters.
Scientists gave MDMA to octopuses to see whether those genes translated into a binding site for serotonin, which regulates emotions and behavior in humans
Octopuses, which are typically asocial creatures, seem to get friendlier while on MDMA, suggesting humans have more in common with the strange invertebrates than previously thought
Big think's weekly newsletter.
Get smarter faster from the comfort of your inbox.
See our newsletter privacy policy
here
Most Popular
Most Recent
Big think's weekly newsletter.
Get smarter faster from the comfort of your inbox.
See our newsletter privacy policy
here
© Copyright 2007-2018 & BIG THINK, BIG THINK EDGE,
SMARTER FASTER trademarks owned by The Big Think, Inc. All rights reserved.