The Fountain of Youth & Living Forever (Part 1 of 2)
Michio Kaku
Michio Kaku is a futurist, popularizer of science, and theoretical physicist, as well as a bestselling author and the host of two radio programs. He is the co-founder of string field theory (a branch of string theory), and continues Einstein's search to unite the four fundamental forces of nature into one unified theory. He holds the Henry Semat Chair and Professorship in theoretical physics and a joint appointment at City College of New York and the Graduate Center of C.U.N.Y. He is also a visiting professor at the Institute for Advanced Study in Princeton and is a Fellow of the American Physical Society.
Kaku launched his Big Think blog, "Dr. Kaku's Universe," in March 2010.
10 August, 2010
Everyone has grown up hearing fantasy stories about the "fountain of youth." We are still far from finding the fabled Fountain, but today the real question is quickly becoming "Would you really want to live forever?" With tremendous advances in the world of medicine, we will one day be able to drastically slow down the aging process in a human being. Scientists have already discovered over 70 individual genes that are directly involved with the human aging process. In worms, for example, we have already identified many of the genes that influence the aging process. You can actually change the life span of a worm like a light switch by changing their genome. Many people would immediately wonder why we would even want to slow down the aging process when we are overpopulated as it is. Well, the population in Europe for example is some sense imploding right now, with the average family having 1.5 children. Countries like Austria, Italy, Germany,  Switzerland have populations that are essentially collapsing. So increasing prosperity and life spans has actually caused slowed down population growth.
---
Kings and queens of old have always wanted to live longer and discover the fountain of youth. This is actually how the state of Florida was discovered. Ponce de Leon heard Native Americans speak of a legendary, magical spring whose water was believed to make older people young again. While seeking the great, mythical and fabled fountain, his ships landed on Florida's east coast near present-day St. Augustine. People have always been fascinated by the thought of being able to extend their days. Now, it may in fact be within our grasp within 20 to 30 years as we identify more and more genes involved in the aging process. If you take the genome of an older person and the genome of a younger person—in a computer  you can compare the genomes and see where significant genetic changes are localized. We can further identify certain key genes that for example control the oxidation process and the biological clock.
(Below: Ponce De Leon on his quest for longevity)
Scientists are already experimenting with longevity processes in the laboratory. We can now put human skin cells in a petri dish and hit them with [telomerase, an enzume which prevents the telemeres of the chromosome from getting shorter, allowing the cell to divide indefinitely. (Telomeres are a region of repetitive DNA at the end of a chromosome, which protects the end of the chromosome from deterioration). It was originally discovered in 1977 that the teleomere-shortening mechanism normally limits cells to a fixed number of divisions suggesting that this process is responsible for aging on the cellular level and sets a limit on life spans.
Of course, being able to expand this process out of the petri dish to something like the human body is beyond our capability at least for now. But in the future we may be able to:
Reset the biological clock
Slow down the oxidation process
Increase cell repair mechanisms &
Eliminate the build-up of genetic errors in the cell.
Below is an animated 3-dimensional molecular structure of a telomere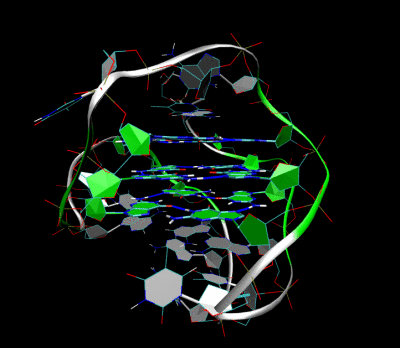 To be continued...
Related Articles
Both schizophrenics and people with a common personality type share similar brain patterns.
(shutterstock)
Mind & Brain
A new study shows that people with a common personality type share brain activity with patients diagnosed with schizophrenia.
The study gives insight into how the brain activity associated with mental illnesses relates to brain activity in healthy individuals.
This finding not only improves our understanding of how the brain works but may one day be applied to treatments.
It's a development that could one day lead to much better treatments for osteoporosis, joint damage, and bone fractures.
Image: Nissim Benvenisty
Surprising Science
Scientists have isolated skeletal stem cells in adult and fetal bones for the first time.
These cells could one day help treat damaged bone and cartilage.
The team was able to grow skeletal stem cells from cells found within liposuctioned fat.
Gut bacteria play an important role in how you feel and think and how well your body fights off disease. New research shows that exercise can give your gut bacteria a boost.
National Institutes of Health
Surprising Science
Two studies from the University of Illinois show that gut bacteria can be changed by exercise alone.
Our understanding of how gut bacteria impacts our overall health is an emerging field, and this research sheds light on the many different ways exercise affects your body.
Exercising to improve your gut bacteria will prevent diseases and encourage brain health.
Big think's weekly newsletter.
Get smarter faster from the comfort of your inbox.
See our newsletter privacy policy
here
Most Popular
Most Recent
Big think's weekly newsletter.
Get smarter faster from the comfort of your inbox.
See our newsletter privacy policy
here
© Copyright 2007-2018 & BIG THINK, BIG THINK EDGE,
SMARTER FASTER trademarks owned by The Big Think, Inc. All rights reserved.