Preparing for the 100 Year Storm and Wondering if the Three Simultaneous Nuclear Crises are an Accident? (Part 2/2)
Michio Kaku
Michio Kaku is a futurist, popularizer of science, and theoretical physicist, as well as a bestselling author and the host of two radio programs. He is the co-founder of string field theory (a branch of string theory), and continues Einstein's search to unite the four fundamental forces of nature into one unified theory. He holds the Henry Semat Chair and Professorship in theoretical physics and a joint appointment at City College of New York and the Graduate Center of C.U.N.Y. He is also a visiting professor at the Institute for Advanced Study in Princeton and is a Fellow of the American Physical Society.
Kaku launched his Big Think blog, "Dr. Kaku's Universe," in March 2010.
02 July, 2011
Right now, mother nature seems to be assaulting 3 nuclear sites in the United States, one at Los Alamos and two in the state of Nebraska, all within the same time period. The web, social networks and media are burning up with activity about the news of these events and will certainly put 2011 into the history books. A quick web search turns up thousands upon thousands of results including video, photos and reports.
---
A first page result on Google showed a series of conferences being held around the world to discuss how we can prevent these nuclear accidents from happening in the future. For example, the International Atomic Energy Agency (IAEA) recently held a five-day Ministerial Conference on Nuclear Safety in Vienna in late June focused on the events of Fukushima. The purpose of the conference: "To learn lessons from the accident and to strengthen nuclear safety." Conference video and summaries can be found on the IAEA website.
Below are maps of the Commercial Nuclear Power Reactors and Research/Test Reactors that currently reside within the US. The maps were created by The United States Nuclear Regulatory Commission (NRC) and their website provides a myriad of additional content that may be of interest.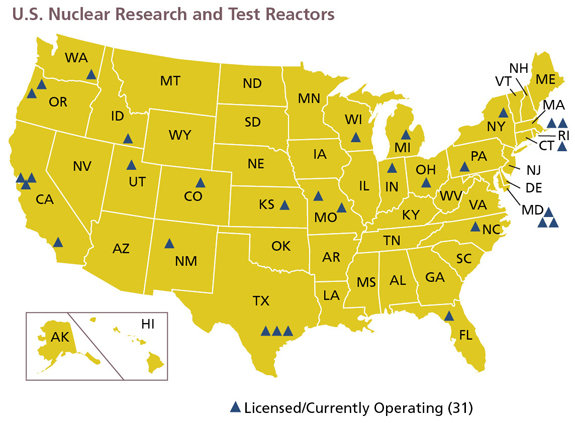 Three Simultaneous Nuclear Accidents: Is this a fluke, or is there something behind this? 
This may indeed be a fluke but there is another theory. At present, the US is experiencing bizarre weather including tornadoes, historic flooding, and even massive forest fires. These floods and fires, in turn, are threatening our nuclear sites. There may be a thread that links all these together. Much of the weather pattern in the US is governed by the collision of cold, arctic air from Alaska and Canada that sweeps down due to the jet stream, with the moist, warm air from the Gulf of Mexico. The boundary where these two large air masses collide forms a corridor which cuts across the US, extending from Texas and the Southwest all the way through the Midwest and onto New England. 
Right now, there are two disturbances in this crucial collision. The first is La Nina, which periodically generates cold air in the Pacific. La Nina is apparently distorting the jet stream, causing it to move further over the Midwest. But also, the Gulf of Mexico is heating up by about 2 degrees, carrying more moist air over the Southeast. So the collision of these two large air masses is largely responsible, many scientists believe, for the unusual weather, which is generating monster rain storms, tornadoes, and massive flooding, due to more moisture in the air. 
But why are historic levels of tornadoes and floods being recorded? No one knows.
La Nina comes back every few years, so this cannot explain the "100 year floods" and "100 year tornadoes." One possibility is that, on average, the Gulf of Mexico is carrying more moisture over the US, which could signal a historic change in our weather. This means that, on average, we could be experiencing not just "global warming," but more accurately global swings, e.g. flooding in one area and droughts in another. If this is correct (regardless of where this warming is coming from) it means that we might expect more floods to happen simultaneously with forest fires, which in turn can threaten farmland, homes, and nuclear power plants. 
If so, there are many lessons.First, we have to factor in the "100 year storm" in all of our large construction projects. Engineers can no longer ignore the 100 year storm just  because it will not happen in their life time or children's life time. The 100 year storm seems to be happening sooner than we thought. This will, in turn, make nuclear energy much less attractive. Second, we might have more "unprecedented" nuclear crises due to historically bizarre weather patterns.
This could change our very way of life.... Get used to it.
Orangutans join humans and bees in a very exclusive club
Surprising Science
Orangutan mothers wait to sound a danger alarm to avoid tipping off predators to their location
It took a couple of researchers crawling around the Sumatran jungle to discover the phenomenon
This ability may come from a common ancestor
In a breakthrough for nuclear fusion research, scientists at China's Experimental Advanced Superconducting Tokamak (EAST) reactor have produced temperatures necessary for nuclear fusion on Earth.
Credit: EAST Team
Surprising Science
The EAST reactor was able to heat hydrogen to temperatures exceeding 100 million degrees Celsius.
Nuclear fusion could someday provide the planet with a virtually limitless supply of clean energy.
Still, scientists have many other obstacles to pass before fusion technology becomes a viable energy source.
Journaling can help you materialize your ambitions.
Videos
Organizing your thoughts can help you plan and achieve goals that might otherwise seen unobtainable.
The Bullet Journal method, in particular, can reduce clutter in your life by helping you visualize your future.
One way to view your journal might be less of a narrative and more of a timeline of decisions.
Big think's weekly newsletter.
Get smarter faster from the comfort of your inbox.
See our newsletter privacy policy
here
Most Popular
Most Recent
Big think's weekly newsletter.
Get smarter faster from the comfort of your inbox.
See our newsletter privacy policy
here
© Copyright 2007-2018 & BIG THINK, BIG THINK EDGE,
SMARTER FASTER trademarks owned by The Big Think, Inc. All rights reserved.