NASA Sending First Humanoid Robot Into Space
Michio Kaku
Michio Kaku is a futurist, popularizer of science, and theoretical physicist, as well as a bestselling author and the host of two radio programs. He is the co-founder of string field theory (a branch of string theory), and continues Einstein's search to unite the four fundamental forces of nature into one unified theory. He holds the Henry Semat Chair and Professorship in theoretical physics and a joint appointment at City College of New York and the Graduate Center of C.U.N.Y. He is also a visiting professor at the Institute for Advanced Study in Princeton and is a Fellow of the American Physical Society.
Kaku launched his Big Think blog, "Dr. Kaku's Universe," in March 2010.
05 November, 2010
The recent shuttle launch has a strange passenger: a 330-pound humanoid robot called Robonaut 2, or R2 for short. It's the first humanoid robot to be sent into space, and it may eventually be bound for the moon. R2 is designed to help astronauts perform tedious and dangerous missions. It's designed so that it will eventually be able to vacuum air filters, do space walks, flip switches, and go into dangerous toxic environments. The robot has no legs, and is hence only 3 feet four inches tall. It is designed for a one-way mission, never to come back. That's the advantage of robots" they are cheap, need no life support, and don't need a return ticket.  The only drawback is that R2 is incapable of real human thought. It has no consciousness, and can barely recognize simple objects in its environment. It is a far cry from the humanoid robots of science fiction. 
---
In the past, NASA has been criticized as being the "Agency to Nowhere." President Obama canceled both the Space Shuttle and the Moon Program, and it seems that the glory days of the space program are gone.  China plans to put astronauts on the moon by 2025, so will the U.S. be left in the dust? Some NASA engineers are proposing, as a consolation, Project M to put R2 on the moon in 1,000 days. The advantage of this idea is that you can use off-the-shelf technology to put a robot quickly on the moon. Robots and moon rockets these days are not so expensive; putting R2 on the moon can be done with half a billion dollars, which is pocket change compared to the price tag of a manned mission to the moon: $150 billion. 
Putting a robot on the moon might help to create excitement among young people, but it will not be a real science mission. The robot is rather primitive, and cannot do much beyond pick up rocks and walk around. So it won't be like R2D2 in "Star Wars." But this mission may eventually pave the way for what scientists really want: a permanent robotic presence on the moon. In the absence of a manned mission to the moon, perhaps the best that can be done for lunar exploration is to create a permanent robot base on the moon.
Follow Robonaut on Twitter @ Astrorobonaut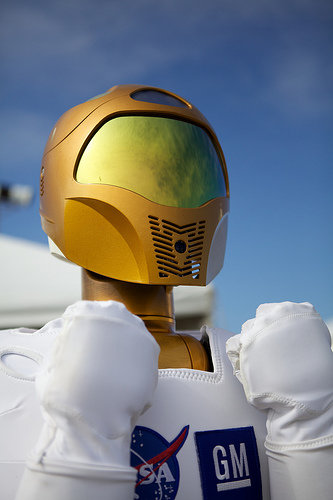 Time Lapse Video of Robonaut 2 getting packed for space flight 
Related Articles
How a cataclysm worse than what killed the dinosaurs destroyed 90 percent of all life on Earth.
Credit: Ron Miller
Surprising Science
While the demise of the dinosaurs gets more attention as far as mass extinctions go, an even more disastrous event called "the Great Dying" or the "End-Permian Extinction" happened on Earth prior to that. Now scientists discovered how this cataclysm, which took place about 250 million years ago, managed to kill off more than 90 percent of all life on the planet.
A new study discovers the "liking gap" — the difference between how we view others we're meeting for the first time, and the way we think they're seeing us.
New acquaintances probably like you more than you think. (Photo by Simone Joyner/Getty Images)
Surprising Science
We tend to be defensive socially. When we meet new people, we're often concerned with how we're coming off. Our anxiety causes us to be so concerned with the impression we're creating that we fail to notice that the same is true of the other person as well. A new study led by Erica J. Boothby, published on September 5 in Psychological Science, reveals how people tend to like us more in first encounters than we'd ever suspect.
Using advanced laser technology, scientists at NASA will track global changes in ice with greater accuracy.
Firing three pairs of laser beams 10,000 times per second, the ICESat-2 satellite will measure how long it takes for faint reflections to bounce back from ground and sea ice, allowing scientists to measure the thickness, elevation and extent of global ice
popular
Leaving from Vandenberg Air Force base in California this coming Saturday, at 8:46 a.m. ET, the Ice, Cloud, and Land Elevation Satellite-2 — or, the "ICESat-2" — is perched atop a United Launch Alliance Delta II rocket, and when it assumes its orbit, it will study ice layers at Earth's poles, using its only payload, the Advance Topographic Laser Altimeter System (ATLAS).
Big think's weekly newsletter.
Get smarter faster from the comfort of your inbox.
See our newsletter privacy policy
here
Most Popular
Most Recent
Big think's weekly newsletter.
Get smarter faster from the comfort of your inbox.
See our newsletter privacy policy
here
© Copyright 2007-2018 & BIG THINK, BIG THINK EDGE,
SMARTER FASTER trademarks owned by The Big Think, Inc. All rights reserved.