Big ideas.
Once a week.
Subscribe to our weekly newsletter.
How can parents ensure their children don't marry outside their ethnicity?
20 October, 2011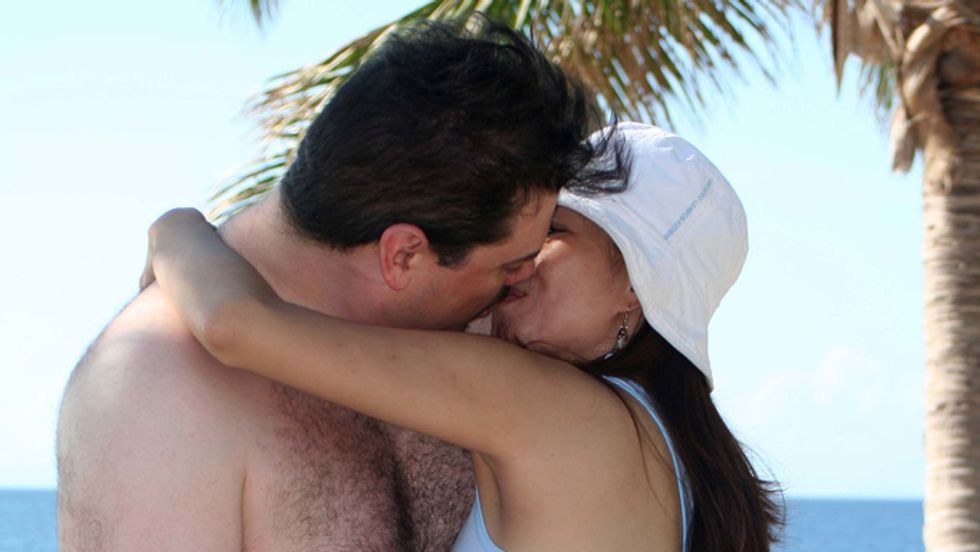 A woman recently shared with me the secret to finding a husband. She told me to write a list of qualities that my ideal man would have and tape it to my fridge. That's it. And while it sounds too simple to be effective, she assured me that it worked well for her. Just one week after putting her list on the fridge she opened her front door to find her ideal mate standing on her doorstep. A year later they married and are now happy as two peas in a pod.
---
The part of this find-a-husband program that I find hard to believe, beyond the idea that the only thing standing between me and a lifetime of marital bliss is the power of positive thought, is that it is possible to find a mate that has every single one of the qualities that would be on my list. And for that reason, I don't have a list. (Plus, it seems to me that having one could rule out some pretty great guys who had more important qualities than those I would think to put on a list).
Evidence collected from online dating sites and speed-dating trials show that, particularly for women, two items on many singles' lists are "Must be the same race as me" and "Must have my level of education or higher".  Acknowledging that we often can't have it all, new research  tries to answer the following question: If people face a trade-off between finding someone of their own education or finding someone of their own ethnicity, then what do they choose?

This research leads me to an entirely different question: If parents choose the education level of their children, can they then use that choice to impose their preference for a son/daughter-in-law of their own ethnicity?
Using US census data this research finds that for every additional year of education the probability that a person is married to someone who has the same ancestry as themselves decreases by 1.2% -- more educated people are more likely to marry outside of their ethnic group.
This isn't surprising given that people who are better educated are more likely to live and work away from their own community.
When the authors of this paper control for the average level of education of the ethnic group in that community, however, this effect starts to disappear at higher levels of average education. In fact, for people in ethnic groups with very high average levels of education relative to the rest of the population there is a positive relationship between education and the tendency to marry someone of their own ethnicity.
Let me give you two examples from the paper:
The average Guatemalan in West Palm Beach has 7 fewer years of schooling than the rest of the population. For Guatemalans in that city, a 1-year increase in education leads to a more than 5 percentage point decrease in the probability that they will marry another person of Guatemalan ancestry. So, in that community more education increases the chance a person will marry outside of their ethnic group.
At the same time, the average Indian in Pittsburgh has 4 more years of education than the rest of the population.  For Indians in that city, a 1-year increase in education results in an almost 2 percentage point increase in the probability that they will marry another person of Indian ancestry. So, in that community more education decreases the chance a person will marry outside of their ethnic group.
They also find that people who immigrated to the US as teenagers are more likely to trade education off in favour of finding someone with their same ethnicity than those born in the US who prefer to find someone of their same education level over their same ethnicity.
One of the problems with this paper is that it assumes that decisions on education are made independently of decisions on inter-ethnic marriage. Consider, for example, the decision making of parents who have emigrated from India with their teenage daughter. If they prefer their daughter to marry someone who is of Indian ancestry, and they observe that in their community India men are educated and that educated men prefer educated wives, then surely that gives them an incentive to educate their daughter in order to improve her prospects for marrying a man of Indian ancestry.
The opposite might be true for parents in communities where people of their own ethnic background are less educated on average. Those people might under-invest in their child's education purely for the purpose of keeping him / her in their community and married to a person of their own ethnicity.
Economists tend to assume that parents choose the education level of their child that maximizes their future earning potential. This line of reasoning rules out the possibility that parents, if they have a strong preference for intra-ethnic marriage, might choose a different level of education than one that will make the child materially better off in the future. If they do then this understanding might help explain why we observe such large differences in the level of parental investment in education between ethnic communities.
Reference:
Delia Furtado  and Nikolaos Theodoropoulos (2011). "Interethnic marriage: a choice between ethnic and educational similarities." Journal of Population Economics vol. 24: pp. 1257–1279. DOI 10.1007/s00148-010-0319-7
The father of all giant sea bugs was recently discovered off the coast of Java.
SJADE 2018
Surprising Science
A new species of isopod with a resemblance to a certain Sith lord was just discovered.
It is the first known giant isopod from the Indian Ocean.
The finding extends the list of giant isopods even further.
Humanity knows surprisingly little about the ocean depths. An often-repeated bit of evidence for this is the fact that humanity has done a better job mapping the surface of Mars than the bottom of the sea. The creatures we find lurking in the watery abyss often surprise even the most dedicated researchers with their unique features and bizarre behavior.

A recent expedition off the coast of Java discovered a new isopod species remarkable for its size and resemblance to Darth Vader.
The ocean depths are home to many creatures that some consider to be unnatural.
Bathynomus raksasa specimen (left) next to a closely related supergiant isopod, B. giganteus (right)
Sidabalok CM, Wong HP-S, Ng PKL (ZooKeys 2020)
According to LiveScience, the Bathynomus genus is sometimes referred to as "Darth Vader of the Seas" because the crustaceans are shaped like the character's menacing helmet. Deemed Bathynomus raksasa ("raksasa" meaning "giant" in Indonesian), this cockroach-like creature can grow to over 30 cm (12 inches). It is one of several known species of giant ocean-going isopod. Like the other members of its order, it has compound eyes, seven body segments, two pairs of antennae, and four sets of jaws.
The incredible size of this species is likely a result of deep-sea gigantism. This is the tendency for creatures that inhabit deeper parts of the ocean to be much larger than closely related species that live in shallower waters. B. raksasa appears to make its home between 950 and 1,260 meters (3,117 and 4,134 ft) below sea level.
Perhaps fittingly for a creature so creepy looking, that is the lower sections of what is commonly called The Twilight Zone, named for the lack of light available at such depths.
It isn't the only giant isopod, far from it. Other species of ocean-going isopod can get up to 50 cm long (20 inches) and also look like they came out of a nightmare. These are the unusual ones, though. Most of the time, isopods stay at much more reasonable sizes.
The discovery of this new species was published in ZooKeys. The remainder of the specimens from the trip are still being analyzed. The full report will be published shortly.
What benefit does this find have for science? And is it as evil as it looks?
The discovery of a new species is always a cause for celebration in zoology. That this is the discovery of an animal that inhabits the deeps of the sea, one of the least explored areas humans can get to, is the icing on the cake.
Helen Wong of the National University of Singapore, who co-authored the species' description, explained the importance of the discovery:
"The identification of this new species is an indication of just how little we know about the oceans. There is certainly more for us to explore in terms of biodiversity in the deep sea of our region."
The animal's visual similarity to Darth Vader is a result of its compound eyes and the curious shape of its head. However, given the location of its discovery, the bottom of the remote seas, it may be associated with all manner of horrifically evil Elder Things and Great Old Ones.
It could lead to a massive uptake in those previously hesitant.
Ian Forsyth/Getty Images
Coronavirus
A financial shot in the arm could be just what is needed for Americans unsure about vaccination.
On May 12, 2021, the Republican governor of Ohio, Mike DeWine, announced five US$1 million lottery prizes for those who are vaccinated. Meanwhile, in West Virginia, younger citizens are being enticed to get the shot with $100 savings bonds, and a state university in North Carolina is offering students who get vaccinated a chance to win the cost of housing. Many companies are paying vaccinated employees more money through bonuses or extra paid time off.
The push to get as many people vaccinated as possible is laudable and may well work. But leading behavioral scientists are worried that paying people to vaccinate could backfire if it makes people more skeptical of the shots. And ethicists have argued that it would be wrong, citing concerns over fairness and equity.
As a behavioral scientist and ethicist, I draw on an extensive body of research to help answer these questions. It suggests that incentives might work to save lives and, if properly structured, need not trample individual rights or be a huge expense for the government.
In the United States, incentives and disincentives are already used in health care. The U.S. system of privatized health insurance exposes patients to substantial deductibles and copays, not only to cover costs but to cut down on what could be deemed as wasteful health care – the thinking being that putting a cost to an emergency room visit, for example, might deter those who aren't really in need of that level of care.
In practice, this means patients are encouraged to decline both emergency and more routine care, since both are exposed to costs.
Paying for health behaviors
In the case of COVID-19, the vaccines are already free to consumers, which has undoubtedly encouraged people to be immunized. Studies have shown that reducing out-of-pocket costs can improve adherence to life-sustaining drugs, whether to prevent heart attacks or to manage diabetes.
A payment to take a drug goes one step further than simply reducing costs. And if properly designed, such incentives can change health behaviors.
Payments and cash prizes have been shown effective in encouraging blood donations, adherence to blood thinner drugs, blood glucose monitoring, physical activity and smoking cessation.
And for vaccination in particular, payments have been successful for human papillomavirus (HPV) in England; hepatitis B in the United States and the United Kingdom; and tetanus toxoid in Nigeria. The effects can be substantial: For example, for one group in the HPV study, the vaccination rate more than doubled with an incentive.
For COVID-19, there are no field studies to date, but several survey experiments, including one my group conducted with 1,000 Americans, find that incentives are likely to work. In our case, the incentive of a tax break was enough to encourage those hesitant about vaccinations to say they would take the shot.
Coercion concerns
Even if incentives will save lives by increasing vaccinations, there are still other ethical considerations. A key concern is protecting the autonomous choices of people to decide what they put into their own bodies. This may be especially important for the COVID-19 vaccines, which – although authorized as likely safe and effective – are not yet fully approved by the Food and Drug Administration.
But already people are often paid to participate in clinical trials for drugs that have not yet been approved by the FDA. Ethicists have worried that such payments may be "coercive" if the money is so attractive as to override a person's free choices or make them worse off overall.
One can quibble about whether the term "coercion" applies to offers of payment. But even if offers were coercive, payments may still be reasonable to save lives in a pandemic if they succeed in greater levels of immunization.
During the smallpox epidemic nearly 100 years ago, the U.S. Supreme Court upheld the power of states to mandate vaccines. Compared with mandating vaccination, the incentives to encourage vaccines seem innocuous.
Exploitation and paternalism
Yet some still worry. Bioethicists Emily Largent and Franklin Miller wrote in a recent paper that a payment might "unfairly" exploit "those U.S. residents who have lost jobs … or slipped into poverty during the pandemic," which could leave them feeling as if they have "no choice but to be vaccinated for cash." Others have noted that vaccine hesitancy is higher in nonwhite communities, where incomes tend to be lower, as is trust in the medical establishment.
Ethicists and policymakers should indeed focus on the poorest members of our community and seek to minimize racial disparities in both health outcomes and wealth. But there is no evidence that offering money is actually detrimental to such populations. Receiving money is a good thing. To suggest that we have to protect adults by denying them offers of money may come across as paternalism.
Some ethicists also argue that the money is better spent elsewhere to increase participation. States could spend the money making sure vaccines are convenient to everyone, for example, by bringing them to community events and churches. Money could also support various efforts to fight misinformation and communicate the importance of getting the shot.
The cost of incentives
Financial incentives could be expensive as a policy solution. As in Ohio, lottery drawings are one way to cap the overall cost of incentives while giving millions of people an additional reason to get their shot.
The tax code could also allow for a no-cost incentive for vaccination. Tax deductions and credits are often designed to encourage behaviors, such as savings or home ownership. Some states now have big budget surpluses and are considering tax relief measures. If a state announced now that such payments would be conditional on being vaccinated, then each person declining the shot would save the government money.
Ultimately, a well-designed vaccination incentive can help save lives and need not keep the ethicists up at night.

Christopher Robertson, Professor of Law, Boston University
This article is republished from The Conversation under a Creative Commons license. Read the original article.
Geologists discover a rhythm to major geologic events.
Surprising Science
It appears that Earth has a geologic "pulse," with clusters of major events occurring every 27.5 million years.
Working with the most accurate dating methods available, the authors of the study constructed a new history of the last 260 million years.
Exactly why these cycles occur remains unknown, but there are some interesting theories.
Our hearts beat at a resting rate of 60 to 100 beats per minute. Lots of other things pulse, too. The colors we see and the pitches we hear, for example, are due to the different wave frequencies ("pulses") of light and sound waves.
Now, a study in the journal Geoscience Frontiers finds that Earth itself has a pulse, with one "beat" every 27.5 million years. That's the rate at which major geological events have been occurring as far back as geologists can tell.
A planetary calendar has 10 dates in red
Credit: Jagoush / Adobe Stock
According to lead author and geologist Michael Rampino of New York University's Department of Biology, "Many geologists believe that geological events are random over time. But our study provides statistical evidence for a common cycle, suggesting that these geologic events are correlated and not random."

The new study is not the first time that there's been a suggestion of a planetary geologic cycle, but it's only with recent refinements in radioisotopic dating techniques that there's evidence supporting the theory. The authors of the study collected the latest, best dating for 89 known geologic events over the last 260 million years:
29 sea level fluctuations
12 marine extinctions
9 land-based extinctions
10 periods of low ocean oxygenation
13 gigantic flood basalt volcanic eruptions
8 changes in the rate of seafloor spread
8 times there were global pulsations in interplate magmatism
The dates provided the scientists a new timetable of Earth's geologic history.
Tick, tick, boom
Credit: New York University
Putting all the events together, the scientists performed a series of statistical analyses that revealed that events tend to cluster around 10 different dates, with peak activity occurring every 27.5 million years. Between the ten busy periods, the number of events dropped sharply, approaching zero.

Perhaps the most fascinating question that remains unanswered for now is exactly why this is happening. The authors of the study suggest two possibilities:
"The correlations and cyclicity seen in the geologic episodes may be entirely a function of global internal Earth dynamics affecting global tectonics and climate, but similar cycles in the Earth's orbit in the Solar System and in the Galaxy might be pacing these events. Whatever the origins of these cyclical episodes, their occurrences support the case for a largely periodic, coordinated, and intermittently catastrophic geologic record, which is quite different from the views held by most geologists."
Assuming the researchers' calculations are at least roughly correct — the authors note that different statistical formulas may result in further refinement of their conclusions — there's no need to worry that we're about to be thumped by another planetary heartbeat. The last occurred some seven million years ago, meaning the next won't happen for about another 20 million years.
Surprising Science
Researchers discovered a galactic wind from a supermassive black hole that sheds light on the evolution of galaxies.
Scroll down to load more…