Big ideas.
Once a week.
Subscribe to our weekly newsletter.
Only Getting the Right Answers is Wrong
25 September, 2011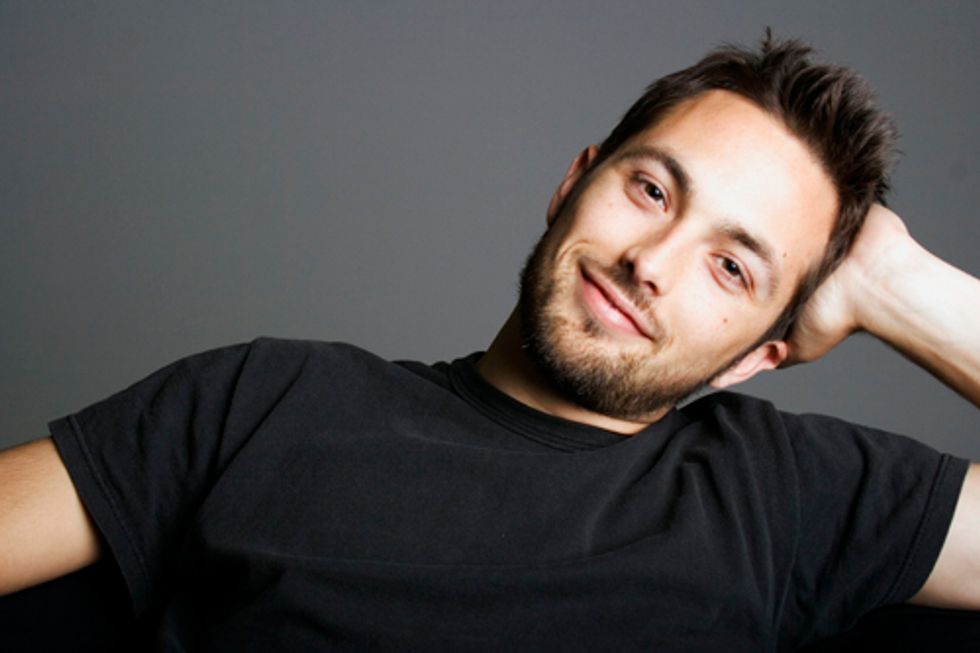 Before I start with this post, apologies for the past weeks of silence here on Disrupt Education. I had to travel a lot and moderate an event in Germany so blogging came short, unfortunately. The good news is that I met and talked with a lot of interesting people in education 2.0 in between, so I have many interesting aspects to share with you in the coming weeks. 
---
Back to business. One of the people I recently had the chance to talk to is Dr Derek Muller or as I refer to him, the "Australian Khan". Derek is the founder of an online video education project in Physics called Veritasium, and he immediately became one of my favorite teachers. 
I incidentally found Derek's work during one of my random strolls across the web. To be precise I came across the video embedded below where Derek describes some of his findings from his PhD thesis "How to create films to teach science (specifically physics)" in which he comes up with the result that there is doubt whether students who watch Khan Academy or any other kind of educational videos in science actually learn something.
Before we go on, we need to make clear that there is a difference between learning and refreshing. The doubts Derek has about the efficiency are not based on the quality or information Khan and others present in their videos, it's about the effect they have on someone who is starting to learn about a new topic. If you use the videos as a resource for classroom teaching or as a refresher, they work very well. 
I think Derek's findings are very interesting and though he states that those misconceptions primarily exist in the science sector, I have seen this phenomenon in language learning as well. At the time, I was still teaching languages to adults and my student had a certain basis in a foreign language, let's say he learned it for one or two years in college and then decided to brush it up 10 years later, learning vocabulary was pretty hard. This was especially when the learner used one of the new language learning services or applications available on the market. 
As Derek describes in the video, the learner thinks "I know this already" and then skips through the vocabulary without really learning anything. One of my long term goals has been to brush up my Spanish, and I noticed the same effect about myself. I learned new vocabulary and one or two days later I had forgotten almost everything. 
Mental effort seems to be the driver behind good learning progress. If an educational video is "clear, concise and easy to understand" it does not trigger that effort and the results are very limited. A recent experiment that caught some attention seems to prove this point. The progress of two parallel classes was being measured, one learned the classic way, the other got an extra "Khan Academy treatment". At the end of the five-week-period, the class with the extra Khan Academy treatment only scored 1,2% better than their peers without it. 
Derek even goes so far that he thinks that education videos that just present the right answers could have a negative effect on learning. As he states in the video
If you present the right information in the video only, five things happen.
1) students think they know it
2) they don't pay their utmost attention
3) they don't recognize that what is presented in the video is different from what they are thinking
4) they don't learn a thing
5) they get more confident in the ideas they were thinking before
So how to implement mental effort into learning videos and break this circle? Veritasium always starts with the most common misconceptions about the topic covered in the video first. This way the student gets "confused" as all of these ideas might be true. After the experiment is done there is another discussion segment talking about the outcome and providing an explanation why it happened exactly that way.
Maybe even more importantly, Derek's findings prove to me that "learning by doing" and "trial and error" will remain the best ways to learn and that there is a need for hands on learning in the group and classroom. Videos can only get that close to the real world experience.
If you are interested in learning more about Derek and Veritasium, you can watch my two interviews I did with him. On EDUKWEST we talked about YouTube as a place for educational content in general and how to create learning videos. On KWestions we got more into detail about his methodology.
Inventions with revolutionary potential made by a mysterious aerospace engineer for the U.S. Navy come to light.
Credit: Getty Images
Surprising Science
U.S. Navy holds patents for enigmatic inventions by aerospace engineer Dr. Salvatore Pais.
Pais came up with technology that can "engineer" reality, devising an ultrafast craft, a fusion reactor, and more.
While mostly theoretical at this point, the inventions could transform energy, space, and military sectors.
The U.S. Navy controls patents for some futuristic and outlandish technologies, some of which, dubbed "the UFO patents," came to light recently. Of particular note are inventions by the somewhat mysterious Dr. Salvatore Cezar Pais, whose tech claims to be able to "engineer reality." His slate of highly-ambitious, borderline sci-fi designs meant for use by the U.S. government range from gravitational wave generators and compact fusion reactors to next-gen hybrid aerospace-underwater crafts with revolutionary propulsion systems, and beyond.
Of course, the existence of patents does not mean these technologies have actually been created, but there is evidence that some demonstrations of operability have been successfully carried out. As investigated and reported by The War Zone, a possible reason why some of the patents may have been taken on by the Navy is that the Chinese military may also be developing similar advanced gadgets.
Among Dr. Pais's patents are designs, approved in 2018, for an aerospace-underwater craft of incredible speed and maneuverability. This cone-shaped vehicle can potentially fly just as well anywhere it may be, whether air, water or space, without leaving any heat signatures. It can achieve this by creating a quantum vacuum around itself with a very dense polarized energy field. This vacuum would allow it to repel any molecule the craft comes in contact with, no matter the medium. Manipulating "quantum field fluctuations in the local vacuum energy state," would help reduce the craft's inertia. The polarized vacuum would dramatically decrease any elemental resistance and lead to "extreme speeds," claims the paper.
Not only that, if the vacuum-creating technology can be engineered, we'd also be able to "engineer the fabric of our reality at the most fundamental level," states the patent. This would lead to major advancements in aerospace propulsion and generating power. Not to mention other reality-changing outcomes that come to mind.
Among Pais's other patents are inventions that stem from similar thinking, outlining pieces of technology necessary to make his creations come to fruition. His paper presented in 2019, titled "Room Temperature Superconducting System for Use on a Hybrid Aerospace Undersea Craft," proposes a system that can achieve superconductivity at room temperatures. This would become "a highly disruptive technology, capable of a total paradigm change in Science and Technology," conveys Pais.
High frequency gravitational wave generator.
Credit: Dr. Salvatore Pais
Another invention devised by Pais is an electromagnetic field generator that could generate "an impenetrable defensive shield to sea and land as well as space-based military and civilian assets." This shield could protect from threats like anti-ship ballistic missiles, cruise missiles that evade radar, coronal mass ejections, military satellites, and even asteroids.
Dr. Pais's ideas center around the phenomenon he dubbed "The Pais Effect". He referred to it in his writings as the "controlled motion of electrically charged matter (from solid to plasma) via accelerated spin and/or accelerated vibration under rapid (yet smooth) acceleration-deceleration-acceleration transients." In less jargon-heavy terms, Pais claims to have figured out how to spin electromagnetic fields in order to contain a fusion reaction – an accomplishment that would lead to a tremendous change in power consumption and an abundance of energy.
According to his bio in a recently published paper on a new Plasma Compression Fusion Device, which could transform energy production, Dr. Pais is a mechanical and aerospace engineer working at the Naval Air Warfare Center Aircraft Division (NAWCAD), which is headquartered in Patuxent River, Maryland. Holding a Ph.D. from Case Western Reserve University in Cleveland, Ohio, Pais was a NASA Research Fellow and worked with Northrop Grumman Aerospace Systems. His current Department of Defense work involves his "advanced knowledge of theory, analysis, and modern experimental and computational methods in aerodynamics, along with an understanding of air-vehicle and missile design, especially in the domain of hypersonic power plant and vehicle design." He also has expert knowledge of electrooptics, emerging quantum technologies (laser power generation in particular), high-energy electromagnetic field generation, and the "breakthrough field of room temperature superconductivity, as related to advanced field propulsion."
Suffice it to say, with such a list of research credentials that would make Nikola Tesla proud, Dr. Pais seems well-positioned to carry out groundbreaking work.
A craft using an inertial mass reduction device.
Credit: Salvatore Pais
The patents won't necessarily lead to these technologies ever seeing the light of day. The research has its share of detractors and nonbelievers among other scientists, who think the amount of energy required for the fields described by Pais and his ideas on electromagnetic propulsions are well beyond the scope of current tech and are nearly impossible. Yet investigators at The War Zone found comments from Navy officials that indicate the inventions are being looked at seriously enough, and some tests are taking place.
If you'd like to read through Pais's patents yourself, check them out here.
Laser Augmented Turbojet Propulsion System
Credit: Dr. Salvatore Pais
A global survey shows the majority of countries favor Android over iPhone.
Strange Maps
When Android was launched soon after Apple's own iPhone, Steve Jobs threatened to "destroy" it.
Ever since, and across the world, the rivalry between both systems has animated users.
Now the results are in: worldwide, consumers clearly prefer one side — and it's not Steve Jobs'.
A woman on her phone in Havana, Cuba. Mobile phones have become ubiquitous the world over — and so has the divide between Android and iPhone users.Credit: Yamil Lage / AFP via Getty Images.
Us versus them: it's the archetypal binary. It makes the world understandable by dividing it into two competing halves: labor against capital, West against East, men against women.
These maps are the first to show the dividing lines between one of the world's more recent binaries: Android vs. Apple. Published by Electronics Hub, they are based on a qualitative analysis of almost 350,000 tweets worldwide that presented positive, neutral, and negative attitudes toward Android and/or Apple.
Steve Jobs wanted to go "thermonuclear"
Feelings between Android and Apple were pretty tribal from the get-go. It was Steve Jobs himself who said, when Google rolled out Android a mere ten months after Apple launched the iPhone, "I'm going to destroy Android, because it's a stolen product. I'm willing to go thermonuclear war on this."
Buying a phone is like picking a side in the eternal feud between the Hatfields and the McCoys. Each choice for automatically comes with an in-built arsenal of arguments against.
If you are an iPhone person, you appreciate the sleekness and simplicity of its design, and you are horrified by the confusing mess that is the Android operating system. If you are an Android aficionado, you pity the iPhone user, a captive of an overly expensive closed ecosystem, designed to extract money from its users.
Even without resorting to those extremes, many of us will recognize which side of the dividing line that we are on. Like the American Civil War, that line runs through families and groups of friends, but that would be a bit confusing to chart geographically. To un-muddle the information, these maps zoom out to state and country level.
If the contest is based on the number of countries, Android wins. In all, 74 of the 142 countries surveyed prefer Android (in green on the map). Only 65 favor Apple (colored grey). That's a 52/48 split, which may not sound like a decisive vote, but it was good enough for Boris Johnson to get Brexit done (after he got breakfast done, of course).
And yes, math-heads: 74 plus 65 is three short of 142. Belarus, Fiji, and Peru (in yellow on the map) could not decide which side to support in the Global Phone War.
What about the United States, home of both the Android and the iPhone? Another victory for the former, albeit a slightly narrower one: 30.16 percent of the tweets about Android were positive versus just 29.03 percent of the ones about Apple.

United States: Texas surrounded!
Credit: Electronics Hub
There can be only one winner per state, though, and that leads to this preponderance of Android logos. Frankly, it's a relief to see a map showing a visceral divide within the United States that is not the coasts versus the heartland.
Apple dominates in 19 states: a solid Midwestern bloc, another of states surrounding Texas, the Dakotas and California, plus North Carolina, New Hampshire, and Rhode Island.
And that's it. The other 32 are the United States of Android. You can drive from Seattle to Miami without straying into iPhone territory. But no stopovers in Dallas or Houston – both are behind enemy lines!
North America: strongly leaning toward Android
Credit: Electronics Hub
Only eight of North America's 21 countries surveyed fall into the Apple category.

The U.S. and Canada lean Android, while Mexico goes for the iPhone.
Central America is divided, but here too Android wins hands down, 5-2.
Europe: Big Five divided
Credit: Electronics Hub
In Europe, Apple wins, with 20 countries preferring the iPhone, 17 going for Android, and Belarus sitting on the fence.

Of Western Europe's Big Five markets, three (UK, Germany, Spain) are pro-Android, and two (France, Italy) are pro-Apple.
Czechia and Slovakia are an Apple island in the Android sea that is Central Europe. Glad to see there is still something the divorcees can agree on.
South America: almost even
Credit: Electronics Hub
In South America, the divide is almost even.

Five countries prefer Android, four Apple, and one is undecided.
In Peru, both Android- and Apple-related tweets were 25 percent positive.
Africa: watch out for Huawei
Credit: Electronics Hub
In Africa, Android wins by 17 countries versus Apple's 15.

There's a solid Android bloc running from South Africa via DR Congo all the way to Ethiopia.
iPhone countries are scattered throughout the north (Algeria), west (Guinea), east (Somalia), and south (Namibia).
Huawei — increasingly popular across the continent — could soon dramatically change the picture in Africa. Currently still running on Android, the Chinese phone manufacturer has just launched its own operating system, called Harmony.
Middle East: Iran vs. Saudi Arabia (again)
Credit: Electronics Hub
In the Middle East and Central Asia, Android wins 8 countries to Apple's 6.

But it's complicated. One Turkish tweeter wondered how it is that iPhones seem more popular in the Asian half of Istanbul, while Android phones prevailed in the European part of the city.
The phone divide matches up with the region's main geopolitical one: Iran prefers Android, Saudi Arabia the iPhone.
Asia-Pacific: Apple on the periphery
Credit: Electronics Hub
Another wafer-thin majority for Android in the Asia-Pacific region: 13 countries versus 12 for Apple — and one abstention (Fiji).

The two giants of the Asian mainland, India and China, are both Android countries. Apple countries are on the periphery.
And if India is Android, its rival Pakistan must be Apple. Same with North and South Korea.
Experts point to the fact that both operating systems are becoming more alike with every new generation as a potential resolution to the conflict. But as any student of human behavior will confirm: smaller differences will only exacerbate the rivalry between both camps.


Maps taken from Electronics Hub, reproduced with kind permission.
Strange Maps #1096
Got a strange map? Let me know at strangemaps@gmail.com.
English is a dynamic language, and this summer's new additions to dictionary.com tell us a lot about how we're living.
Pixabay via Pexels
Culture & Religion
The summer update to Dictionary.com added hundreds of new words and definitions.
Many of them are in areas related to justice, technology, and COVID-19.
The new slang terms will leave more than a few people confused.
In any given year, new words are added to the dictionary to reflect how society's use of them has changed, often in response to ongoing events. For Summer 2021, more than 1200 new, improved, and revised definitions were introduced to Dictionary.com, including 231 entirely new words. A review of those words, the subjects they cover, and the stories behind their creation tells a rich story about the times we live in.
A word by any other definition?
You might wonder why we need to carry out such extensive addition and redefining campaigns. John Kelly, the Managing Editor of Dictionary.com, explained in a statement why these changes were made and their importance:
"The latest update to our dictionary continues to mirror the world around us. Long COVID, minoritize, 5G, content warning, domestic terrorism — it's a complicated and challenging society we live in, and language changes to help us grapple with it. But sometimes language changes just for fun. Yes, yeet is now in the dictionary, which may prompt some of us to use one other of our new entries: oof! Perhaps these lighter slang and pop culture newcomers to our dictionary reflect another important aspect of our time — a cautious optimism and a brighter mood about the future ahead after a trying 2020."
The English language isn't static, so it is up to lexicographers to get the dictionaries up to speed. Let's face it, we might need more than a few new words to talk about last year.
The times they are a-changin'
Good Communication 101: Mirroring, Jargon, Hifalutin Words | Alan Alda | Big Think www.youtube.com
Words that describe the continuing COVID-19 pandemic are still being added. The recent additions, which include long haul and long hauler may speak to the shift in how we interact with the pandemic — it is now a long-term rather than an acute concern for many people. Changes to our lives as a result of the pandemic and new ways to cater to those challenges, like ghost kitchen and side hustle, also made their way in.

In the aftermath of the murder of George Floyd and the protests that followed, Americans searched for terms related to racial issues at significantly higher levels than before. This not only called for updates and additions to words in this area last year but a continuing review, which has added new terms like the acronyms JEDI and DEI and the new word one-drop rule. Other terms long included, like Jim Crow and Black Codes, saw updates this summer.
Technology continued to advance through thick and thin as well. Terms like 5G, asynchronous, and abandonware made it into the recent update. Given how much time we all spent using tech in the last year and a half, it is only fitting that we would need these terms. 5G also has the unfortunate distinction of being both a telecommunications technology and a target for conspiracy theorists, perhaps making a dictionary entry for it all the more important.
Other words previously defined as regional or cultural in nature have been redefined in the light of their evolving use. Y'all is now listed as its own term and deemed an "informal" pronoun rather than a mere variant of "you-all." The post explaining the update noted that the term is now more known for informality than regionalism and has enjoyed a surge in use as a gender neutral pronoun.
Newfangled slang
Mind hack: 7 secrets to learn any new language | Steve Kaufmann | Big Think www.youtube.com
Perhaps it is necessary that after a year that required so many of the above words to be added or clarified, there are new slang terms that will seem like absolute gibberish to somebody disconnected from popular culture. New words like yeet, zaddy, and oof were added this year, showing that even in difficult times, fun new ways to use language are cropping up all the time.

The website's lexicographers also saw fit to officially add one of the honorable mentions for 2020's word of the year to the list of vulgar slang terms. Regrettably, it is unfit for publication, but it rhymes with spit-snow.
So, now that y'all know about these updates, perhaps we can all order from the new ghost kitchen from apps on our 5G smartphones before getting back to our side hustles. Yeet!
Technology & Innovation
Virtual reality continues to blur the line between the physical and the digital, and it will change our lives forever.
Scroll down to load more…