Major report warns that a "meat tax" is coming
After tobacco, carbon, and sugar, meat may be next on the list to be taxed by governments in their efforts to comply with health and environmental policies.
Teodora Zareva
Teodora Zareva is an entrepreneur, writer, board games geek and a curious person at large. Her professional path has taken her from filmmaking and photography to writing, TEDx organizing, teaching, and social entrepreneurship. She has lived and worked in the U.S. and Bulgaria and is currently doing her MBA at Saïd Business School at the University of Oxford. Her biggest passion lies at the intersection of media and youth development. She is the co-founder of WishBOX Foundation, a Bulgarian NGO that helps high school students with their professional orientation by organizing events, courses, summer camps and developing digital media resources.
30 January, 2018
After tobacco, carbon, and sugar, meat may be next on the list to be taxed by governments in their efforts to comply with health and environmental policies. Тhis is what a recent report published by the FAIRR initiative argues. 
---
Farm Animal Investment Risk and Return (FAIRR) is an initiative that informs and advises investors about the risks and opportunities related to the industrial livestock production sector. FAIRR's most recent report The Livestock Levy, which was published in December, forewarns investors that meat may be due for a tax in the next five to ten years, just like sugar and tobacco.
Taxing goods that are considered unhealthy or dangerous for the environment is an attractive revenue stream for governments. In recent years, meat has entered the list of goods that may be harmful to society.
The International Agency for Research on Cancer (IARC), which is part of the World Health Organization, has classified processed meat as a Group1 carcinogen, the same group as tobacco and asbestos. Red meat was classified as Group2A: "probably carcinogenic to humans." 
As a result, many countries have started modifying their official food recommendation guidelines switching their focus from meat and dairy to plants. Belgium's 2017 food pyramid shows processed meat in the junk food category—alongside candy, sugar and fries—as foods that "are not necessary for a balanced diet and can even damage your health."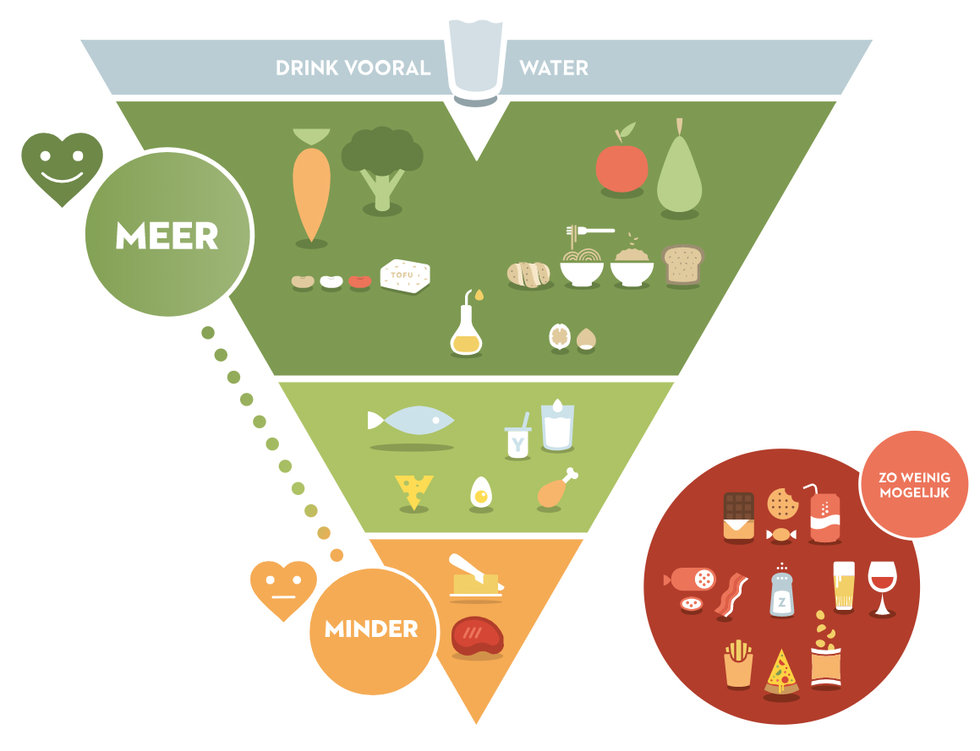 Belgium's food pyramid. The top says 'Drink mostly water'. The green circle says 'more' and the yellow circle says 'less'. The red section says 'as little as possible' and is for foods that are "not necessary for a balanced diet and can even damage your health."
The Chinese Dietary Guideline, which was last updated in 2016, recommends that Chinese people reduce their consumption of meat to 1.4-2.6 oz a day. If the recommendation is followed, it would reduce the meat consumption per person from 139 lbs to 31-60 lbs per year.
But while there is still room for a scientific debate regarding the health risks of consuming meat, there is none left when it comes to the harm that industrial livestock production causes to the environment. 
The FAIRR report points out that meat consumption has risen 500% between 1992 and 2016, and the upward trend is likely to continue. This would put an even further strain on the global livestock industry, which is already implicated in producing more greenhouse gas emissions than the transport sector, increasing levels of antibiotic resistance, soil degradation, deforestation and being a threat to global food security and water availability. 
FAIRR estimates that the health and environmental costs for the global economy caused by meat production could result in as much as $1.6 trillion by 2050.
Jeremy Coller, the founder of FAIRR and the chief investment officer at the private equity firm Coller Capital says: 
"If policymakers are to cover the true cost of human epidemics like obesity, diabetes and cancer, and livestock epidemics like avian flu, while also tackling the twin challenges of climate change and antibiotic resistance, then a shift from subsidisation to taxation of the meat industry looks inevitable. Far-sighted investors should plan ahead for this day."
Indeed, policymakers in countries like Denmark, Sweden and Germany have already put taxing meat on their agendas, even though no concrete legislation plans have been put in place. However, it is exactly in the Nordic countries that the first carbon tax was introduced in 1990.
So, the question remains whether or not taxing meat will be an effective enough measure.
Today more than 180 countries tax tobacco, more than 60 jurisdictions tax carbon emissions, and at least 25 tax sugar.
According to Mexico's National Institute of Public Health, the special tax on sugary drinks that was imposed in 2014 has resulted in lowering per capita consumption of those beverages by 6% in 2014, 8% in 2015 and 11% in the first half of 2016.
According to a study by the Oxford Martin Programme on the Future of Food, taxes of 40% on beef, 20% on dairy products and 8.5% on chicken would save half a million lives a year and reduce climate warming emissions. 
The World Health Organization considers taxing tobacco, for example, as a win-win policy for governments that "creates the fiscal space to finance development programmes while, at the same time, reduces tobacco use."
There are more ripple effects to taxation that could prove beneficial. For example, steering investor money away from the meat production industry to companies that produce more sustainable forms of protein like Beyond Meat can lead to accelerated innovations.
Bloomberg reports that FAIRR's sustainable protein engagement plan, currently supported by 57 investors with $2.3 trillion under management, plans to ask 16 major food multinationals this year to "future proof" their supply chains by diversifying their protein sources.
Maria Lettini, director of FAIRR, concludes: 
"On the current pathway we may well see some form of meat tax emerge within five to 10 years. There are huge opportunities in the market. If we can start replacing meat protein with plant-based protein that has the same look, taste and feel as meat, where real red-blooded meat eaters are happy to dig into a burger that is plant-based, we are changing the world."
Here, epidemiologist Dr. Larry Brilliant explains the dangerous trend of developing nations' increasing taste and growing budget for meat consumption, and the impact it has on disease epidemics.

Related Articles
Through computationally intensive computer simulations, researchers have discovered that "nuclear pasta," found in the crusts of neutron stars, is the strongest material in the universe.
Accretion disk surrounding a neutron star. Credit: NASA
Surprising Science
The strongest material in the universe may be the whimsically named "nuclear pasta."
You can find this substance in the crust of neutron stars.
This amazing material is super-dense, and is 10 billion times harder to break than steel.
---
Superman is known as the "Man of Steel" for his strength and indestructibility. But the discovery of a new material that's 10 billion times harder to break than steel begs the question—is it time for a new superhero known as "Nuclear Pasta"? That's the name of the substance that a team of researchers thinks is the strongest known material in the universe.
Unlike humans, when stars reach a certain age, they do not just wither and die, but they explode, collapsing into a mass of neurons. The resulting space entity, known as a neutron star, is incredibly dense. So much so that previous research showed that the surface of a such a star would feature amazingly strong material. The new research, which involved the largest-ever computer simulations of a neutron star's crust, proposes that "nuclear pasta," the material just under the surface, is actually stronger.
The competition between forces from protons and neutrons inside a neutron star create super-dense shapes that look like long cylinders or flat planes, referred to as "spaghetti" and "lasagna," respectively. That's also where we get the overall name of nuclear pasta.
Caplan & Horowitz/arXiv
Diagrams illustrating the different types of so-called nuclear pasta.
The researchers' computer simulations needed 2 million hours of processor time before completion, which would be, according to a press release from McGill University, "the equivalent of 250 years on a laptop with a single good GPU." Fortunately, the researchers had access to a supercomputer, although it still took a couple of years. The scientists' simulations consisted of stretching and deforming the nuclear pasta to see how it behaved and what it would take to break it.
While they were able to discover just how strong nuclear pasta seems to be, no one is holding their breath that we'll be sending out missions to mine this substance any time soon. Instead, the discovery has other significant applications.
One of the study's co-authors, Matthew Caplan, a postdoctoral research fellow at McGill University, said the neutron stars would be "a hundred trillion times denser than anything on earth." Understanding what's inside them would be valuable for astronomers because now only the outer layer of such starts can be observed.
"A lot of interesting physics is going on here under extreme conditions and so understanding the physical properties of a neutron star is a way for scientists to test their theories and models," Caplan added. "With this result, many problems need to be revisited. How large a mountain can you build on a neutron star before the crust breaks and it collapses? What will it look like? And most importantly, how can astronomers observe it?"
Another possibility worth studying is that, due to its instability, nuclear pasta might generate gravitational waves. It may be possible to observe them at some point here on Earth by utilizing very sensitive equipment.
The team of scientists also included A. S. Schneider from California Institute of Technology and C. J. Horowitz from Indiana University.
Check out the study "The elasticity of nuclear pasta," published in Physical Review Letters.
Scientists think constructing a miles-long wall along an ice shelf in Antarctica could help protect the world's largest glacier from melting.
Image: NASA
Surprising Science
Rising ocean levels are a serious threat to coastal regions around the globe.
Scientists have proposed large-scale geoengineering projects that would prevent ice shelves from melting.
The most successful solution proposed would be a miles-long, incredibly tall underwater wall at the edge of the ice shelves.
The world's oceans will rise significantly over the next century if the massive ice shelves connected to Antarctica begin to fail as a result of global warming.
To prevent or hold off such a catastrophe, a team of scientists recently proposed a radical plan: build underwater walls that would either support the ice or protect it from warm waters.
In a paper published in The Cryosphere, Michael Wolovick and John Moore from Princeton and the Beijing Normal University, respectively, outlined several "targeted geoengineering" solutions that could help prevent the melting of western Antarctica's Florida-sized Thwaites Glacier, whose melting waters are projected to be the largest source of sea-level rise in the foreseeable future.
An "unthinkable" engineering project
"If [glacial geoengineering] works there then we would expect it to work on less challenging glaciers as well," the authors wrote in the study.

One approach involves using sand or gravel to build artificial mounds on the seafloor that would help support the glacier and hopefully allow it to regrow. In another strategy, an underwater wall would be built to prevent warm waters from eating away at the glacier's base.
The most effective design, according to the team's computer simulations, would be a miles-long and very tall wall, or "artificial sill," that serves as a "continuous barrier" across the length of the glacier, providing it both physical support and protection from warm waters. Although the study authors suggested this option is currently beyond any engineering feat humans have attempted, it was shown to be the most effective solution in preventing the glacier from collapsing.
Source: Wolovick et al.
An example of the proposed geoengineering project. By blocking off the warm water that would otherwise eat away at the glacier's base, further sea level rise might be preventable.
But other, more feasible options could also be effective. For example, building a smaller wall that blocks about 50% of warm water from reaching the glacier would have about a 70% chance of preventing a runaway collapse, while constructing a series of isolated, 1,000-foot-tall columns on the seafloor as supports had about a 30% chance of success.

Still, the authors note that the frigid waters of the Antarctica present unprecedently challenging conditions for such an ambitious geoengineering project. They were also sure to caution that their encouraging results shouldn't be seen as reasons to neglect other measures that would cut global emissions or otherwise combat climate change.
"There are dishonest elements of society that will try to use our research to argue against the necessity of emissions' reductions. Our research does not in any way support that interpretation," they wrote.
"The more carbon we emit, the less likely it becomes that the ice sheets will survive in the long term at anything close to their present volume."
A 2015 report from the National Academies of Sciences, Engineering, and Medicine illustrates the potentially devastating effects of ice-shelf melting in western Antarctica.
"As the oceans and atmosphere warm, melting of ice shelves in key areas around the edges of the Antarctic ice sheet could trigger a runaway collapse process known as Marine Ice Sheet Instability. If this were to occur, the collapse of the West Antarctic Ice Sheet (WAIS) could potentially contribute 2 to 4 meters (6.5 to 13 feet) of global sea level rise within just a few centuries."
The world's getting hotter, and it's getting more volatile. We need to start thinking about how climate change encourages conflict.
Christopher Furlong/Getty Images
Politics & Current Affairs
Climate change is usually discussed in terms of how it impacts the weather, but this fails to emphasize how climate change is a "threat multiplier."
As a threat multiplier, climate change makes already dangerous social and political situations even worse.
Not only do we have to work to minimize the impact of climate change on our environment, but we also have to deal with how it affects human issues today.
Big think's weekly newsletter.
Get smarter faster from the comfort of your inbox.
See our newsletter privacy policy
here
Most Popular
Most Recent
Big think's weekly newsletter.
Get smarter faster from the comfort of your inbox.
See our newsletter privacy policy
here
© Copyright 2007-2018 & BIG THINK, BIG THINK EDGE,
SMARTER FASTER trademarks owned by The Big Think, Inc. All rights reserved.