Activists are Using 3D Printing to Save the Rhinos
The idea is to flood the markets and drive prices down. Contrary to what you may think, a rhino horn is not made of bone but of keratin - the material found in nails and hair.
Teodora Zareva
Teodora Zareva is an entrepreneur, writer, board games geek and a curious person at large. Her professional path has taken her from filmmaking and photography to writing, TEDx organizing, teaching, and social entrepreneurship. She has lived and worked in the U.S. and Bulgaria and is currently doing her MBA at Saïd Business School at the University of Oxford. Her biggest passion lies at the intersection of media and youth development. She is the co-founder of WishBOX Foundation, a Bulgarian NGO that helps high school students with their professional orientation by organizing events, courses, summer camps and developing digital media resources.
23 November, 2017
---
Rhino poaching continues to be a big threat to the rhino population numbering a mere 30,000 animals globally. China and Vietnam are the biggest markets for rhino horns, which are primarily used for ornamental and medicinal purposes with no scientific basis. 
The higher the prices of rhino horn, the more incentivized poachers are to take risks and continue the illegal trade. Rhino horn prices peaked in 2012 at $65,000 a kilogram, and even though environmental organizations don't want to detail current prices out of fear of sparking more poaching, prices have remained high enough to motivate attacks like the one in a French zoo in March this year, where poachers killed and sawed off the horn of a white rhino.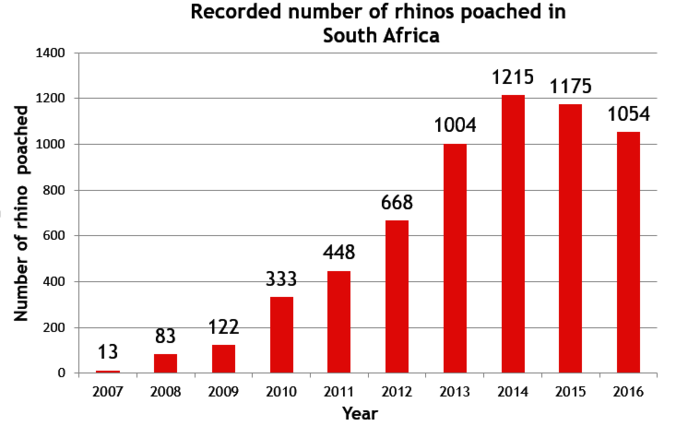 Credit: Save the Rhino
Conservationists' efforts have been mainly targeted at finding ways to reduce the demand for rhino horn. Some African nations are also preemptively dehorning rhinos so that they become of no interest to poachers - a practice that is dangerous for the animal and needs to be repeated every couple of years.
Recently, some high-tech companies have been betting on a different approach. Pembient is one of several start-ups that wants to produce fake rhino horn, indiscernible from the real one. The idea is to flood the markets and drive prices down. 
Contrary to what you may think, a rhino horn is not made of bone but of keratin - the material found in nails and hair. The horn is actually a compacted mass of hair that grows throughout the animal's life.
Pembient's initial approach was to make horn powder using proteins found in rhino horn and in microorganisms like yeast. This method didn't deliver the desired quality, however, so now Pambient is working on cultivating horn from rhinoceros stem cells and selling it as raw material for ornamental uses.
Conservationist organizations are not fond of the approach, however. The position of the International Rhino Foundation and Save the Rhino International is that selling synthetic horn does not reduce the demand for rhino horn and, in fact, more than 90% of "rhino horns" in circulation are already fake. In addition, synthetic horn could give credibility to the notion that rhino horn has medicinal value and could normalise or remove the stigma from buying illegal real horn. 
Matthew Markus, Pembient's founder, has the opposite view. He not only believes that reducing the demand is "infeasible", but that it is not really ethical either. 
"These practices are based on thousands of years of cultural tradition — they're a lot older than Thanksgiving. We can't just tell them to stop." - he says for Business Insider.
It is difficult to say what the effects of the fake rhino horn will be. As of now, Pembient is still in development of the substitute and cannot even name its price yet. Nevertheless, the company claims on its website that when the news of their product went viral in 2015, it resulted in a decline in rhino poaching "attributable to frightened speculators leaving the market ahead of an impending influx of questionable horn carvings." 
One thing is sure - a broad range of strategies are needed to address the illegal trade and save the rhinos and it will likely be best if all stakeholders worked together to achieve this goal.
New research links urban planning and political polarization.
Pixabay
Politics & Current Affairs
Canadian researchers find that excessive reliance on cars changes political views.
Decades of car-centric urban planning normalized unsustainable lifestyles.
People who prefer personal comfort elect politicians who represent such views.
Progressive America would be half as big, but twice as populated as its conservative twin.
Image: Dicken Schrader
Strange Maps
America's two political tribes have consolidated into 'red' and 'blue' nations, with seemingly irreconcilable differences.
Perhaps the best way to stop the infighting is to go for a divorce and give the two nations a country each
Based on the UN's partition plan for Israel/Palestine, this proposal provides territorial contiguity and sea access to both 'red' and 'blue' America
Science and the squishiness of the human mind. The joys of wearing whatever the hell you want, and so much more.
Flickr / 13winds
Think Again Podcasts
Why can't we have a human-sized cat tree?
What would happen if you got a spoonful of a neutron star?
Why do we insist on dividing our wonderfully complex selves into boring little boxes
Big think's weekly newsletter.
Get smarter faster from the comfort of your inbox.
See our newsletter privacy policy
here
Most Popular
Most Recent
Big think's weekly newsletter.
Get smarter faster from the comfort of your inbox.
See our newsletter privacy policy
here
© Copyright 2007-2018 & BIG THINK, BIG THINK EDGE,
SMARTER FASTER trademarks owned by The Big Think, Inc. All rights reserved.