This 25 Pound Blanket Will Help You Sleep Like a Rock
Weighted blankets have been proven to help you get a better night's sleep by mimicking swaddling and increasing serotonin levels.
Teodora Zareva
Teodora Zareva is an entrepreneur, writer, board games geek and a curious person at large. Her professional path has taken her from filmmaking and photography to writing, TEDx organizing, teaching, and social entrepreneurship. She has lived and worked in the U.S. and Bulgaria and is currently doing her MBA at Saïd Business School at the University of Oxford. Her biggest passion lies at the intersection of media and youth development. She is the co-founder of WishBOX Foundation, a Bulgarian NGO that helps high school students with their professional orientation by organizing events, courses, summer camps and developing digital media resources.
12 July, 2017
Probably the first aspect of our health to suffer as a result of busy and stressful lives is our sleep. According to the Center for Disease Control and Prevention (CDC) 35% of adults in the U.S. don't get the minimum recommended amount of 7 hours of sleep per night. Moreover, these adults are more likely to report 10 chronic health conditions compared to those who get 7 or more hours of sleep. Among these conditions are heart disease, cancer, depression, and diabetes.
---
Gravity Blanket is a 25 pound blanket (which recently raised almost $5 million on Kickstarter) that promises to alleviate some of the main causes of sleep deprivation - stress and anxiety. The blanket is designed to weigh approximately 10% of a person's body weight and uses the power of proprioceptive input. Also called "deep touch pressure stimulation", the approach is a well regarded therapeutic method that stimulates pressure points on the body linked to improved sleep, mood, and relaxation. The result is a reduction in cortisol levels and an increase in serotonin production, which decreases heart rate and blood pressure. In fact, weighted blankets are well known within the medical community, where they've been used to calm patients' anxiety and promote deep, restful sleep.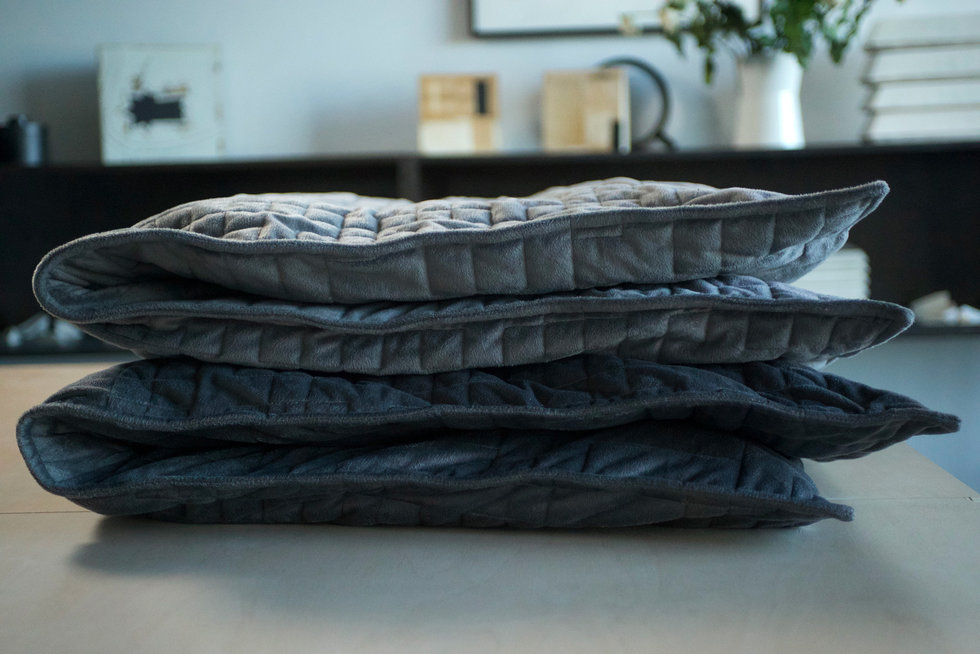 Academic studies back Gravity's claims. A study (published in 2008), titled Exploring the Safety and Therapeutic Effects of Deep Pressure Stimulation Using a Weighted Blanket, showed that using a 30 lb weighted blanket is safe while at the same time it results in 63% of participants reporting lower anxiety after use, and 78% preferring it as a calming method. Another study from 2012 showed similar results where individuals who used a weighted blanket reported significantly greater reduction in distress and clinician-rated anxiety than those who did not. A 2015 study from Sweden found that using a weighted blanked resulted in an increase of sleep bout time and reduction of movements of the participants and concluded that "a weighted blanket may aid in reducing insomnia through altered tactile inputs, thus may provide an innovative, non-pharmacological approach and complementary tool to improve sleep quality."
The Gravity Blanket evenly distributes pressure across the body and stimulates pressure points that increase serotonin and melatonin levels while decreasing cortisol. It can be used not only during sleep but also for general relaxation while reading, sitting on the couch, or meditating. The creators say that it "is designed to hug you back at night, closely mimicking how a parent swaddles their child while they sleep."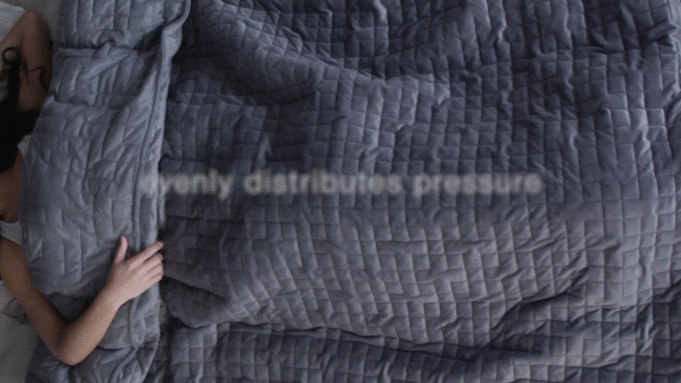 Gravity Blanket comes in a range of weighted options – 15, 20 and 25 pounds to suit a wider segment of users. The filling is a High Density Plastic Poly Pellet – an odorless, non-toxic, and food grade material. Live somewhere warm, or looking for a summer option? Gravity comes with a removable top to accommodate for warmer temperatures. Most options cost around $279. 
Sure beats sleeping in too-light hotel sheets!
The stories we tell define history. So who gets the mic in America?
Videos
History is written by lions. But it's also recorded by lambs.
In order to understand American history, we need to look at the events of the past as more prismatic than the narrative given to us in high school textbooks.
Including different voices can paint a more full and vibrant portrait of America. Which is why more walks of American life can and should be storytellers.

A glass of juice has as much sugar, ounce for ounce, as a full-calorie soda. And those vitamins do almost nothing.
popular
Quick: think back to childhood (if you've reached the scary clown you've gone too far). What did your parents or guardians give you to keep you quiet? If you're anything like most parents, it was juice. But here's the thing: juice is bad for you. 
Orangutans join humans and bees in a very exclusive club
Surprising Science
Orangutan mothers wait to sound a danger alarm to avoid tipping off predators to their location
It took a couple of researchers crawling around the Sumatran jungle to discover the phenomenon
This ability may come from a common ancestor
Big think's weekly newsletter.
Get smarter faster from the comfort of your inbox.
See our newsletter privacy policy
here
Most Popular
Most Recent
Big think's weekly newsletter.
Get smarter faster from the comfort of your inbox.
See our newsletter privacy policy
here
© Copyright 2007-2018 & BIG THINK, BIG THINK EDGE,
SMARTER FASTER trademarks owned by The Big Think, Inc. All rights reserved.