How did Valentine's Day become so commercial—and is it a bad thing?
From striking women with goat's skin to showering them with chocolates and flowers, here is how Valentine's Day became the holiday we know today.
Teodora Zareva
Teodora Zareva is an entrepreneur, writer, board games geek and a curious person at large. Her professional path has taken her from filmmaking and photography to writing, TEDx organizing, teaching, and social entrepreneurship. She has lived and worked in the U.S. and Bulgaria and is currently doing her MBA at Saïd Business School at the University of Oxford. Her biggest passion lies at the intersection of media and youth development. She is the co-founder of WishBOX Foundation, a Bulgarian NGO that helps high school students with their professional orientation by organizing events, courses, summer camps and developing digital media resources.
12 February, 2018
From striking women with goat's skin to showering them with chocolates and flowers, here is how Valentine's Day became the holiday we know today. 
---
Ancient Origins
According to historians, Valentine's Day is a successor of the ancient Roman feast of Lupercalia dating back to 300BC. Every year between February 13 and February 15, the Romans engaged in celebrations and rituals to honor the coming of spring. One of these rituals involved sacrificing a dog or a goat and using its skin to whip women, an act that was believed to increase their fertility. 
In addition, Lupercalia debuted the ancient version of a blind date: men's and women's names were drawn via a lottery and randomly matched to spend the holiday together. If they fancied each other at the end of the feast, they would marry soon after. 
Valentine's Day
In the 5th century A.D., Pope Gelasius I decided to expel the pagan holiday and replace it with a day for the celebration of a martyr called Valentine, who was executed by Emperor Claudius II.
There are different legends about who St. Valentine was. One tells the story of a Christian priest who was imprisoned and fell in love with his jailer's daughter. Before his death, he signed a love letter to her with the words "from your Valentine." 
Another legend tells about a priest who ignored Emperor Claudius II's ban on marriage for young men in his army. The priest continued to marry couples who were in love for which he was eventually executed.
Modern History
The man famous for sending (supposedly) the first Valentine's Day card was 21-year-old Charles, Duke of Orleans. In 1415, while he was imprisoned in the Tower of London, he sent a poem titled Farewell to Love to his 16-year-old wife Bonne of Armagnac. Charles, apparently, liked writing poems, as he would eventually produce more than 500 of them during his life.  
Curiously, Bonne was Charles' second of three wives. The first one he married when he was 12 and she was 17. His third wife was 14 at the time of marriage and Charles was 46, after having spent 25 years in prison.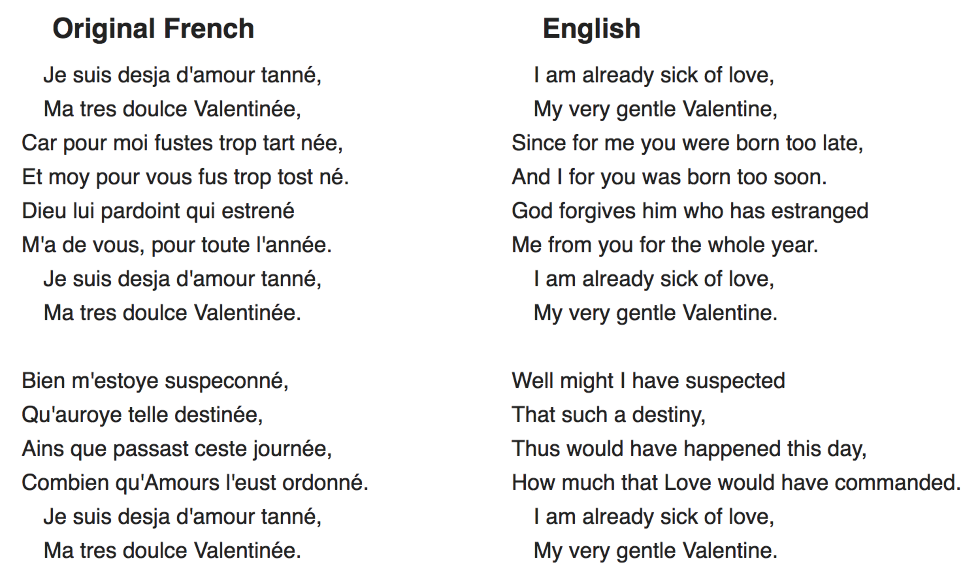 The original French text and translation of Charles of Orleans' poem Farewell to Love. Credit: Wikimedia Commons
Authors like Chaucer and Shakespeare popularized Valentine's Day with their works and contributed to its transformation into a holiday of matchmaking and gift-giving.  
During the 17th and 18th centuries, the holiday began resembling its modern consumer-oriented incarnation. While the common folk exchanged cards and turned to divinations to reveal their future romantic partners, the aristocracy engaged in more sophisticated activities. 
In the European courts, where elaborate displays of fashion and style were already common, the holiday was celebrated by gifting expensive presents to selected people called "Valentines" and "the formal offering of compliments in rhyme and verse."  
Commercialization
What helped St. Valentine's Day take root across the ocean in the United States was the nation's emerging consumer and popular culture, boosted by the influence of advertising and the following developments in printing and mass production.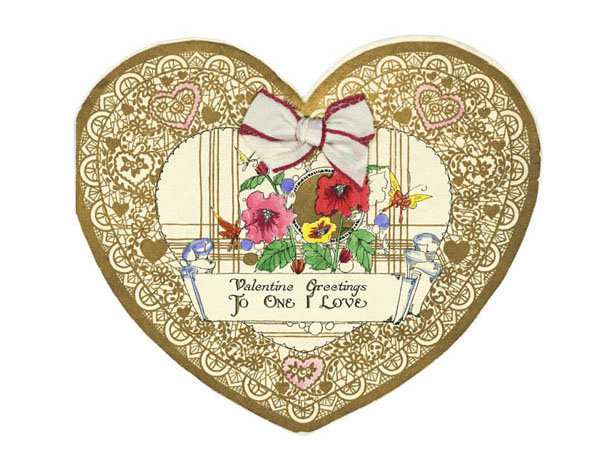 Hallmark card from the 1920s. The color on this and other Hallmark cards through the 1920s and 1930s was applied by hand, until lithography made color printing feasible. Credit: Hallmark.
In the 1840s, an American newspaper called The Public Ledger endorsed the holiday saying that people needed "more soul-play and less head-work" and more opportunities that allowed for an "abandon of feeling." The meaning of "valentine" transformed from signifying a person to referring to an object of exchange. 
In the following decades, the marketing machines of many companies turned their wheels to lure more and more customers into celebrating the holiday, and convince them to purchase valentines—in the forms of cards, chocolates, flowers, and jewelry—for their loved ones. Nowadays, even for the non-celebrating or single individual, there is plenty of anti-Valentine merchandise to go around.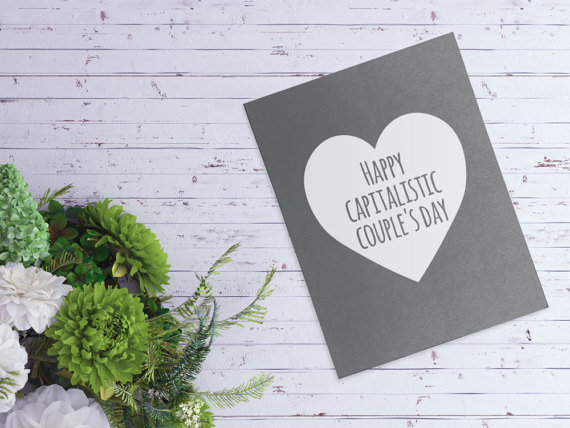 Even if you don't like Valentine's Day, or capitalism, you can still buy a card to express that. Wait, what? Credit: Etsy
Somewhere along the way, a whole Valentine's Day family emerged called the Valentine Week. These are the seven days before February 14, each of which has a special name to encourage the celebration of love. Starting on February 7 the days are: Rose Day, Propose Day, Chocolate Day, Teddy Day, Promise Day, Hug Day and Kiss Day.
Love is…
Valentine's Day has certainly contributed to the way western culture celebrates and expresses love, associating it more closely with the material. U.S. consumer spending for 2018 is expected to be $19.6 billion. 
There is certainly room for debate, however, about whether the function of the holiday is that different from the way people have celebrated it since the beginning. 
Yale sociologist Jefferey Alexander points out that rituals have always been an important part of human culture and can "help renew a flagging sense of solidarity." Gift giving has also always been an important way to create peace and reciprocity. 
"I think gifts can be thought of as materializations of meanings and emotions, rather than as commercial or financial exchanges. Let's take the idea of a heart, which was a symbol people used long before Valentine's Day. The gifts we exchange on Valentine's Day are supposed to symbolize the emotions that come out of the heart. Of course, today when everything is commodified, people feel there is a correlation between the emotion communicated in the gift and how much money you spend," Alexander says.
This commodification is not just due to Valentine's Day, however. For the contemporary man and woman, a romantic relationship comes inevitably with material and financial considerations.
Ultimately, how we choose to celebrate Valentine's Day is up to us. Taking part in a collective ritual, however, has a positive effect on our feelings of belonging, and thanks to the commercialization of the holiday, there is a way for everyone to participate. 
Related Articles
Through computationally intensive computer simulations, researchers have discovered that "nuclear pasta," found in the crusts of neutron stars, is the strongest material in the universe.
Accretion disk surrounding a neutron star. Credit: NASA
Surprising Science
The strongest material in the universe may be the whimsically named "nuclear pasta."
You can find this substance in the crust of neutron stars.
This amazing material is super-dense, and is 10 billion times harder to break than steel.
---
Superman is known as the "Man of Steel" for his strength and indestructibility. But the discovery of a new material that's 10 billion times harder to break than steel begs the question—is it time for a new superhero known as "Nuclear Pasta"? That's the name of the substance that a team of researchers thinks is the strongest known material in the universe.
Unlike humans, when stars reach a certain age, they do not just wither and die, but they explode, collapsing into a mass of neurons. The resulting space entity, known as a neutron star, is incredibly dense. So much so that previous research showed that the surface of a such a star would feature amazingly strong material. The new research, which involved the largest-ever computer simulations of a neutron star's crust, proposes that "nuclear pasta," the material just under the surface, is actually stronger.
The competition between forces from protons and neutrons inside a neutron star create super-dense shapes that look like long cylinders or flat planes, referred to as "spaghetti" and "lasagna," respectively. That's also where we get the overall name of nuclear pasta.
Caplan & Horowitz/arXiv
Diagrams illustrating the different types of so-called nuclear pasta.
The researchers' computer simulations needed 2 million hours of processor time before completion, which would be, according to a press release from McGill University, "the equivalent of 250 years on a laptop with a single good GPU." Fortunately, the researchers had access to a supercomputer, although it still took a couple of years. The scientists' simulations consisted of stretching and deforming the nuclear pasta to see how it behaved and what it would take to break it.
While they were able to discover just how strong nuclear pasta seems to be, no one is holding their breath that we'll be sending out missions to mine this substance any time soon. Instead, the discovery has other significant applications.
One of the study's co-authors, Matthew Caplan, a postdoctoral research fellow at McGill University, said the neutron stars would be "a hundred trillion times denser than anything on earth." Understanding what's inside them would be valuable for astronomers because now only the outer layer of such starts can be observed.
"A lot of interesting physics is going on here under extreme conditions and so understanding the physical properties of a neutron star is a way for scientists to test their theories and models," Caplan added. "With this result, many problems need to be revisited. How large a mountain can you build on a neutron star before the crust breaks and it collapses? What will it look like? And most importantly, how can astronomers observe it?"
Another possibility worth studying is that, due to its instability, nuclear pasta might generate gravitational waves. It may be possible to observe them at some point here on Earth by utilizing very sensitive equipment.
The team of scientists also included A. S. Schneider from California Institute of Technology and C. J. Horowitz from Indiana University.
Check out the study "The elasticity of nuclear pasta," published in Physical Review Letters.
Scientists think constructing a miles-long wall along an ice shelf in Antarctica could help protect the world's largest glacier from melting.
Image: NASA
Surprising Science
Rising ocean levels are a serious threat to coastal regions around the globe.
Scientists have proposed large-scale geoengineering projects that would prevent ice shelves from melting.
The most successful solution proposed would be a miles-long, incredibly tall underwater wall at the edge of the ice shelves.
The world's oceans will rise significantly over the next century if the massive ice shelves connected to Antarctica begin to fail as a result of global warming.
To prevent or hold off such a catastrophe, a team of scientists recently proposed a radical plan: build underwater walls that would either support the ice or protect it from warm waters.
In a paper published in The Cryosphere, Michael Wolovick and John Moore from Princeton and the Beijing Normal University, respectively, outlined several "targeted geoengineering" solutions that could help prevent the melting of western Antarctica's Florida-sized Thwaites Glacier, whose melting waters are projected to be the largest source of sea-level rise in the foreseeable future.
An "unthinkable" engineering project
"If [glacial geoengineering] works there then we would expect it to work on less challenging glaciers as well," the authors wrote in the study.

One approach involves using sand or gravel to build artificial mounds on the seafloor that would help support the glacier and hopefully allow it to regrow. In another strategy, an underwater wall would be built to prevent warm waters from eating away at the glacier's base.
The most effective design, according to the team's computer simulations, would be a miles-long and very tall wall, or "artificial sill," that serves as a "continuous barrier" across the length of the glacier, providing it both physical support and protection from warm waters. Although the study authors suggested this option is currently beyond any engineering feat humans have attempted, it was shown to be the most effective solution in preventing the glacier from collapsing.
Source: Wolovick et al.
An example of the proposed geoengineering project. By blocking off the warm water that would otherwise eat away at the glacier's base, further sea level rise might be preventable.
But other, more feasible options could also be effective. For example, building a smaller wall that blocks about 50% of warm water from reaching the glacier would have about a 70% chance of preventing a runaway collapse, while constructing a series of isolated, 1,000-foot-tall columns on the seafloor as supports had about a 30% chance of success.

Still, the authors note that the frigid waters of the Antarctica present unprecedently challenging conditions for such an ambitious geoengineering project. They were also sure to caution that their encouraging results shouldn't be seen as reasons to neglect other measures that would cut global emissions or otherwise combat climate change.
"There are dishonest elements of society that will try to use our research to argue against the necessity of emissions' reductions. Our research does not in any way support that interpretation," they wrote.
"The more carbon we emit, the less likely it becomes that the ice sheets will survive in the long term at anything close to their present volume."
A 2015 report from the National Academies of Sciences, Engineering, and Medicine illustrates the potentially devastating effects of ice-shelf melting in western Antarctica.
"As the oceans and atmosphere warm, melting of ice shelves in key areas around the edges of the Antarctic ice sheet could trigger a runaway collapse process known as Marine Ice Sheet Instability. If this were to occur, the collapse of the West Antarctic Ice Sheet (WAIS) could potentially contribute 2 to 4 meters (6.5 to 13 feet) of global sea level rise within just a few centuries."
The world's getting hotter, and it's getting more volatile. We need to start thinking about how climate change encourages conflict.
Christopher Furlong/Getty Images
Politics & Current Affairs
Climate change is usually discussed in terms of how it impacts the weather, but this fails to emphasize how climate change is a "threat multiplier."
As a threat multiplier, climate change makes already dangerous social and political situations even worse.
Not only do we have to work to minimize the impact of climate change on our environment, but we also have to deal with how it affects human issues today.
Big think's weekly newsletter.
Get smarter faster from the comfort of your inbox.
See our newsletter privacy policy
here
Most Popular
Most Recent
Big think's weekly newsletter.
Get smarter faster from the comfort of your inbox.
See our newsletter privacy policy
here
© Copyright 2007-2018 & BIG THINK, BIG THINK EDGE,
SMARTER FASTER trademarks owned by The Big Think, Inc. All rights reserved.