Saudi Arabia Is Building a $500-Billion New Territory Based on Tech and Liberal Values
This independent zone, with its own regulations and social norms, will be built from scratch on 10,231 square miles of untouched land at a cost of $500 billion.
Teodora Zareva
Teodora Zareva is an entrepreneur, writer, board games geek and a curious person at large. Her professional path has taken her from filmmaking and photography to writing, TEDx organizing, teaching, and social entrepreneurship. She has lived and worked in the U.S. and Bulgaria and is currently doing her MBA at Saïd Business School at the University of Oxford. Her biggest passion lies at the intersection of media and youth development. She is the co-founder of WishBOX Foundation, a Bulgarian NGO that helps high school students with their professional orientation by organizing events, courses, summer camps and developing digital media resources.
30 October, 2017
---
In October 2017, five of the richest men in the world sat next to each other in Saudi Arabia's capital Riyadh and with childlike excitement talked about their new shared dream: building Neom. 
They were on stage at the first edition of the Future Investment Initiative, an event that gathered international business leaders to explore new economic opportunities for a country that hopes to be no longer dependent on oil revenues as it fulfills its "Vision 2030" program.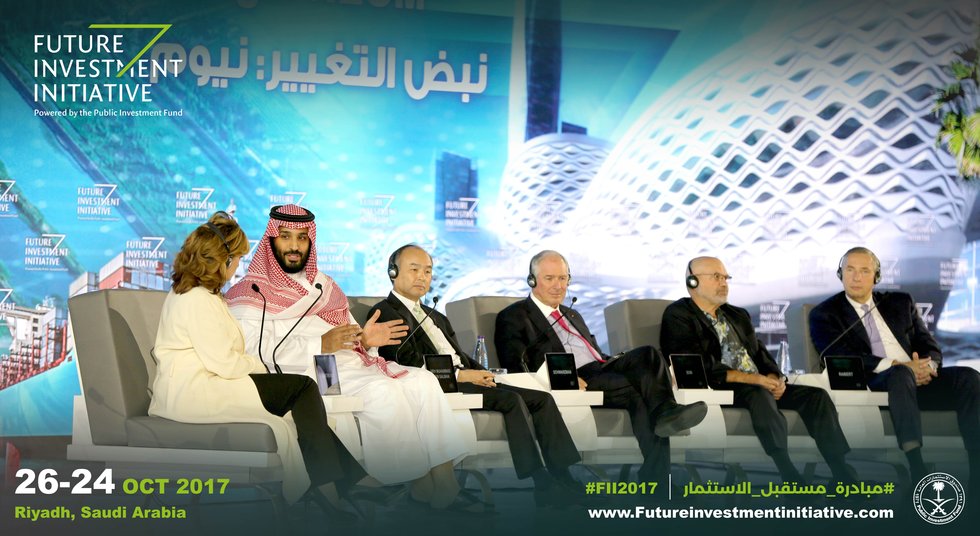 Panelists discussing the future of Neom, from left to right: the Crown Prince Mohammed bin Salman; Masayoshi Son, chairman and CEO of the SoftBank Group Corp. of Japan; Stephen A. Schwartzman, chairman and co-founder of the Blackstone Group; Marc Raibert, CEO of Boston Dynamics; Klaus Kleinfeld, former chairman and CEO of Arconic Alcoa Inc., and Siemens AG. 
Neom is to be the grandest manifestation of that vision. A city of the future, the likes of which the world has never seen—except maybe in science fiction books and movies. It is to be built from scratch on 10,231 square miles of untouched land in the northwestern region of Saudi Arabia, including territory from within the Egyptian and Jordanian borders. 
It will be an independent zone, with its own regulations and social norms, created specifically to be in service of economic progress and the well-being of its citizens, in the hopes of attracting the world's top talent and making Neom a hub of trade, innovation and creativity.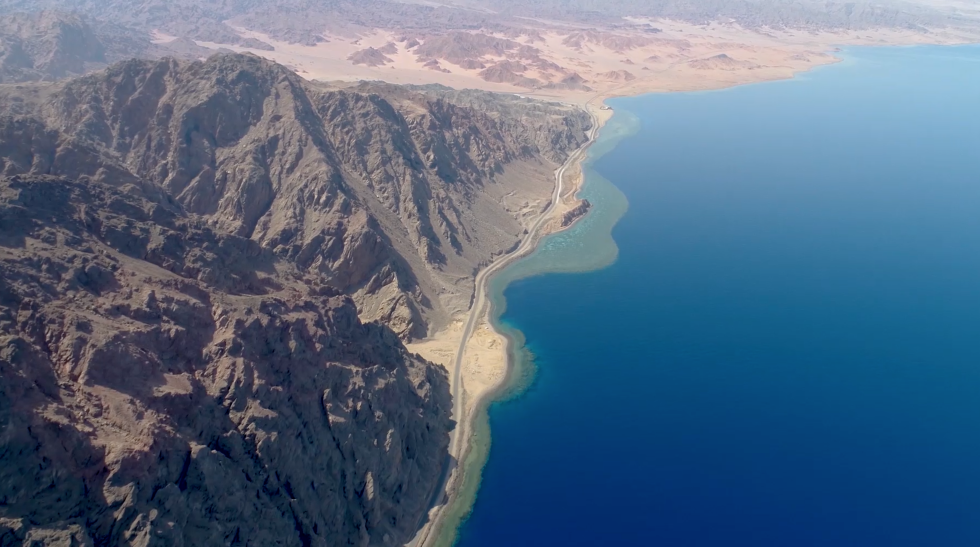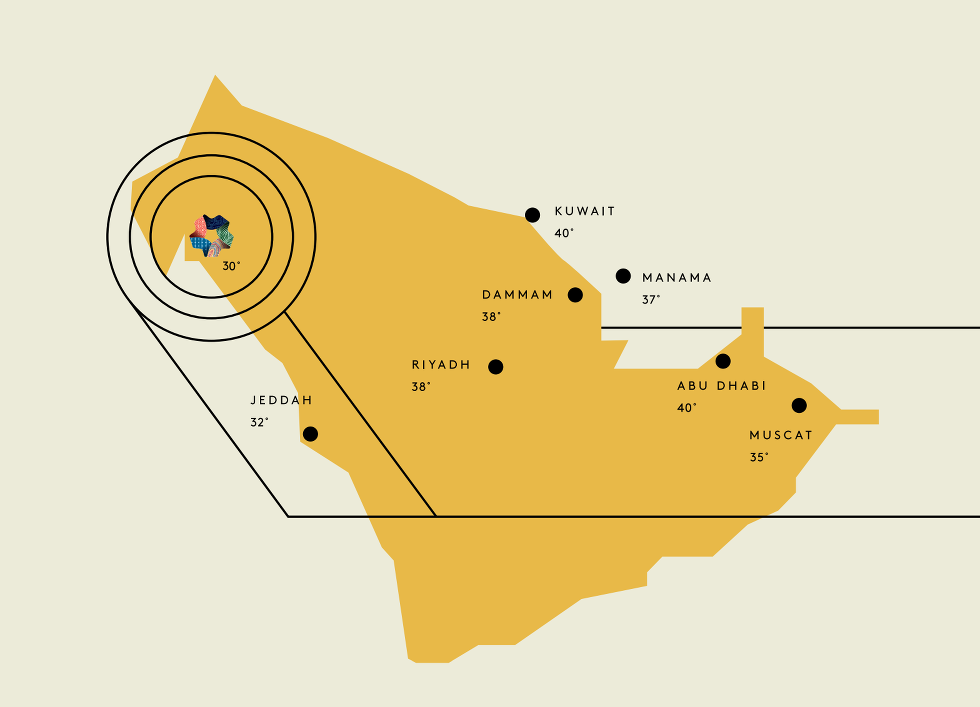 Neom's location offers a terrain with mountains, deserts, 285 miles of coastline and coral reefs, as well as a moderate climate, with temperatures on average 10 degrees Celsius lower than the rest of Saudi Arabia / Credit: discoverneom.com
While the scope of ambition for this urban project may be unprecedented for this century, its necessity is evident. With falling oil prices and declining demand, as well as insufficient investment opportunities at home, Saudi Arabia is searching for its place in the future.
It hopes to utilize another abundant natural resource: the sun. As Masayoshi Son, chairman and CEO of the SoftBank Group Corp. of Japan, said during the panel:
"Only 3% of the land of Saudi Arabia can provide over 50% of the electricity of the world, with today's solar technology."
Neom will not only become a test case for a zero-energy mega-city (with a size 33 times that of New York), but it will provide abundant opportunities for employment and investments within Saudi Arabia, attracting local and foreign money back to the country. The city's vision is to be at the forefront of nine key economic sectors, including energy and water, biotech, advanced manufacturing, and food.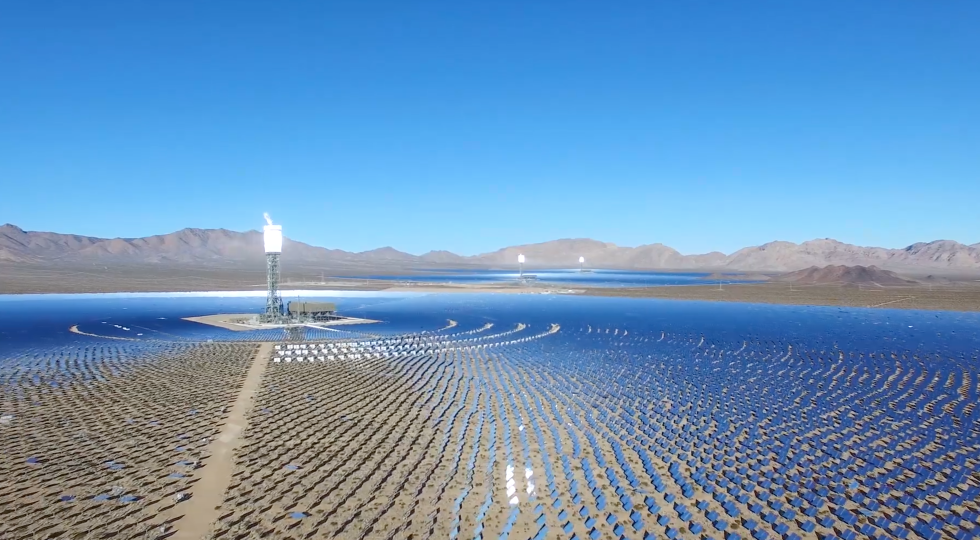 The goal for Neom is to not only be able to provide for all of its energy needs via solar and wind power, but to also be an exporter / discoverneom.com
Addressing a question about the political and social stability of the region, Prince Mohammed bin Salman said:
"We were not like this in the past. We only want to go back to what we were — the moderate Islam that is open to the world, open to all the religions. [...] 70% of the Saudi people are less than 30 years old, and quite frankly we will not waste 30 years of our lives in dealing with extremist ideas."
$500 billion has already been committed to the construction of Neom, with its first phase expected to be completed in 2025. The city will be owned by the Saudi Arabian Public Investment Fund, overseen by a special authority, chaired by Prince Mohammed bin Salman. Excluding sovereign laws (pertaining to the military sector, foreign policy and sovereign decision), Neom will have its own governmental framework, including different taxation, customs and labor laws.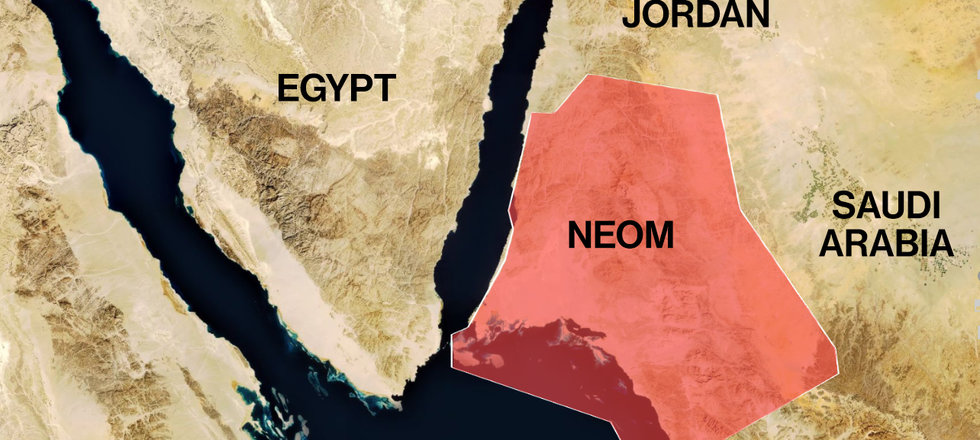 Neom has a strategic coastal Red Sea location close to international markets and trade routes. Approximately 10% of the world's trade flows through the Red Sea and 70% of the world's population can reach it in under eight hours flight. / discoverneom.com
Marc Reibert of Boston Dynamics emphasized that the success of the project will depend on attracting the right talent ("dreamers" are welcome) and creating the right culture of innovation that will allow for building this technological city of the future, where all services and processes will be entirely automated, food will be grown in the desert, drones will fly in the skies, and there will be a full-scale e-government.
At this initial stage it is unclear what Neom will look like, but we may get a taster thanks to another "future city" project to be built in Canada albeit on a much smaller scale.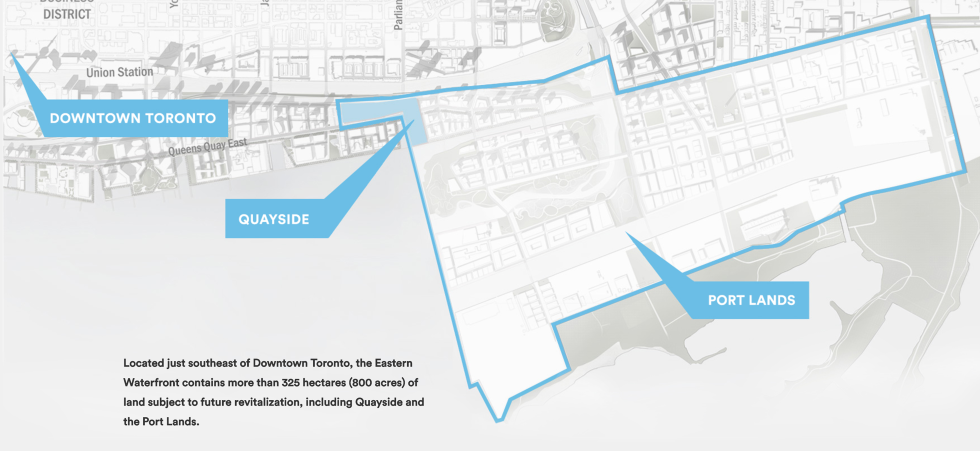 Credit: sidewalktoronto.ca
Sidewalk Labs, owned by Alphabet has committed $50 million to develop 12 acres in the Quayside area of Toronto in a public-private partnership with the city. The plan is to build a mini digital city, using a range of smart technologies, sustainable energy and autonomous cars, that will eventually become the home of Google's Canadian headquarters. 
Of course, redeveloping an area within a city and building a city from scratch are two entirely different endeavors, especially when the ambition for the latter is to "be the most exciting, fulfilling place to live and work on the planet. A tribute to humanity's timeless ambition, the herald of a new era and a new standard for centuries to come." 
History can provide us with its fair share of examples where humanity's vision of would-be utopian cities did not manifest itself the way it was intended. Hopefully, given the fact that both Neom and Sidewalk Toronto are intended to be commercial projects, things will pan out differently. 
Here's WIRED founder Kevin Kelly on utopia versus protopia:


The famed author headed to the pond thanks to Indian philosophy.
Image: Public Domain / Shutterstock / Big Think
Personal Growth
The famed author was heavily influenced by Indian literature, informing his decision to self-exile on Walden Pond.
He was introduced to these texts by his good friend's father, William Emerson.
Yoga philosophy was in America a century before any physical practices were introduced.
Pfizer's partnerships strengthen their ability to deliver vaccines in developing countries.
Susan Silbermann, Global President of Pfizer Vaccines, looks on as a health care worker administers a vaccine in Rwanda. Photo: Courtesy of Pfizer.
Sponsored
Community healthcare workers face many challenges in their work, including often traveling far distances to see their clients
Pfizer is helping to drive the UN's sustainable development goals through partnerships.
Pfizer partnered with AMP and the World Health Organization to develop a training program for healthcare workers.
A little goes a long way.
Photo: Shutterstock / Big Think
Personal Growth
A recent study from the Department of Health and Human Services found that 80 percent of Americans don't exercise enough.
Small breaks from work add up, causing experts to recommend short doses of movement rather than waiting to do longer workouts.
Rethinking what exercise is can help you frame how you move throughout your day.
Big think's weekly newsletter.
Get smarter faster from the comfort of your inbox.
See our newsletter privacy policy
here
Most Popular
Most Recent
Big think's weekly newsletter.
Get smarter faster from the comfort of your inbox.
See our newsletter privacy policy
here
© Copyright 2007-2018 & BIG THINK, BIG THINK EDGE,
SMARTER FASTER trademarks owned by The Big Think, Inc. All rights reserved.