AI Can See America's Wealth Inequality From Space
Just by looking at satellite images, AI can predict your income bracket, and tell us what wealth and poverty look like from space.
07 July, 2017
Image: NASA
---
What does wealth look like… from space? This is the question researchers from Carnegie Mellon University wanted to answer when they built Penny. Penny is an AI built on machine learning using neural networks. Through an interactive website Penny lets you browse satellite images of New York City and St. Louis and see how different kinds of features make an area look wealthy or poor to the AI.  
To build Penny, the researchers used household income data from the U.S. Census Bureau, mapped it, and overlaid it with satellite imagery. They color-coded areas to represent different income brackets. In the picture below, green represents areas with the highest quartile of annual income (averaging $71,876 and above), red represents areas with the lowest annual income (averaging $34,176 and below) and orange and yellow represent the middle levels of income (averaging between $34,176 and $49,904, and $49,904 and $71,876, respectively).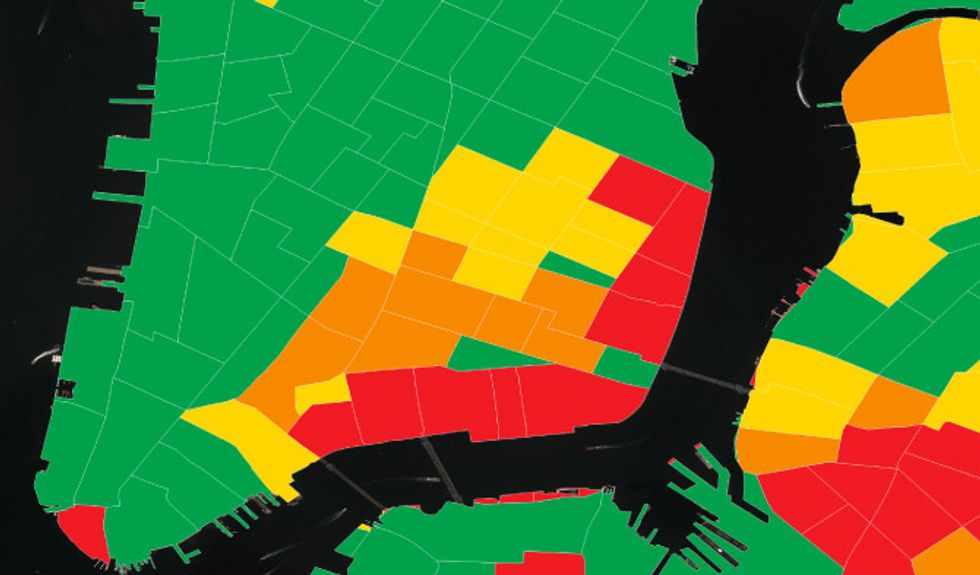 Census data mapped and color coded / penny.digitalglobe.com
The two layers of data — the color-coded map and the satellite images — were then given to a neural network which was trained to predict the average household incomes in any area in the city. The AI looks for patterns in the imagery that correlate with census data. Over time, the neural network learns what patterns best predict high and low income levels. The model can then be used to predict income levels for a place, just by looking at a satellite image. 
So, what do wealth and poverty look like from space? Some of the correlations that Penny found were that lower income areas, for example, tend to have baseball diamonds, parking lots, and large similarly shaped buildings (such as housing projects). In middle income areas there were more single-family homes and apartment buildings. Higher income areas tend to have greener spaces, tall shiny buildings, and single-family homes with lush backyards.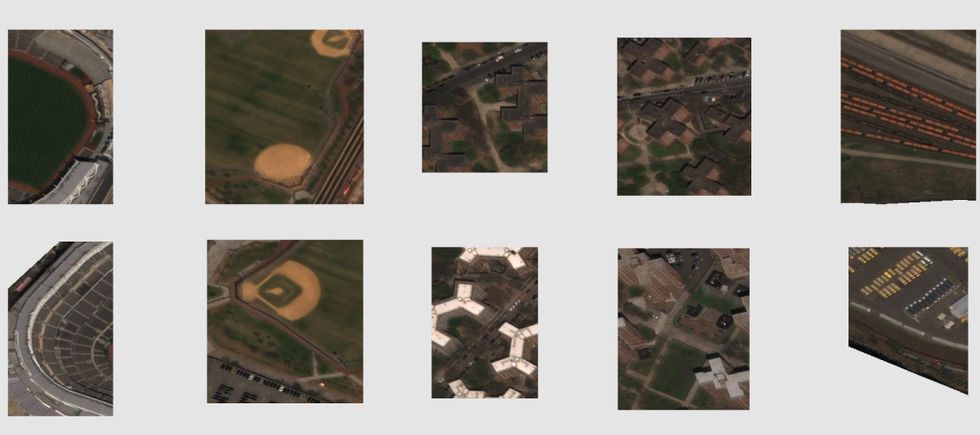 Patterns of low-income areas / penny.digitalglobe.com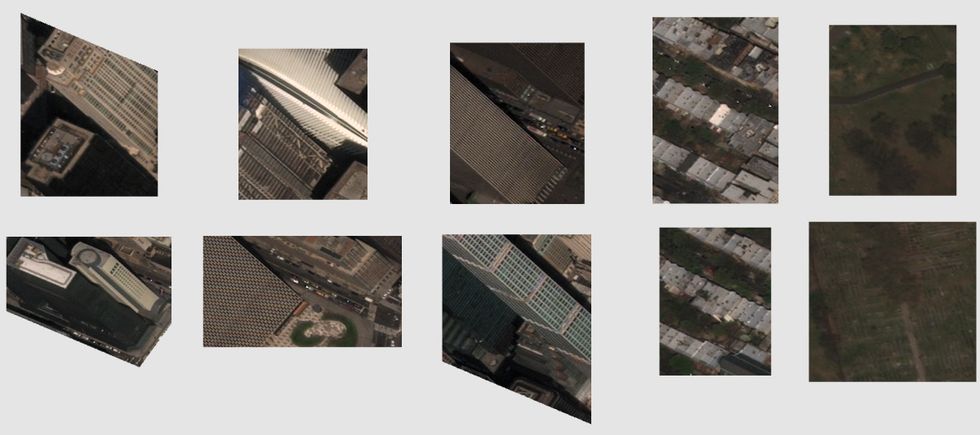 Patterns of high-income areas / penny.digitalglobe.com
There has also been other research concerned with estimating wealth from satellite data. Scientists from the University of Konstanz found that it is possible to make inferences about the wealth of a region, as well as individual settlements, by measuring the amount of nighttime illumination.
An interesting feature of Penny is that the tool lets you play around with the landscape of the city, by adding and removing urban features like buildings, parks, and freeways. After making the changes, Penny makes a new estimate on the income  bracket of the block.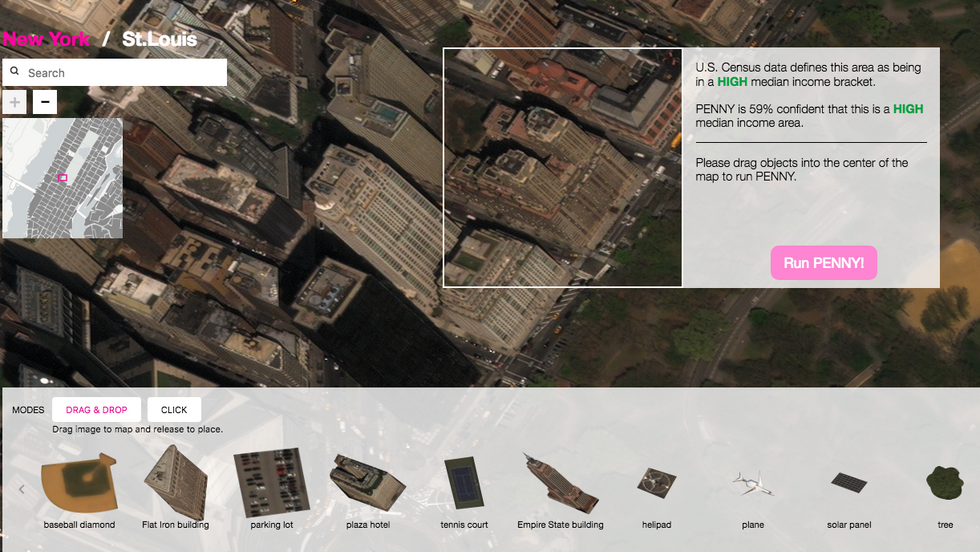 Penny's interface allows the users to drag and drop urban features on the map. / penny.digitalglobe.com
The researchers are hoping to spark a conversation about artificial intelligence, machine learning, cities, infrastructure, satellite imagery, and big data. The way machines understand these things has increasingly important implications for how we understand patterns of urbanization, wealth, and the human condition.
Universities claim to prepare students for the world. How many actually do it?
Sponsored by Charles Koch Foundation
Many university mission statements do not live up to their promise, writes Ben Nelson, founder of Minerva, a university designed to develop intellect over content memorization.
The core competencies that students need for success—critical thinking, communication, problem solving, and cross-cultural understanding, for example—should be intentionally taught, not left to chance.
These competencies can be summed up with one word: wisdom. True wisdom is the ability to apply one's knowledge appropriately when faced with novel situations.
This is what the world will look like, 250 million years from now
On Pangaea Proxima, Lagos will be north of New York, and Cape Town close to Mexico City
Surprising Science
To us humans, the shape and location of oceans and continents seems fixed. But that's only because our lives are so short.
SpaceX's momentous Crew Dragon launch is a sign of things to come for the space industry, and humanity's future.
Photo:Joe Raedle/Getty Images
Politics & Current Affairs
SpaceX was founded in 2002 and was an industry joke for many years. Eighteen years later, it is the first private company to launch astronauts to the International Space Station.
Today, SpaceX's Crew Dragon launched NASA astronauts Bob Behnken and Doug Hurley to the ISS. The journey will take about 19 hours.
Dylan Taylor, chairman and CEO of Voyager Space Holdings, looks at SpaceX's journey from startup to a commercial space company with the operating power of a nation-state.
A new study may help us better understand how children build social cognition through caregiver interaction.
Personal Growth
Scientists speculate imitation helps develop social cognition in babies.
A new study out of Lund University shows that six-month-olds look and smile more at imitating adults.
Researchers hope the data will spur future studies to discover what role caregiver imitation plays in social cognition development.
Surprising Science
Researchers at UT Southwestern noted a 47 percent increase in blood flow to regions associated with memory.
Scroll down to load more…