Repay Your Student Loans by Doing Volunteer Work
As of 2014, outstanding student loan in the U.S. is $1.16 trillion. SponsorChange is helping graduates repay their loans by volunteering.
13 August, 2015
Higher education in the U.S. is so expensive that many call it a "privilege." However, in an economy that thrives on innovation and skilled labour, young people have no choice but to find a way to afford this privilege. As of 2014, this results in $1.16 trillion of outstanding student loans. Recognizing the gravity of this problem, earlier this year President Barack Obama announced the Student Aid Bill of Rights — a set of guiding principles behind his vision for affordable education. 
---
Existing student debt is already affecting the lives of graduates. Donghoon Lee, research officer at the Federal Reserve Bank of New York, says that "Student loan delinquencies and repayment problems appear to be reducing borrowers' ability to form their own households." SponsorChange, a young nonprofit that aims to increase volunteerism in the social sector, had another finding — student loans have a direct effect on the willingness to volunteer, since graduates cannot afford to spend time doing free work. As the founders put it, "We concluded that the ability to volunteer is a privilege that not everyone has the time and resources to afford." 
To address the issue, SponsorChange decided that it won't be just another site that simply lists volunteering opportunities, but will develop an approach that helps both organizations and graduates with student loans, as well as involves people who want to donate money to causes.  
"SponsorChange decided to reward volunteer service, because good work deserves to be rewarded, and everyone deserves the opportunity to meaningfully contribute. So we did something bold and different and went out and raised funding from citizen philanthropists. We started rewarding volunteers who completed skill-based projects at Pittsburgh nonprofits with direct student loan payments. Ever since, we've been helping volunteers who give back, pay back. Organizations list projects on our site and receive the talent they need. Volunteers find projects and build their skills by doing something they love. And sponsors, or what we call "philanthroteers" (philanthropist + volunteer), get to invest in human capital that fuels the social sector. It's a win-win-win."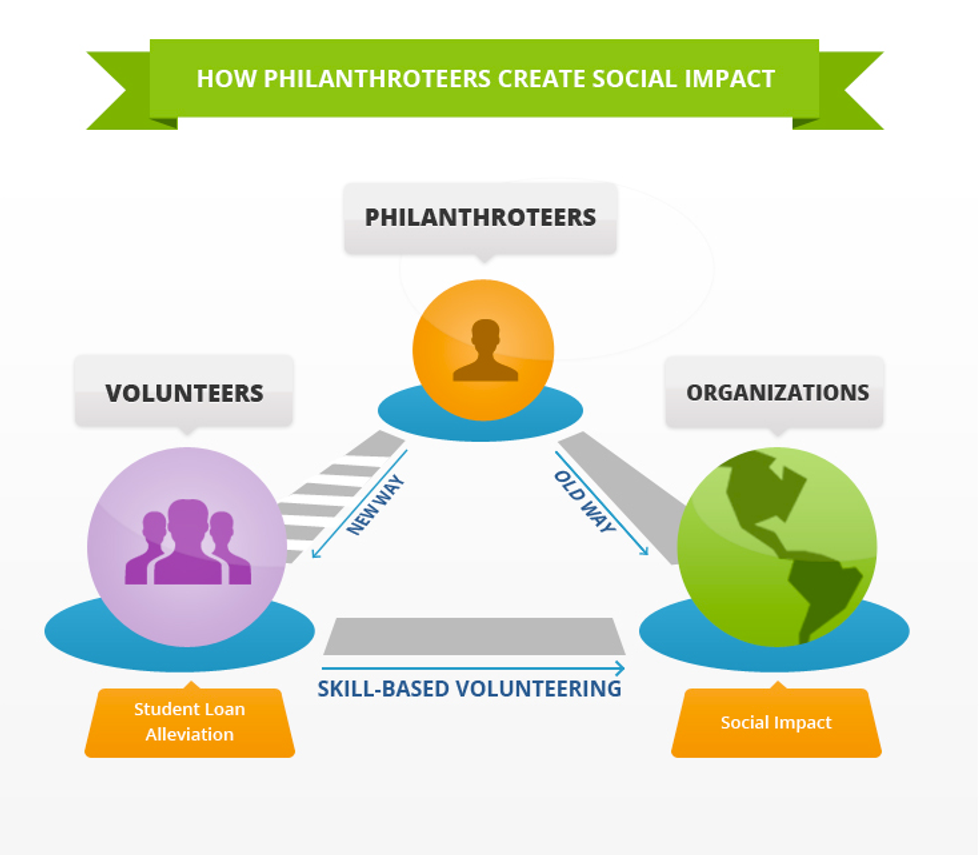 Photo: SponsorChange.org
Nonprofit organizations can register on the site and create skill-based volunteer projects, which should take no more than 40 hours to complete. After the project is listed, philanthroteers can donate money for the projects they like, while Change Agents can apply to be volunteers. The project is completed following a project-management framework and after it is closed with the approval of the Change Agent, SponsorChange distributes the direct student's loan payments rewards. 
SponsorChange helps graduates not only repay their student loans, but also add valuable skill-based experience to their CVs. It also provides a better way for philanthropists to donate, with their money helping both the nonprofits and graduates. 
Photo: Wikipedia
To create wiser adults, add empathy to the school curriculum.
Sponsored by Charles Koch Foundation
Stories are at the heart of learning, writes Cleary Vaughan-Lee, Executive Director for the Global Oneness Project. They have always challenged us to think beyond ourselves, expanding our experience and revealing deep truths.
Vaughan-Lee explains 6 ways that storytelling can foster empathy and deliver powerful learning experiences.
Global Oneness Project is a free library of stories—containing short documentaries, photo essays, and essays—that each contain a companion lesson plan and learning activities for students so they can expand their experience of the world.
This is what the world will look like, 250 million years from now
On Pangaea Proxima, Lagos will be north of New York, and Cape Town close to Mexico City
Surprising Science
To us humans, the shape and location of oceans and continents seems fixed. But that's only because our lives are so short.
The future of education and work will rely on teaching students deeper problem-solving skills.
Future of Learning
Asking kids 'What do you want to be when you grow up?' is a question that used to make sense, says Jaime Casap. But it not longer does; the nature of automation and artificial intelligence means future jobs are likely to shift and reform many times over.
Instead, educators should foster a culture of problem solving. Ask children: What problem do you want to solve? And what talents or passions do you have that can be the avenues by which you solve it?
"[T]he future of education starts on Monday and then Tuesday and then Wednesday and it's constant and consistent and it's always growing, always improving, and if we create that culture I think that would bring us a long way," Casap says.
These Jurassic predators resorted to cannibalism when hit with hard times, according to a deliciously rare discovery.
Stephanie K. Drumheller et.al
Surprising Science
Rare fossil evidence of dinosaur cannibalism among the Allosaurus has been discovered.
Scientists analyzed dinosaur bones found in the Mygatt-Moore Quarry in western Colorado, paying special attention to bite marks that were present on 2,368 of the bones.
It's likely that the predatory carnivore only ate their already-dead peers during times when resources were scarce.
Personal Growth
As a doctor, I am reminded every day of the fragility of the human body, how closely mortality lurks just around the corner.
Scroll down to load more…