Repay Your Student Loans by Doing Volunteer Work
As of 2014, outstanding student loan in the U.S. is $1.16 trillion. SponsorChange is helping graduates repay their loans by volunteering.
13 August, 2015
Higher education in the U.S. is so expensive that many call it a "privilege." However, in an economy that thrives on innovation and skilled labour, young people have no choice but to find a way to afford this privilege. As of 2014, this results in $1.16 trillion of outstanding student loans. Recognizing the gravity of this problem, earlier this year President Barack Obama announced the Student Aid Bill of Rights — a set of guiding principles behind his vision for affordable education. 
---
Existing student debt is already affecting the lives of graduates. Donghoon Lee, research officer at the Federal Reserve Bank of New York, says that "Student loan delinquencies and repayment problems appear to be reducing borrowers' ability to form their own households." SponsorChange, a young nonprofit that aims to increase volunteerism in the social sector, had another finding — student loans have a direct effect on the willingness to volunteer, since graduates cannot afford to spend time doing free work. As the founders put it, "We concluded that the ability to volunteer is a privilege that not everyone has the time and resources to afford." 
To address the issue, SponsorChange decided that it won't be just another site that simply lists volunteering opportunities, but will develop an approach that helps both organizations and graduates with student loans, as well as involves people who want to donate money to causes.  
"SponsorChange decided to reward volunteer service, because good work deserves to be rewarded, and everyone deserves the opportunity to meaningfully contribute. So we did something bold and different and went out and raised funding from citizen philanthropists. We started rewarding volunteers who completed skill-based projects at Pittsburgh nonprofits with direct student loan payments. Ever since, we've been helping volunteers who give back, pay back. Organizations list projects on our site and receive the talent they need. Volunteers find projects and build their skills by doing something they love. And sponsors, or what we call "philanthroteers" (philanthropist + volunteer), get to invest in human capital that fuels the social sector. It's a win-win-win."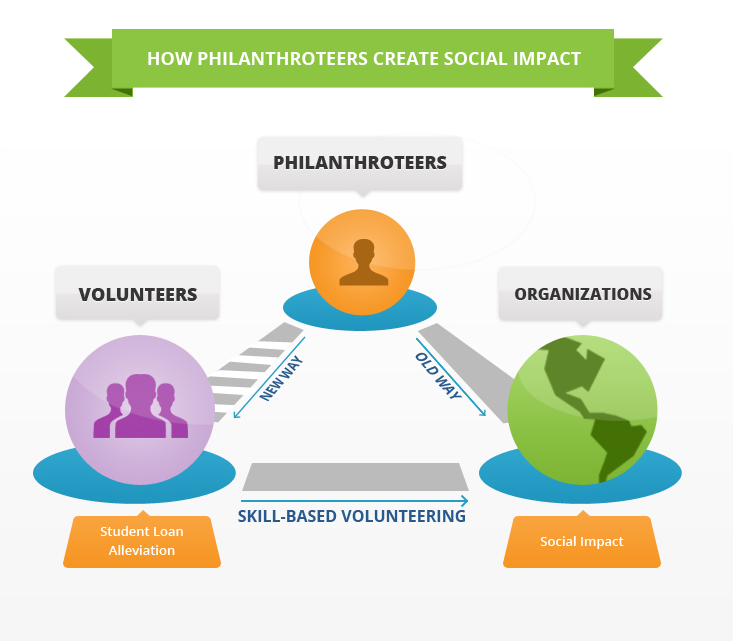 Photo: SponsorChange.org
Nonprofit organizations can register on the site and create skill-based volunteer projects, which should take no more than 40 hours to complete. After the project is listed, philanthroteers can donate money for the projects they like, while Change Agents can apply to be volunteers. The project is completed following a project-management framework and after it is closed with the approval of the Change Agent, SponsorChange distributes the direct student's loan payments rewards. 
SponsorChange helps graduates not only repay their student loans, but also add valuable skill-based experience to their CVs. It also provides a better way for philanthropists to donate, with their money helping both the nonprofits and graduates. 
Photo: Wikipedia
As religious diversity increases in the United States, we must learn to channel religious identity into interfaith cooperation.
Sponsored by Charles Koch Foundation
Religious diversity is the norm in American life, and that diversity is only increasing, says Eboo Patel.
Using the most painful moment of his life as a lesson, Eboo Patel explains why it's crucial to be positive and proactive about engaging religious identity towards interfaith cooperation.
The opinions expressed in this video do not necessarily reflect the views of the Charles Koch Foundation, which encourages the expression of diverse viewpoints within a culture of civil discourse and mutual respect.
Pulitzer Prize-winner Jared Diamond explains why some nations make it through epic crises and why others fail.
Videos
"A country is not going to resolve a national crisis unless it acknowledges that it's in a crisis," says Jared Diamond. "If you don't, you're going to get nowhere. Many Americans still don't recognize today that the United States is descending into a crisis."
The U.S. tends to focus on "bad countries" like China, Canada and Mexico as the root of its problems, however Diamond points out the missing piece: Americans are generating their own problems.
The crisis the U.S. is experiencing is not cause for despair. The U.S. has survived many tragedies, such as the War of Independence and the Great Depression – history is proof that the U.S. can get through this current crisis too.
If you don't want to know anything about your death, consider this your spoiler warning.
Culture & Religion
For centuries cultures have personified death to give this terrifying mystery a familiar face.
Modern science has demystified death by divulging its biological processes, yet many questions remain.
Studying death is not meant to be a morbid reminder of a cruel fate, but a way to improve the lives of the living.
When it comes to sniffing out whether a source is credible or not, even journalists can sometimes take the wrong approach.
Sponsored by Charles Koch Foundation
We all think that we're competent consumers of news media, but the research shows that even journalists struggle with identifying fact from fiction.
When judging whether a piece of media is true or not, most of us focus too much on the source itself. Knowledge has a context, and it's important to look at that context when trying to validate a source.
The opinions expressed in this video do not necessarily reflect the views of the Charles Koch Foundation, which encourages the expression of diverse viewpoints within a culture of civil discourse and mutual respect.