Post-traumatic Stress Disorder May Increase the Risk for Dementia
Teodora Zareva
Teodora Zareva is an entrepreneur, writer, board games geek and a curious person at large. Her professional path has taken her from filmmaking and photography to writing, TEDx organizing, teaching, and social entrepreneurship. She has lived and worked in the U.S. and Bulgaria and is currently doing her MBA at Saïd Business School at the University of Oxford. Her biggest passion lies at the intersection of media and youth development. She is the co-founder of WishBOX Foundation, a Bulgarian NGO that helps high school students with their professional orientation by organizing events, courses, summer camps and developing digital media resources.
05 August, 2017
Dementia is a broad term that covers several types of neurodegenerative disorders which affect a person's ability to think, learn, recall memories, and perform everyday activities. This deterioration of the brain's cognitive function is not considered part of the normal process of aging and it affects more than 47 million people worldwide, with 7.7 million new cases every year. 
---
Alzheimer's disease (AD) is the most common cause of dementia, contributing to 60-70% of cases and has a significant social and economical impact. Evidence suggests that changes on the molecular level that contribute to the development of the disease can occur as far back as 25 years prior to any noticeable symptoms.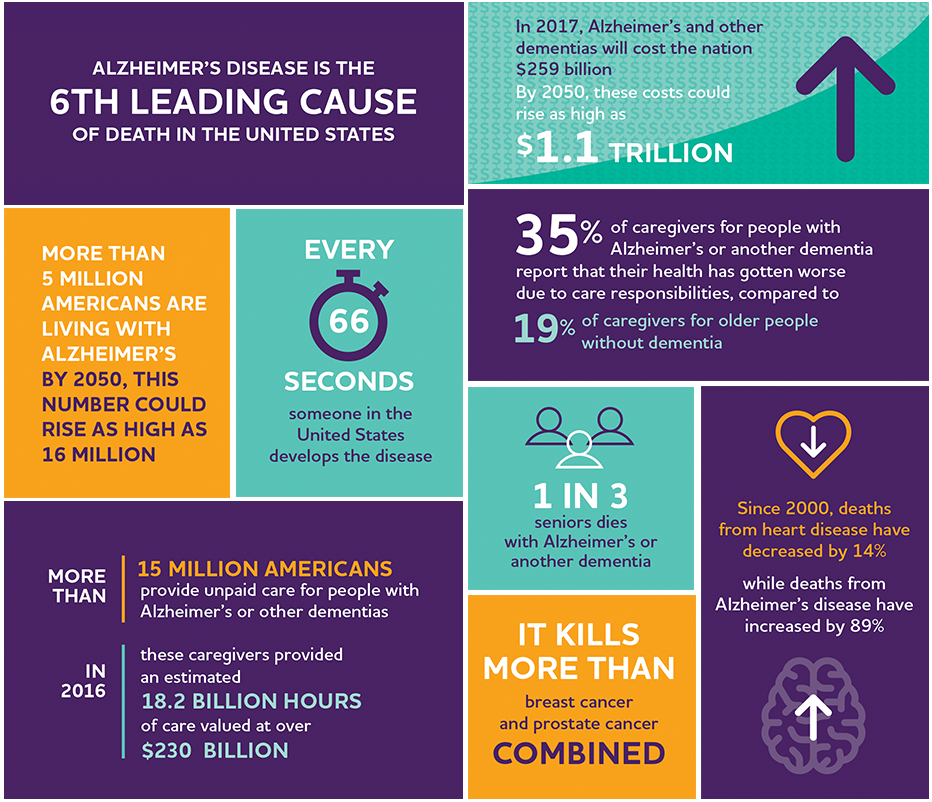 Source: Alzheimer's Association
Recently, researchers have been exploring the connection between AD and post‐traumatic stress disorder (PTSD). Epidemiological data shows that people with PTSD at a young age have an increased risk of developing AD in old age. A study from 2010, looked at data from 181,093 U.S. veterans and found that those diagnosed as having PTSD were nearly 2 times more likely to develop dementia compared with those without PTSD. 
People with PTSD have an impaired mechanism, called fear extinction, that causes them to continue having a stress response to a stimulus that is no longer a threat. Normally, through processes like cognitive flexibility and extinction learning the individual would stop having such a response to the stimulus that once caused the traumatic event.
In a recently published study, scientists aimed to discover some of the mechanisms that link PTSD and AD. They observed that age‐associated memory decline is most likely a direct consequence of the reduced expression of a gene called Formin 2 (FMN2). Loss of FMN2 in young mice caused PTSD-like symptoms and also led to accelerated age-associated memory decline. In the tested mice deficits in fear extinction preceded the impairment of memory consolidation.
FMN2 has been associated with intellectual disability and is essential for extinction learning and cognitive flexibility. Both PTSD patients and AD patients have been shown to have a decreased FMN2 expression. The researchers determined that FMN2 levels are altered in blood samples from PTSD patients which may indicate that exposure to PTSD‐inducing events may alter FMN2 levels in the brain.
The link between dementia and PTSD has also been highlighted in another recent study, where researchers caution that delayed-onset post-traumatic symptoms in older people may be misdiagnosed as part of the symptoms of dementia.
Dr. Tarun Kuruvilla, senior author of the Progress in Neurology & Psychiatry review said:
"Every patient with dementia has a unique narrative, which if captured in the earlier stages of the disease, enables clinicians and their families to understand the origin of their distress. Therefore, it is important to look for a history of previous trauma in patients with BPSD as this could be due to delayed onset PTSD." 
Related Articles
Why self-control makes your life better, and how to get more of it.
Buddhist monks of all nations mediate in Thailand. Monks are well known for their self-discipline and restrictive lifestyle. Is it possible that this leads them to happiness?
(Photo by Geem Drake/SOPA Images/LightRocket via Getty Images)

Personal Growth
Research demonstrates that people with higher levels of self-control are happier over both the short and long run.
Higher levels of self-control are correlated with educational, occupational, and social success.
It was found that the people with the greatest levels of self-control avoid temptation rather than resist it at every turn.
Ready your Schrödinger's Cat Jokes.
Quantum entanglement. Conceptual artwork of a pair of entangled quantum particles or events (left and right) interacting at a distance. Quantum entanglement is one of the consequences of quantum theory. Two particles will appear to be linked across space and time, with changes to one of the particles (such as an observation or measurement) affecting the other one. This instantaneous effect appears to be independent of both space and time, meaning that, in the quantum realm, effect may precede cause.
Technology & Innovation
For a time, quantum computing was more theory than fact.
That's starting to change.
New quantum computer designs look like they might be scalable.
Quantum computing has existed in theory since the 1980's. It's slowly making its way into fact, the latest of which can be seen in a paper published in Nature called, "Deterministic teleportation of a quantum gate between two logical qubits."

To ensure that we're all familiar with a few basic terms: in electronics, a 'logic gate' is something that takes in one or more than one binary inputs and produces a single binary output. To put it in reductive terms: if you produce information that goes into a chip in your computer as a '0,' the logic gate is what sends it out the other side as a '1.'

A quantum gate means that the '1' in question here can — roughly speaking — go back through the gate and become a '0' once again. But that's not quite the whole of it.
A qubit is a single unit of quantum information. To continue with our simple analogy: you don't have to think about computers producing a string of information that is either a zero or a one. A quantum computer can do both, simultaneously. But that can only happen if you build a functional quantum gate.

That's why the results of the study from the folks at The Yale Quantum Institute saying that they were able to create a quantum gate with a "process fidelity" of 79% is so striking. It could very well spell the beginning of the pathway towards realistic quantum computing.
The team went about doing this through using a superconducting microwave cavity to create a data qubit — that is, they used a device that operates a bit like a organ pipe or a music box but for microwave frequencies. They paired that data qubit with a transmon — that is, a superconducting qubit that isn't as sensitive to quantum noise as it otherwise could be, which is a good thing, because noise can destroy information stored in a quantum state. The two are then connected through a process called a 'quantum bus.'
That process translates into a quantum property being able to be sent from one location to the other without any interaction between the two through something called a teleported CNOT gate, which is the 'official' name for a quantum gate. Single qubits made the leap from one side of the gate to the other with a high degree of accuracy.
Above: encoded qubits and 'CNOT Truth table,' i.e., the read-out.
The team then entangled these bits of information as a way of further proving that they were literally transporting the qubit from one place to somewhere else. They then analyzed the space between the quantum points to determine that something that doesn't follow the classical definition of physics occurred.

They conclude by noting that "... the teleported gate … uses relatively modest elements, all of which are part of the standard toolbox for quantum computation in general. Therefore ... progress to improve any of the elements will directly increase gate performance."
In other words: they did something simple and did it well. And that the only forward here is up. And down. At the same time.
These modern-day hermits can sometimes spend decades without ever leaving their apartments.
700,000 Japanese people are thought to be hikikomori, modern-day hermits who never leave their apartments (BEHROUZ MEHRI/AFP/Getty Images).
Mind & Brain
A hikikomori is a type of person in Japan who locks themselves away in their bedrooms, sometimes for years.
This is a relatively new phenomenon in Japan, likely due to rigid social customs and high expectations for academic and business success.
Many believe hikikomori to be a result of how Japan interprets and handles mental health issues.
Big think's weekly newsletter.
Get smarter faster from the comfort of your inbox.
See our newsletter privacy policy
here
Most Popular
Most Recent
Big think's weekly newsletter.
Get smarter faster from the comfort of your inbox.
See our newsletter privacy policy
here
© Copyright 2007-2018 & BIG THINK, BIG THINK EDGE,
SMARTER FASTER trademarks owned by The Big Think, Inc. All rights reserved.