Weight loss is about diet quality not calorie counting, finds major clinical trial
A major clinical trial finds that diet quality beats calorie counting for the best weight loss strategy.
Teodora Zareva
Teodora Zareva is an entrepreneur, writer, board games geek and a curious person at large. Her professional path has taken her from filmmaking and photography to writing, TEDx organizing, teaching, and social entrepreneurship. She has lived and worked in the U.S. and Bulgaria and is currently doing her MBA at Saïd Business School at the University of Oxford. Her biggest passion lies at the intersection of media and youth development. She is the co-founder of WishBOX Foundation, a Bulgarian NGO that helps high school students with their professional orientation by organizing events, courses, summer camps and developing digital media resources.
27 February, 2018
The results of a major randomized clinical trial have just been released and they show that when it comes to losing weight the best strategy is to eat healthy rather than count calories or subscribe to a low-fat or low-carb regime.
---
The study was published in JAMA and was conducted by a team of nutrition experts from Stanford University, the US National Institutes of Health (NIH), and the Nutrition Science Initiative (NuSI). The study itself was a rare kind in the weight-loss field because it managed to recruit a big number of participants (600+) and monitor their compliance over a long period of time (one year) which makes the results even more notable. 
The scientists wanted to test the effects of a healthy low-fat diet vs. a healthy low-carbohydrate diet on weight change. They also wanted to see whether thesе effects were dependent on the participants' genes or insulin production—factors that previous studies have suggested may be relevant to weight loss. 
The 609 participants were at an average age of 40 and were either overweight or obese. They were randomly assigned to a low-carb or low-fat group and required to attend 22 sessions with a dietician in order to start eating healthy. 
So, what were the recommendations for a healthy diet? "Maximize vegetable intake... minimize intake of added sugars, refined flours, and trans fats; and ...focus on whole foods that were minimally processed, nutrient dense, and prepared at home whenever possible." 
Ultimately, 481 of the participants managed to complete the 1-year long study. The results showed no significant weight-loss difference between the two groups. Also, differences in the participants' genetics or insulin secretion did not affect the results of the diet.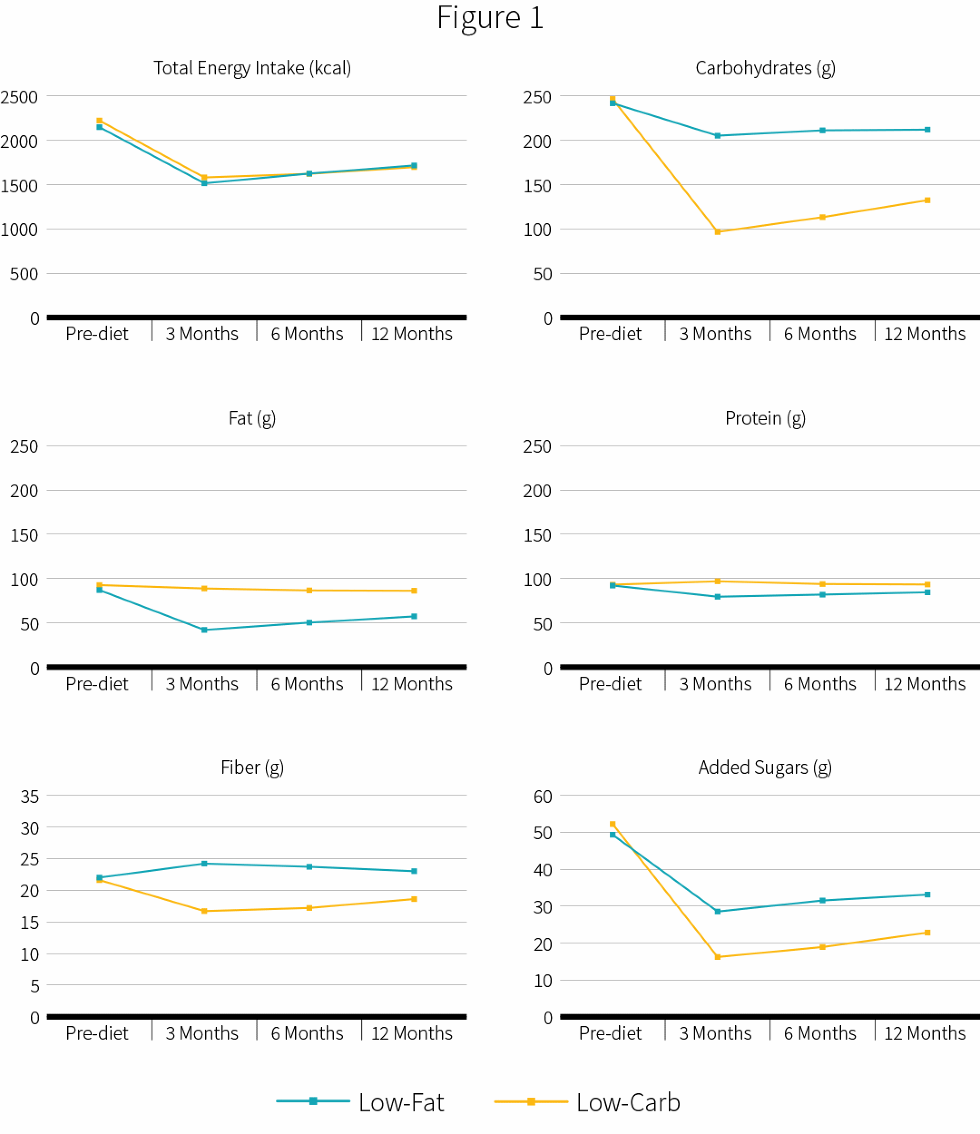 Blue line shows low-fat group and yellow line shows low-carb group. / Credit: Examine
Dr. Christopher D. Gardner, the director of nutrition studies at the Stanford Prevention Research Center who led the study points out that the unique feature of this study is that there was no set calorie limit or strict guidelines for the consumption of carbs and fats, which was particularly relieving for the participants. He says: 
"We really stressed to both groups again and again that we wanted them to eat high-quality foods. We told them all that we wanted them to minimize added sugar and refined grains and eat more vegetables and whole foods. We said, 'Don't go out and buy a low-fat brownie just because it says low fat. And those low-carb chips—don't buy them, because they're still chips and that's gaming the system."
After one year of focusing on the quality of their food the members of the low-carb group lost just over 13 pounds, while those in the low-fat group lost about 11.7 pounds. There were participants who lost as much as 60 pounds. Both groups also saw improvements in health markers, like reductions in waist sizes, body fat, blood sugar and blood pressure levels.
These results imply that while a caloric deficit is still necessary for losing weight, it doesn't have to be achieved through obsessive calorie counting. Just by changing the composition of our diets, from processed to whole foods, and the way we eat, we can not only lose weight and improve various health markers but, most importantly, we can change our relationship with food.
Gardner says, "I think one place we go wrong is telling people to figure out how many calories they eat and then telling them to cut back on 500 calories, which makes them miserable. We really need to focus on that foundational diet, which is more vegetables, more whole foods, less added sugar and less refined grains."
NASA astronomer Michelle Thaller is coming back to Big Think to answer YOUR questions! Here's all you need to know to submit your science-related inquiries.
Surprising Science
Big Think's amazing audience has responded so well to our videos from NASA astronomer and Assistant Director for Science Communication Michelle Thaller that we couldn't wait to bring her back for more!

And this time, she's ready to tackle any questions you're willing to throw at her, like, "How big is the Universe?", "Am I really made of stars?" or, "How long until Elon Musk starts a colony on Mars?"
All you have to do is submit your questions to the form below, and we'll use them for an upcoming Q+A session with Michelle. You know what to do, Big Thinkers!
Or how I learned to stop worrying and love my tsundoku.
(Photo from Wikimedia)
Personal Growth
Many readers buy books with every intention of reading them only to let them linger on the shelf.
Statistician Nassim Nicholas Taleb believes surrounding ourselves with unread books enriches our lives as they remind us of all we don't know.
The Japanese call this practice tsundoku, and it may provide lasting benefits.
Calling all big thinkers!
Big think's weekly newsletter.
Get smarter faster from the comfort of your inbox.
See our newsletter privacy policy
here
Most Popular
Most Recent
Big think's weekly newsletter.
Get smarter faster from the comfort of your inbox.
See our newsletter privacy policy
here
© Copyright 2007-2018 & BIG THINK, BIG THINK EDGE,
SMARTER FASTER trademarks owned by The Big Think, Inc. All rights reserved.