How This Couple Turned Teens' Love of Texting Into Love for Reading Books
15 May, 2017
"Would anyone read a sci-fi story with a dark-skinned, female protagonist?" – this is the question that got it all started. At that time, in the fall of 2013, the person asking it, Prerna Gupta – a Silicon Valley app developer - was on a sabbatical with her husband Parag Chordia. They had set a goal to write a three part sci-fi novel targeted at young adults. The problem was, the couple had no idea whether teens would care for their story and whether they even read.
---
It was a fair concern. Statistics show that young adults are reading less and less for fun. Research from Common Sense Media shows that in 1984, 8% of 13-year-olds and 9% of 17-year-olds said they "never" or "hardly ever" read for pleasure. In 2014, that number had almost tripled, to 22% and 27%. But how could the couple know for sure?
Uncomfortable with working on a project without any data, Gupta and Chordia (also a developer) did what they knew best – test, collect data, and iterate. They took the first 1000 words (the equivalent of a five-minute read) from 50 best-selling young adult novels, fed them into a simple mobile reader, and sent them to 15,000 users in order to track how many completed reading them. The results showed big variations in completion rates even among best-selling books. The duo used these insights to continue a/b testing for various story characteristics.
The results were insightful. For example, teens didn't care whether the story was written in the first person present or third person past. Users also read more when they understood the context. And when it came to the question that started it all – no, they didn't care whether the protagonist was brown or white, male or female, with one exception - girls did prefer female protagonists slightly more.
There was one key metric, however, that was shaping to be an unsurmountable challenge – while the variations in material did result in varying completion rates, there was a firm ceiling – even the best fiction could keep only a third of the readers till the very end. And that was for a 5-minute read. It was obvious that the new mobile medium required an innovation in format - "Fiction must evolve with the times", Gupta and Chordia thought, and took it as a challenge to create a new format that will engage teenagers more.
After several iterations, the creators stumbled on the format that would eventually become Hooked – an app that gives readers bite sized stories written as text messages between characters. Fiction in the form of text messages proved to be incredibly successful amongst young adults aged 13-24 and showed unprecedented completion rates.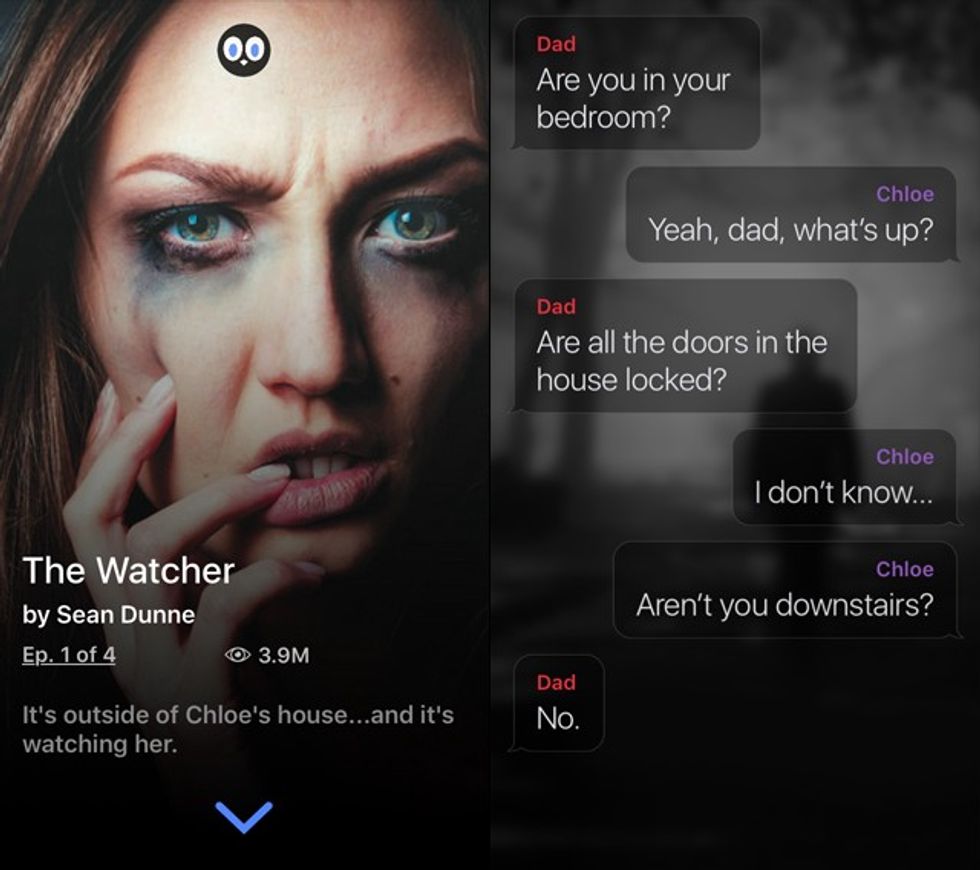 Thriller, Horror, and Sci-Fi are some of the most popular genres on the platform. 
Since September 2015 when it launched, Hooked has been a number one app in the U.S. app store several times and has attracted more than 10 million readers, as well as more than $5 million in funding. It not only recruits and commissions established and undiscovered authors to write stories for the app, but also allows its users to write and submit their own stories. Currently the app has a database of 300,000 stories.
Despite skeptics who say that Hooked is destroying fiction, Gupta maintains a progressive mindset that art should evolve with technology.
"Rather than destroy reading, Hooked makes reading engaging for a broad audience. We've heard from many teens who say they hate reading books, but they love reading in Hooked. It's a gateway drug."
Even long stories that comprise of several "episodes" are broken up into 5-minute bits to give users an opportunity to read on the go between classes or while commuting. According to Gupta, using the app is a way to get young people hooked on fiction and do something better than browse social media. In addition, even though the app allows the use of emojis, selfies and even audio files, special attention is paid to using complete sentences, proper language, spelling, and grammar.
Content creators should certainly take note of the innovation and success of Hooked and the format it has introuced. Other types of media like news articles, interviews and even textbooks could be converted to a similar format to raise youth engagement in reading them. 
Photo: Patrick via Flickr
Universities claim to prepare students for the world. How many actually do it?
Sponsored by Charles Koch Foundation
Many university mission statements do not live up to their promise, writes Ben Nelson, founder of Minerva, a university designed to develop intellect over content memorization.
The core competencies that students need for success—critical thinking, communication, problem solving, and cross-cultural understanding, for example—should be intentionally taught, not left to chance.
These competencies can be summed up with one word: wisdom. True wisdom is the ability to apply one's knowledge appropriately when faced with novel situations.
This is what the world will look like, 250 million years from now
On Pangaea Proxima, Lagos will be north of New York, and Cape Town close to Mexico City
Surprising Science
To us humans, the shape and location of oceans and continents seems fixed. But that's only because our lives are so short.
A new study may help us better understand how children build social cognition through caregiver interaction.
Personal Growth
Scientists speculate imitation helps develop social cognition in babies.
A new study out of Lund University shows that six-month-olds look and smile more at imitating adults.
Researchers hope the data will spur future studies to discover what role caregiver imitation plays in social cognition development.
Researchers at UT Southwestern noted a 47 percent increase in blood flow to regions associated with memory.
Photo: Johannes Eisele/AFP via Getty Images
Surprising Science
Researchers at UT Southwestern observed a stark improvement in memory after cardiovascular exercise.
The year-long study included 30 seniors who all had some form of memory impairment.
The group of seniors that only stretched for a year did not fair as well in memory tests.
Videos
According to a man that knows more than 20 languages, the key is to start in the middle.
Scroll down to load more…