How This Couple Turned Teens' Love of Texting Into Love for Reading Books
Teodora Zareva
Teodora Zareva is an entrepreneur, writer, board games geek and a curious person at large. Her professional path has taken her from filmmaking and photography to writing, TEDx organizing, teaching, and social entrepreneurship. She has lived and worked in the U.S. and Bulgaria and is currently doing her MBA at Saïd Business School at the University of Oxford. Her biggest passion lies at the intersection of media and youth development. She is the co-founder of WishBOX Foundation, a Bulgarian NGO that helps high school students with their professional orientation by organizing events, courses, summer camps and developing digital media resources.
15 May, 2017
"Would anyone read a sci-fi story with a dark-skinned, female protagonist?" – this is the question that got it all started. At that time, in the fall of 2013, the person asking it, Prerna Gupta – a Silicon Valley app developer - was on a sabbatical with her husband Parag Chordia. They had set a goal to write a three part sci-fi novel targeted at young adults. The problem was, the couple had no idea whether teens would care for their story and whether they even read.
---
It was a fair concern. Statistics show that young adults are reading less and less for fun. Research from Common Sense Media shows that in 1984, 8% of 13-year-olds and 9% of 17-year-olds said they "never" or "hardly ever" read for pleasure. In 2014, that number had almost tripled, to 22% and 27%. But how could the couple know for sure?
Uncomfortable with working on a project without any data, Gupta and Chordia (also a developer) did what they knew best – test, collect data, and iterate. They took the first 1000 words (the equivalent of a five-minute read) from 50 best-selling young adult novels, fed them into a simple mobile reader, and sent them to 15,000 users in order to track how many completed reading them. The results showed big variations in completion rates even among best-selling books. The duo used these insights to continue a/b testing for various story characteristics.
The results were insightful. For example, teens didn't care whether the story was written in the first person present or third person past. Users also read more when they understood the context. And when it came to the question that started it all – no, they didn't care whether the protagonist was brown or white, male or female, with one exception - girls did prefer female protagonists slightly more.
There was one key metric, however, that was shaping to be an unsurmountable challenge – while the variations in material did result in varying completion rates, there was a firm ceiling – even the best fiction could keep only a third of the readers till the very end. And that was for a 5-minute read. It was obvious that the new mobile medium required an innovation in format - "Fiction must evolve with the times", Gupta and Chordia thought, and took it as a challenge to create a new format that will engage teenagers more.
After several iterations, the creators stumbled on the format that would eventually become Hooked – an app that gives readers bite sized stories written as text messages between characters. Fiction in the form of text messages proved to be incredibly successful amongst young adults aged 13-24 and showed unprecedented completion rates.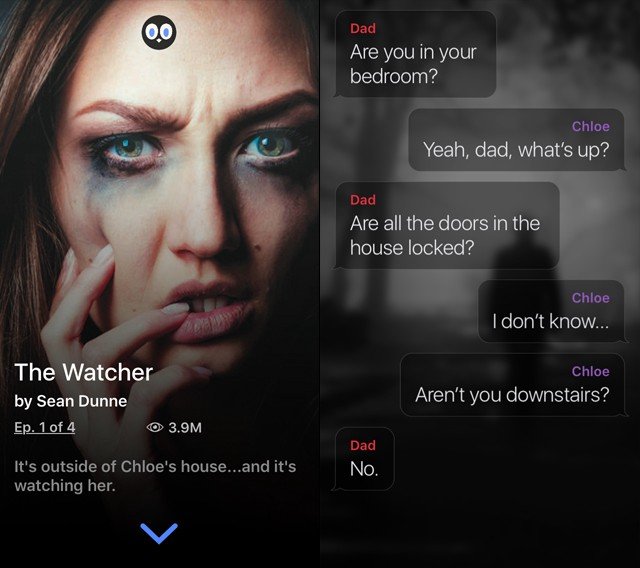 Thriller, Horror, and Sci-Fi are some of the most popular genres on the platform. 
Since September 2015 when it launched, Hooked has been a number one app in the U.S. app store several times and has attracted more than 10 million readers, as well as more than $5 million in funding. It not only recruits and commissions established and undiscovered authors to write stories for the app, but also allows its users to write and submit their own stories. Currently the app has a database of 300,000 stories.
Despite skeptics who say that Hooked is destroying fiction, Gupta maintains a progressive mindset that art should evolve with technology.
"Rather than destroy reading, Hooked makes reading engaging for a broad audience. We've heard from many teens who say they hate reading books, but they love reading in Hooked. It's a gateway drug."
Even long stories that comprise of several "episodes" are broken up into 5-minute bits to give users an opportunity to read on the go between classes or while commuting. According to Gupta, using the app is a way to get young people hooked on fiction and do something better than browse social media. In addition, even though the app allows the use of emojis, selfies and even audio files, special attention is paid to using complete sentences, proper language, spelling, and grammar.
Content creators should certainly take note of the innovation and success of Hooked and the format it has introuced. Other types of media like news articles, interviews and even textbooks could be converted to a similar format to raise youth engagement in reading them. 
Photo: Patrick via Flickr
A guide to making difficult conversations possible—and peaceful—in an increasingly polarized nation.
Progressive America would be half as big, but twice as populated as its conservative twin.
Image: Dicken Schrader
Strange Maps
America's two political tribes have consolidated into 'red' and 'blue' nations, with seemingly irreconcilable differences.
Perhaps the best way to stop the infighting is to go for a divorce and give the two nations a country each
Based on the UN's partition plan for Israel/Palestine, this proposal provides territorial contiguity and sea access to both 'red' and 'blue' America
A federal judge ruled that the Trump administration likely violated the reporter's Fifth Amendment rights when it stripped his press credentials earlier this month.
WASHINGTON, DC - NOVEMBER 16: CNN chief White House correspondent Jim Acosta (R) returns to the White House with CNN Washington bureau chief Sam Feist after Federal judge Timothy J. Kelly ordered the White House to reinstate his press pass November 16, 2018 in Washington, DC. CNN has filed a lawsuit against the White House after Acosta's press pass was revoked after a dispute involving a news conference last week. (Photo by Alex Wong/Getty Images)
Politics & Current Affairs
Acosta will be allowed to return to the White House on Friday.
The judge described the ruling as narrow, and didn't rule one way or the other on violations of the First Amendment.
The case is still open, and the administration may choose to appeal the ruling.
Big think's weekly newsletter.
Get smarter faster from the comfort of your inbox.
See our newsletter privacy policy
here
Most Popular
Most Recent
Big think's weekly newsletter.
Get smarter faster from the comfort of your inbox.
See our newsletter privacy policy
here
© Copyright 2007-2018 & BIG THINK, BIG THINK EDGE,
SMARTER FASTER trademarks owned by The Big Think, Inc. All rights reserved.