EcoBici: Mexico City's Ambitious Bike-Sharing Program
Maria Popova
Maria Popova is a reader and a writer, and writes about what she reads on Brain Pickings (brainpickings.org), which is included in the Library of Congress archive of culturally valuable materials. She has also written for The New York Times, Wired UK, and The Atlantic, among others, and is an MIT Fellow. She is on Twitter @brainpicker.
21 November, 2010
We've been covering bike-sharing programs quite a bit over the past few months. And now Mexico City is stepping in with what could easily be the most impactful bike-sharing program of all, making a dramatic difference in the chronic congestion problem of the world's third most populated metropolis.
---
EcoBici, Mexico City's bike-sharing program, is part of local government's Plan Verde ("Green Plan"), a 15-year initiative to enhance environmental value, public space, habitability, water supply, air quality, mobility, and other sustainability-driven factors that contribute to the city's livability. The long-term goal of the bike-sharing program is to convert 5% of city journeys to cycling – an ambitious goal with enormous potential impact in a city where more than 80% of journeys are currently taken on a highly overloaded public transit system with major traffic congestion.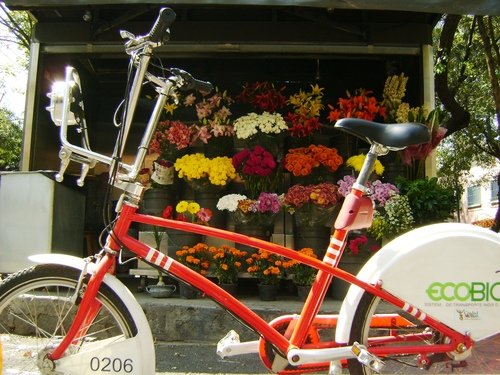 Currenly, EcoBici has 86 docking modules spaced less than a thousand feet from one another, housing a total of 1,114 bicycles. The low annual membership cost – just $25 a year – has made the scheme a success, offering the city's most affordable mode of transportation. To promote the program, Mexico City closes its main avenue to cars every Sunday, making it a cycling mecca for up to 80,000 cyclists at a time. (A similar effort took place in New York City this year, with the Summer Streets program handing Park Avenue over to cyclists every Sunday for a month.)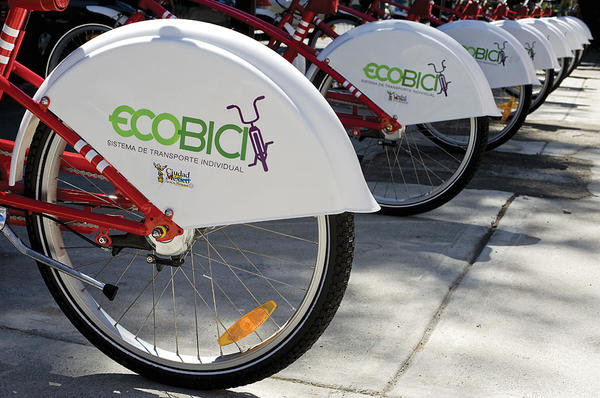 The program's only downside: Despite the popularity of bike-sharing, Mexico City is still virtually devoid of bike lanes, making safety a key concern working against higher adoption rates – a field example of the necessity for cross-disciplinary collaboration between policymakers, urban planners, designers and civic engineers.
via The Big City
Maria Popova is the editor of Brain Pickings, a curated inventory of miscellaneous interestingness. She writes for Wired UK, GOOD Magazine, Design Observer and Huffington Post, and spends a shameful amount of time on Twitter.
New research links urban planning and political polarization.
Pixabay
Politics & Current Affairs
Canadian researchers find that excessive reliance on cars changes political views.
Decades of car-centric urban planning normalized unsustainable lifestyles.
People who prefer personal comfort elect politicians who represent such views.
Progressive America would be half as big, but twice as populated as its conservative twin.
Image: Dicken Schrader
Strange Maps
America's two political tribes have consolidated into 'red' and 'blue' nations, with seemingly irreconcilable differences.
Perhaps the best way to stop the infighting is to go for a divorce and give the two nations a country each
Based on the UN's partition plan for Israel/Palestine, this proposal provides territorial contiguity and sea access to both 'red' and 'blue' America
Science and the squishiness of the human mind. The joys of wearing whatever the hell you want, and so much more.
Flickr / 13winds
Think Again Podcasts
Why can't we have a human-sized cat tree?
What would happen if you got a spoonful of a neutron star?
Why do we insist on dividing our wonderfully complex selves into boring little boxes
Big think's weekly newsletter.
Get smarter faster from the comfort of your inbox.
See our newsletter privacy policy
here
Most Popular
Most Recent
Big think's weekly newsletter.
Get smarter faster from the comfort of your inbox.
See our newsletter privacy policy
here
© Copyright 2007-2018 & BIG THINK, BIG THINK EDGE,
SMARTER FASTER trademarks owned by The Big Think, Inc. All rights reserved.