Disney Is Fulfilling One of Nikola Tesla's Science Dreams
Disney does more than make cute movies. Researchers from its innovation branch want to turn your living room into a magnetic field.
05 March, 2017
You may not have known this, but The Walt Disney Company does much more than animated films and amusement parks. Its Disney Research arm, with divisions all over the world, has the mission to deliver all kinds of scientific and technological innovations. From video processing and robotics to behavioral sciences and materials research, Disney has it covered. Now, its researchers have brought us what we've all been waiting for (even without knowing it)—ubiquitous wireless power transfer or, in other words, electricity with no wires.
---
So, what is it going to take to have your phone charged without a power outlet and a charger? In layman's terms, an apartment especially built for that purpose with a huge copper pole propped in the middle. In non-layman's terms, the process is called quasistatic cavity resonance (QSCR). It can enable specially designed spaces, like cabinets, rooms or warehouses, to generate quasistatic magnetic fields that can safely power devices located within the space.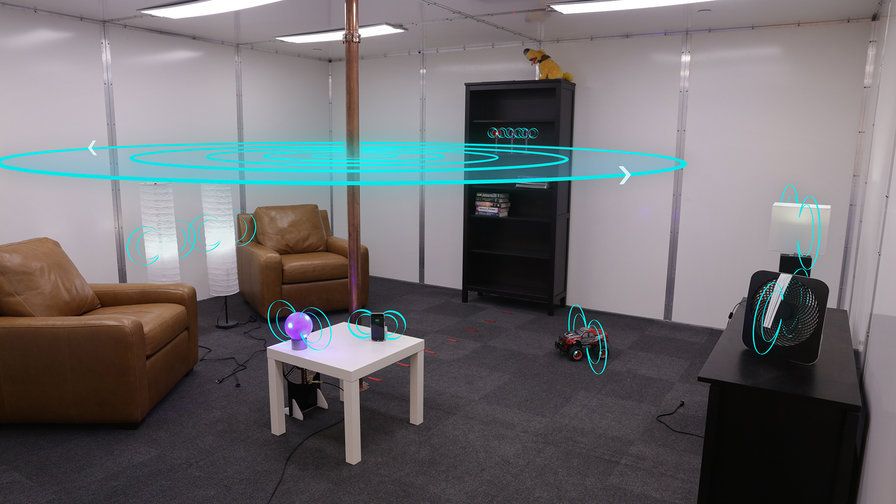 The researchers constructed a room, with walls, ceiling and floor built of aluminum panels, and in the middle of it they placed a copper pipe. In the center of the pipe they inserted discrete capacitors, which set the electromagnetic frequency of the structure and confine the electric fields. The currents go through the copper pipe and all sides of the room, generating a magnetic field that circulates around the pole. All devices placed within this magnetic field are instantly powered. Everyday objects such as chairs and tables, don't interact with the field, and therefore don't obstruct it.
Disney's researchers say they can scale the invention up and down, from a box to a warehouse. Their simulations show that they can transmit 1.9 kilowatts of power while meeting federal safety guidelines, meaning that the environment is completely safe for humans. In addition, the scientists believe that in the future, the requirement of metalized walls can be reduced significantly and even old rooms could be retrofitted with modular panels or conductive paint. 
Former president of the ACLU Nadine Strossen discusses whether our society should always defend free speech rights, even for groups who would oppose such rights.
Sponsored by Charles Koch Foundation
Former ACLU president Nadine Strossen understands that protecting free speech rights isn't always a straightforward proposition.
In this video, Strossen describes the reasoning behind why the ACLU defended the free speech rights of neo-Nazis in Skokie, Illinois, 1977.
The opinions expressed in this video do not necessarily reflect the views of the Charles Koch Foundation, which encourages the expression of diverse viewpoints within a culture of civil discourse and mutual respect.
Want to be smarter than you were yesterday? Learn to have better conversations using these 3 design principles.
Sponsored by the Institute for Humane Studies
What is a great conversation? They are the ones that leave us feeling smarter or more curious, with a sense that we have discovered something, understood something about another person, or have been challenged.
There are 3 design principles that lead to great conversations: humility, critical thinking, and sympathetic listening.
Critical thinking is the celebrated cornerstone of liberalism, but next time you're in a challenging and rewarding conversation, try to engage sympathetic listening too. Understanding why another intelligent person holds ideas that are at odds with your own is often more enlightening than merely hunting for logic errors.
A consortium of scientists and engineers have proposed that the U.S. and Mexico build a series of guarded solar, wind, natural gas and desalination facilities along the entirety of the border.
Credit: Purdue University photo/Jorge Castillo Quiñones
Politics & Current Affairs
The proposal was recently presented to several U.S. members of Congress.
The plan still calls for border security, considering all of the facilities along the border would be guarded and connected by physical barriers.
It's undoubtedly an expensive and complicated proposal, but the team argues that border regions are ideal spots for wind and solar energy, and that they could use the jobs and fresh water the energy park would create.
The reason one diet does not suit all may be found in our guts.