Being married linked to better cognitive function, researchers say
Research points to many social-cognitive, emotional, behavioral and biological benefits that marriage seems to bestow on its participants.
06 December, 2017
---
Scientists have long observed that there are many potential benefits of married life. One of their most popular findings perhaps pertains to the longevity advantage married people, and particularly men, have over their never married, divorced or widowed peers.
Studies point to many social-cognitive, emotional, behavioral and biological benefits that marriage seems to bestow on its participants. For example, being married is related to improved cancer survival. Being married has also been linked to better cognitive function, a reduced risk of Alzheimer's disease, improved blood sugar levels, and better outcomes for hospitalized patients.
Now a new meta-analysis led by psychiatrist Andrew Sommerlad from University College London and published in the Journal of Neurology, Neurosurgery & Psychiatry, has found that single people were 42 percent more likely overall to develop dementia than married individuals. The risk for widowed people was 20 percent higher while, interestingly, researchers found no evidence for an increased risk of dementia in divorced people.
Dementia is a rising global public health problem. There were an estimated 50 million people with dementia in 2017 and according to the World Alzheimer Report, this number will almost double every 20 years, reaching 75 million in 2030 and 131.5 million in 2050.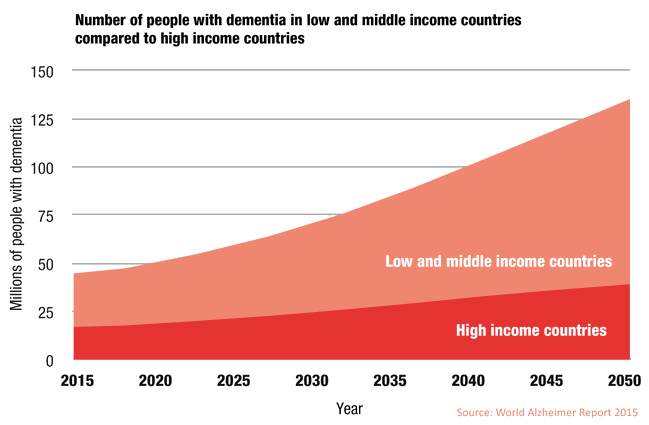 By studying the relationship between dementia and marital status, the scientists are hoping to find modifiable risk factors that could decrease individuals' likelihood of developing the disease. In their analysis the researchers conducted a systematic review of the literature including studies with a total of 812, 047 participants.
One factor that married life provides, and that seems to alleviate the risk for dementia, is increased social interactions. Social interactions could improve the individuals' cognitive reserves and enable them to better deal with neuropathological damage via compensatory mechanisms. More frequent social contact is also associated with reduced harmful lifestyle behaviors.
Having a marital partner seems to also influence people to make better lifestyle choices. The reverse is true for unmarried people who are more prone to adverse health behaviors and poorer health outcomes.
Laura Phipps from Alzheimer's Research U.K. points out another aspect of marriage that may be relevant:
"People who are married tend to be financially better off, a factor that is closely interwoven with many aspects of our health. Spouses may help to encourage healthy habits, look out for their partner's health and provide important social support."
Social norms may also contribute to the statistics. The scientists hypothesize that developing dementia could be related to underlying cognitive or personality traits that may have prevented people with smaller lifelong cognitive reserve to get married. As unmarried life becomes more common in modern cultures, single people born in the latter half of the 20th century have fewer unusual cognitive and personality characteristics leading to a tendency for reduction in the risk of dementia in single people in more recent times.
As with this and other observational studies, it is difficult to say which aspects of married life lead to its associated health benefits and whether these aspects can be replicated in other types of close relationships like those with friends or family.
Loneliness has been shown to be a health risk in itself, but while people living with unmarried partners tend to fare better than those living alone, living with a spouse seems to give you the best health of all.
What can 3D printing do for medicine? The "sky is the limit," says Northwell Health researcher Dr. Todd Goldstein.
Northwell Health
Sponsored by Northwell Health
Medical professionals are currently using 3D printers to create prosthetics and patient-specific organ models that doctors can use to prepare for surgery.
Eventually, scientists hope to print patient-specific organs that can be transplanted safely into the human body.
Northwell Health, New York State's largest health care provider, is pioneering 3D printing in medicine in three key ways.
Neuroscience is working to conquer some of the human body's cruelest conditions: Paralysis, brain disease, and schizophrenia.
Videos
Neuroscience and engineering are uniting in mind-blowing ways that will drastically improve the quality of life for people with conditions like epilepsy, paralysis or schizophrenia.
Researchers have developed a brain-computer interface the size of a baby aspirin that can restore mobility to people with paralysis or amputated limbs. It rewires neural messages from the brain's motor cortex to a robotic arm, or reroutes it to the person's own muscles.
Deep brain stimulation is another wonder of neuroscience that can effectively manage brain conditions like epilepsy, Parkinson's, and may one day mitigate schizophrenia so people can live normal, independent lives.
As Game of Thrones ends, a revealing resolution to its perplexing geography.
Strange Maps
The fantasy world of Game of Thrones was inspired by real places and events.
But the map of Westeros is a good example of the perplexing relation between fantasy and reality.
Like Britain, it has a Wall in the North, but the map only really clicks into place if you add Ireland.
A recent study gives new meaning to the saying "fake it 'til you make it."
Pixabay
Surprising Science
The study involves four experiments that measured individuals' socioeconomic status, overconfidence and actual performance.
Results consistently showed that high-class people tend to overestimate their abilities.
However, this overconfidence was misinterpreted as genuine competence in one study, suggesting overestimating your abilities can have social advantages.
Big think's weekly newsletter.
Get smarter faster from the comfort of your inbox.
See our newsletter privacy policy
here
Most Popular
Most Recent
Big think's weekly newsletter.
Get smarter faster from the comfort of your inbox.
See our newsletter privacy policy
here
© Copyright 2007-2019 & BIG THINK, BIG THINK EDGE,
SMARTER FASTER trademarks owned by The Big Think, Inc. All rights reserved.
//This will actually fire event. Should be called after consent was verifed