Study Finds Huge Cognitive Benefits to Getting Married
Research points to many social-cognitive, emotional, behavioral and biological benefits that marriage seems to bestow on its participants.
06 December, 2017
---
Scientists have long observed that there are many potential benefits of married life. One of their most popular findings perhaps pertains to the longevity advantage married people, and particularly men, have over their never married, divorced or widowed peers. 
Studies point to many social-cognitive, emotional, behavioral and biological benefits that marriage seems to bestow on its participants. For example, being married is related to improved cancer survival. Being married has also been linked to better cognitive function, a reduced risk of Alzheimer's disease, improved blood sugar levels, and better outcomes for hospitalized patients.
Now a new meta-analysis led by psychiatrist Andrew Sommerlad from University College London and published in the Journal of Neurology, Neurosurgery & Psychiatry, has found that single people were 42% more likely overall to develop dementia than married individuals. The risk for widowed people was 20% higher while, interestingly, researchers found no evidence for an increased risk of dementia in divorced people. 
Dementia is a rising global public health problem. There were an estimated 50 million people with dementia in 2017 and according to the World Alzheimer Report, this number will almost double every 20 years, reaching 75 million in 2030 and 131.5 million in 2050.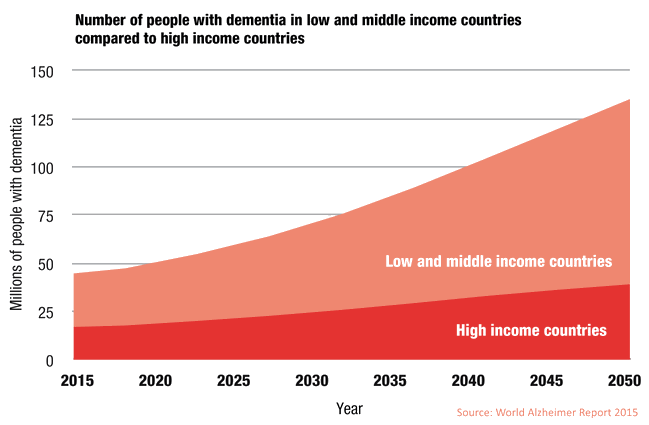 By studying the relationship between dementia and marital status, the scientists are hoping to find modifiable risk factors that could decrease individuals' likelihood of developing the disease. In their analysis the researchers conducted a systematic review of the literature including studies with a total of 812, 047 participants. 
One factor that married life provides, and that seems to alleviate the risk for dementia, is increased social interactions. Social interactions could improve the individuals' cognitive reserves and enable them to better deal with neuropathological damage via compensatory mechanisms. More frequent social contact is also associated with reduced harmful lifestyle behaviors.
Having a marital partner seems to also influence people to make better lifestyle choices. The reverse is true for unmarried people who are more prone to adverse health behaviors and poorer health outcomes. 
Laura Phipps from Alzheimer's Research UK points out another aspect of marriage that may be relevant:
"People who are married tend to be financially better off, a factor that is closely interwoven with many aspects of our health. Spouses may help to encourage healthy habits, look out for their partner's health and provide important social support."
Social norms may also contribute to the statistics. The scientists hypothesize that developing dementia could be related to underlying cognitive or personality traits that may have prevented people with smaller lifelong cognitive reserve to get married. As unmarried life becomes more common in modern cultures, single people born in the latter half of the 20th century have fewer unusual cognitive and personality characteristics leading to a tendency for reduction in the risk of dementia in single people in more recent times.
As with this and other observational studies, it is difficult to say which aspects of married life lead to its associated health benefits and whether these aspects can be replicated in other types of close relationships like those with friends or family.
Loneliness has been shown to be a health risk in itself, but while people living with unmarried partners tend to fare better than those living alone, living with a spouse seems to give you the best health of all.
Lumina Foundation is partnering with Big Think to unearth the next large-scale, rapid innovation in post-high school education. Enter the competition here!
"I should be as happy as I'm ever going to be right now, but I'm not. Is this it?"
Personal Growth
The life choices that had led me to be sitting in a booth underneath a banner that read "Ask a Philosopher" – at the entrance to the New York City subway at 57th and 8th – were perhaps random but inevitable.

Researchers believe that the practice of sleeping through the whole night didn't really take hold until just a few hundred years ago.
The Bed by Henri de Toulouse-Lautrec.
Surprising Science
She was wide awake and it was nearly two in the morning. When asked if everything was alright, she said, "Yes." Asked why she couldn't get to sleep she said, "I don't know." Neuroscientist Russell Foster of Oxford might suggest she was exhibiting "a throwback to the bi-modal sleep pattern." Research suggests we used to sleep in two segments with a period of wakefulness in-between.
The assumption "that without memory, there can be no self" is wrong, say researchers.
Photo credit: Darren Hauck / Getty Images
Mind & Brain
In the past when scholars have reflected on the psychological impact of dementia they have frequently referred to the loss of the "self" in dramatic and devastating terms, using language such as the "unbecoming of the self" or the "disintegration" of the self. In a new review released as a preprint at PsyArXiv, an international team of psychologists led by Muireann Irish at the University of Sydney challenge this bleak picture which they attribute to the common, but mistaken, assumption "that without memory, there can be no self" (as encapsulated by the line from Hume: "Memory alone… 'tis to be considered… as the source of personal identity").
Big think's weekly newsletter.
Get smarter faster from the comfort of your inbox.
See our newsletter privacy policy
here
Most Popular
Most Recent
Big think's weekly newsletter.
Get smarter faster from the comfort of your inbox.
See our newsletter privacy policy
here
© Copyright 2007-2018 & BIG THINK, BIG THINK EDGE,
SMARTER FASTER trademarks owned by The Big Think, Inc. All rights reserved.