Big ideas.
Once a week.
Subscribe to our weekly newsletter.
Hemley Gonzalez: The Truth About Mother Teresa
12 December, 2011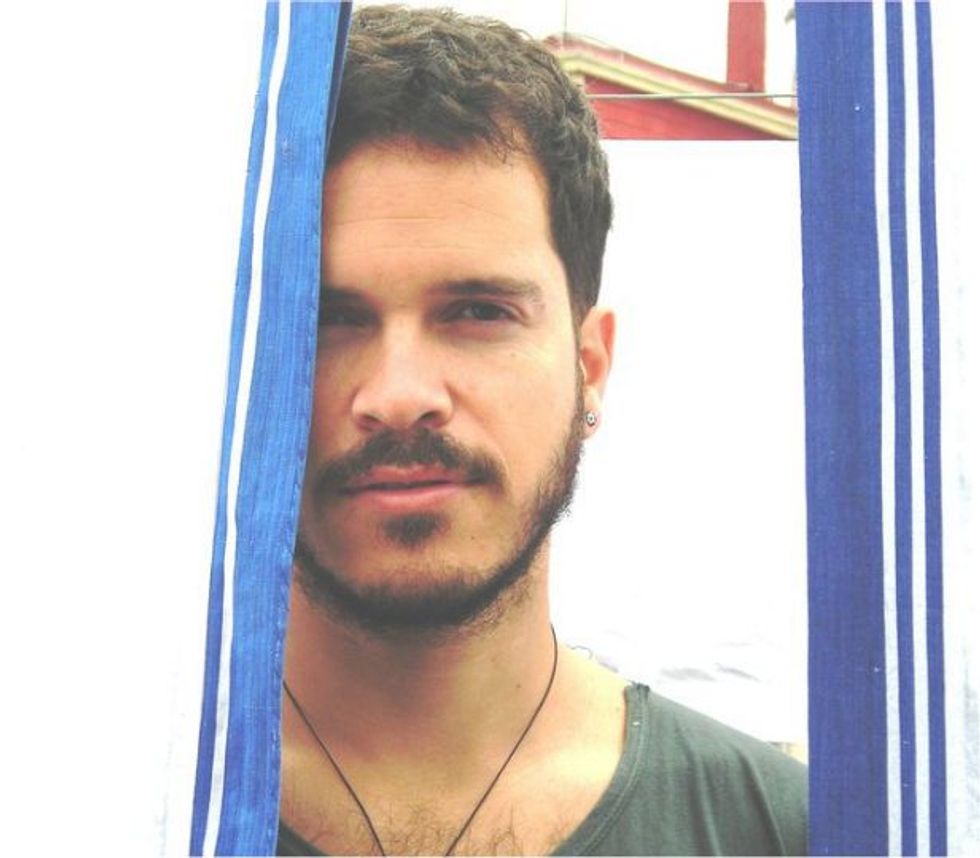 [Note: Please welcome Hemley Gonzalez to Daylight Atheism. Hemley is the founder of Responsible Charity, a secular non-profit organization serving the poor of Calcutta, which was a past beneficiary of the Foundation Beyond Belief. In this interview, he discusses his time as a volunteer with Mother Teresa's supposed charitable organization, how he became disillusioned, and how it inspired him to start a better alternative. See also my past post on the same subject. —Adam]
---
You used to be a volunteer with Mother Teresa's Missionaries of Charity. What originally inspired you to volunteer? What did you think of her back then?
After the real estate market collapse of 2007, I decided to take some time off and get in touch with my compassionate and creative side. In 2008 I took a backpacking trip for several months throughout India. Before leaving the US I had read one of the authorized biographies on Mother Teresa which portrayed the organization as a beacon of hope, and I decided to split my time in India between backpacking and volunteering, giving them two months of my time and energy; it was then that I discovered the serious medical negligence that had been taking place for quite a while inside the organization and began to document and report the abuse I witnessed.
When did you first start to become disillusioned with her organization? What were some specific things you saw that changed your mind about them?
It happened almost instantly, literally on my first day volunteering. I was shocked to discover the horrifically negligent manner in which this charity operates and the direct contradiction of the public's general understanding of their work. Workers wash needles under tap water and then reuse them. Medicine and other vital items are stored for months on end, expiring and still applied sporadically to patients. Volunteers with little or no training carry out dangerous work on patients with highly contagious cases of tuberculosis and other life threatening illnesses. The individuals who operate the charity refuse to accept and implement medical equipment and machinery that would safely automate processes and save lives.
What, if anything, did you learn subsequently that cemented your opinion?
After further investigation and research, I realized that all of the events I had witnessed amounted to nothing more than a systematic human rights violation and a financial scam of monumental proportions. Not once in its sixty-year history have the Missionaries of Charity reported the total amount of funds they've collected in donations, what percentage they use for administration and where the rest has been applied and how. Since its inception, defectors of the organization and other journalists have placed the figure upwards of one billion dollars (and counting). The mission currently operates over 700 homes and maintains an average of 4,000 workers while consistently failing to provide statistics on the efficacy of their work.
What have you done to publicize your views about Teresa's organization since then? Has there been any kind of response?
When I returned home, I immediately began speaking up about all the negligence I had witnessed; I created a Facebook page so I could post the photos and notes of all that I documented during my time there and within months I was contacted by FORBES-India, who interviewed me last year and published a serious article pertaining the monumental medical negligence of this organization and as a result "the home of the dying" was immediately closed for "renovations" after the national circulation of the article.
Here's the link to the article: http://business.in.com/article/on-assignment/mother-teresas-legacy-is-under-a-cloud/15932/1
And the link to Kalighat before: /a>
And the link to a photo album of Kalighat now closed: /a>
And a video of the now defunct facility: .
What would you advise atheists to say when confronted by people who hold up Mother Teresa as a model of virtue?
Regardless of your personal beliefs; adoration of suffering, medical negligence and financial fraud are human right violations.
Mother Teresa's was NO ONE'S mother. This supposedly celibate nun's name was Agnes Gonxha Bojaxhiu, an Albanian native who lived most of her life without speaking to her own family and proselytizing her religion under the disguise of charity. There is absolutely nothing normal or "saintly" about this.
Standing firm against planned parenthood, modernization of equipment, and a myriad of other solution-based initiatives, Mother Teresa was not a friend of the poor but rather a promoter of poverty.
It was Mother Teresa's own admission during an interview that more than 23,000 people had died in the halls of the particular home I had worked in, as if boasting at the figure and missing entirely the point of the enormous compilation of unnecessary deaths.
Mother Teresa also repeatedly admitted that she was not a social worker, and her followers continue to assert the same to this day. So under what motives do they tend to the poor, you may ask? The mantra of the operation rests solely on the belief that suffering and poverty are ways of loving God, a seriously troubling statement to say the least.
How would you describe your personal beliefs today?
Disgusted and disappointed by my experience with the Missionaries of Charity, I began working in the slums alongside other friends and volunteers who also felt their efforts were positively and effectively changing the lives of those disadvantaged families we came into contact with.
After returning home, I began a campaign to raise awareness about the issues I experienced and the challenges the children of the Park Circus face daily, and thus Responsible Charity was born. Through a homegrown network of friends, family and volunteers in different regions of the world we are now beginning to gather donations which we can track and report on our website and show exactly the progress and help such funds allow us to administered to those in need.
Unlike some religious-based organizations which have no progressive plans in effect to educate and empower the children, women and men out of poverty, Responsible Charity would like to make advances in areas of education, planned parenthood and self employment.
I returned to Kolkata at the beginning of December last year. I felt a bit overwhelmed with the amount of necessity and tasks which Responsible Charity needed to take on to truly make a difference in the lives of several families in a slum in the City of Joy. But after a few days and a slow but sure readjustment to the pollution, weather and constant noise, things started to become clearer.
In the last 10 months, we have been able to gather a great wave of support from freethinkers, atheists and just plain compassionate human beings from around the world thus bringing their attention to the conditions on the ground for some of the children and their parents.
There are a lot more details than what I've listed below, please browse the albums on our Facebook page where we document our work and feel free to add and choose any of the tasks we've performed over the last 10 months.
Here's a quick list of all that we've accomplished thus far:
Nine homes totally rebuilt, each for a family in dire need of better housing
Weekly milk delivery program for 12-15 babies and or toddlers
Weekly adult milk delivery program
Cover the cost of a birth and every necessary item associated with the new baby
Began a monthly salary program with a mother to allow her daughter to go to school
Lice treatments on an ongoing basis
Donated a dozens of bags of clothes given to us by tourist and other local charities
Hired a nurse to come to the slums on a weekly basis and address health issues head on with all the members of the families we are helping.
Have bought and distributed scores of necessary medicines and vitamins and continue to do so
Held a huge end-of-the-year party for about 100 people living in the slum, complete with a hearty mean and a ton of gifts and toys for 12 families.
Bi-weekly hygienic program instituted, delivering toothpaste, shampoo and soap to now 24 families totalling over 130 children, men and women.
Blood, urine and stool tests for several members of several families
X rays and Tuberculosis assessments for three individuals + ongoing treatment for one.
Daily cures of dressing and other minor health items
Bought several stoves and fans for families
New prescription glasses for two mothers
Had several volunteers come through and witness first hand our work on the ground.
Collaboration with "Gimme Shelter India" and donating medicine and several medical items we have not had a use for.
Attended meetings for future collaboration with other secular and local charities.
Weeks of fruit purchases for a re-sale program initiative with one of the families.
Have begun to create digital records for 24 families
Took 15 children on an unforgettable excursion to a theme park
Placed 12 children in school and now looking to do the same for several others
Built a kitchen for a school which educates 200 children daily
Co-hosted an annual festival at another school which educates 150 children daily
Donated a year's worth of books to the same school above for 150 children
Hemley Gonzalez, Founder & CEO Responsible Charity, Corp
http://www.responsiblecharity.org
/a>
Inventions with revolutionary potential made by a mysterious aerospace engineer for the U.S. Navy come to light.
Credit: Getty Images
Surprising Science
U.S. Navy holds patents for enigmatic inventions by aerospace engineer Dr. Salvatore Pais.
Pais came up with technology that can "engineer" reality, devising an ultrafast craft, a fusion reactor, and more.
While mostly theoretical at this point, the inventions could transform energy, space, and military sectors.
The U.S. Navy controls patents for some futuristic and outlandish technologies, some of which, dubbed "the UFO patents," came to life recently. Of particular note are inventions by the somewhat mysterious Dr. Salvatore Cezar Pais, whose tech claims to be able to "engineer reality." His slate of highly-ambitious, borderline sci-fi designs meant for use by the U.S. government range from gravitational wave generators and compact fusion reactors to next-gen hybrid aerospace-underwater crafts with revolutionary propulsion systems, and beyond.
Of course, the existence of patents does not mean these technologies have actually been created, but there is evidence that some demonstrations of operability have been successfully carried out. As investigated and reported by The War Zone, a possible reason why some of the patents may have been taken on by the Navy is that the Chinese military may also be developing similar advanced gadgets.
Among Dr. Pais's patents are designs, approved in 2018, for an aerospace-underwater craft of incredible speed and maneuverability. This cone-shaped vehicle can potentially fly just as well anywhere it may be, whether air, water or space, without leaving any heat signatures. It can achieve this by creating a quantum vacuum around itself with a very dense polarized energy field. This vacuum would allow it to repel any molecule the craft comes in contact with, no matter the medium. Manipulating "quantum field fluctuations in the local vacuum energy state," would help reduce the craft's inertia. The polarized vacuum would dramatically decrease any elemental resistance and lead to "extreme speeds," claims the paper.
Not only that, if the vacuum-creating technology can be engineered, we'd also be able to "engineer the fabric of our reality at the most fundamental level," states the patent. This would lead to major advancements in aerospace propulsion and generating power. Not to mention other reality-changing outcomes that come to mind.
Among Pais's other patents are inventions that stem from similar thinking, outlining pieces of technology necessary to make his creations come to fruition. His paper presented in 2019, titled "Room Temperature Superconducting System for Use on a Hybrid Aerospace Undersea Craft," proposes a system that can achieve superconductivity at room temperatures. This would become "a highly disruptive technology, capable of a total paradigm change in Science and Technology," conveys Pais.
High frequency gravitational wave generator.
Credit: Dr. Salvatore Pais
Another invention devised by Pais is an electromagnetic field generator that could generate "an impenetrable defensive shield to sea and land as well as space-based military and civilian assets." This shield could protect from threats like anti-ship ballistic missiles, cruise missiles that evade radar, coronal mass ejections, military satellites, and even asteroids.
Dr. Pais's ideas center around the phenomenon he dubbed "The Pais Effect". He referred to it in his writings as the "controlled motion of electrically charged matter (from solid to plasma) via accelerated spin and/or accelerated vibration under rapid (yet smooth) acceleration-deceleration-acceleration transients." In less jargon-heavy terms, Pais claims to have figured out how to spin electromagnetic fields in order to contain a fusion reaction – an accomplishment that would lead to a tremendous change in power consumption and an abundance of energy.
According to his bio in a recently published paper on a new Plasma Compression Fusion Device, which could transform energy production, Dr. Pais is a mechanical and aerospace engineer working at the Naval Air Warfare Center Aircraft Division (NAWCAD), which is headquartered in Patuxent River, Maryland. Holding a Ph.D. from Case Western Reserve University in Cleveland, Ohio, Pais was a NASA Research Fellow and worked with Northrop Grumman Aerospace Systems. His current Department of Defense work involves his "advanced knowledge of theory, analysis, and modern experimental and computational methods in aerodynamics, along with an understanding of air-vehicle and missile design, especially in the domain of hypersonic power plant and vehicle design." He also has expert knowledge of electrooptics, emerging quantum technologies (laser power generation in particular), high-energy electromagnetic field generation, and the "breakthrough field of room temperature superconductivity, as related to advanced field propulsion."
Suffice it to say, with such a list of research credentials that would make Nikola Tesla proud, Dr. Pais seems well-positioned to carry out groundbreaking work.
A craft using an inertial mass reduction device.
Credit: Salvatore Pais
The patents won't necessarily lead to these technologies ever seeing the light of day. The research has its share of detractors and nonbelievers among other scientists, who think the amount of energy required for the fields described by Pais and his ideas on electromagnetic propulsions are well beyond the scope of current tech and are nearly impossible. Yet investigators at The War Zone found comments from Navy officials that indicate the inventions are being looked at seriously enough, and some tests are taking place.
If you'd like to read through Pais's patents yourself, check them out here.
Laser Augmented Turbojet Propulsion System
Credit: Dr. Salvatore Pais
These Roman Emperors were infamous for their debauchery and cruelty.
1876. Painted by Henryk Siemiradzki.
Politics & Current Affairs
Roman Emperors were known for their excesses and violent behavior.
From Caligula to Elagabalus, the emperors exercised total power in the service of their often-strange desires.
Most of these emperors met violent ends themselves.
We rightfully complain about many of our politicians and leaders today, but historically speaking, humanity has seen much worse. Arguably no set of rulers has been as debauched, ingenious in their cruelty, and prone to excess as the Roman Emperors.
While this list is certainly not exhaustive, here are seven Roman rulers who were perhaps the worst of the worst in what was one of the largest empires that ever existed, lasting for over a thousand years.
1. Caligula
Officially known as Gaius (Gaius Caesar Augustus Germanicus), Caligula was the third Roman Emperor, ruling from 37 to 41 AD. He acquired the nickname "Caligula" (meaning "little [soldier's] boot") from his father's soldiers during a campaign.
While recognized for some positive measures in the early days of his rule, he became famous throughout the ages as an absolutely insane emperor, who killed anyone when it pleased him, spent exorbitantly, was obsessed with perverse sex, and proclaimed himself to be a living god.
Caligula gives his horse Incitatus a drink during a banquet. Credit: An engraving by Persichini from a drawing by Pinelli, from "The History of the Roman Emperors" from Augustus to Constantine, by Jean Baptiste Louis Crevier. 1836.
Among his litany of misdeeds, according to the accounts of Caligula's contemporaries Philo of Alexandria and Seneca the Younger, he slept with whomever he wanted, brazenly taking other men's wives (even on their wedding nights) and publicly talking about it.
He also had an insatiable blood thirst, killing for mere amusement. Once, as reports historian Suetonius, when the bridge across the sea at Puteoli was being blessed, he had a number of spectators who were there to inspect it thrown off into the water. When some tried to cling to the ships' rudders, Caligula had them dislodged with hooks and oars so they would drown. On another occasion, he got so bored that he had his guards throw a whole section of the audience into the arena during the intermission so they would be eaten by wild beasts. He also allegedly executed two consuls who forgot his birthday.
Suetonius relayed further atrocities of the mad emperor's character, writing that Caligula "frequently had trials by torture held in his presence while he was eating or otherwise enjoying himself; and kept an expert headsman in readiness to decapitate the prisoners brought in from gaol." One particular form of torture associated with Caligula involved having people sawed in half.
He caused mass starvation and purposefully wasted money and resources, like making his troops stage fake battles just for theater. If that wasn't enough, he turned his palace into a brothel and was accused of incest with his sisters, Agrippina the Younger, Drusilla, and Livilla, whom he also prostituted to other men. Perhaps most famously, he was planning to appoint his favorite horse Incitatus a consul and went as far as making the horse into a priest.
In early 41 AD, Caligula was assassinated by a conspiracy of Praetorian Guard officers, senators, and other members of the court.
2. Nero
Fully named Nero Claudius Caesar, Nero ruled from 54 to 68 AD and was arguably an even worse madman than his uncle Caligula. He had his step-brother Britannicus killed, his wife Octavia executed, and his mother Agrippina stabbed and murdered. He personally kicked to death his lover Poppeaea while she was pregnant with his child — a horrific action the Roman historian Tacitus depicted as "a casual outburst of rage."
He spent exorbitantly and built a 100-foot-tall bronze statue of himself called the Colossus Neronis.
He is also remembered for being strangely obsessed with music. He sang and played the lyre, although it's not likely he really fiddled as Rome burned in what is a popular myth about this crazed tyrant. As misplaced retribution for the fire which burned down a sizable portion of Rome in the year 64, he executed scores of early Christians, some of them outfitted in animal skins and brutalized by dogs, with others burned at the stake.
He died by suicide.
Roman Emperor Nero in the burning ruins of Rome. July 64 AD.Credit: From an original painting by S.J. Ferris. (Photo by Kean Collection / Getty Images)
3. Commodus

Like some of his counterparts, Commodus (a.k.a. Lucius Aelius Aurelius Commodus) thought he was a god — in his case, a reincarnation of the Greek demigod Hercules. Ruling from 176 to 192 AD, he was also known for his debauched ways and strange stunts that seemed designed to affirm his divine status. Numerous statues around the empire showed him as Hercules, a warrior who fought both men and beasts. He fought hundreds of exotic animals in an arena like a gladiator, confusing and terrifying his subjects. Once, he killed 100 lions in a single day.
Emperor Commodus (Joaquin Phoenix) questions the loyalty of his sister Lucilla (Connie Nielsen) In Dreamworks Pictures' and Universal Pictures' Oscar-winning drama "Gladiator," directed by Ridley Scott.Credit: Photo By Getty Images
The burning desire to kill living creatures as a gladiator for the New Year's Day celebrations in 193 AD brought about his demise. After Commodus shot hundreds of animals with arrows and javelins every morning as part of the Plebeian Games leading up to New Year's, his fitness coach (aptly named Narcissus), choked the emperor to death in his bath.

4. Elagabalus
Officially named Marcus Aurelius Antoninus II, Elagabalus's nickname comes from his priesthood in the cult of the Syrian god Elagabal. Ruling as emperor from 218 to 222 AD, he was so devoted to the cult, which he tried to spread in Rome, that he had himself circumcised to prove his dedication. He further offended the religious sensitivities of his compatriots by essentially replacing the main Roman god Jupiter with Elagabal as the chief deity. In another nod to his convictions, he installed on Palatine Hill a cone-like fetish made of black stone as a symbol of the Syrian sun god Sol Invictus Elagabalus.
His sexual proclivities were also not well received at the time. He was likely transgender (wearing makeup and wigs), had five marriages, and was quite open about his male lovers. According to the Roman historian (and the emperor's contemporary) Cassius Dio, Elagabalus prostituted himself in brothels and taverns and was one of the first historical figures on record to be looking for sex reassignment surgery.
He was eventually murdered in 222 in an assassination plot engineered by his own grandmother Julia Maesa.
5. Vitellius
Emperor for just eight months, from April 19th to December 20th of the year 69 AD, Vitellius made some key administrative contributions to the empire but is ultimately remembered as a cruel glutton. He was described by Suetonius as overly fond of eating and drinking, to the point where he would eat at banquets four times a day while sending out the Roman navy to get him rare foods. He also had little social grace, inviting himself over to the houses of different noblemen to eat at their banquets, too.
Vitellius dragged through the streets of Rome.Credit: Georges Rochegrosse. 1883.
He was also quite vicious and reportedly either had his own mother starved to death or approved a poison with which she committed suicide.

Vitellius was ultimately murdered in brutal fashion by supporters of the rival emperor Vespasian, who dragged him through Rome's streets, then likely beheaded him and threw his body into the Tiber river. "Yet I was once your emperor," were supposedly his last words, wrote historian Cassius Dio.
6. Caracalla
Marcus Aurelius Antoninus I ruled Rome from 211 to 217 AD on his own (while previously co-ruling with his father Septimius Severus from 198). "Caracalla"' was his nickname, referencing a hooded coat from Gaul that he brought into Roman fashion.
He started off his rise to individual power by murdering his younger brother Geta, who was named co-heir by their father. Caracalla's bloodthirsty tyranny didn't stop there. He wiped out Geta's supporters and was known to execute any opponents to his or Roman rule. For instance, he slaughtered up to 20,000 citizens of Alexandria after a local theatrical satire dared to mock him.
Geta Dying in His Mother's Arms.Credit: Jacques Pajou (1766-1828)
One of the positive outcomes of his rule was the Edict of Caracalla, which gave Roman citizenship to all free men in the empire. He was also known for building gigantic baths.

Like others on this list, Caracalla met a brutal end, being assassinated by army officers, including the Praetorian prefect Opellius Macrinus, who installed himself as the next emperor.
7. Tiberius
As the second emperor, Tiberius (ruling from 42 BC to 16 AD) is known for a number of accomplishments, especially his military exploits. He was one of the Roman Empire's most successful generals, conquering Pannonia, Dalmatia, Raetia, and parts of Germania.
He was also remembered by his contemporaries as a rather sullen, perverse, and angry man. In the chapter on his life from The Lives of the Twelve Caesars by the historian Suetonius, Tiberius is said to have been disliked from an early age for his personality by even his family. Suetonius wrote that his mother Antonia often called him "an abortion of a man, that had been only begun, but never finished, by nature."
"Orgy of the Times of Tiberius on Capri".Painting by Henryk Siemiradzki. 1881.
Suetonius also paints a damning picture of Tiberius after he retreated from public life to the island of Capri. His years on the island would put Jeffrey Epstein to shame. A horrendous pedophile, Tiberius had a reputation for "depravities that one can hardly bear to tell or be told, let alone believe," Suetonius wrote, describing how "in Capri's woods and groves he arranged a number of nooks of venery where boys and girls got up as Pans and nymphs solicited outside bowers and grottoes: people openly called this 'the old goat's garden,' punning on the island's name."

There's much, much more — far too salacious and, frankly, disgusting to repeat here. For the intrepid or morbidly curious reader, here's a link for more information.
After he died, Tiberius was fittingly succeeded in emperorship by his grandnephew and adopted grandson Caligula.
New studies stretch the boundaries of physics, achieving quantum entanglement in larger systems.
Credit: Aalto University.
Surprising Science
New experiments with vibrating drums push the boundaries of quantum mechanics.
Two teams of physicists create quantum entanglement in larger systems.
Critics question whether the study gets around the famous Heisenberg uncertainty principle.
Recently published research pushes the boundaries of key concepts in quantum mechanics. Studies from two different teams used tiny drums to show that quantum entanglement, an effect generally linked to subatomic particles, can also be applied to much larger macroscopic systems. One of the teams also claims to have found a way to evade the Heisenberg uncertainty principle.
One question that the scientists were hoping to answer pertained to whether larger systems can exhibit quantum entanglement in the same way as microscopic ones. Quantum mechanics proposes that two objects can become "entangled," whereby the properties of one object, such as position or velocity, can become connected to those of the other.
An experiment performed at the U.S. National Institute of Standards and Technology in Boulder, Colorado, led by physicist Shlomi Kotler and his colleagues, showed that a pair of vibrating aluminum membranes, each about 10 micrometers long, can be made to vibrate in sync, in such a way that they can be described to be quantum entangled. Kotler's team amplified the signal from their devices to "see" the entanglement much more clearly. Measuring their position and velocities returned the same numbers, indicating that they were indeed entangled.
Tiny aluminium membranes used by Kotler's team.Credit: Florent Lecoq and Shlomi Kotler/NIST
Evading the Heisenberg uncertainty principle?

Another experiment with quantum drums — each one-fifth the width of a human hair — by a team led by Prof. Mika Sillanpää at Aalto University in Finland, attempted to find what happens in the area between quantum and non-quantum behavior. Like the other researchers, they also achieved quantum entanglement for larger objects, but they also made a fascinating inquiry into getting around the Heisenberg uncertainty principle.
The team's theoretical model was developed by Dr. Matt Woolley of the University of New South Wales. Photons in the microwave frequency were employed to create a synchronized vibrating pattern as well as to gauge the positions of the drums. The scientists managed to make the drums vibrate in opposite phases to each other, achieving "collective quantum motion."
The study's lead author, Dr. Laure Mercier de Lepinay, said: "In this situation, the quantum uncertainty of the drums' motion is canceled if the two drums are treated as one quantum-mechanical entity."
This effect allowed the team to measure both the positions and the momentum of the virtual drumheads at the same time. "One of the drums responds to all the forces of the other drum in the opposing way, kind of with a negative mass," Sillanpää explained.
Theoretically, this should not be possible under the Heisenberg uncertainty principle, one of the most well-known tenets of quantum mechanics. Proposed in the 1920s by Werner Heisenberg, the principle generally says that when dealing with the quantum world, where particles also act like waves, there's an inherent uncertainty in measuring both the position and the momentum of a particle at the same time. The more precisely you measure one variable, the more uncertainty in the measurement of the other. In other words, it is not possible to simultaneously pinpoint the exact values of the particle's position and momentum.
Heisenberg's Uncertainty Principle Explained. Credit: Veritasium / Youtube.com
Quantum skepticism
Big Think contributor astrophysicist Adam Frank, known for the 13.8 podcast, called this "a really fascinating paper as it shows that it's possible to make larger entangled systems which behave like a single quantum object. But because we're looking at a single quantum object, the measurement doesn't really seem to me to be 'getting around' the uncertainty principle, as we know that in entangled systems an observation of one part constrains the behavior of other parts."
Ethan Siegel, also an astrophysicist, commented, "The main achievement of this latest work is that they have created a macroscopic system where two components are successfully quantum mechanically entangled across large length scales and with large masses. But there is no fundamental evasion of the Heisenberg uncertainty principle here; each individual component is exactly as uncertain as the rules of quantum physics predicts. While it's important to explore the relationship between quantum entanglement and the different components of the systems, including what happens when you treat both components together as a single system, nothing that's been demonstrated in this research negates Heisenberg's most important contribution to physics."
The papers, published in the journal
Science
, could help create new generations of ultra-sensitive measuring devices and quantum computers.
"The question is which are okay, which are not okay."
Scroll down to load more…