Big ideas.
Once a week.
Subscribe to our weekly newsletter.
9 Great Freethinkers and Religious Dissenters in History
01 October, 2012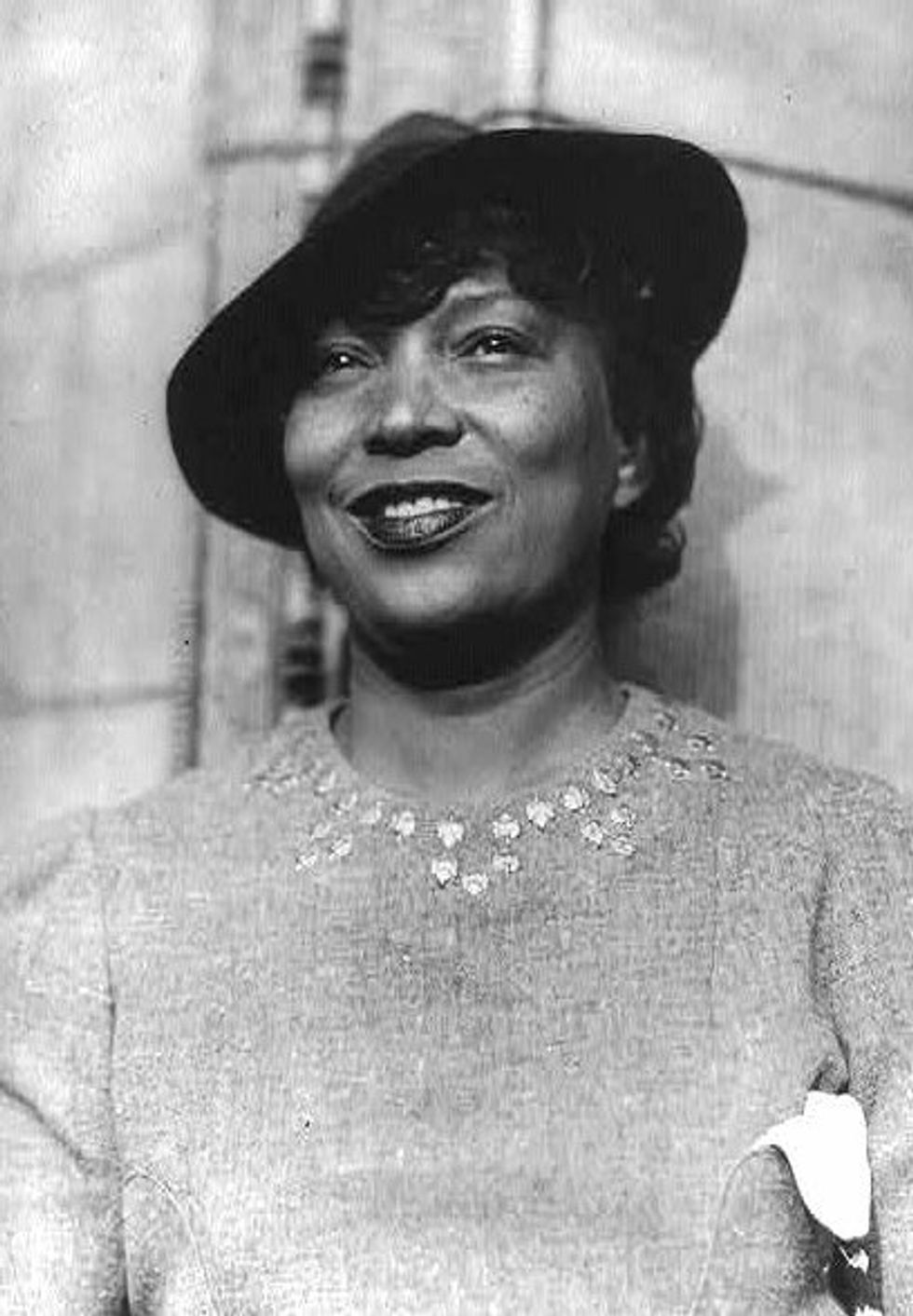 This article was originally published on AlterNet.
---
What kind of world would we have if a majority of the human race was atheist?
To hear religious apologists tell it, the triumph of atheism would mean a swift descent into selfishness and chaos. The defenders of the faith argue that atheism inevitably leads to selfishness and nihilism, and that only religion can justify charity or compassion, bind people together in community, or inspire a lively and flourishing culture. But this assertion can only be sustained by ignoring the accomplishments of famous nonreligious people throughout history, of which there have been many.
To dispel the myth that nonbelievers have never contributed anything of worth or value to human civilization, I want to highlight some who've left their mark in the arts, the sciences, or the humanities. Demonstrating that the godless count distinguished members of the human race among our numbers is a way to fight back against this prejudice and to demonstrate that we, too, have a historical legacy we can be proud of.
Not all of the people profiled here were strict atheists, but all of them were freethinkers, a broader umbrella term that embraces a rainbow of unorthodoxy, religious dissent, skepticism, and unconventional thinking. It's no surprise that so many influential thinkers and creative types have come from the ranks of these intellectual revolutionaries. Organized religion tends to reward people not for thinking creatively or critically, but for reciting and defending the dogmas of the previous generation. Throughout human history, it's consistently been true that hidebound theocracies have been mired in poverty, backwardness and intellectual stagnation, whereas the most dramatic advances have come about in times and places where people had the freedom to think for themselves, to freely question and debate. The lives of all the men and women to be recounted here bear testimony to this.
Albert Einstein. The archetypal scientific genius, Einstein inaugurated a revolution in physics that bears fruit to this day. His theories and equations undergird the 20th century: technologies from nuclear power to GPS satellites only exist because of his discoveries. But beyond his impressive scientific contributions, he was known as a peacemaker and civil-rights advocate: he was one of the first to warn the world of the dangers of Nazism, joined anti-lynching campaigns, publicly opposed McCarthyism, and called for nuclear disarmament worldwide. Later in life, he was offered the presidency of Israel but turned it down, saying that he was unqualified.
Einstein famously made statements like "God does not play dice with the universe" that have inspired religious apologists to try to claim him as their own, but on other occasions, he made it clear that this was nothing but poetic metaphor. He made his views known in letters, writing, for example: "I do not believe in a personal god and I have never denied this but have expressed it clearly. If something is in me which can be called religious then it is the unbounded admiration for the structure of the world so far as our science can reveal it." On another occasion, he wrote, "the word God is for me nothing more than the expression and product of human weaknesses, the Bible a collection of honorable but still primitive legends which are nevertheless pretty childish."
Robert Ingersoll. One of the most famous Americans that most people today have never heard of, Colonel Robert Green Ingersoll, known in his lifetime as the "Great Agnostic," once commanded national fame and renown. In an era before television and radio, public oratory was the leading form of entertainment, and Ingersoll set the gold standard. He was one of the most sought-after speakers in the country; he drew crowds of thousands, and on one occasion, after hearing him speak, Mark Twain observed, "What an organ is human speech when it is employed by a master!"
He was a staunch abolitionist who served honorably for the Union in the Civil War, and went on to advocate progressive causes like free speech, women's rights, anti-racism and the abolition of corporal punishment. Though politicians repeatedly sought his endorsement and his rhetorical talents, the highest position that Ingersoll himself ever held was the attorney general of Illinois - due, no doubt, to his willingness to eloquently express his freethought views. In a eulogy, the New York Times observed that only his outspoken irreligious views kept him from taking "that place in the... public life of his country to which by his talents he would otherwise have been eminently entitled." Not that Ingersoll himself would have wanted it any other way: as he declared, a truly spiritual man "attacks what he believes to be wrong, though defended by the many, and he is willing to stand for the right against the world."
W.E.B. DuBois. Contrary to popular impression, the black community in America has a long tradition of involvement with freethought and secularism, as exemplified by one of its most influential racial-justice activists, W.E.B. DuBois. DuBois was the first black man to get a Ph.D. from Harvard, one of the founders of the NAACP, and a prolific and critically praised writer, educator and historian.
By DuBois' own account, he was raised religious and attended an orthodox missionary college, but his doubts on religion blossomed while studying in Europe. When he returned to America, he taught at a black Methodist college, Wilberforce University, but drew the wrath of school administrators for refusing to lead students in prayer. As Susan Jacoby quotes him in her book Freethinkers, "I flatly refused again to join any church or sign any church creed. From my 30th year on I have increasingly regarded the church as an institution which defended such evils as slavery, color caste, exploitation of labor and war." He also said that he wanted "to make the Negro church a place where colored men and women of education and energy can work for the best things regardless of their belief or disbelief in unimportant dogmas and ancient and outworn creeds."
Zora Neale Hurston. Like DuBois, Zora Neale Hurston was an influential black freethinker and an acclaimed author of the early 20th century. She attended Columbia University on a scholarship, and while living in Manhattan at the height of the Harlem Renaissance, met scholars and artists like Margaret Mead and Langston Hughes. She herself wrote both fiction and anthropological works about the black community. Her masterwork, the 1937 novel Their Eyes Were Watching God, was judged one of the 100 best English-language novels of the 20th century.
In her autobiography, Dust Tracks on a Road, Hurston makes her freethought views clear and denies that the prospect of nonexistence after death holds any fear for her:
Prayer seems to me a cry of weakness, and an attempt to avoid, by trickery, the rules of the game as laid down. I do not choose to admit weakness. I accept the challenge of responsibility. Life, as it is, does not frighten me, since I have made my peace with the universe as I find it, and bow to its laws... It seems to me that organized creeds are collections of words around a wish. I feel no need for such.
I know that nothing is destructible; things merely change forms. When the consciousness we know as life ceases, I know that I shall still be part and parcel of the world. I was a part before the sun rolled into shape and burst forth in the glory of change. I was, when the earth was hurled out from its fiery rim. I shall return with the earth to Father Sun, and still exist in substance when the sun has lost its fire, and disintegrated into infinity to perhaps become a part of the whirling rubble of space. Why fear? The stuff of my being is matter, ever changing, ever moving, but never lost; so what need of denominations and creeds to deny myself the comfort of all my fellow men?
Elizabeth Cady Stanton. Although no one person deserves sole credit for laying the groundwork for the Nineteenth Amendment, Elizabeth Cady Stanton comes close. One of the pivotal early events in the suffrage movement, the 1848 Seneca Falls Convention, was organized and shepherded in large part by Stanton, and she played a key role in issuing the famous Declaration of Sentiments that first called for women's suffrage (against the wishes of other attendees, some of whom felt that demanding the vote was too radical even for them).
Despite a lifetime of organizing and lobbying for women's suffrage, Stanton was often shunted aside by her own movement for her controversial, outspoken freethought views and her attacks on religion as a major justification for the continued oppression of women, including her scathing The Woman's Bible. On one occasion, she wrote, "I have endeavoured to dissipate these religious superstitions from the minds of women, and base their faith on science and reason, where I found for myself at least that peace and comfort I could never find in the Bible and the church."
Some of Sanger's spiritual descendants in the feminist movement had similarly irreligious views. One of the most famous was Margaret Sanger, one of the founders of Planned Parenthood and a fearless crusader in the fight to make birth control available and legal to American women. Sanger's motto was "No Gods, No Masters," and her newsletter had the memorable title The Woman Rebel.
Asa Philip Randolph. The 20th-century American civil rights movement is often identified with Christianity, which is almost single-handedly due to the influence of the Rev. Dr. Martin Luther King Jr. But there were secular humanists who played almost as important a role, one of whom was Asa Philip Randolph, a trailblazing labor organizer whose career spanned the 20th century and who was one of the pioneers of the strategy of nonviolent civil disobedience.
Randolph entered the civil-rights movement by way of the labor movement, beginning by organizing mainly black railroad workers. But he soon set its sights higher, especially as the country was drawn into World War II and the defense industry was booming. He took the lead in organizing civil-rights marches that convinced Presidents Roosevelt and Truman to issue executive orders ending segregation in defense contractors and the armed services. As his star rose, he served as vice president of the AFL-CIO and helped organize the March on Washington for Jobs and Freedom, where King's "I have a dream" speech was delivered.
In addition to all this, Randolph was a lifelong freethinker. He was the founder of a literary magazine, The Messenger, whose masthead declared that "Prayer is not one of our remedies... We consider prayer as nothing more than a fervent wish." He was also one of the signers of the Humanist Manifesto in 1970.
Robert Frost. New England's most famous poet is justly immortalized for his poetic tributes to nature and rural life, but his religious skepticism is lesser known. Frost's views on God are complex: for much of his life, he grappled with a deep-seated superstitious fear he could never fully shake off. But after twenty years of marriage, his wife said that he was an atheist, and he didn't deny it.
What's interesting is that this comes through inadvertently in his poetry. When speaking of his fellow human beings and their relationships, Frost is warm, welcoming, thoroughly humanist. But when he turns to the subject of God, he more often than not becomes dark and terrifying, depicting the idea of a deity as a savage force of nature more than a worthy object of reverence. His famous poem "Design" calls the suffering and predation in nature a "design of darkness". The poem "Once by the Pacific," Frost's vision of the apocalypse, has the poet looking out at crashing ocean waves and envisioning them as a harbinger of doomsday. The poem "A Loose Mountain" envisions God as a cosmic destroyer waiting to hurl a meteor at the Earth, like a stone thrown from a sling, biding his time so that he can release it when it will cause the maximum amount of devastation.
Emma Lazarus. Like Robert Frost, Emma Lazarus was a poet whose words have become defining of the American experience. She may not have as many classics to her name, but her one crowning achievement may be even better-known than any of his: her poem "The New Colossus," best known as the words engraved on the pedestal of the Statue of Liberty: "Give me your tired, your poor, your huddled masses yearning to breathe free..." The statue was originally a symbol of republicanism, but it was Lazarus' poem that recast it as a beacon for immigrants from all over the world. Even when America has fallen short of this ideal, it's these words which remind us that we can do better and inspire us to work for positive change.
Lazarus came from a Jewish background, but like the others profiled here, she was known as a freethinker. As the Jewish Virtual Library records, on one occasion she told a rabbi who asked her to contribute to a hymn book, "I shall always be loyal to my race, but I feel no religious fervor in my soul."
Yip Harburg. E.Y. "Yip" Harburg isn't a household name, but some of his works are. Harburg was the Broadway lyricist who wrote the words to some of America's most memorable and culturally significant songs, including "Brother, Can You Spare a Dime?", "It's Only a Paper Moon", and all the music from The Wizard of Oz, including "Somewhere Over the Rainbow". Harburg was known as "Broadway's social conscience" for the progressive messages of his songs and musicals, including "Bloomer Girl" and "Hooray for What," which advocated feminism and anti-war themes respectively. At one point he was blacklisted by McCarthy's House Un-American Activities Committee, but kept working for the stage even as he was barred from television and film. He said in a biography, "The House of God never had much appeal for me. Anyhow, I found a substitute temple - the theater."
For more famous historical freethinkers, see my series "The Contributions of Freethinkers", Susan Jacoby's excellent book, "Freethinkers: A History of American Secularism", or Jennifer Michael Hecht's "Doubt: A History".
Image: Zora Neale Hurston, via Wikipedia
A team of archaeologists has discovered 3,200-year-old cheese after analyzing artifacts found in an ancient Egyptian tomb. It could be the oldest known cheese sample in the world.
The broken jar in which the white mass of cheese was found. (Photo: University of Catania and Cairo University)
Culture & Religion
A team of archaeologists has discovered 3,200-year-old cheese after analyzing artifacts found in an ancient Egyptian tomb. It could be the oldest known cheese sample in the world.
The tomb that held the cheese lies in the desert sands south of Cairo. It was first discovered in the 19th century by treasure hunters, who eventually lost the knowledge of its location, leaving the Saharan sands to once again conceal the tomb.
"Since 1885 the tomb has been covered in sand and no-one knew about it," Professor Ola el-Aguizy of Cairo University told the BBC. "It is important because this tomb was the lost tomb."
In 2010, a team of archaeologists rediscovered the tomb, which belonged to Ptahmes, a mayor and military chief of staff of the Egyptian city of Memphis in the 13th century B.C. In the tomb, the team found a jar containing a "solidified whitish mass," among other artifacts.
"The archaeologists suspected [the mass] was food, according to the conservation method and the position of the finding inside the tomb, but we discovered it was cheese after the first tests," Enrico Greco, the lead author of the paper and a research assistant at Peking University in Beijing, told the The New York Times.
To find out what the substance was, the team had to develop a novel way to analyze the proteins and identify the peptide markers in the samples. They first dissolved parts of the substance and then used mass spectrometry and chromatography to analyze its proteins.
Despite more than 3,000 years spent in the desert, the researchers were able to identify hundreds of peptides (chains of amino acids) in the sample. They found some that were associated with milk from goat, sheep and, interestingly, the African buffalo, a species not usually kept as a domestic animal in modern Africa, as Gizmodo reports.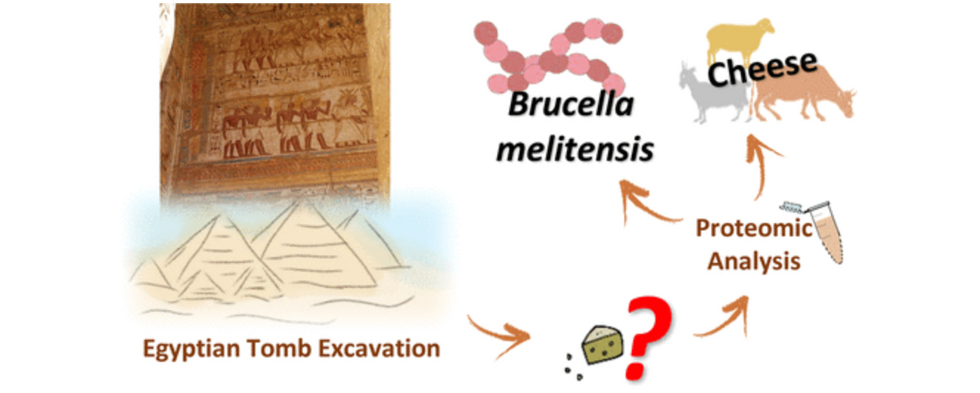 Those results suggested that the substance was cheese, specifically one that was probably similar in consistency to chevre but with a "really, really acidy" taste, as Dr. Paul Kindstedt, a professor at the University of Vermont who studies the chemistry and history of cheese, told the The New York Times.
"It would be high in moisture; it would be spreadable," he said. "It would not last long; it would spoil very quickly."
The researchers also found traces of the bacterium Brucella melitensis, which causes brucellosis, a debilitating disease that can cause endocarditis, arthritis, chronic fatigue, malaise, muscle pain and other conditions. It's a disease usually contracted by consuming raw dairy products.
"The most common way to be infected [with Brucella melitensis] is by eating or drinking unpasteurized/raw dairy products. When sheep, goats, cows, or camels are infected, their milk becomes contaminated with the bacteria," the U.S. Centers for Disease Control wrote on its website. "If the milk from infected animals is not pasteurized, the infection will be transmitted to people who consume the milk and/or cheese products."
Dr. Kindstedt said one reason the study is significant is for its novel use of proteomic analysis, which is the systematic identification and quantification of the complete complement of proteins (the proteome) of a biological system.
"As I say to my students every year when I get to Egypt, someone has to go ahead and analyze these residues with modern capabilities," he told the The New York Times. "This is a logical next step and I think you're going to see a lot more of this."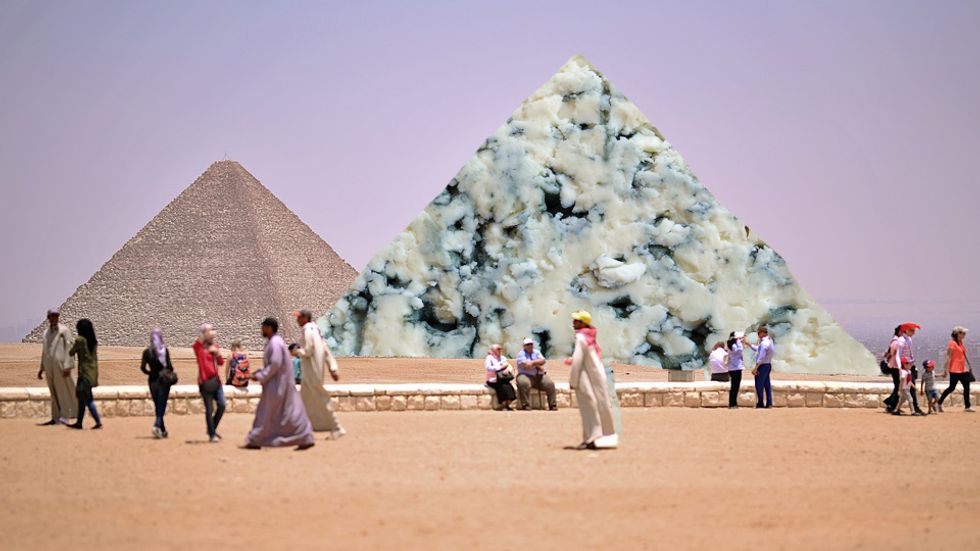 'The Great Pyramid of Chee-za'. An artist's interpretation of a very ripe, slightly deadly Egyptian tomb cheese. (Credit: Creative commons/Big Think)
However, Dr. Kindstedt did offer a bit of caution on the conclusions the researchers drew from the findings.
"The authors of this new study did some nice work," he told Gizmodo in a statement. "But in my view, on multiple grounds (I suspect in their zeal to be "the first"), they inferred considerably beyond what their data is capable of supporting within reasonable certainty, and almost certainly they are not the first to have found solid cheese residues in Egyptian tombs, just the first to apply proteomic analyses (which is worthy achievement on its own)."
As bad as this sounds, a new essay suggests that we live in a surprisingly egalitarian age.
Getty Open Content
Politics & Current Affairs
A new essay depicts 700 years of economic inequality in Europe.
The only stretch of time more egalitarian than today was the period between 1350 to approximately the year 1700.
Data suggest that, without intervention, inequality does not decrease on its own.
Economic inequality is a constant topic. No matter the cycle — boom or bust — somebody is making a lot of money, and the question of fairness is never far behind.
A recently published essay in the Journal of Economic Literature by Professor Guido Alfani adds an intriguing perspective to the discussion by showing the evolution of income inequality in Europe over the last several hundred years. As it turns out, we currently live in a comparatively egalitarian epoch.
Seven centuries of economic history
Figure 8 from Guido Alfani, Journal of Economic Literature, 2021.
This graph shows the amount of wealth controlled by the top ten percent in certain parts of Europe over the last seven hundred years. Archival documentation similar to — and often of a similar quality as — modern economic data allows researchers to get a glimpse of what economic conditions were like centuries ago. Sources like property tax records and documents listing the rental value of homes can be used to determine how much a person's estate was worth. (While these methods leave out those without property, the data is not particularly distorted.)
The first part of the line, shown in black, represents work by Prof. Alfani and represents the average inequality level of the Sabaudian State in Northern Italy, The Florentine State, The Kingdom of Naples, and the Republic of Venice. The latter part, in gray, is based on the work of French economist Thomas Piketty and represents an average of inequality in France, the United Kingdom, and Sweden during that time period.
Despite the shift in location, the level of inequality and rate of increase are very similar between the two data sets.
Apocalyptic events cause decreases in inequality
Note that there are two substantial declines in inequality. Both are tied to truly apocalyptic events. The first is the Black Death, the common name for the bubonic plague pandemic in the 14th century, which killed off anywhere between 30 and 50 percent of Europe. The second, at the dawn of the 20th century, was the result of World War I and the many major events in its aftermath.
The 20th century as a whole was a time of tremendous economic change, and the periods not featuring major wars are notable for having large experiments in distributive economic policies, particularly in the countries Piketty considers.
The slight stall in the rise of inequality during the 17th century is the result of the Thirty Years' War, a terrible religious conflict that ravaged Europe and left eight million people dead, and of major plagues that affected South Europe. However, the recurrent outbreaks of the plague after the Black Death no longer had much effect on inequality. This was due to a number of factors, not the least of which was the adaptation of European institutions to handle pandemics without causing such a shift in wealth.
In 2010, the last year covered by the essay, inequality levels were similar to those of 1340, with 66 percent of the wealth of society being held by the top ten percent. Also, inequality levels were continuing to rise, and the trends have not ended since. As Prof. Alfani explained in an email to BigThink:
"During the decade preceding the Covid pandemic, economic inequality has shown a slow tendency towards further inequality growth. The Great Recession that began in 2008 possibly contributed to slow down inequality growth, especially in Europe, but it did not stop it. However, the expectation is that Covid-19 will tend to increase inequality and poverty. This, because it tends to create a relatively greater economic damage to those having unstable occupations, or who need physical strength to work (think of the effects of the so-called "long-Covid," which can prove physically invalidating for a long time). Additionally, and thankfully, Covid is not lethal enough to force major leveling dynamics upon society."
Can only disasters change inequality?
That is the subject of some debate. While inequality can occur in any economy, even one that doesn't grow all that much, some things appear to make it more likely to rise or fall.
Thomas Piketty suggested that the cause of changes in inequality levels is the difference in the rate of return on capital and the overall growth rate of the economy. Since the return on capital is typically higher than the overall growth rate, this means that those who have capital to invest tend to get richer faster than everybody else.
While this does explain a great deal of the graph after 1800, his model fails to explain why inequality fell after the Black Death. Indeed, since the plague destroyed human capital and left material goods alone, we would expect the ratio of wealth over income to increase and for inequality to rise. His model can provide explanations for the decline in inequality in the decades after the pandemic, however- it is possible that the abundance of capital could have lowered returns over a longer time span.
The catastrophe theory put forth by Walter Scheidel suggests that the only force strong enough to wrest economic power from those who have it is a world-shattering event like the Black Death, the fall of the Roman Empire, or World War I. While each event changed the world in a different way, they all had a tremendous leveling effect on society.
But not even this explains everything in the above graph. Pandemics subsequent to the Black Death had little effect on inequality, and inequality continued to fall for decades after World War II ended. Prof. Alfani suggests that we remember the importance of human agency through institutional change. He attributes much of the post-WWII decline in inequality to "the redistributive policies and the development of the welfare states from the 1950s to the early 1970s."
What does this mean for us now?
As Professor Alfani put it in his email:
"[H]istory does not necessarily teach us whether we should consider the current trend toward growth in economic inequality as an undesirable outcome or a problem per se (although I personally believe that there is some ground to argue for that). Nor does it teach us that high inequality is destiny. What it does teach us, is that if we do not act, we have no reason whatsoever to expect that inequality will, one day, decline on its own. History also offers abundant evidence that past trends in inequality have been deeply influenced by our collective decisions, as they shaped the institutional framework across time. So, it is really up to us to decide whether we want to live in a more, or a less unequal society."
Our love-hate relationship with browser tabs drives all of us crazy. There is a solution.
Technology & Innovation
A new study suggests that tabs can cause people to be flustered as they try to keep track of every website.
The reason is that tabs are unable to properly organize information.
The researchers are plugging a browser extension that aims to fix the problem.
A lot of ideas that people had about the internet in the 1990s have fallen by the wayside as technology and our usage patterns evolved. Long gone are things like GeoCities, BowieNet, and the belief that letting anybody post whatever they are thinking whenever they want is a fundamentally good idea with no societal repercussions.
While these ideas have been abandoned and the tools that made them possible often replaced by new and improved ones, not every outdated part of our internet experience is gone. A new study by a team at Carnegie Mellon makes the case that the use of tabs in a web browser is one of these outdated concepts that we would do well to get rid of.
How many tabs do you have open right now?
We didn't always have tabs. Introduced in the early 2000s, tabs are now included on all major web browsers, and most users have had access to them for a little over a decade. They've been pretty much the same since they came out, despite the ever changing nature of the internet. So, in this new study, researchers interviewed and surveyed 113 people on their use of — and feelings toward — the ubiquitous tabs.
Most people use tabs for the short-term storage of information, particularly if it's information that is needed again soon. Some keep tabs that they know they'll never get around to reading. Others used them as a sort of external memory bank. One participant described this action to the researchers:
"It's like a manifestation of everything that's on my mind right now. Or the things that should be on my mind right now... So right now, in this browser window, I have a web project that I'm working on. I don't have time to work on it right now, but I know I need to work on it. So it's sitting there reminding me that I need to work on it."
You suffer from tab overload

Unfortunately, trying to use tabs this way can cause a number of problems. A quarter of the interview subjects reported having caused a computer or browser to crash because they had too many tabs open. Others reported feeling flustered by having so many tabs open — a situation called "tab overload" — or feeling ashamed that they appeared disorganized by having so many tabs up at once. More than half of participants reported having problems like this at least two or three times a week.
However, people can become emotionally invested in the tabs. One participant explained, "[E]ven when I'm not using those tabs, I don't want to close them. Maybe it's because it took efforts [sic] to open those tabs and organize them in that way."
So, we have a tool that inefficiently saves web pages that we might visit again while simultaneously reducing our productivity, increasing our anxiety, and crashing our machines. And yet we feel oddly attached to them.
Either the system is crazy or we are.
Skeema: The anti-tab revolution

The researchers concluded that at least part of the problem is caused by tabs not being an ideal way of organizing the work we now do online. They propose a new model that better compartmentalizes tabs by task and subtask, reflects users' mental models, and helps manage the users' attention on what is important right now rather than what might be important later.
To that end, the team also created Skeema, an extension for Google Chrome, that treats tabs as tasks and offers a variety of ways to organize them. Users of an early version reported having fewer tabs and windows open at one time and were better able to manage the information they contained.
Tabs were an improvement over having multiple windows open at the same time, but they may have outlived their usefulness. While it might take a paradigm shift to fully replace the concept, the study suggests that taking a different approach to tabs might be worth trying.
And now, excuse me, while I close some of the 87 tabs I currently have open.
Personal Growth
Seek pleasure and avoid pain. Why make it more complicated?
Scroll down to load more…