Pay with Your Microchipped Hand? You Can at This Wisconsin Company.
Employees at 32M, a company based in Wisconsin, now have the option of getting microchipped. Workers implanted with the RFID chip will be able to open doors, store medical info, and pay for purchases. Should this be the future workplace?
David Ryan Polgar
David is an ambidextrous thinker who likes big ideas. As a "Tech Ethicist," he explores our evolving relationship with social media and tech from an ethical, legal, and emotional perspective. Utilizing his background as an attorney, educator, and pop culture aficionado, David offers a fresh perspective on potential trends and ways to humanize our digital lives. He is currently a speaker (3-time TEDx), branding and communications consultant, and Trust & Safety for social messaging platform Friendbase. David is researching the impact that "scaling intimacy" has on human relationships, and working on an upcoming book. He is also the co-host for Funny as Tech.
He can be contacted at TechEthicist.com and @TechEthicist.
25 July, 2017
Pay with the hand.
---
Employees at the Wisconsin-based Three Square Market (32M) who volunteered to be implanted with RFID (Radio Frequency ID) chips can now do an array of activities with the wave of a hand. The microchip allows implanted employees to login to their computer, open doors, store medical information, and pay for purchases. The company, which develops software for vending machines, said 41 of its 85 employees underwent voluntarily microchipping at the "chip party".
According to the company, this is the first time a United States company is providing implanted technology to its employees. The initiative by 32M is being done in partnership with the Swedish company BioHax.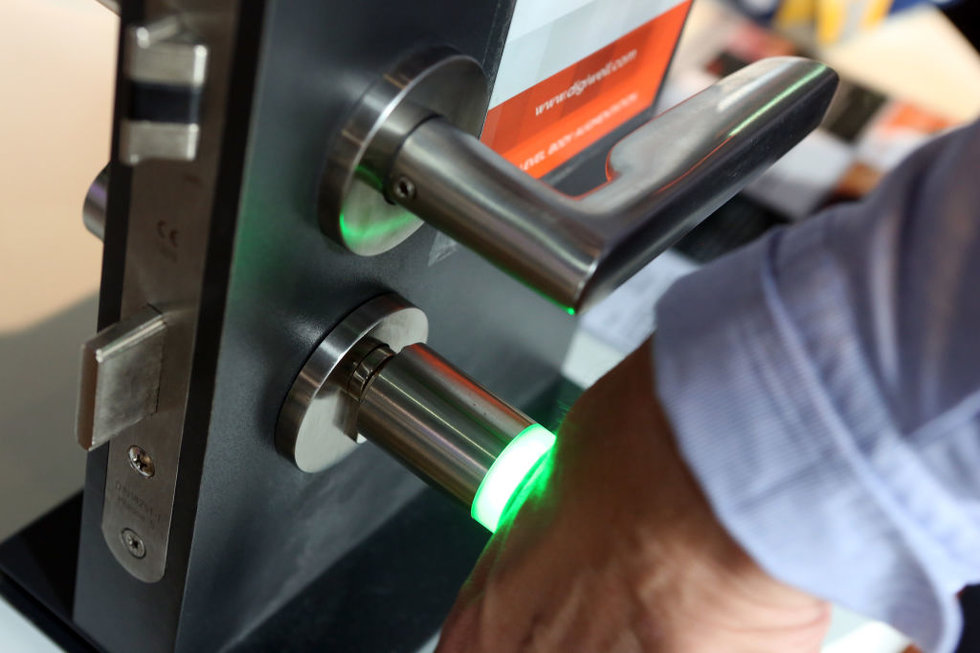 Opening a door with a microchipped hand. The photo was taken at the Wear-It Festival in Berlin. Credit: Getty Images. 
"We foresee the use of RFID technology to drive everything from making purchases in our office break room market, opening doors, use of copy machines, logging into our office computers, unlocking phones, sharing business cards, storing medical/health information, and used as payment at other RFID terminals.  Eventually, this technology will become standardized allowing you to use this as your passport, public transit, all purchasing opportunities, etc." -32M CEO Todd Westby, company press release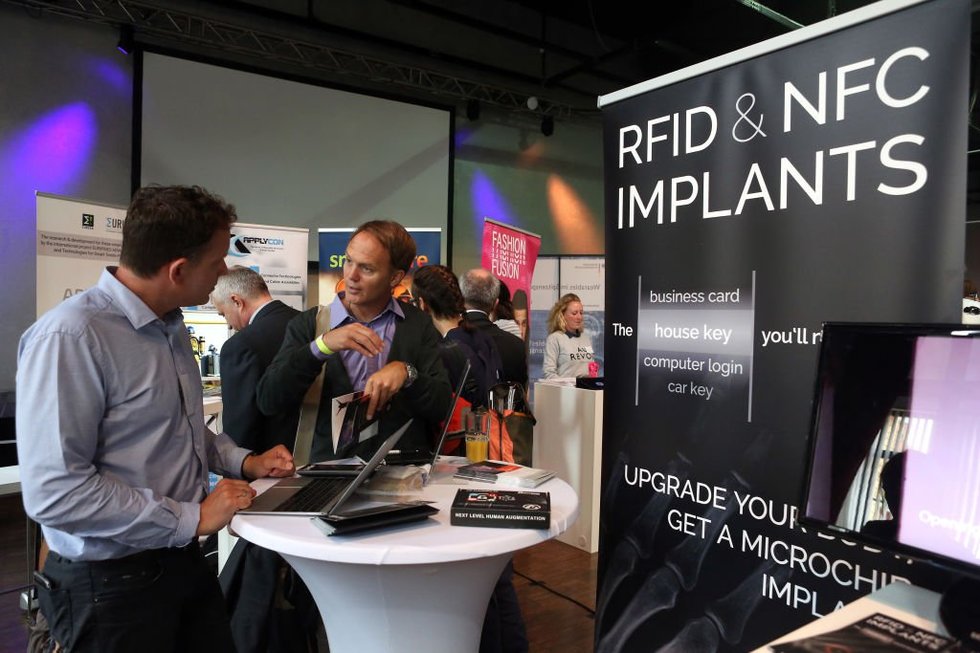 The big question, of course, is whether employees actually want an embedded chip inside of their hand. The promise of convenience and efficiency through technology does not always ensure its widespread cultural acceptance and adoption. If that were the case, the workplace would be filled with Google Glass-wearing employees made more efficient by not always having to whip out their smartphone. 
Get Wired or Get Fired?
While the microchipping at Three Square Market is not required by employees and is completely optional, the process of implanted tech seems to raise our Orwellian trigger response. What about the social pressure at work to participate? How slippery is the slope from volunteering to requiring? In an earlier piece for Big Think regarding a Swedish company offering the same microchip technology for its workers, humanist-futurist Gerd Leonhard posited that in the future the dilemma for an employee may be, "Would you rather be wired or fired?"
32M hosted a "chip party" on August 1 2017 to implant the RFID tech in its future-forward employees (that volunteered). No word if the party will feature any employees doing The Robot. 
===
Want to connect? Reach out @TechEthicist and on Facebook. Exploring the ethical, legal, and emotional impact of social media & tech. Co-host of the live show/podcast, Funny as Tech.
Related Articles
Are university safe spaces killing intellectual growth?
Videos
Why you should want your ideological opposites on campus
Universities must be safe—but they cannot be censored
Don't be afraid of being offended. Be afraid of never changing your mind.
Our experience of time may be blinding us to its true nature, say scientists.
Back to the Future.
Surprising Science
Time may not be passing at all, says the Block Universe Theory.
Time travel may be possible.
Your perception of time is likely relative to you and limited.
From questionable shipwrecks to outright attacks, they clearly don't want to be bothered.
Culture & Religion
Many have tried to contact the Sentinelese, to write about them, or otherwise.
But the inhabitants of the 23 square mile island in the Bay of Bengal don't want anything to do with the outside world.
Their numbers are unknown, but either 40 or 500 remain.
Big think's weekly newsletter.
Get smarter faster from the comfort of your inbox.
See our newsletter privacy policy
here
Most Popular
Most Recent
Big think's weekly newsletter.
Get smarter faster from the comfort of your inbox.
See our newsletter privacy policy
here
© Copyright 2007-2018 & BIG THINK, BIG THINK EDGE,
SMARTER FASTER trademarks owned by The Big Think, Inc. All rights reserved.