Pay with Your Microchipped Hand? You Can at This Wisconsin Company.
Employees at 32M, a company based in Wisconsin, now have the option of getting microchipped. Workers implanted with the RFID chip will be able to open doors, store medical info, and pay for purchases. Should this be the future workplace?
25 July, 2017
Pay with the hand.
---
Employees at the Wisconsin-based Three Square Market (32M) who volunteered to be implanted with RFID (Radio Frequency ID) chips can now do an array of activities with the wave of a hand. The microchip allows implanted employees to login to their computer, open doors, store medical information, and pay for purchases. The company, which develops software for vending machines, said 41 of its 85 employees underwent voluntarily microchipping at the "chip party".
According to the company, this is the first time a United States company is providing implanted technology to its employees. The initiative by 32M is being done in partnership with the Swedish company BioHax.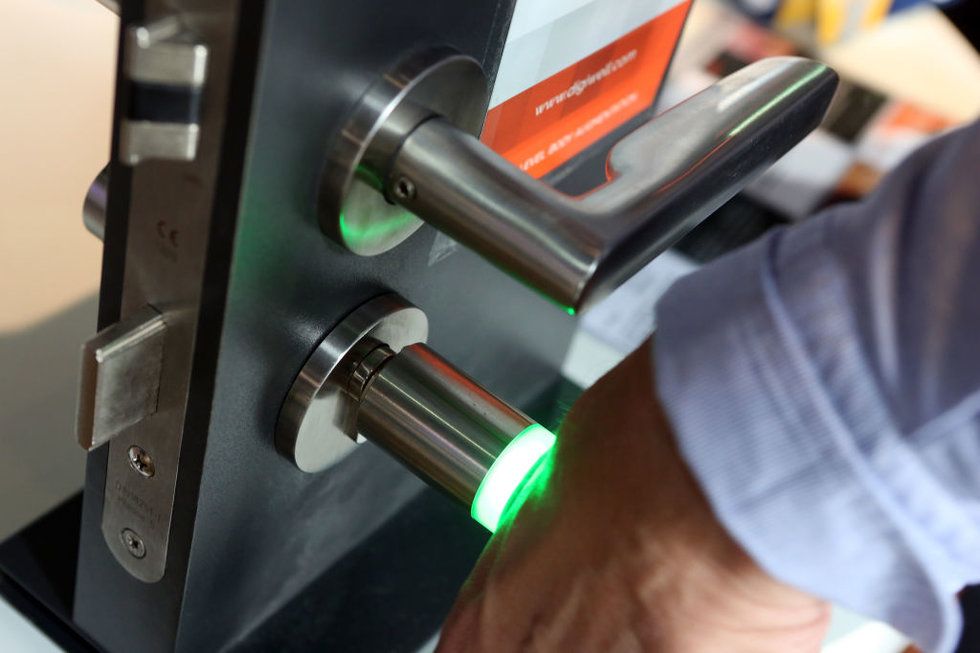 Opening a door with a microchipped hand. The photo was taken at the Wear-It Festival in Berlin. Credit: Getty Images. 
"We foresee the use of RFID technology to drive everything from making purchases in our office break room market, opening doors, use of copy machines, logging into our office computers, unlocking phones, sharing business cards, storing medical/health information, and used as payment at other RFID terminals.  Eventually, this technology will become standardized allowing you to use this as your passport, public transit, all purchasing opportunities, etc." -32M CEO Todd Westby, company press release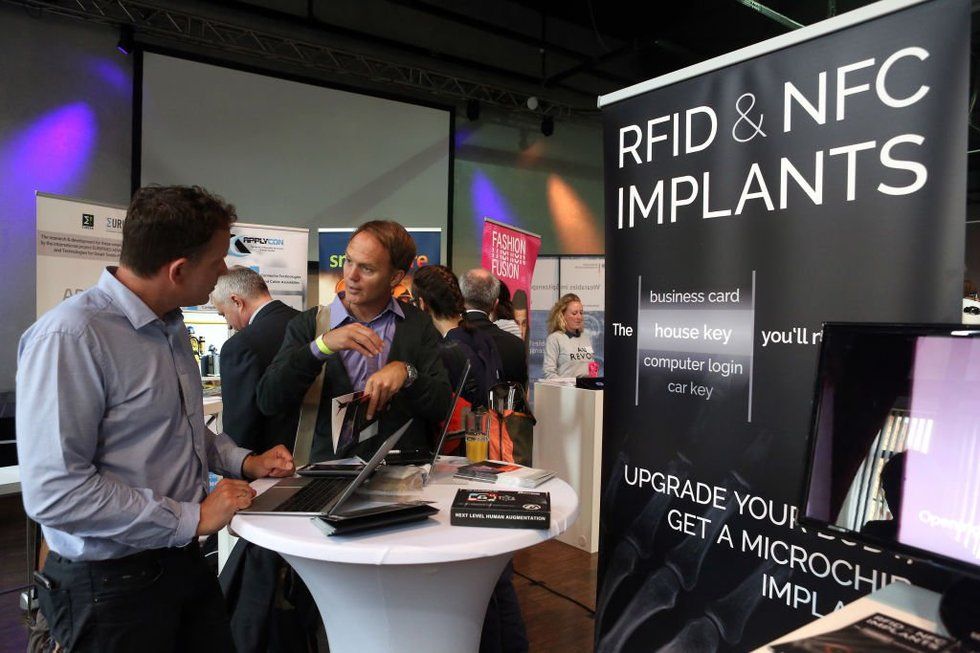 The big question, of course, is whether employees actually want an embedded chip inside of their hand. The promise of convenience and efficiency through technology does not always ensure its widespread cultural acceptance and adoption. If that were the case, the workplace would be filled with Google Glass-wearing employees made more efficient by not always having to whip out their smartphone. 
Get Wired or Get Fired?
While the microchipping at Three Square Market is not required by employees and is completely optional, the process of implanted tech seems to raise our Orwellian trigger response. What about the social pressure at work to participate? How slippery is the slope from volunteering to requiring? In an earlier piece for Big Think regarding a Swedish company offering the same microchip technology for its workers, humanist-futurist Gerd Leonhard posited that in the future the dilemma for an employee may be, "Would you rather be wired or fired?"
32M hosted a "chip party" on August 1 2017 to implant the RFID tech in its future-forward employees (that volunteered). No word if the party will feature any employees doing The Robot. 
===
Want to connect? Reach out @TechEthicist and on Facebook. Exploring the ethical, legal, and emotional impact of social media & tech. Co-host of the live show/podcast, Funny as Tech.
Big Think
Sponsored by Lumina Foundation
Upvote/downvote each of the videos below!

As you vote, keep in mind that we are looking for a winner with the most engaging social venture pitch - an idea you would want to invest in.
Lumina Foundation and Big Think have partnered to bring this entrepreneurial competition to life, and we hope you'll participate! We have narrowed down the competition to four finalists and will be announcing an audience's choice award and a judges' choice award in May.
The creator of the winning video — chosen by Big Think's audience, the Lumina Foundation, and an independent panel of experts (bios below) — will be flown to New York for a taping in the Big Think studio as a way to further promote their vision for a new, disruptive idea in post-secondary education.
Thank you to all of the contestants who spent time submitting applications, and best of luck to our final four competitors.
Finalist: Greater Commons - Todd McLeod
Greater Commons, founded by Todd McLeod and Andrew Cull, is an organization that helps people live happier, more successful and fulfilling lives through agile learning. The current education system is inefficient and exclusionary, in which many students who end up earning a degree, if at all, enter a career not related to their field of study. Greater Commons solves this problem and gap in post-high school secondary education in a variety of ways. Passionately and diligently, Great Commons helps others obtain skills, knowledge, wisdom, motivation, and inspiration so that they may live better lives.
Finalist: PeerFoward - Keith Frome
PeerForward is an organization dedicated to increasing the education and career success rates of students in low-income schools and communities by mobilizing the power of positive peer influence. PeerForward works with partner schools to select influential students as a part of a team, systemizing the "peer effect." Research in the fields of sociology of schools, social-emotional learning, adult-youth partnerships, and civic education demonstrates that students can have a positive effect on the academic outcomes of their peers. PeerForward is unique through its systemic solutions to post-secondary education.
Finalist: Cogniss - Leon Young
Cogniss combines technology and best practice knowledge to enable anyone to innovate and share solutions that advance lifelong learning. Cogniss is the only platform to integrate neuroscience, through which it solves the problem of access by providing a low-code platform that enables both developers and non-developers to build sophisticated education apps fast, and at a much lower cost. It addresses the uneven quality of edtech solutions by embedding research-based learning design into its software. App creators can choose from a rich set of artificial intelligence, game, social and data analytics, and gamification to build their perfect customized solution.
Finalist: Practera - Nikki James
Practera's mission is to create a world where everyone can learn through experience. Today's workplaces are increasingly dynamic and diverse, however, costly and time-consuming experiential learning is not always able to offer the right opportunities at scale. Many students graduate without developing the essential skills for their chosen career. Practera's team of educators and technologists see this problem as an opportunity to transform the educational experience landscape, through a CPL pedagogical framework and opportunities to apply students' strengths through active feedback.
Thank you to our judges!
Our expert judges are Lorna Davis, Dan Rosensweig, and Stuart Yasgur.
Lorna Davis is the Senior Advisor to Danone CEO and is a Global Ambassador for the B Corp movement. Lorna has now joined B-Lab, the non-for-profit that supports the B Corporation movement on an assignment to support the journey of large multi nationals on the path to using business as a force of good.
Dan Rosensweig joined Chegg in 2010 with a vision for transforming the popular textbook rental service into a leading provider of digital learning services for high school and college students. As Chairman and CEO of Chegg, Dan commits the company to fulfilling its mission of putting students first and helping them save time, save money and get smarter.

Stuart Yasgur leads Ashoka's Social Financial Services globally. At Ashoka, Stuart works with others to initiate efforts that have mobilized more than $500 million in funding for social entrepreneurs, engaged the G20 through the Toronto, Seoul and Los Cabos summits and helped form partnerships with leading financial institutions and corporations.
Again, thank you to our incredible expert judges.
Upstreamism advocate Rishi Manchanda calls us to understand health not as a "personal responsibility" but a "common good."
Sponsored by Northwell Health
Upstreamism tasks health care professionals to combat unhealthy social and cultural influences that exist outside — or upstream — of medical facilities.
Patients from low-income neighborhoods are most at risk of negative health impacts.
Thankfully, health care professionals are not alone. Upstreamism is increasingly part of our cultural consciousness.
The Bajau people's nomadic lifestyle has given them remarkable adaptions, enabling them to stay underwater for unbelievable periods of time. Their lifestyle, however, is quickly disappearing.
Wikimedia Commons
Culture & Religion
The Bajau people travel in small flotillas throughout the Phillipines, Malaysia, and Indonesia, hunting fish underwater for food.
Over the years, practicing this lifestyle has given the Bajau unique adaptations to swimming underwater. Many find it straightforward to dive up to 13 minutes 200 feet below the surface of the ocean.
Unfortunately, many disparate factors are erasing the traditional Bajau way of life.
Big think's weekly newsletter.
Get smarter faster from the comfort of your inbox.
See our newsletter privacy policy
here
Most Popular
Most Recent
Big think's weekly newsletter.
Get smarter faster from the comfort of your inbox.
See our newsletter privacy policy
here
© Copyright 2007-2019 & BIG THINK, BIG THINK EDGE,
SMARTER FASTER trademarks owned by The Big Think, Inc. All rights reserved.