Need Help Suing Equifax? Use This Chatbot to File for up to $25,000
By using the DoNotPay chatbot, you may be able to quickly file a small-claims case against Equifax for up to $25,000.
David Ryan Polgar
David is an ambidextrous thinker who likes big ideas. As a "Tech Ethicist," he explores our evolving relationship with social media and tech from an ethical, legal, and emotional perspective. Utilizing his background as an attorney, educator, and pop culture aficionado, David offers a fresh perspective on potential trends and ways to humanize our digital lives. He is currently a speaker (3-time TEDx), branding and communications consultant, and Trust & Safety for social messaging platform Friendbase. David is researching the impact that "scaling intimacy" has on human relationships, and working on an upcoming book. He is also the co-host for Funny as Tech.
He can be contacted at TechEthicist.com and @TechEthicist.
18 September, 2017
Don't get mad—get even.
---
There is a great deal of outrage directed at Equifax, one of the three major credit reporting agencies in the United States, for its potential negligence in gathering extremely sensitive data (i.e. social security numbers) and not keeping them safe. With upwards of 143 million Americans affected by the hacking, calling it a "massive data breach" still seems like an understatement. The hacking occurred between May and July of this year, with the company announcing the data breach on September 7th.
While it is impossible for any company to truly be hack-proof, Equifax appears to have been particularly lax about their security measures. 

To many, "complimentary identity theft protection and credit file monitoring" may seem woefully inadequate. Given the potential lax data security that Equifax employed, you may not feel a sense of trust towards the company.
You may want to sue Equifax.
The legal process, however, is often convoluted and has an expensive barrier to entry (see Lawyer Fees). The DoNotPay chatbot, however, is hoping to change this by streamlining the process for people looking to sue Equifax in small-claims court at the state level. The free bot, created by Stanford student Joshua Browder, allows those affected by the Equifax breach to sue the company for up to $25,000 (depending on the state). As of this writing, the chatbot currently allows users to file in California and New York--with other states being added (according to the website) within 12 hours.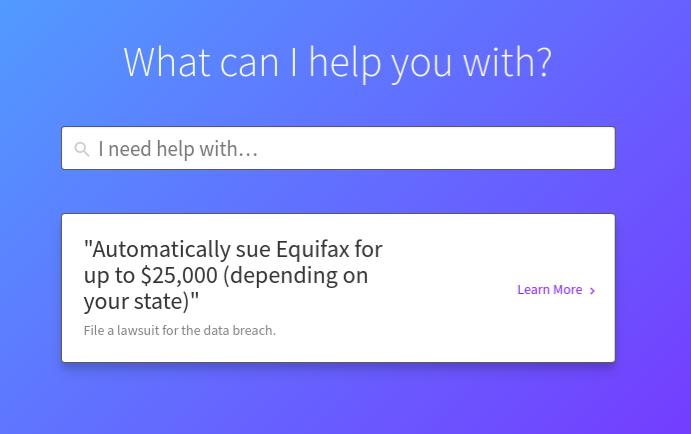 Developer Joshua Browder is not new to using a chatbot to freely help people with an often-Byzantine legal process. The DoNotPay chatbot and Browder gained media attention during the summer for helping citizens in the US and the UK challenge parking tickets, earning Browder the nickname: The Robinhood of the Internet. 
Using the DoNotPay chatbot to file a lawsuit against Equifax works by streamlining the necessary legal paperwork one would need. Think of it as Turbotax for filing a lawsuit. While AI has disrupted and simplified many areas of life, the legal profession is still an area ripe for technological assistance. Browder certainly has grand ambitions for the DoNotPay chatbot. Speaking to The Verge, he said:
"I hope that my product will replace lawyers, and, with enough success, bankrupt Equifax." — Joshua Browder, developer of the DoNotPay chatbot
Speaking about the future of DoNotPay and our plan to help consumers automatically file their suits against Equifax! https://t.co/nZKSWqxfqc pic.twitter.com/w9I3QtMkXx
— Joshua Browder (@jbrowder1) September 13, 2017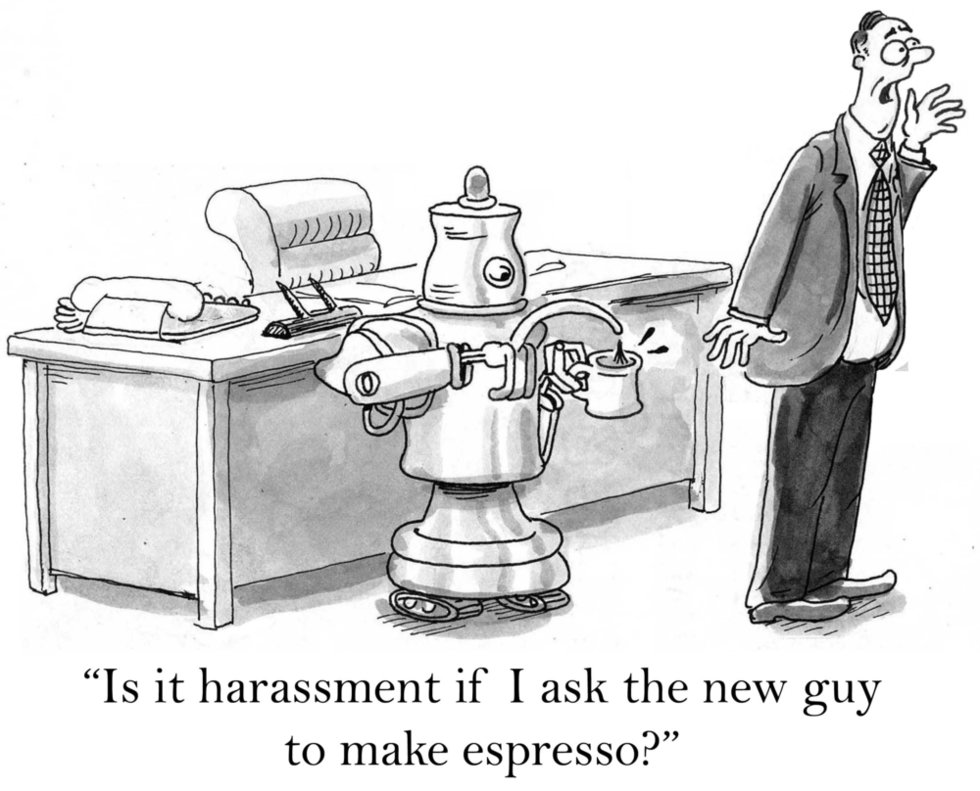 Will the DoNotPay Chatbot Work for Suing Equifax?
This is an area that remains to be seen, given the complexity of the American legal system which has different rules that need to be followed for each small-claims state court system. Privacy expert Ryan Calo, a law professor at the University of Washington, expressed a certain degree of skepticism in an interview with Mashable: "A small error could invalidate whoever's using it, right?"
While there are indeed hurdles to ensure the accuracy of the chatbot, the DoNotPay chatbot clearly provides an outlet for the outrage that people feel with the Equifax data breach—a hacking that impacted people that had absolutely no association with the credit reporting agency. In other words, there were no precautions that a citizen should have done (i.e. complicated and unique passwords) in order to protect their data. The Equifax data breach strikes a chord of helplessness that many of us feel with the safety of our data.
The hope is that ramifications for potentially lax data security—such as lawsuits—can send a strong signal to the many companies holding our sensitive data.
"As long as impunity for corporations and their executives is the norm, data breaches will continue to happen. What should you do? It's easy: Just make sure to change your name, Social Security number and home address regularly — and don't go crying if you neglect to do that and suffer the consequences of your actions." — Zeynep Tufekci, "Equifax's Maddening Unaccountability," The New York Times
Related Articles
How a cataclysm worse than what killed the dinosaurs destroyed 90 percent of all life on Earth.
Credit: Ron Miller
Surprising Science
While the demise of the dinosaurs gets more attention as far as mass extinctions go, an even more disastrous event called "the Great Dying" or the "End-Permian Extinction" happened on Earth prior to that. Now scientists discovered how this cataclysm, which took place about 250 million years ago, managed to kill off more than 90 percent of all life on the planet.
A new study discovers the "liking gap" — the difference between how we view others we're meeting for the first time, and the way we think they're seeing us.
New acquaintances probably like you more than you think. (Photo by Simone Joyner/Getty Images)
Surprising Science
We tend to be defensive socially. When we meet new people, we're often concerned with how we're coming off. Our anxiety causes us to be so concerned with the impression we're creating that we fail to notice that the same is true of the other person as well. A new study led by Erica J. Boothby, published on September 5 in Psychological Science, reveals how people tend to like us more in first encounters than we'd ever suspect.
Using advanced laser technology, scientists at NASA will track global changes in ice with greater accuracy.
Firing three pairs of laser beams 10,000 times per second, the ICESat-2 satellite will measure how long it takes for faint reflections to bounce back from ground and sea ice, allowing scientists to measure the thickness, elevation and extent of global ice
popular
Leaving from Vandenberg Air Force base in California this coming Saturday, at 8:46 a.m. ET, the Ice, Cloud, and Land Elevation Satellite-2 — or, the "ICESat-2" — is perched atop a United Launch Alliance Delta II rocket, and when it assumes its orbit, it will study ice layers at Earth's poles, using its only payload, the Advance Topographic Laser Altimeter System (ATLAS).
Big think's weekly newsletter.
Get smarter faster from the comfort of your inbox.
See our newsletter privacy policy
here
Most Popular
Most Recent
Big think's weekly newsletter.
Get smarter faster from the comfort of your inbox.
See our newsletter privacy policy
here
© Copyright 2007-2018 & BIG THINK, BIG THINK EDGE,
SMARTER FASTER trademarks owned by The Big Think, Inc. All rights reserved.