What's More Important: 4 Million Jobs or a $7 Trillion Economy?
The rise of driverless cars will save lives, time, and spark a $7 Trillion "Passenger Economy." But it will also destroy jobs. What should we do?
David Ryan Polgar
David is an ambidextrous thinker who likes big ideas. As a "Tech Ethicist," he explores our evolving relationship with social media and tech from an ethical, legal, and emotional perspective. Utilizing his background as an attorney, educator, and pop culture aficionado, David offers a fresh perspective on potential trends and ways to humanize our digital lives. He is currently a speaker (3-time TEDx), branding and communications consultant, and Trust & Safety for social messaging platform Friendbase. David is researching the impact that "scaling intimacy" has on human relationships, and working on an upcoming book. He is also the co-host for Funny as Tech.
He can be contacted at TechEthicist.com and @TechEthicist.
05 January, 2018
Will the rise of driverless cars kill or create jobs?
---
Both.
While truck and taxi drivers may go the way of the dodo bird, new positions such as a "remote vehicle operators" may crop up to offset the job losses. The problem, however, is that the workers being displaced through emerging technology might not naturally transition into the newly-created jobs (given the different skill-sets needed). The growth of autonomous vehicles is a major societal disruption that is presenting stark choices with protecting current livelihoods versus opening new fields of economic activity. As a recent piece in MIT Technology Review pointed out, "Self-Driving Cars Endanger Nearly Four Million Jobs but Could Create a $7 Trillion Industry."
Society will have to make some tough choices. Unlike countries such as Sweden, where a strong social safety net may lower the fear of being replaced by technology, policy decisions often quickly create winners and losers (for example, do we protect the employment of coal miners or transition more towards solar? The unemployed coal miner may not easily transfer into the solar industry.).
"Imagine self-driving electric cars that cost about $15,000 or $20,000 in the year 2025. What do you think is going to happen to GM, Ford, Toyota, all of these companies? We'll still need one or two electric companies, but more likely than not they'll be some upstarts from Silicon Valley or from New Delhi or from São Paulo that put the right technologies together, that are inexpensive, that start disrupting the entire transportation industry."-Vivek Wadhwa, Distinguished Fellow of Policy & Research, Singularity University

A $7 Trillion Passenger Economy?
This staggering figure comes from the projections of the research firm Strategy Analytics, in a report commissioned by Intel. The report, Accelerating the Future: The Economic Impact of the Emerging Passenger Economy, defines the "Passenger Economy," a term coined by Intel, as:
"The Passenger Economy is the economic and societal value that will be generated by fully autonomous (SAE Level five) pilotless vehicles."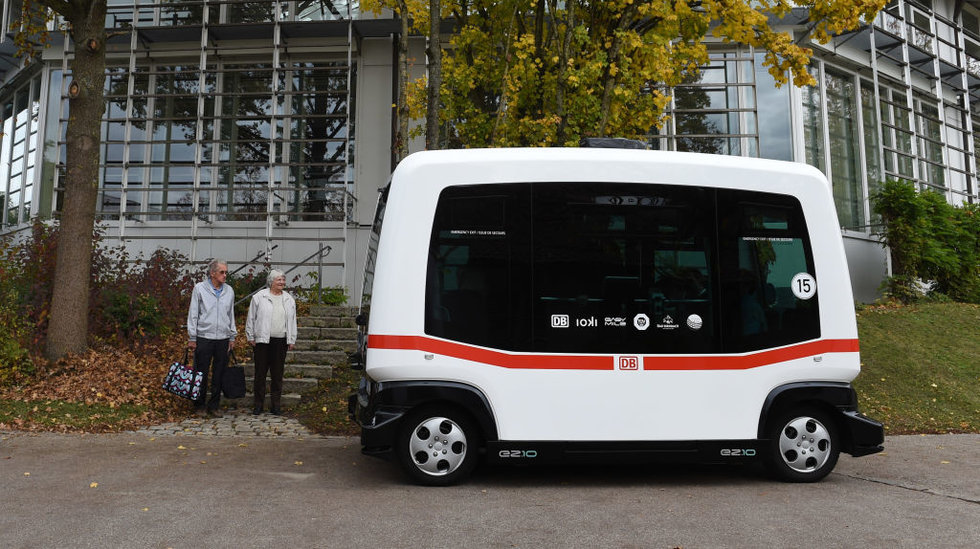 The $7 Trillion global figure is pegged to the year 2050, and represents the value of products and services that may arise when society is using full autonomous, driverless vehicles. The number also includes the indirect savings of time and money that would occur with driverless vehicles. For example, the report predicts that autonomous vehicles would save 585,000 lives between the years of 2035 and 2045. According to a recent survey by the AAA Foundation for Traffic Safety, Americans spend 17,600 minutes a day driving--the equivalent of seven 40-hour workweeks. The report estimates that these pilotless vehicles will great upwards of 250 million hours of commuting time each year in heavily congested cities. 
This disruption, according to the report, will move consumers away from vehicle ownership and move towards "Mobility-as-a-Service." Uber's likely trajectory is a stark example of this: raising a substantial amount of capital from its success of organizing a network of independent contractor taxis which is used to invest in autonomous taxi vehicles. In other words, today's Uber driver is tomorrow's Uber passenger (in a driverless vehicle). 
What about the Nearly 4 Million Jobs?
The thought of redirecting the considerable amount of hours spent driving sounds both luxurious and efficient. But what about the trade-offs? As noted in the MIT Technology Review article, 3.8 million people earn their livelihood through the operation of motor vehicles--jobs that may likely soon disappear. As the MIT Technology Review article points out, truck driving is the most popular profession in 29 US states. Innovation, however, is not going to slow down. But what about the truck drivers?
The answer to this dilemma may lie in the approach taking by Scandinavian countries, as mentioned in the recent New York Times article, The Robots Are Coming, And Sweden Is Fine. "The jobs disappear, and then we train people for new jobs," said Ylva Johansson, the Swedish minister for employment and integration. "We won't protect jobs. But we will protect workers."
The rise of autonomous vehicles is sure to disrupt, and destroy, the employment of today's truck drivers (and others who make their likelihood by driving vehicles). In order to be future-ready, we may need to spend less time saving jobs and more time advancing and protecting the underlying people.
Related Articles
Through computationally intensive computer simulations, researchers have discovered that "nuclear pasta," found in the crusts of neutron stars, is the strongest material in the universe.
Accretion disk surrounding a neutron star. Credit: NASA
Surprising Science
The strongest material in the universe may be the whimsically named "nuclear pasta."
You can find this substance in the crust of neutron stars.
This amazing material is super-dense, and is 10 billion times harder to break than steel.
---
Superman is known as the "Man of Steel" for his strength and indestructibility. But the discovery of a new material that's 10 billion times harder to break than steel begs the question—is it time for a new superhero known as "Nuclear Pasta"? That's the name of the substance that a team of researchers thinks is the strongest known material in the universe.
Unlike humans, when stars reach a certain age, they do not just wither and die, but they explode, collapsing into a mass of neurons. The resulting space entity, known as a neutron star, is incredibly dense. So much so that previous research showed that the surface of a such a star would feature amazingly strong material. The new research, which involved the largest-ever computer simulations of a neutron star's crust, proposes that "nuclear pasta," the material just under the surface, is actually stronger.
The competition between forces from protons and neutrons inside a neutron star create super-dense shapes that look like long cylinders or flat planes, referred to as "spaghetti" and "lasagna," respectively. That's also where we get the overall name of nuclear pasta.
Caplan & Horowitz/arXiv
Diagrams illustrating the different types of so-called nuclear pasta.
The researchers' computer simulations needed 2 million hours of processor time before completion, which would be, according to a press release from McGill University, "the equivalent of 250 years on a laptop with a single good GPU." Fortunately, the researchers had access to a supercomputer, although it still took a couple of years. The scientists' simulations consisted of stretching and deforming the nuclear pasta to see how it behaved and what it would take to break it.
While they were able to discover just how strong nuclear pasta seems to be, no one is holding their breath that we'll be sending out missions to mine this substance any time soon. Instead, the discovery has other significant applications.
One of the study's co-authors, Matthew Caplan, a postdoctoral research fellow at McGill University, said the neutron stars would be "a hundred trillion times denser than anything on earth." Understanding what's inside them would be valuable for astronomers because now only the outer layer of such starts can be observed.
"A lot of interesting physics is going on here under extreme conditions and so understanding the physical properties of a neutron star is a way for scientists to test their theories and models," Caplan added. "With this result, many problems need to be revisited. How large a mountain can you build on a neutron star before the crust breaks and it collapses? What will it look like? And most importantly, how can astronomers observe it?"
Another possibility worth studying is that, due to its instability, nuclear pasta might generate gravitational waves. It may be possible to observe them at some point here on Earth by utilizing very sensitive equipment.
The team of scientists also included A. S. Schneider from California Institute of Technology and C. J. Horowitz from Indiana University.
Check out the study "The elasticity of nuclear pasta," published in Physical Review Letters.
Scientists think constructing a miles-long wall along an ice shelf in Antarctica could help protect the world's largest glacier from melting.
Image: NASA
Surprising Science
Rising ocean levels are a serious threat to coastal regions around the globe.
Scientists have proposed large-scale geoengineering projects that would prevent ice shelves from melting.
The most successful solution proposed would be a miles-long, incredibly tall underwater wall at the edge of the ice shelves.
The world's oceans will rise significantly over the next century if the massive ice shelves connected to Antarctica begin to fail as a result of global warming.
To prevent or hold off such a catastrophe, a team of scientists recently proposed a radical plan: build underwater walls that would either support the ice or protect it from warm waters.
In a paper published in The Cryosphere, Michael Wolovick and John Moore from Princeton and the Beijing Normal University, respectively, outlined several "targeted geoengineering" solutions that could help prevent the melting of western Antarctica's Florida-sized Thwaites Glacier, whose melting waters are projected to be the largest source of sea-level rise in the foreseeable future.
An "unthinkable" engineering project
"If [glacial geoengineering] works there then we would expect it to work on less challenging glaciers as well," the authors wrote in the study.

One approach involves using sand or gravel to build artificial mounds on the seafloor that would help support the glacier and hopefully allow it to regrow. In another strategy, an underwater wall would be built to prevent warm waters from eating away at the glacier's base.
The most effective design, according to the team's computer simulations, would be a miles-long and very tall wall, or "artificial sill," that serves as a "continuous barrier" across the length of the glacier, providing it both physical support and protection from warm waters. Although the study authors suggested this option is currently beyond any engineering feat humans have attempted, it was shown to be the most effective solution in preventing the glacier from collapsing.
Source: Wolovick et al.
An example of the proposed geoengineering project. By blocking off the warm water that would otherwise eat away at the glacier's base, further sea level rise might be preventable.
But other, more feasible options could also be effective. For example, building a smaller wall that blocks about 50% of warm water from reaching the glacier would have about a 70% chance of preventing a runaway collapse, while constructing a series of isolated, 1,000-foot-tall columns on the seafloor as supports had about a 30% chance of success.

Still, the authors note that the frigid waters of the Antarctica present unprecedently challenging conditions for such an ambitious geoengineering project. They were also sure to caution that their encouraging results shouldn't be seen as reasons to neglect other measures that would cut global emissions or otherwise combat climate change.
"There are dishonest elements of society that will try to use our research to argue against the necessity of emissions' reductions. Our research does not in any way support that interpretation," they wrote.
"The more carbon we emit, the less likely it becomes that the ice sheets will survive in the long term at anything close to their present volume."
A 2015 report from the National Academies of Sciences, Engineering, and Medicine illustrates the potentially devastating effects of ice-shelf melting in western Antarctica.
"As the oceans and atmosphere warm, melting of ice shelves in key areas around the edges of the Antarctic ice sheet could trigger a runaway collapse process known as Marine Ice Sheet Instability. If this were to occur, the collapse of the West Antarctic Ice Sheet (WAIS) could potentially contribute 2 to 4 meters (6.5 to 13 feet) of global sea level rise within just a few centuries."
The world's getting hotter, and it's getting more volatile. We need to start thinking about how climate change encourages conflict.
Christopher Furlong/Getty Images
Politics & Current Affairs
Climate change is usually discussed in terms of how it impacts the weather, but this fails to emphasize how climate change is a "threat multiplier."
As a threat multiplier, climate change makes already dangerous social and political situations even worse.
Not only do we have to work to minimize the impact of climate change on our environment, but we also have to deal with how it affects human issues today.
Big think's weekly newsletter.
Get smarter faster from the comfort of your inbox.
See our newsletter privacy policy
here
Most Popular
Most Recent
Big think's weekly newsletter.
Get smarter faster from the comfort of your inbox.
See our newsletter privacy policy
here
© Copyright 2007-2018 & BIG THINK, BIG THINK EDGE,
SMARTER FASTER trademarks owned by The Big Think, Inc. All rights reserved.