Big ideas.
Once a week.
Subscribe to our weekly newsletter.
It pays to be tolerant: Dutch national identity
"It's not always about agreement, more often it's about business."
31 March, 2021
The roots of Dutch tolerance run deep. Perhaps its sources are to be found in centuries old Calvinist prescriptions, according to which everyone has the right to interpret the Bible in their own way.
---
Or maybe in the economy, since international trade necessitated respect for others.
"According to our report, there is no such thing as Dutch national identity," announced Máxima, Queen of the Netherlands, in 2007, which delighted some, outraged others, and left others still unimpressed. This expert report commissioned by the authorities was to establish how the citizens of the country identified with it. The words of Máxima, who herself comes from Argentina and learned Dutch only after her marriage to Willem-Alexander, were quoted in various talk shows and press articles, and the Dutch have quarrelled over them at home tables on more than one occasion since. After all, it is a nation that loves to argue.
The word 'tolerance' doesn't itself appear in the queen's speech. Rather, it resounds between the lines. The monarch recalled the Dutch boys of Moroccan descent who guided her around Marrakesh, switching from fluent Arabic to equally fluent Dutch. She also spoke of Semra, a Turkish national, who, having passed her exams at a Dutch university, displayed in her window both the Turkish and the Dutch flag.
In the 1970s, research published by the British author and scholar Christopher Bagley pointed to tolerance as one of the three national traits chosen by the Dutch to define their own collective attitude. We shall inspect the other two a bit later, but first, let us concentrate on what the researchers agree on. Tolerance, the trait that has become pretty much synonymous with the Dutch around the world, has its roots in something much older than the present-day multicultural society of the country. In order to understand the phenomenon of Dutch tolerance, we will need to explain not only this concept, but a few others as well, including pillars, the poldermodel and gedoogbeleid.
Feel free to pray, just not here
"In a country where international trade makes for the society's basic source of income, citizens grow tolerant by themselves," claims Herman Pleij, a popular cultural history professor and writer. He adds that the greatest driving force behind Dutch tolerance is its citizens' belief that it is simply good for the economy. The Dutch treat politics like business.
As an example, Pleij points to the fact that in the 16th century, trade continued above and outside of religious divisions. In the Catholic town of Vlissingen, the Protestant minority contributed so much to the local fish trade that the Catholics agreed to protect the Protestants from religious persecution, as long as the minority celebrated the Eucharist outside the town limits. This caveat was quickly abandoned, however, and in 1566 the Protestants were allowed to take over one of Vlissingen's Catholic churches. What's interesting – perhaps even more so because such turns of events were at that time more an exception than the rule – is that when the Protestants were moving into their new church and stripping it of all religious images (seen by them as godless), they didn't destroy them, but instead entrusted them – intact – to the local authorities.
Hulst and Bronbeek, on the other hand, had for hundreds of years had their 'simultaneums' – shared churches and chapels with separate Catholic and Protestant sections. One Venetian merchant who stayed in the Netherlands between 1562 and 1566 noted that the country allowed remarkable levels of freedom of speech, and that Dutch women had unparalleled freedom of movement in public spaces. In 1699, the Grand Duke of Tuscany, Cosimo III de' Medici, observed that the mercantile city of Amsterdam had "become the meeting place of men of all religions and citizens of all countries, which made it one of the most important cities in existence." Jean-François Le Petit, a French immigrant, praised the city, writing that newcomers from other countries could settle there and nobody asked them where they were from or what faith they professed. Those liberties resulted from, among others, the freedom of religion and outlawing of religious persecution introduced in the second half of the 16th century by William the Silent, Prince of Orange, who was himself most likely influenced by the philosophy of Erasmus.
The Dutch divided
Towards the end of the 18th century, the Dutch, following the French, adopted a centralized political system. In 1815, the Congress of Vienna formally confirmed the creation of the Kingdom of the Netherlands ruled by the House of Orange-Nassau. The country was, however, organized around the 1814 constitution, the provisions of which granted royal ministers powers similar to those held by their modern-day counterparts, and instituted direct election.
What began then was a fascinating process called pillarization. Catholics, conservative Calvinists and socialists fought for their religious and civil rights, demanding the formation of their own parties and institutions. Lay and religious authorities allowed just that, seeing as the growing secularization of society might have easily pushed public sentiment towards hostility. This had to be avoided, and thus the four pillars were created: Catholic, liberal, Protestant and social-democratic. Each one of these was, of course, further subdivided. Every pillar had its own schools, hospitals, shops, and later – radio stations, newspapers and television channels (to this day, older generations tend to view television networks and newspapers in light of their Catholic or Protestant roots). Thus, a Catholic would only buy groceries in a Catholic shop or read Catholic papers. In towns and cities, entire districts emerged populated by mostly single-pillar citizens. The country itself was divided into predominantly Catholic and predominantly Protestant areas.
In order to solve problems at the national level, the pillars would delegate their political and religious elites to make terms among themselves. The art of compromise and the art of negotiation that had grown out of the aforementioned mercantile and nautical traditions became ingrained in the national character. All of these factors seemed to feed into a rather coherent worldview: people differ from one another and there's nothing one can do about it; one should, therefore, tolerate others and make the most of the situation.
The make-up of subsequent Dutch parliaments, starting in the 19th century, points to the diversity of Dutch society. The last time a single party obtained an absolute majority in legislature and could rule alone as majority government occurred 130 years ago. Ever since then, the country has been ruled by coalition governments made up of three to four parties each. For the last 60 years, the Dutch House of Representatives, the lower house of the parliament, has been sat in by members of at least nine political parties, though, at times, this number has been known to reach 14.
The Belgian academic Mick Matthys, author of a book about the differences between the Belgians and the Dutch, quotes a Belgian insurance sector worker to whom one very important trait the Dutch seem to possess is their ability to reach business agreement with people they might find disagreeable. "In the Netherlands, you'll do business with your worst enemy. This never happens in Belgium." This sentiment has been confirmed by James Kennedy, an American historian and scholar of Dutch society, who observes: "The Dutch have this notion that one should rather arrive at an agreement with another person than not; disagreement is tantamount to failure."
"It's not always about agreement, more often it's about business," Pieter van Os, Polish correspondent for the NRC Handelsblad newspaper, offers as a good-natured jibe at his compatriots. "When the famous basketball player Michael Jordan was asked why he hadn't endorsed any democratic candidate in an election, he gave a very Dutch answer: 'Republicans buy sneakers too.'"
Social and political scientists agree that the Dutch are largely inspired by trade and business in their views on politics and social matters. Arend Lijphart, Professor Emeritus of Political Science at the University of California, San Diego, draws attention to the fact that such an understanding of reality makes divisions and differences a side issue, instead encouraging people to focus on the maximization of profit through accord and cooperation. Lijphart also brings up the old practice of dividing public money evenly between the pillars and the Dutch tradition of calling meetings, summits and debates – democratic tools for drawing shared conclusions. The very title of Matthys's book, Why the Belgians are Right and the Dutch Prove They are Right, alludes to that time-honoured Dutch habit of debating each and every case until an agreement can be reached.
This national trait gave rise to the well-known Dutch concept of poldermodel (in English, 'polder model') multilateral negotiations. Its name comes from polders, the tracts of reclaimed land enclosed by dikes, on which the Dutch have for years built their houses and cities. The polder model of consensus-based policymaking found use and yielded great results at the end of the 1980s and the beginning of the 1990s, when mutual concessions between the government, companies and trade unions saved the Dutch economy from a crash.
Another trait that has helped forge the Dutch national predilection for consensus is the instinctive antipathy towards hierarchy shared by most citizens of the Netherlands. "They automatically assume that every person has something to say and should be treated as an equal partner in a discussion," writes Matthys. The Dutch call this trait of theirs grote mond, which translates to 'big mouth', but it doesn't mean a gossip or a person who can't keep a secret. Rather, it refers to being eloquent, or more of a 'smart mouth' than anything else. Matthys traces the origins of this phenomenon to Calvinist teachings that allowed every citizen to interpret the Bible in their own way and to defend their opinion. He mentions that when he first started teaching at a Dutch university, what surprised him the most was how energetically his students discussed their required reading. "Interestingly enough, those discussions were dominated not by those who had read the set texts closely, but rather by those who'd only briefly scanned them, but really wanted their opinion heard. And what they especially dwelt on was whether those texts had any practical uses or not."
A black mark against Piet
In one form or another, the pillars somehow made it through World War II, but ever since the 1960s, they have been slowly losing their importance. The cultural, sexual and technological revolutions made new generations of the Dutch rethink their role in society – their parents' and grandparents' mindsets were seen as outdated. What's more, the country saw an influx of migrants, mostly hailing from former Dutch colonies, who didn't identify with any of the pillars, and who brought with them their own beliefs and religions. Those changes also brought about substantial revisions in some of the country's deeply rooted customs. One particularly lively controversy broke out over the so-called 'Black Pete', or Zwarte Piet.
Although in most European countries Santa is said to fly over from Lapland, Dutch children believe he comes to them from Spain (and by boat, no less). His retinue isn't made up of elves or angels, either. The Dutch Sinterklaas (St. Nicholas) arrives accompanied by short, dark-skinned characters – the Zwarte Pieten. Black Pete has become a divisive symbol and the subject of a nationwide dispute that breaks out in the Netherlands every year in the run up to St. Nicholas's Eve on 5th December. It has been going on for a few years now and has, at times, reached the level of life and death – at least in the media.
The Black Pete tradition was first protested as early as the 1980s by the Surinamese actress Gerda Havertong, who appeared on the Dutch version of Sesame Street. In one of the holiday episodes of the show, Havertong's character admonished Big Bird for calling her a Black Pete, explaining that this name was derogatory and offensive to many Dutch children and adults alike. The debate was sparked off anew and for good around 2011, when the artist Quinsy Gario, himself of Antillean descent, appeared publicly wearing a T-shirt with the caption 'ZWARTE PIET IS RACISME' ('BLACK PETE IS RACISM').
Widespread protests swept the country. A group of Dutch citizens of colour sued the mayor of Amsterdam for agreeing to a St. Nicholas parade with Black Petes in it. Dutch television's 'Head Black Pete', actor Erik van Muiswinkel, decided not to reprise the role for that year's televized St. Nicholas pageant. Prime minister Mark Rutte was asked about the issue at, of all places, the Nuclear Security Summit. After numerous complaints, even the UN established a Black Pete task force.
Conservatives declared the debate an attack on Dutch tradition. They explained that Pete is black with soot because he has to make trips up and down the chimneys of the houses he visits with Santa. What they failed to explain was why Santa, even though he takes the same route, doesn't ever seem even a little sooty. A petition for the preservation of Black Pete was drawn up and soon used to launch the most-clicked on Dutch fan page on Facebook. Within 24 hours, the page garnered over a million likes, overtaking even the Ajax Amsterdam fan page. In Friesland, defenders of tradition blocked the motorway, stopping buses with anti-Black Pete protesters. They were fined for this, but soon found a lawyer willing to defend them entirely free of charge – as "Frisian heroes". In Zuilen, near Utrecht, a few men in shoe-polish blackface entered a local school to give children cookies and campaign for Black Pete.
The Dutch Ministry of Social Affairs and Employment conducted a survey on the perception of Black Pete among children. It turned out that almost 90% of all Dutch children didn't see the character as offensive or racist. Despite this, most TV stations started introducing Rainbow Petes (only the RTL television broadcaster issued an official message saying that in its programming, Pete would stay soot-speckled). The Dutch, as befits the citizens of a country of compromise, tried to strike a balance. In Amsterdam, the St. Nicholas parade introduced a quota system of sorts. 75% of the Petes were rainbow, white or sooty, and the remaining 25% were black.
The debate, however, returns each year. And there's always St. Nicholas's Eve ahead.
Coffee alla turca
"The square is all cleared up now", read the controversial headline of a 2012 article about the dismantling of a tent camp for people seeking asylum in The Hague. This is just one example that tolerance among the Dutch in two socially important areas – politics and the media – does not fare as well as we might expect. For this reason, the newspaper Het Financieele Dagblad organized a debate on the subject last year, inviting four Dutch women of Turkish origin to join in: two politicians and two journalists. As Yesim Candan (a publicist) explained, after publishing each of her column posts she only needs to wait a few minutes until the first offensive comment appears. When she told her Dutch friends that she was writing a book about sex in Turkey, they would ask: "What does your husband say about this?"
Keklik Yücel – a former Partij van de Arbeid (Labour Party) MP – mentioned that when years ago, as a teenager, she worked on a hospital ward, some patients asked her if she had already been forced to marry and if she needed to keep her virginity intact. Years later, when she entered politics, she was struck by how white Dutch people favour other white Dutch people in filling jobs, calling it 'networking'.
Meryem Cimen, city councillor for Haarlem, added that the higher she progressed within the government ranks, the fewer people of colour she saw around her. "There were deliberations at which I was initially considered a waitress by some politician and asked for a coffee, because Turkish women surely cannot deal with anything other than catering," she continued in an ironic vein.
The journalist Fidan Ekiz pointed out that the years of fighting for equal opportunities for people from outside the Netherlands also have a dark side: "When I first worked for a newspaper in Rotterdam, a colleague at the next desk wanted to know if I was accepted into the editorial office because of the parity ensured for Turkish people. And it wasn't even a spiteful question, he was being earnest!"
Both the journalists who participated in the debate are appreciated by their native Dutch colleagues and media recipients for the fact that they write about society without excessively referring to their ethnic origin and religion. Nevertheless, for many Dutch people of Turkish descent, they are almost considered traitors for the very same reason.
Although the Dutch are generally active in the field of charity and care for human rights, not all of them share this attitude. During the refugee crisis, a politician from the then-ruling conservative-liberal People's Party for Freedom and Democracy (VVD) demanded that the crews of Dutch ships that rescue refugees encountered at sea be punished, because it allegedly constituted supporting human traffickers. "This is how we become the last link in a chain of human traffickers that extends all the way back to Africa," he said. He didn't have to wait long for a reaction. Comedian and columnist Pieter Derks replied: "Then let's stop reviving people with heart attacks caused by eating fast food. After all, we are the last link in the obesity chain that extends all the way back to America. Let's not pick up litter from the street and throw them into the bin, because people will litter more, and we will be the last link in the chain of carelessness. Just like you are the last link in the chain of indifference."
And this last word – indifference – has been mentioned over the years as the greatest drawback of Dutch society. Journalist Fidan Ekiz believes that this feature is hidden in the Netherlands behind a facade of tolerance: "For years, the Dutch had an attitude to economic immigrants from other countries that ran along the lines of: 'OK, let them cultivate their customs and religions, after all, they will leave sooner or later anyway.'" In turn, the aforementioned Pieter van Os says: "We are a confident, even arrogant nation. Most of the Dutch don't perceive others as a threat, they simply ignore them."
"In our public debate, it is often repeated that tolerance turns towards indifference, that we are living side by side instead of with each other. Empty, convenient tolerance derives from the reluctance to critically evaluate the behaviour and views of other people," sociologist Dick Pels writes about Dutch indifference in De Groene Amsterdammer. He adds that cultural relativism and the belief that "everything is allowed" shape a specific "culture of avoidance", which does not take into account the most important social problems: discrimination, violence, unequal opportunities – thus opening the field for radical politicians.
This is the nucleus of the long-standing dispute between Dutch liberals and conservatives. The former identify the bourgeoisie with people who pass each other indifferently, but with a smile. The latter argue that true civil society requires intervention in the struggle for values. It sounds good, but this slogan unfortunately often hides xenophobia and intolerance. Ever since the high-profile murders of Pim Fortuyn and Theo van Gogh, the problem has been particularly present in the Netherlands.
Fortuyn was an ambiguous figure: on the one hand, he made a career attacking the values of Dutch Muslims, and on the other, he was a homosexual who openly spoke about his relationships with Moroccan men. "He placed our debate on the edge of a knife and put the Dutch liberals with whom I myself identify in an embarrassing position. In a sense, he made it clear that when he criticized minorities, he was still more invested in them than we are, because he frequently gave them a place in the public debate. We have long thought that our indifference to minorities was the highest form of tolerance we could offer. Today I no longer think like that," says Van Os.
See no evil?
And what about drugs? If you think that the search for pure Dutch tolerance will be easier in this case, nothing could be further from the truth. When it comes to drug policy in the Netherlands, there is another term – gedoogbeleid. This policy avoids punishing certain acts in the name of the greater good, as long as they do not exceed a certain limit. This concept is situated somewhere between tolerance and decriminalization. The Dutch government recognizes that it is better to tolerate the presence of soft drugs because their harmfulness is acceptable, their impact on tourism revenues is positive, and in addition it gives greater control over the sale of hard drugs. Although no self-respecting journalist cites Wikipedia, I will make an exception here, because the verb gedogen is explained there in an endearing manner: it is the behaviour of the father who sees that the child, contrary to the mother's prohibition, has eaten a cookie, while he himself does not mind it. To avoid conflict with his wife and conflict with his child, he decides to pretend he didn't see it. Tolerance, indifference, or maybe shirking responsibility?
The question of sex work is similarly ambiguous in this respect. In the Netherlands, it was legalized hundreds of years ago, and sex workers are self-employed small business owners, forming trade unions. Nevertheless, when they try to open a business account with a bank, they generally face formal obstacles. Although the first female city mayor in the history of the Dutch capital, Femke Halsema, has organized debates about the future of the Red Light District since the beginning of her term, activists complain that she treats sex workers as vulnerable victims of human trafficking, even though many of them see themselves more as tax-paying, conscious citizens fighting to ensure that their profession is no longer considered taboo.
But many conservative residents of Amsterdam city centre are asking for the red-light district to be removed from the city centre. "How can this be?" I ask Van Os. "They've been there for 500 years!" "The Dutch practice the 'live and let live' principle, but that doesn't mean they are open to any type of lifestyle. Tourists smoking marijuana and having sex with prostitutes? Fine. But I have many friends for whom the information that someone uses a brothel service would be tantamount to severing contact with that person. And if they found out that their teenage son had been smoking marijuana, they would be outraged. This is the epitome of indifference: let others do what they want, but not me and not the people in my circle!"
Dutch openness or tolerance would not be possible if it were not for the enormous internal social control. This is another element of the Dutch self-stereotype, since the ability to exert self-control was mentioned by the Dutch – next to tolerance and manners – in the aforementioned research from the 1970s.
"Be normal, that's crazy enough" is a popular Dutch proverb. The appeal for normality and common sense probably appears most often in discussions on controversial topics, as evidenced, too, by the words of prime minister Mark Rutte when asked at the UN summit about the Black Pete issue: "Come on, be normal."
"Is Dutch tolerance just indifference and conformism?" I ask James Kennedy. "The average Dutchman is individualistic when it comes to defining his identity, no-one will tell him whether to go or not to go to church and how to spend his time. On the level of pragmatic action, even at work, he is a collectivist. He cooperates because he believes that this is the only way to achieve the goal. In everyday life, he is a conformist. He does what others do, when it's convenient." "Doesn't this sound inconsistent?" I press on. He replies with a laugh: "Did I say that the Dutch appreciate consistency?"
Translated from the Polish by Karolina Sofulak
Reprinted with permission of Przekrój. Read the original article.
From Your Site Articles
Related Articles Around the Web
A man's skeleton, found facedown with his hands bound, was unearthed near an ancient ceremonial circle during a high speed rail excavation project.
Culture & Religion
A skeleton representing a man who was tossed face down into a ditch nearly 2,500 years ago with his hands bound in front of his hips was dug up during an excavation outside of London.
The discovery was made during a high speed rail project that has been a bonanza for archaeology, as the area is home to more than 60 ancient sites along the planned route.
An ornate grave of a high status individual from the Roman period and an ancient ceremonial circle were also discovered during the excavations.
This spring, a U.S. and Chinese team announced that it had successfully grown, for the first time, embryos that included both human and monkey cells.
Getty Images
Surprising Science
In Aldous Huxley's 1932 novel "
Brave New World
," people aren't born from a mother's womb. Instead, embryos are grown in artificial wombs until they are brought into the world, a process called ectogenesis.
In the novel, technicians in charge of the hatcheries manipulate the nutrients they give the fetuses to make the newborns fit the desires of society. Two recent scientific developments suggest that Huxley's imagined world of functionally manufactured people is no longer far-fetched.
On March 17, 2021, an Israeli team announced that it had grown mouse embryos for 11 days – about half of the gestation period – in artificial wombs that were essentially bottles. Until this experiment, no one had grown a mammal embryo outside a womb this far into pregnancy. Then, on April 15, 2021, a U.S. and Chinese team announced that it had successfully grown, for the first time, embryos that included both human and monkey cells in plates to a stage where organs began to form.
As both a philosopher and a biologist I cannot help but ask how far researchers should take this work. While creating chimeras – the name for creatures that are a mix of organisms – might seem like the more ethically fraught of these two advances, ethicists think the medical benefits far outweigh the ethical risks. However, ectogenesis could have far-reaching impacts on individuals and society, and the prospect of babies grown in a lab has not been put under nearly the same scrutiny as chimeras.
Mouse embryos were grown in an artificial womb for 11 days, and organs had begun to develop.
Growing in an artificial womb
When in vitro fertilization first emerged in the late 1970s, the press called IVF embryos "test-tube babies," though they are nothing of the sort. These embryos are implanted into the uterus within a day or two after doctors fertilize an egg in a petri dish.
Before the Israeli experiment, researchers had not been able to grow mouse embryos outside the womb for more than four days – providing the embryos with enough oxygen had been too hard. The team spent seven years creating a system of slowly spinning glass bottles and controlled atmospheric pressure that simulates the placenta and provides oxygen.
This development is a major step toward ectogenesis, and scientists expect that it will be possible to extend mouse development further, possibly to full term outside the womb. This will likely require new techniques, but at this point it is a problem of scale – being able to accommodate a larger fetus. This appears to be a simpler challenge to overcome than figuring out something totally new like supporting organ formation.
The Israeli team plans to deploy its techniques on human embryos. Since mice and humans have similar developmental processes, it is likely that the team will succeed in growing human embryos in artificial wombs.
To do so, though, members of the team need permission from their ethics board.
CRISPR – a technology that can cut and paste genes – already allows scientists to manipulate an embryo's genes after fertilization. Once fetuses can be grown outside the womb, as in Huxley's world, researchers will also be able to modify their growing environments to further influence what physical and behavioral qualities these parentless babies exhibit. Science still has a way to go before fetus development and births outside of a uterus become a reality, but researchers are getting closer. The question now is how far humanity should go down this path.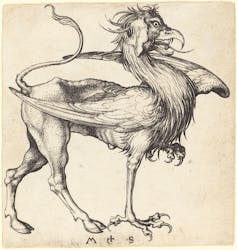 Chimeras evoke images of mythological creatures of multiple species – like this 15th-century drawing of a griffin – but the medical reality is much more sober. (Martin Schongauer/WikimediaCommons)
Human-monkey hybrids
Human–monkey hybrids might seem to be a much scarier prospect than babies born from artificial wombs. But in fact, the recent research is more a step toward an important medical development than an ethical minefield.
If scientists can grow human cells in monkeys or other animals, it should be possible to grow human organs too. This would solve the problem of organ shortages around the world for people needing transplants.
But keeping human cells alive in the embryos of other animals for any length of time has proved to be extremely difficult. In the human-monkey chimera experiment, a team of researchers implanted 25 human stem cells into embryos of crab-eating macaques – a type of monkey. The researchers then grew these embryos for 20 days in petri dishes.
After 15 days, the human stem cells had disappeared from most of the embryos. But at the end of the 20-day experiment, three embryos still contained human cells that had grown as part of the region of the embryo where they were embedded. For scientists, the challenge now is to figure out how to maintain human cells in chimeric embryos for longer.
Regulating these technologies
Some ethicists have begun to worry that researchers are rushing into a future of chimeras without adequate preparation. Their main concern is the ethical status of chimeras that contain human and nonhuman cells – especially if the human cells integrate into sensitive regions such as a monkey's brain. What rights would such creatures have?
However, there seems to be an emerging consensus that the potential medical benefits justify a step-by-step extension of this research. Many ethicists are urging public discussion of appropriate regulation to determine how close to viability these embryos should be grown. One proposed solution is to limit growth of these embryos to the first trimester of pregnancy. Given that researchers don't plan to grow these embryos beyond the stage when they can harvest rudimentary organs, I don't believe chimeras are ethically problematic compared with the true test–tube babies of Huxley's world.
Few ethicists have broached the problems posed by the ability to use ectogenesis to engineer human beings to fit societal desires. Researchers have yet to conduct experiments on human ectogenesis, and for now, scientists lack the techniques to bring the embryos to full term. However, without regulation, I believe researchers are likely to try these techniques on human embryos – just as the now-infamous He Jiankui used CRISPR to edit human babies without properly assessing safety and desirability. Technologically, it is a matter of time before mammal embryos can be brought to term outside the body.
While people may be uncomfortable with ectogenesis today, this discomfort could pass into familiarity as happened with IVF. But scientists and regulators would do well to reflect on the wisdom of permitting a process that could allow someone to engineer human beings without parents. As critics have warned in the context of CRISPR-based genetic enhancement, pressure to change future generations to meet societal desires will be unavoidable and dangerous, regardless of whether that pressure comes from an authoritative state or cultural expectations. In Huxley's imagination, hatcheries run by the state grew a large numbers of identical individuals as needed. That would be a very different world from today.

Sahotra Sarkar, Professor of Philosophy and Integrative Biology, The University of Texas at Austin College of Liberal Arts
This article is republished from The Conversation under a Creative Commons license. Read the original article.
Scientists should be cautious when expressing an opinion based on little more than speculation.
Credit: European Southern Observatory/M. Kornmesser
13-8
In October 2017, a strange celestial object was detected, soon to be declared our first recognized interstellar visitor.
The press exploded when a leading Harvard astronomer suggested the object to have been engineered by an alien civilization.
This is an extraordinary conclusion that was based on a faulty line of scientific reasoning. Ruling out competing hypotheses doesn't make your hypothesis right.
Sometimes, when you are looking for something ordinary, you find the unexpected. This is definitely the case with the strange 'Oumuamua, which made international headlines as a potential interstellar visitor. Its true identity remained obscure for a while, as scientists proposed different explanations for its puzzling behavior. This is the usual scientific approach of testing hypotheses to make sense of a new discovery.
What captured the popular imagination was the claim that the object was no piece of rock or comet, but an alien artifact, designed by a superior intelligence.
Do you remember the black monolith tumbling through space in the classic Stanley Kubrick movie 2001: A Space Odyssey? The one that "inspired" our ape-like ancestors to develop technology and followed humanity and its development since then? What made this claim amazing is that it wasn't coming from the usual UFO enthusiasts but from a respected astrophysicist from Harvard University, Avi Loeb, and his collaborator Shmuel Bialy. Does their claim really hold water? Were we really visited by an alien artifact? How would we know?
A mystery at 200,000 miles per hour
Before we dive into the controversy, let's examine some history. 'Oumuamua was discovered accidentally by Canadian astronomer Robert Weryk while he was routinely reviewing images captured by the telescope Pan-STARRS1 (Panoramic Survey and Rapid Response System 1), situated atop the ten-thousand-foot Haleakala volcanic peak on the Hawaiian island of Maui. The telescope scans the skies in search of near-Earth objects, mostly asteroids and possibly comets that come close to Earth. The idea is to monitor the solar system to learn more about such objects and their orbits and, of course, to sound the alarm in case of a potential collision course with Earth. Contrary to the objects Weryk was used to seeing, mostly moving at about 40,000 miles per hour, this one was moving almost five times as fast — nearly 200,000 miles per hour, definitely an anomaly.
Hyperbolic trajectory of ʻOumuamua through the inner Solar System.Credit: nagualdesign / Tomruen / JPL Horizons via Wikipedia and licensed under CC BY-SA 4.0
Intrigued, astronomers tracked the visitor while it was visible, concluding that it indeed must have come from outside our solar system, the first recognized interstellar visitor. Contrary to most known asteroids that move in elliptical orbits around the sun, 'Oumuamua had a bizarre path, mostly straight. Also, its brightness varied by a factor of ten as it tumbled across space, a very unusual property that could be caused either by an elongated cigar shape or by it being flat, like a CD, one side with a different reflectivity than the other. The object, 1I/2017 U1, became popularly known as 'Oumuamua, from the Hawaiian for "scout."

In their paper, Loeb and Bialy argue that the only way the object could be accelerated to the speeds observed was if it were extremely thin and very large, like a sail. They estimated that its thickness had to be between 0.3 to 0.9 millimeters, which is extremely thin. After confirming that such an object is robust enough to withstand the hardships of interstellar travel (e.g., collision with gas particles and dust grains, tensile stresses, rotation, and tidal forces), Loeb and Bialy conclude that it couldn't possibly be a solar system object like an asteroid or comet. Being thus of interstellar origin, the question is whether it is a natural or artificial object. This is where the paper ventures into interesting but far-fetched speculation.

I'm not saying it was aliens, but it was aliens
First, the authors consider that it might be garbage "floating in interstellar space as debris from advanced technological equipment," ejected from its own stellar system due to its non-functionality; essentially, alien space junk. Then, they suggest that a "more exotic scenario is that 'Oumuamua may be a fully operational probe sent intentionally to Earth vicinity by an alien civilization," [italicized as in the original] concluding that a "survey for lightsails as technosignatures in the solar system is warranted, irrespective of whether 'Oumuamua is one of them."
You can shoot down as many hypotheses as you want to vindicate yours, but this doesn't prove yours is the right one.
I have known Avi Loeb for decades and consider him a serious and extremely talented astrophysicist. His 2018 paper includes a suggestive interpretation of strange data that obviously sparks the popular imagination. Theoretical physicists routinely suggest the existence of traversable wormholes, multiverses, and parallel quantum universes. Not surprisingly, Loeb was highly in demand by the press to fill in the details of his idea. A book followed, Extraterrestrial: The First Sign of Intelligent Life Beyond Earth, and its description tells all: "There was only one conceivable explanation: the object was a piece of advanced technology created by a distant alien civilization."
It came from outer space.Credit: Scott Barbour via Getty Images
This is where most of the scientific establishment began to cringe. One thing is to discuss the properties of a strange natural phenomenon and rule out more prosaic hypotheses while suggesting a daring one. Another is to declare to the public that the only conceivable explanation is one that is also speculative. An outsider will conclude that a reliable scientist has confirmed not only the existence of extraterrestrial life but of intelligent and technologically sophisticated extraterrestrial life with an interest in our solar system. I wonder if Loeb considered the impact of his words and how they reflect on the scientific community as a whole.

This is why aliens won't talk to us
Earlier this year, in a live public lecture hosted by the Catholic University of Chile, Avi Loeb locked horns with Jill Tarter, the scientist that is perhaps most identifiable as someone who spent her career looking for signs of extraterrestrial intelligence. (Coincidentally, I was the speaker that followed Loeb the next week in the same seminar series and was cautioned — along with the other panelists — to behave myself to avoid another showdown. I smiled, knowing that my topic was pretty tame in comparison. I mean, how can the limits of human knowledge compare with alien surveillance?)
The Loeb-Tarter exchange was awful and, it being a public debate, was picked up by the press. Academics can be rough like anyone else. But the issue goes deeper.
What scientists say matters. When should a scientist make public declarations about a cutting-edge topic with absolute certainty? I'd say never. There is no clear-cut certainty in cutting-edge science. There are hypotheses that should be tested more until there is community consensus. Even then, consensus is not guaranteed proof. The history of science is full of examples where leading scientists were convinced of something, only to be proven wrong later.
The epistemological mistake Loeb committed was to make an assertion that publicly amounted to certainty by using a process of elimination of other competing hypotheses. You can shoot down as many hypotheses as you want to vindicate yours, but this doesn't prove yours is the right one. It only means that the other hypotheses are wrong. I do, however, agree with Loeb when he says that 'Oumuamua should be the trigger for an increase in funding for the search for technosignatures, a way of detecting intelligent extraterrestrial life.
Scroll down to load more…