Social Marketing = Short and Shareable (and frequent!)
12 December, 2010
Good social media marketing is reliant on frequent, short, and shareable/shareworthy content posting. This is because content is how you get people to move through the brand engagement funnel.
---
\n
When I was speaking at the AMA a few weeks ago, my co-presentor and I prepared the following social marketing funnel:
\n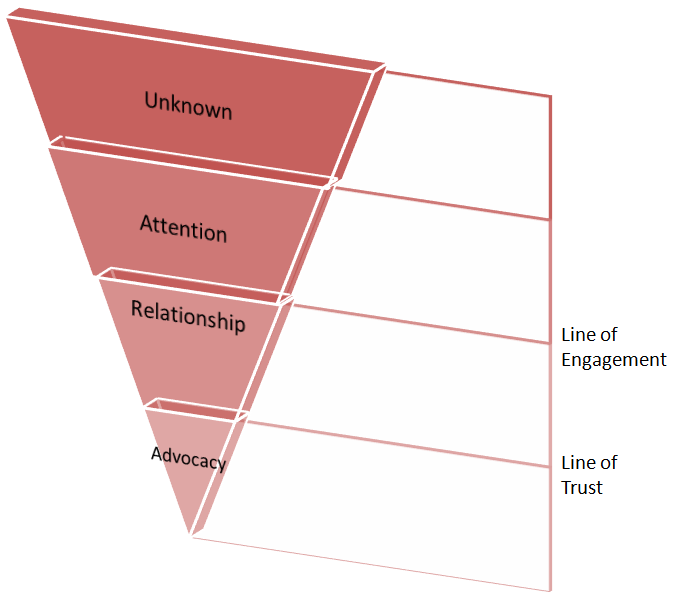 \n
Here's the phase definitions:
\n
\n
Unknown — the person is unfamiliar with your brand on social networks
\n
Attention — you do something that catches the attention of the person
\n
Line of Engagement — if your attention gathering event (or events) got a good reception, your audience will subscribe for more.
\n
Relationship — this is where users are encouraged to begin to moving through the "brand engagement funnel" by taking increasingly more brand friendly actions.
\n
Line of Trust — Once a user has learned through experience to trust you, then they will be more likely to convert into paying customers and/or serve as a brand ambassador.
\n
Advocacy — User will create value for you through buying something ($$$) or telling their friends (NPS).
\n
\n
Getting someone's attention might require something more stunty then content, but once someone has passed the line of engagement, and is starting to move through the engagement funnel, the best way to convert that person is simple: keep good quality messaging coming. Those messages should be short (<255 characters), contain engaging content, and be something that your users either a) viscerally enjoy (game) or b) will get credit from their friends for finding (utility).
\n
Email me for more info or with your thoughts on the issue.  willis.tyler@gmail.com
\n
###  Unrelated:
\n* I'm struggling with a "Personal CRM" problem — remembering to stay in touch with people in my network during a fast-growth phase of a company is very difficult. Do you have any recommendations for a system or piece of software to solve this issue?
\n
* The act of codifying information as I discover it helps me think more concretely about it's value to myself and to others. I'd love a contact system and a bookmarking system that used game mechanics and public comparison to force me to codify links and people for proper future finding. Right now I codify many interesting web pages at http://www.delicious.com/tylerwillis
\n
By the way:
\nI've refreshed the design here. It's subtle, but I cleaned up the sidebars, removed some legacy javascript code that was slowing down the site, and added some recent speaking engagements to the site. Hope you enjoy it!
\n
Big Think Edge
The meaning of the word 'confidence' seems obvious. But it's not the same as self-esteem.
Confidence isn't just a feeling on your inside. It comes from taking action in the world.
Join Big Think Edge today and learn how to achieve more confidence when and where it really matters.
The controversial herbicide is everywhere, apparently.
Surprising Science
U.S. PIRG tested 20 beers and wines, including organics, and found Roundup's active ingredient in almost all of them.
A jury on August 2018 awarded a non-Hodgkin's lymphoma victim $289 million in Roundup damages.
Bayer/Monsanto says Roundup is totally safe. Others disagree.
The team caught a glimpse of a process that takes 18,000,000,000,000,000,000,000 years.
Image source: Pixabay
Surprising Science
In Italy, a team of scientists is using a highly sophisticated detector to hunt for dark matter.
The team observed an ultra-rare particle interaction that reveals the half-life of a xenon-124 atom to be 18 sextillion years.
The half-life of a process is how long it takes for half of the radioactive nuclei present in a sample to decay.
Big think's weekly newsletter.
Get smarter faster from the comfort of your inbox.
See our newsletter privacy policy
here
Most Popular
Most Recent
Big think's weekly newsletter.
Get smarter faster from the comfort of your inbox.
See our newsletter privacy policy
here
© Copyright 2007-2019 & BIG THINK, BIG THINK EDGE,
SMARTER FASTER trademarks owned by The Big Think, Inc. All rights reserved.