Social Marketing = Short and Shareable (and frequent!)
12 December, 2010
Good social media marketing is reliant on frequent, short, and shareable/shareworthy content posting. This is because content is how you get people to move through the brand engagement funnel.
---
\n
When I was speaking at the AMA a few weeks ago, my co-presentor and I prepared the following social marketing funnel:
\n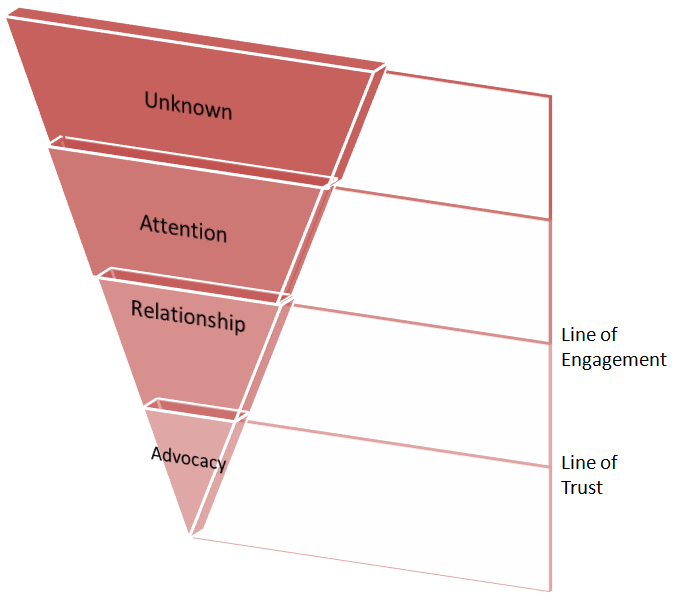 \n
Here's the phase definitions:
\n
\n
Unknown — the person is unfamiliar with your brand on social networks
\n
Attention — you do something that catches the attention of the person
\n
Line of Engagement — if your attention gathering event (or events) got a good reception, your audience will subscribe for more.
\n
Relationship — this is where users are encouraged to begin to moving through the "brand engagement funnel" by taking increasingly more brand friendly actions.
\n
Line of Trust — Once a user has learned through experience to trust you, then they will be more likely to convert into paying customers and/or serve as a brand ambassador.
\n
Advocacy — User will create value for you through buying something ($$$) or telling their friends (NPS).
\n
\n
Getting someone's attention might require something more stunty then content, but once someone has passed the line of engagement, and is starting to move through the engagement funnel, the best way to convert that person is simple: keep good quality messaging coming. Those messages should be short (<255 characters), contain engaging content, and be something that your users either a) viscerally enjoy (game) or b) will get credit from their friends for finding (utility).
\n
Email me for more info or with your thoughts on the issue.  willis.tyler@gmail.com
\n
###  Unrelated:
\n* I'm struggling with a "Personal CRM" problem — remembering to stay in touch with people in my network during a fast-growth phase of a company is very difficult. Do you have any recommendations for a system or piece of software to solve this issue?
\n
* The act of codifying information as I discover it helps me think more concretely about it's value to myself and to others. I'd love a contact system and a bookmarking system that used game mechanics and public comparison to force me to codify links and people for proper future finding. Right now I codify many interesting web pages at http://www.delicious.com/tylerwillis
\n
By the way:
\nI've refreshed the design here. It's subtle, but I cleaned up the sidebars, removed some legacy javascript code that was slowing down the site, and added some recent speaking engagements to the site. Hope you enjoy it!
\n
Pfizer's partnerships strengthen their ability to deliver vaccines in developing countries.
Susan Silbermann, Global President of Pfizer Vaccines, looks on as a health care worker administers a vaccine in Rwanda. Photo: Courtesy of Pfizer.
Community healthcare workers face many challenges in their work, including often traveling far distances to see their clients
Pfizer is helping to drive the UN's sustainable development goals through partnerships.
Pfizer partnered with AMP and the World Health Organization to develop a training program for healthcare workers.
Sponsored
The famed author headed to the pond thanks to Indian philosophy.
Image: Public Domain / Shutterstock / Big Think
Personal Growth
The famed author was heavily influenced by Indian literature, informing his decision to self-exile on Walden Pond.
He was introduced to these texts by his good friend's father, William Emerson.
Yoga philosophy was in America a century before any physical practices were introduced.
Progressive America would be half as big, but twice as populated as its conservative twin.
Image: Dicken Schrader
Strange Maps
America's two political tribes have consolidated into 'red' and 'blue' nations, with seemingly irreconcilable differences.
Perhaps the best way to stop the infighting is to go for a divorce and give the two nations a country each
Based on the UN's partition plan for Israel/Palestine, this proposal provides territorial contiguity and sea access to both 'red' and 'blue' America
A little goes a long way.
Photo: Shutterstock / Big Think
Personal Growth
A recent study from the Department of Health and Human Services found that 80 percent of Americans don't exercise enough.
Small breaks from work add up, causing experts to recommend short doses of movement rather than waiting to do longer workouts.
Rethinking what exercise is can help you frame how you move throughout your day.
Big think's weekly newsletter.
Get smarter faster from the comfort of your inbox.
See our newsletter privacy policy
here
Most Popular
Most Recent
Big think's weekly newsletter.
Get smarter faster from the comfort of your inbox.
See our newsletter privacy policy
here
© Copyright 2007-2018 & BIG THINK, BIG THINK EDGE,
SMARTER FASTER trademarks owned by The Big Think, Inc. All rights reserved.