Let's Get Political: Economics
12 December, 2010
I, for all intensive purposes, am a Libertarian. The Libertarian Party is running Bob Barr as a candidate for President. Living in California, I also happen to believe that my single vote has very little influence in most presidential elections (and I'm probably right, as long as you ignore any social influence). Therefore, I believe in voting for the person I think is the absolute best choice for the presidency, not the best two party guy who can win it.  With all of that said, it would appear possible that I'd be voting for Bob Barr. I'm not. Barring (eh? eh?) some crazy, unforeseeable event, I will be voting for Barack Obama in November. This is my attempt at explaining why.
---
\n
Disclosure: I will make an attempt to lay this out in a rationale, organized manner, I may fail. Writing concisely about issues I'm passionate about is something I'm working to become better at.
\n
The issues that matter most to me are the economy (Stances:Ob, Mc, Barr) and foreign policy (Stances:Ob, Mc, Barr), and I also value the ability to be an effective leader. The first two are relatively easy to research, but the latter is a bit less concrete, more intuitive. It's my belief that in these 3 issues, Barack Obama is the best choice for our country, and I'd like to offer my reasons why. In the interest of reading time and space, I'm going to address just the economy in this post, more to come later. Thanks for caring enough to read -Tyler
\n
Economy:
\n
Barack Obama has a clear economic plan that he has presented in speeches and online. It involves tax cuts for the middle class that are specifically aimed at jump starting the economy. In our current economic situation, something like this is needed. The middle class will spend money much more freely than people with larger incomes, which will affect the economy in a quicker fashion.
\n
I do have some fear that Obama's plan would stifle small business growth and the rate of entrepreneurship, he has helped address these fears with his $500 tax credit to help 1099 contractors offset the extra payroll tax they shoulder. As an independent contractor who made relatively normal (read: way less than 250k) salaries for 15 months out of the last 24, I can attest that a measure like this would have helped me. I'm not sure this break will be enough to encourage small business growth, and I think more can be done on this front.
\n
I'm not sure how many of the 20-some million small businesses will be affected by a marginal income tax increase proposed by Obama; my understanding is the company would have to have more than 250k/year in revenue to be affected, I'm assuming that a large percentage of these small businesses are one-man shops and fall under this rate. If you have more than 250k/year in revenue I would assume you're incorporating and playing the corporate tax game, and not filing under the individual system. I'd love to see some #'s on this though, it could make a huge difference in the health of this plan.
\n
Note: Obama has also suggested eliminating the capital gains taxes for startups and small companies, but I must admit that I'm relatively ignorant on how this might affect the average small business — I will need to learn more about this and may expand on this point at a later date.
\n
Compare this to Bob Barr: I like that Barr is against the bailout, as I am (although Buffett's arguments in favor of it may eventually sway me), but I can't seem to get any specifics out of his campaign. Barr's website has little information on specific suggestions. I agree with the standard speaking points of the Libertarian Party: less taxes, free markets, cut spending, etc. But it's hard for me to back a candidate that doesn't put forth a plan, even if it's just tactics on withdrawal. The same way you should put together a "get out of Iraq" plan, you should put forth a "get out of mucking around with the economy" plan.
\n
The Libertarian Party as a whole generally has a problem with this. They are one of the largest third parties in US politics (4% of voters, according to Rasmussen which is slightly less biased than the 13% reported by CATO). The party is very broad, tying together an incredible amount of diverse opinons (most elections see Libertarian swing voters splitting between Democrats and Republicans 60/40 or closer) — putting forth specific plans would drive many party members away. So instead they stay vague and promote intellectuals working on these problems from many different approaches. Great for a think tank, shitty for a presidency.
\n
McCain fares OK here. His small business plan makes some suggestions that will encourage growth in that sector, like lowering corporate taxes. His individual taxcuts look less interesting. McCain and Obama both talk about re-energizing the middle class, and it's clear McCain's plan doesn't trump Obama's on that front (verification from TPC). If McCain wanted to argue that Obama's plan couldn't be passed, or if he wanted to push for some form of trickle down economics, I'd listen — but they've both picked the same battleground and Obama has verifiably won it.
\n
On top of all this, I'm very suspicious about where the money will come from. John McCain will not be able to decrease the size of government, and he supports an expensive war, yet he doesn't seem to be securing new money to cover these massive cuts. That scares me.
\n
His Gas and Energy platforms are nothing more than meaningless talking points that are essentially non-sensical (read them here, top of the page and middle of the page below this picture).
\n
McCain's HOME loan program seems misguided, and the suggestions on his website (strict requirements including a proof of due dilligence on all investments for bailouts on a firm by firm basis "only to prevent systemic risk" (Paraphrased from here) don't seem to match his actions over the past 10 days.
\n
I'll confess an ignorance to some of the macro-economic issues at debate here. I'm not well versed enough to know, with relative confidence, which of these policies will fare the best. In situations where this is true, I find I need to take 3 actions.
\n
\n
I have to write out what I know, discover what I don't know, and try to learn that through research or talking with semi-experts (people that may not be qualified to set policy but that keep up with historical and current thoughts on the topic and are accessible to me).
\n
I have to look at the professionals, the people who are the real experts in the field, and see what their public thoughts are on the matter.
\n
I have to make a rational assesment of the information as I know it today, and try to get close to the right answer. As Warren Buffett has said, "I'd rather be approximately right than perfectly wrong."
\n
\n
In this process, I have found the information out there on economist blogs to be in favor of Obama, based mainly on the criteria of who he's getting his advice from. In terms of the pros, Obama has recruited amazing advisors and supporters (Paul Volcker, Warren Buffet, Robert Rupin, Laura Tyson, and a slew of others). McCain hasn't fared poorly on recruiting pros either; he's got a revolving list of people with economics degrees who support him on his site, Peter Wallison has done some pretty amazing work at AEI (including foreseeing the current crisis 9 years ago) and Gary Becker is nothing to shake a stick at (and writes half of a fantastic blog). They're both impressive teams, but on the issue of where are the intellectuals I personally respect more are leaning–they seem to be leaning towards Obama; I think Buffett and especially Volcker lend better insight than Wallison or Becker — this is arguable, but Volcker/Buffett certainly have much more credibility within the finance world than anyone on McCain's side.
\n
Since both teams are impressive it's important to note that, Obama seems to actually be listening to his advisors more. His statements on the economy are measured and well thought out — he doesn't often have to change his stance or re-word things in light of new developments (which McCain has had to often). Obama's certainly being rewarded in the polls, to quote the Financial Times, "…his instinct to reflect before opening his mouth and his impeccable taste in advisers are both working to his advantage."
\n
On the economic front, I think Obama wins.  *UPDATE* The Economist has realized an article that I think backs up my point pretty solidly, see this chart:
\n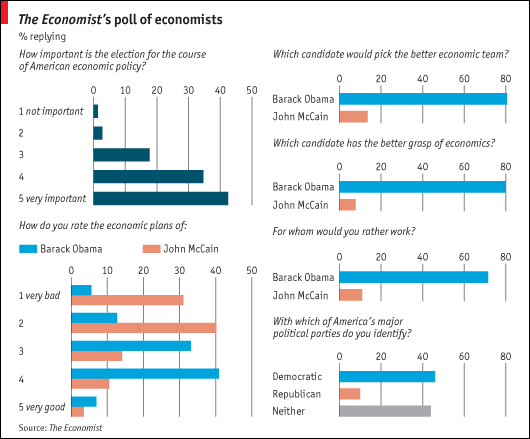 \n
FYI: This (and all political posts) will be reposted on my.barackobama.com blog
\n
PS: I highly recommed a recent interview with Warren Buffet (60 mins), his take on the crisis is very interesting.
\n
PPS: If you want to donate to Obama's campaign, please do: My Obama Page
\n
Malcolm Gladwell teaches "Get over yourself and get to work" for Big Think Edge.
Big Think Edge
Learn to recognize failure and know the big difference between panicking and choking.

At Big Think Edge, Malcolm Gladwell teaches how to check your inner critic and get clear on what failure is.

Subscribe to Big Think Edge before we launch on March 30 to get 20% off monthly and annual memberships.
The 21st century is experiencing an Asianization of politics, business, and culture.
Videos
Our theories about the world, even about history or the geopolitics of the present, tend to be shaped by Anglo perspectives of the Western industrial democracies, particularly those in the United States and the United Kingdom.
The West, however, is not united. Canada, for instance, acts in many ways that are not in line with American or British policies, particularly in regard to populism. Even if it were united, though, it would not represent most of the world's population.
European ideas, such as parliamentary democracy and civil service, spread across the world in the 19th century. In the 20th century, American values such as entrepreneurialism went global. In the 21st century, however, what we're seeing now is an Asianization — an Asian confidence that they can determine their own political systems, their own models, and adapt to their own circumstances.
Research has shown that men today have less testosterone than they used to. What's happening?
Sex & Relationships
Several studies have confirmed that testosterone counts in men are lower than what they used to be just a few decades ago.
While most men still have perfectly healthy testosterone levels, its reduction puts men at risk for many negative health outcomes.
The cause of this drop in testosterone isn't entirely clear, but evidence suggests that it is a multifaceted result of modern, industrialized life.
Can sensitive coral reefs survive another human generation?
Videos
Coral reefs may not be able to survive another human decade because of the environmental stress we have placed on them, says author David Wallace-Wells. He posits that without meaningful changes to policies, the trend of them dying out, even in light of recent advances, will continue.
The World Wildlife Fund says that 60 percent of all vertebrate mammals have died since just 1970. On top of this, recent studies suggest that insect populations may have fallen by as much as 75 percent over the last few decades.
If it were not for our oceans, the planet would probably be already several degrees warmer than it is today due to the emissions we've expelled into the atmosphere.
Big think's weekly newsletter.
Get smarter faster from the comfort of your inbox.
See our newsletter privacy policy
here
Most Popular
Most Recent
Big think's weekly newsletter.
Get smarter faster from the comfort of your inbox.
See our newsletter privacy policy
here
© Copyright 2007-2018 & BIG THINK, BIG THINK EDGE,
SMARTER FASTER trademarks owned by The Big Think, Inc. All rights reserved.