Contest - 140-character book reviews
16 February, 2011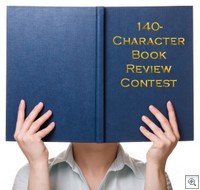 It's time for a new contest! This one has nothing to do with K-12 education. Just an idea that caught my fancy that I hope will catch yours too. As usual, the winner gets everlasting fame and a CASTLE mug...
---
\n
140–character book reviews!
\n
Using the Twitter limitation of 140 characters, write a book review. Can you sum up the essence of a good read in 140 characters? Of course you can!
\n
Here are some pathetic examples. I know you can do better than these!
\n
\n

The World Is Flat. The world is flat.

\n

To Kill a Mockingbird. Girl meets recluse. Lawyer dad fails to defend innocent Black man. Recluse saves girl from real villain. Girl learns important life lessons.
\n
Guidelines
\n
\n
An entry consists of the book title and the 140–character review. The title of the book and any accompanying explanatory text does not count against your total, but the 140 characters should be able to stand alone as a summation of (or commentary on) the book. This limit will be strictly enforced.
\n
Any book you want - fiction, nonfiction, textbook, graphic novel, whatever. No limits other than it has to be a book (although you might want to review a book that others have heard of). Could you do this for movies, music, blogs, restaurants, etc.? Absolutely. But not for this contest.
\n
Submit your entry as a comment to this blog post, please. Otherwise, as I'm discovering with the Leadership Day 2008 entries, I might not find it.
\n
Multiple entries are welcome.
\n
Extra points for creativity, humor, cleverness, etc.
\n
Feel free to use the image above to spread the word about the contest (click on it for a larger version).
\n
You've got 10 days. Entry deadline is July 26, 2008.
\n
Can't wait to see what you come up with!
\n\n
Update: Given the number of entries it looks like we're going to have, I'll pick my top 5 to 7 favorites at the end and we'll have a group vote to determine the winner. So come back July 27 to start voting!
\n\n
Update: See the winning entry!
\n
International poker champion Liv Boeree teaches decision-making for Big Think Edge.
Big Think Edge
Learn to make decisions with the clarity of a World Series Poker Champion.

Liv Boeree teaches analytical thinking for Big Think Edge.

Subscribe to Big Think Edge before we launch on March 30 to get 20% off monthly and annual memberships.
"I was so moved when I saw the cells stir," said 90-year-old study co-author Akira Iritani. "I'd been hoping for this for 20 years."
Yamagata et al.
Surprising Science
The team managed to stimulate nucleus-like structures to perform some biological processes, but not cell division.
Unless better technology and DNA samples emerge in the future, it's unlikely that scientists will be able to clone a woolly mammoth.
Still, studying the DNA of woolly mammoths provides valuable insights into the genetic adaptations that allowed them to survive in unique environments.
An MIT study predicts when artificial intelligence will take over for humans in different occupations.
Photo credit: YOSHIKAZU TSUNO / AFP / Getty Images
Surprising Science
While technology develops at exponential speed, transforming how we go about our everyday tasks and extending our lives, it also offers much to worry about. In particular, many top minds think that automation will cost humans their employment, with up to 47% of all jobs gone in the next 25 years. And chances are, this number could be even higher and the massive job loss will come earlier.
The blood of horseshoe crabs is harvested on a massive scale in order to retrieve a cell critical to medical research. However, recent innovations might make this practice obsolete.
An Atlantic horseshoe crab in an aquarium. Photo: Domdomegg via Wikimedia Commons.
Surprising Science
Horseshoe crabs' blue blood is so valuable that a quart of it can be sold for $15,000.
This is because it contains a molecule that is crucial to the medical research community.
Today, however, new innovations have resulted in a synthetic substitute that may end the practice of farming horseshoe crabs for their blood.
Big think's weekly newsletter.
Get smarter faster from the comfort of your inbox.
See our newsletter privacy policy
here
Most Popular
Most Recent
Big think's weekly newsletter.
Get smarter faster from the comfort of your inbox.
See our newsletter privacy policy
here
© Copyright 2007-2018 & BIG THINK, BIG THINK EDGE,
SMARTER FASTER trademarks owned by The Big Think, Inc. All rights reserved.