David Attenborough Narrates an Animated Adventure Series For Kids
Don't work with children or animals? Sir David Attenborough laughs in the face of danger.
16 March, 2017
Animated Attenborough. (Image: CBeebies 'Storytime' app, illustrated by Will Rose)
Sir David Attenborough's adventures are being retold. His time in nature exploring the nooks and crannies of wildlife will now be featured on Storytime, an app with 2.4 million downloads, that is designed for toddlers. With Attenborough's narration, the Storytime app run by CBeebies (a BBC television network for the under six age group) aims to help young children learn how to read on their iOS and Android screens.
---
Attenborough has plenty of great stories to tell young children, including the moment where a gorilla sat in his lap. His love of animals and the natural world was exemplified in his creation of the BBC documentary series Zoo Quest, in 1954. Before Zoo Quest, if shows wanted to educate their audiences about animals, the featured creatures would be brought onto a lit stage, uncomfortable and out of their natural habitat. Attenborough wanted that to change, and did so by bringing his show into the animal's natural domain instead, forever changing the dynamic. His mission and popularity grew exponentially, and he later headlined Eastwards with Attenborough and Life on Earth. Narrating his life's work through an educational app is an important step in cultivating the next generation's interest in preserving biodiversity on our planet.
So how will toddlers take to a story featuring Attenborough? He is, after all, a 90-year-old man and his target audience is usually those a little older than six. However, some educational studies say this is a good thing. Sesame Street, the educational program that was proven to stop children from falling behind their grade level in school, has always had guest stars that appease parents more than the kids. The show runners explain why on their workshop site.
"Research and long experience shows that when parents are involved in education, children simply learn better."
This conclusion is everywhere, and in Children's Learning From Educational Television: Sesame Street and Beyond, it was claimed by Thomas Cook and other critics of Sesame Street that any study of the show's effectiveness were skewed by the parents watching with the children.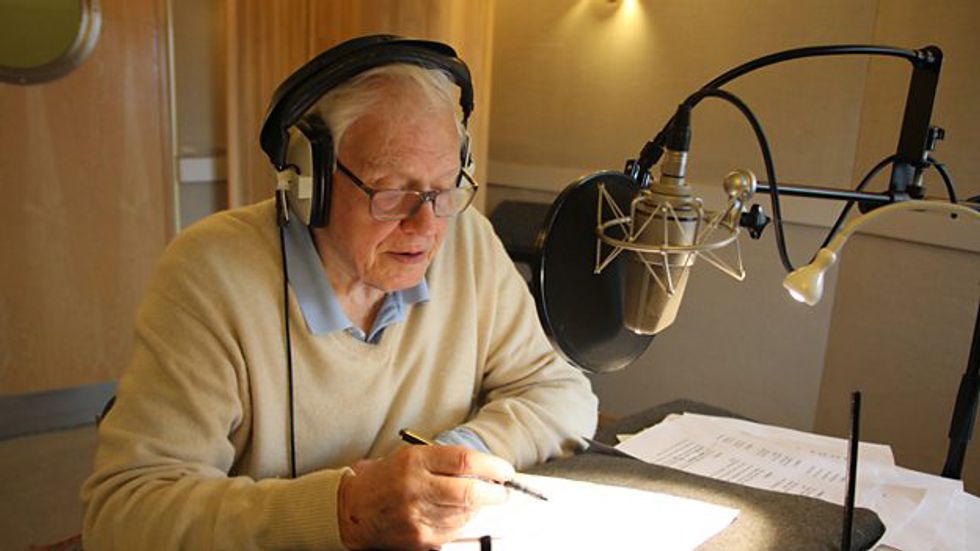 That is where Sir David Attenborough comes in. While its recognized that the young children may not know who he is, his stories can intrigue them, and their parents will remember being enthralled by him themselves. Enthusiasm is contagious. Both parents and children can be delighted at his stories of lyrebirds, gorillas, komodo dragons, and sloths. It's interactive too—the kid in your life can help Sir Attenborough "pack his adventure kit, move plants aside for him and by tracking the gorillas' path through the jungle," according to the BBC. 
The 5-part miniseries is illustrated by Will Rose, giving it a bright, colorful and happy aesthetic, and the entire Storytime app is directed by Kay Benbow. Benbow expressed the desire to make a full series rather than the resulting miniseries. Sir Attenborough is just too busy of a man for that, so all the energy was focused on the episodes they had time for. 
Sir David Attenborough is no stranger to being on the screen, and now he's being introduced to a brand-new generation. The man is used to being thrown in the wild, next to things that snap, bite, and sting. Teaching children to read should be no challenge at all.
Young people could even end up less anxiety-ridden, thanks to newfound confidence
Photos: Courtesy of Let Grow
Sponsored by Charles Koch Foundation
The coronavirus pandemic may have a silver lining: It shows how insanely resourceful kids really are.
Let Grow, a non-profit promoting independence as a critical part of childhood, ran an "Independence Challenge" essay contest for kids. Here are a few of the amazing essays that came in.
Download Let Grow's free Independence Kit with ideas for kids.
Researchers in Mexico discover the longest underwater cave system in the world that's full of invaluable artifacts.
Researchers discover a massive ceremonial structure of the ancient Mayans using lasers.
Credit: Takeshi Inomata
Surprising Science
Archaeologists use laser-based aerial surveys to discover the oldest and largest Mayan structure ever found.
The 3,000-year-old complex in the Mexican state of Tabasco was likely used as a ceremonial center.
Researchers think the site showed a communal society rather than one based on worshipping elites.
Technique may enable speedy, on-demand design of softer, safer neural devices.
Dan Kitwood/Getty Images
Surprising Science
The brain is one of our most vulnerable organs, as soft as the softest tofu. Brain implants, on the other hand, are typically made from metal and other rigid materials that over time can cause inflammation and the buildup of scar tissue.
Big Think LIVE
Join two-time NBA champion Shane Battier live at 1 pm ET this Monday.
Scroll down to load more…