Chart week - Internet safety
16 February, 2011
Today is the fourth day of Chart Week here at Dangerously Irrelevant. Today's
post relates to the various technologies and procedures that public schools use
to protect students from inappropriate Internet material. All data are from the
recently-released NCES report, Internet Access
in U.S. Public Schools and Classrooms: 1994-2005
---
.
Technologies and procedures used by public schools to prevent
student access to inappropriate Internet material
Public schools have a variety of options when it comes to protecting students
from inappropriate material on the Web. As the chart below shows, nearly every
school is using blocking / filtering software. In addition, nearly every school
says that teachers or other staff members monitor student Internet usage.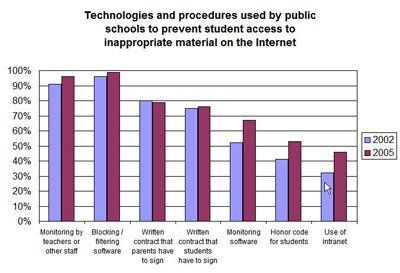 The federal data are unclear whether acceptable use policies (AUPs) are in
place in schools. What NCES asked is whether schools ask parents and students to
sign written contracts regarding Internet usage. About a fourth of schools in
2005 did not ask students to sign a contract and about a fifth of schools did
not ask parents to sign a contract regarding student Internet use. These
percentages were the same as in 2002. Elementary schools (72%) were less likely
in 2005 to have students sign contracts than secondary schools (88%). City
schools (72%) were less likely to have students sign contracts than rural
schools (82%).
It may be that schools have a student AUP in place but simply are not asking
students or parents to sign that they have read and understand the AUP. It also
may be that schools are relying on filtering / monitoring software and teacher
monitoring alone. Either way, all schools should realize that AUPs can be
powerful tools for school regulation and enforcement of appropriate Internet
usage and should not assume constructive notice
via student handbooks or school policy binders.
Other options employed by public schools to address student usage of the Internet include use of intranets to control student access, student honor codes, and monitoring software (e.g., keystroke logging and other surveillance software).
Schedule for the rest of the week
Friday - professional development for use of the Internet in public
school classrooms
From computer hacking to biohacking, Dave Asprey has embarked on a quest to reverse the aging process.
Videos
As a teenager, founder of Bulletproof, Dave Asprey, began experiencing health issues that typically plague older adults.
After surrounding himself with anti-aging researchers and scientists, he discovered the tools of biohacking could dramatically change his life and improve his health.
He's now confident he'll live to at least 180 years old. "It turns out that those tools that make older people young make younger people kick ass," he says.
French newspapers report that the trial hasn't lived up to expectations.
Image source: Charly Triballeau / AFP / Getty Images
Technology & Innovation
The French government initially invested in a rural solar roadway in 2016.
French newspapers report that the trial hasn't lived up to expectations.
Solar panel "paved" roadways are proving to be inefficient and too expensive.
A new study estimated the untapped potential of wind energy across Europe.
Pixabay
Surprising Science
A new report calculated how much electricity Europe could generate if it built onshore wind farms on all of its exploitable land.
The results indicated that European onshore wind farms could supply the whole world with electricity from now until 2050.
Wind farms come with a few complications, but the researchers noted that their study was meant to highlight the untapped potential of the renewable energy source in Europe.