Chart week - Internet safety
16 February, 2011
Today is the fourth day of Chart Week here at Dangerously Irrelevant. Today's
post relates to the various technologies and procedures that public schools use
to protect students from inappropriate Internet material. All data are from the
recently-released NCES report, Internet Access
in U.S. Public Schools and Classrooms: 1994-2005
---
.
Technologies and procedures used by public schools to prevent
student access to inappropriate Internet material
Public schools have a variety of options when it comes to protecting students
from inappropriate material on the Web. As the chart below shows, nearly every
school is using blocking / filtering software. In addition, nearly every school
says that teachers or other staff members monitor student Internet usage.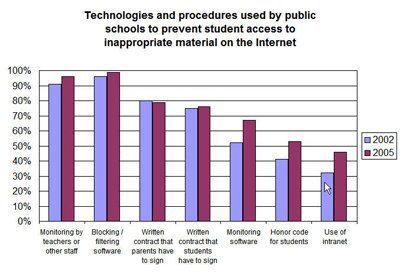 The federal data are unclear whether acceptable use policies (AUPs) are in
place in schools. What NCES asked is whether schools ask parents and students to
sign written contracts regarding Internet usage. About a fourth of schools in
2005 did not ask students to sign a contract and about a fifth of schools did
not ask parents to sign a contract regarding student Internet use. These
percentages were the same as in 2002. Elementary schools (72%) were less likely
in 2005 to have students sign contracts than secondary schools (88%). City
schools (72%) were less likely to have students sign contracts than rural
schools (82%).
It may be that schools have a student AUP in place but simply are not asking
students or parents to sign that they have read and understand the AUP. It also
may be that schools are relying on filtering / monitoring software and teacher
monitoring alone. Either way, all schools should realize that AUPs can be
powerful tools for school regulation and enforcement of appropriate Internet
usage and should not assume constructive notice
via student handbooks or school policy binders.
Other options employed by public schools to address student usage of the Internet include use of intranets to control student access, student honor codes, and monitoring software (e.g., keystroke logging and other surveillance software).
Schedule for the rest of the week
Friday - professional development for use of the Internet in public
school classrooms
International poker champion Liv Boeree teaches decision-making for Big Think Edge.
Big Think Edge
Learn to make decisions with the clarity of a World Series Poker Champion.

Liv Boeree teaches analytical thinking for Big Think Edge.

Subscribe to Big Think Edge before we launch on March 30 to get 20% off monthly and annual memberships.
These quick bursts of inspiration will brighten your day in 10 minutes or less.

Tracking project establishes northern Argentina is wintering ground of Swainson's hawks
popular
Watch these six dots move across the map and be moved yourself: this is a story about coming of age, discovery, hardship, death and survival.
Each dot is a tag attached to the talon of a Swainson's Hawk. We follow them on their very first migration, from northern California all the way down to Argentina.
After one year, only one is still alive.
How can we use the resources that are already on the Moon to make human exploration of the satellite as economical as possible?
The All-Terrain Hex-Limbed Extra-Terrestrial Explorer (ATHLETE), a prototype heavy-lift utility vehicle to support future human exploration of extraterrestrial surfaces, at right, is parked beside the Habitat Demonstration Unit - Pressurized Excursion Module (HDU-PEM), at left, a concept off-Earth living and work quarters for astronauts stationed on asteroids, the moon or Mars, 15 September 2010. Photo by: ROBYN BECK/AFP/Getty Images
Technology & Innovation
If you were transported to the Moon this very instant, you would surely and rapidly die. That's because there's no atmosphere, the surface temperature varies from a roasting 130 degrees Celsius (266 F) to a bone-chilling minus 170 C (minus 274 F). If the lack of air or horrific heat or cold don't kill you then micrometeorite bombardment or solar radiation will. By all accounts, the Moon is not a hospitable place to be.

Big think's weekly newsletter.
Get smarter faster from the comfort of your inbox.
See our newsletter privacy policy
here
Most Popular
Most Recent
Big think's weekly newsletter.
Get smarter faster from the comfort of your inbox.
See our newsletter privacy policy
here
© Copyright 2007-2018 & BIG THINK, BIG THINK EDGE,
SMARTER FASTER trademarks owned by The Big Think, Inc. All rights reserved.