Big ideas.
Once a week.
Subscribe to our weekly newsletter.
5 cognitive biases that explain America's biggest foreign policy mistakes
We think of ourselves as rational beings, but our cognitive biases often mean our decisions are based on instincts and emotions. Here are five times cognitive biases pushed Americans to advance foreign policies that stood against the country's best interests.
13 August, 2018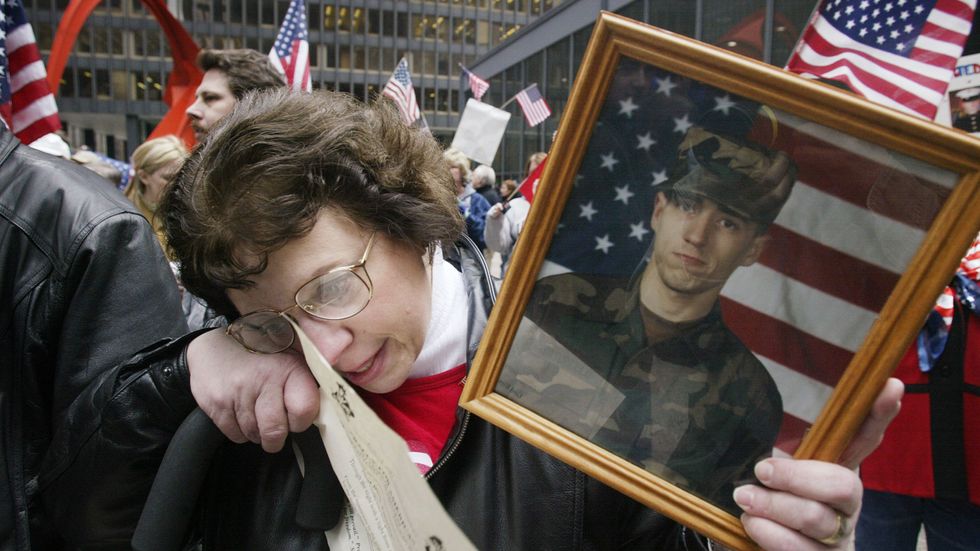 Claire Tortorello, holding a photo of her son Greg, wipes a tear from her eye following the singing of a patriotic song during a war protest March 22, 2003 in downtown Chicago, Illinois. (Photo by Scott Olson/Getty Images)
---
In his farewell address, President Ronald Reagan said, "'We the People' tell the government what to do. It doesn't tell us. 'We the People' are the driver; the government is the car. And we decide where it should go, and by what route, and how fast."
Reagan's view provides an excellent summation of democracy's appeal: the government draws its power and its course from the will of the people. However, in order for this sphere of individual influence to direct government effectively, the people must use their vote and their voice to lobby for policies based on judicious reasoning. Here, Reagan bumps up against the less-than-ideal reality of the human mind and its motivators.
Our minds come equipped with reasoning flaws called cognitive biases—effectively, mental shortcuts that lead us to make decisions based on emotions and preconceived beliefs rather than a logical, calculated understanding of a situation.
These biases can prompt voters to advocate for policies that are counterproductive to the best interests of themselves and their country. In turn, politicians are motivated to support such policies as a means to appease their constituency (to say nothing of politicians' own biases).
Here are five times cognitive biases pushed Americans to advance foreign policies that stood against the country's best interests.
Sunk cost fallacy
We perceive ourselves as rational beings that evaluate an item or experience based on an objective assessment of its worth. The sunk cost fallacy paints a different picture. Our assessments are emotionally driven, and the more time and money we invest on a poor investment or undertaking, the less likely we are to abandon it. A new study even suggests that we will continue to sink costs into other people's bad decisions.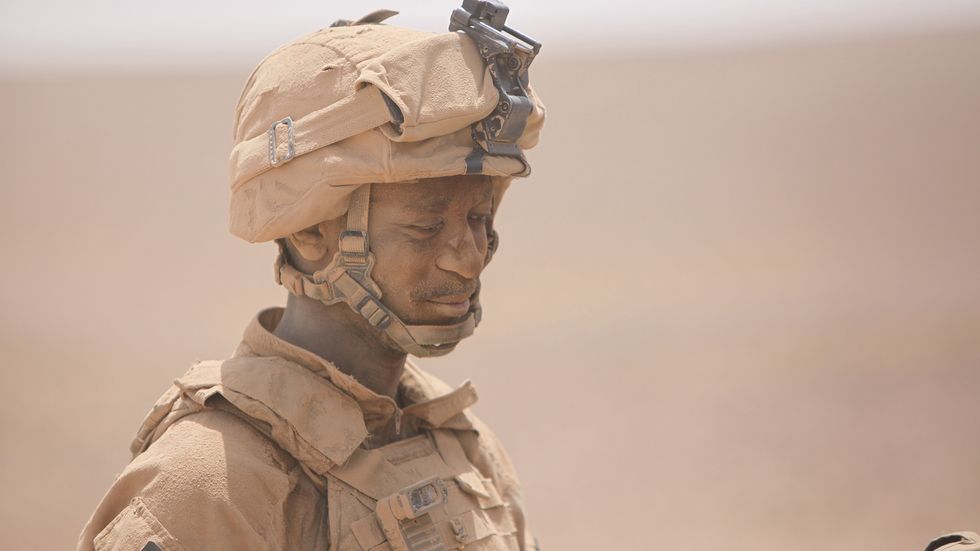 Petty Officer 3rd Class Darrin Askins, assigned to Company L, 3rd Battalion, 7th Marine Regiment, is covered in dust after riding in the back of a medium transport vehicle replacement in Washir, Afghanistan. ISAF. (U.S. Marine Corps photo by Cpl. John M. Ewald)
Military strategist and historian Danny Sjursen argues that sunken cost is one of two primary reasons the United States continues its unwinnable war in Afghanistan (the other being the U.S.'s huge investment in the military–industrial complex). With 16 years passed, trillions of dollars spent, and thousands of American lives lost, there is still no end in sight, yet a large portion of the American electorate believe we have committed too much to walk away.
A 2017 poll supports Sjursen's evaluation. Forty percent of Americans surveyed said they believe the U.S. needs a more aggressive strategy in Afghanistan, even if that means deploying more troops.
"So, what do we have now?" Sjursen told Big Think. "We have the inertia of a military-industrial complex, which makes a lot of money for a lot of people and keeps a lot of people employed, on one end, and then we have the sunken cost fallacy on the other side, where we say, 'We've committed so much we can't possibly leave.' No president wants to be the president that 'lost the War on Terror.'"
Loss aversion
We hate to lose things because losses hurt us roughly twice as much as equal gains give us pleasure. This fear is known as loss aversion. It's the reason why home sellers refuse to sell for less than what they paid, even if the asking price is unrealistic in the current market (also see the endowment effect.)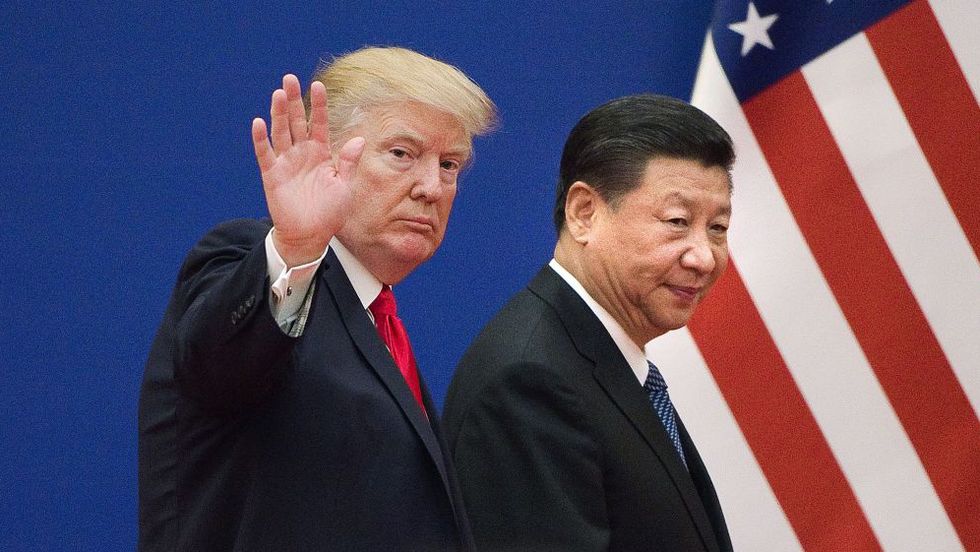 US President Donald Trump has initiated a global trade war with China to rescue the industries of yesteryear. (Photo: NICOLAS ASFOURI/AFP/Getty Images)
Writing for The New York Times, Neil Irwin argues that loss aversion explains President Trump's intense focus on U.S. job losses in industries like coal and steelmaking. Trump's supporters feel these losses negatively affect America to a greater extent than the equal, if not greater, gains the economy has made in industries such as aerospace, agriculture, and technology. To mollify his base and retain their support, Trump has initiated a global trade war with heavy tariffs on steel and aluminum, even though this approach will be unlikely to show results.
Status quo bias
Related to loss aversion is the status quo bias. This bias pushes us to keep things the same, especially when we perceive the current state of affairs as beneficial. Any change to the status quo is perceived as a loss, and losses hurt.
Government subsidies are sometimes used as a means to placate our status quo bias. Typically, subsidies are used to maintain prices and ensure the availability of necessary goods, but occasionally lobbyists and voters advocate for government subsidies to keep local industries viable when they are no longer competitive in the marketplace.
U.S. cotton is one such industry. The government has heavily subsidized cotton farmers in the past—sometimes up to half or more of their revenue—resulting in massive distortions to global markets. In 2005, Brazil argued that these subsidies artificially depressed world cotton prices, reducing the income for world cotton producers. Brazil's victory over the U.S. cost American taxpayers $750 million dollars.
Confirmation bias
Confirmation bias occurs when we seek information that supports our pre-existing beliefs, while either ignoring counterfactuals or interpreting them less favorably. Walt Slocombe, senior advisor to the Coalition Provisional Authority, believes confirmation bias resulted in the George W. Bush administration's decision to invade Iraq in 2003.
"And I think the hardest problem—based on the Silberma-Robb analysis of the intelligence—was powerful confirmation bias," Slocombe told ForeignPolicy.com. "I don't think anybody willfully lied; I don't think anybody was told to produce a result. But people heard what they wanted to hear. And that is, there was a reasonable hypothesis that Saddam still had substantial WMD and WMD programs."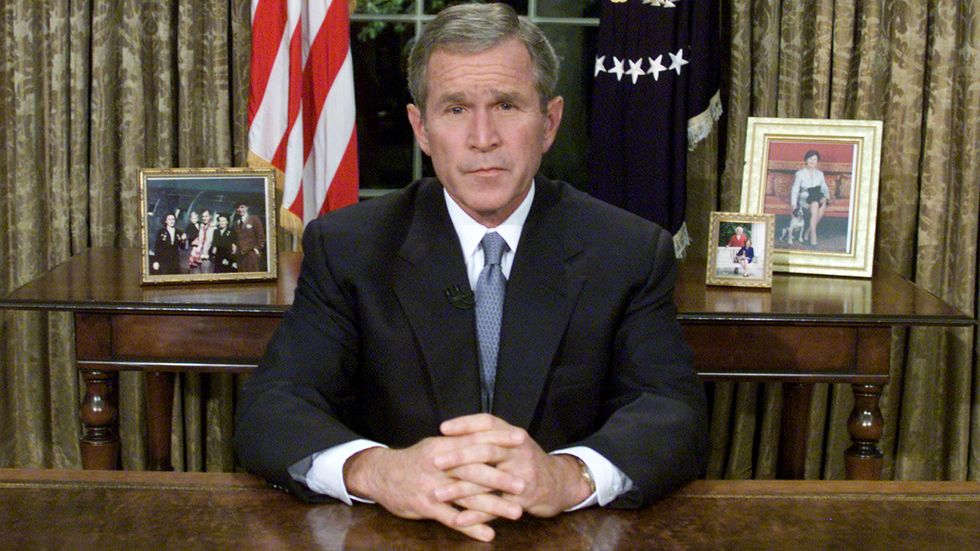 As the facts have become clear, and the confirmation bias harder to sustain, the popularity of the Iraq War has dropped precipitously. In March of 2003, only 23 percent of those polled by Gallup thought the war was a mistake when asked the question: "In view of the developments since we first sent our troops to Iraq, do you think the United States made a mistake in sending troops to Iraq?" By June 2015, that number was up to 51 percent. Even so, 46 percent still believe it was not a mistake.
Availability heuristic
The availability heuristic is the reason most of us don't calculate risk effectively. This bias leads people to judge the chance of an event based on information and examples that come readily to mind, and it has helped fuel America's War on Terror.
Terrorist attacks are tragic, random, and violent incidents that receive wall-to-wall news coverage. Horrific images combined with constant reminders in the media make them easy for our minds to recall in vivid detail. Yet, they remain incredibly rare.
According to the U.S. Extremist Crime Database, from Sept. 12, 2001, to Dec. 31, 2016, there were 85 terrorist attacks in the U.S. resulting in 225 deaths. Sixty-two of these attacks were carried out by far-right extremists (resulting in 106 deaths), while 23 were carried out by radical Islamist extremists (resulting in 119 deaths), many of whom were either citizens or residents.
"The terrorist threat in the United States is almost entirely homegrown, as no foreign terrorist organization has successfully directed and orchestrated an attack in the United States since 9/11," Albert Ford, a program associate with the International Security and Fellows programs at New America, told Politifact.
Worldwide, the majority of fatalities resulting from Islamic terrorist attacks occur in Muslim majority countries—such as Iraq, Afghanistan, and Syria—and terrorism is a paltry amount of the total number of worldwide deaths (13,186 in 2010) compared to the millions of people who die annually from causes such as suicide, air pollution, and child undernutrition.
Although terrorist attacks are rare, larger percentages of Americans worry they will be victims of terrorism, and Americans are more likely to believe a terrorist attack will occur in the days after an attack than at other times. A recent study even suggests that a major factor in the surge of support for Trump during the 2016 campaign stemmed from his hardline stance against "radical Islamic terrorism."
To appease this base, Trump signed an executive order banning travel from five Muslim-majority countries. The stated objective was to protect the United States from foreign terrorists, however, many have argued the ban will ultimately hurt industries that rely on immigration, such as healthcare and technology.
In the driver's seat
Cognitive biases arguably aren't flaws at all, but rather adaptive traits evolved in humans to reward fast thinking. While fast thinking certainly has its advantages in areas of modern life, government policy is not one of them.
While we can't remove these biases from our mental makeup, we can be aware of them and limit their influence on our decision making and the policies we advocate for. In doing so, we can use the power of our voices and votes to steer our leaders to set a course that benefits American people and our country's status on the world stage.
These alien-like creatures are virtually invisible in the deep sea.
Credit: Karen Osborn/Smithsonian
Surprising Science
A team of marine biologists used nets to catch 16 species of deep-sea fish that have evolved the ability to be virtually invisible to prey and predators.
"Ultra-black" skin seems to be an evolutionary adaptation that helps fish camouflage themselves in the deep sea, which is illuminated by bioluminescent organisms.
There are likely more, and potentially much darker, ultra-black fish lurking deep in the ocean.
A team of marine biologists has discovered 16 species of "ultra-black" fish that absorb more than 99 percent of the light that hits their skin, making them virtually invisible to other deep-sea fish.
The researchers, who published their findings Thursday in Current Biology, caught the species after dropping nets more than 200 meters deep near California's Monterey Bay. At those depths, sunlight fizzles out. That's one reason why many deep-sea species have evolved the ability to illuminate the dark waters through bioluminescence.
But what if deep-sea fish don't want to be spotted? To counter bioluminescence, some species have evolved ultra-black skin that's exceptionally good at absorbing light. Only a few other species are known to possess this strange trait, including birds of paradise and some spiders and butterflies.
The Pacific blackdragon
Credit: Karen Osborn/Smithsonian
When researchers first saw the deep-sea species, it wasn't immediately obvious that their skin was ultra-black. Then, marine biologist Karen Osborn, a co-author on the new paper, noticed something strange about the photos she took of the fish.
"I had tried to take pictures of deep-sea fish before and got nothing but these really horrible pictures, where you can't see any detail," Osborn told Wired. "How is it that I can shine two strobe lights at them and all that light just disappears?"
After examining samples of fish skin under the microscope, the researchers discovered that the fish skin contains a layer of organelles called melanosomes, which contain melanin, the same pigment that gives color to human skin and hair. This layer of melanosomes absorbs most of the light that hits them.
A crested bigscale
Credit: Karen Osborn/Smithsonian
"But what isn't absorbed side-scatters into the layer, and it's absorbed by the neighboring pigments that are all packed right up close to it," Osborn told Wired. "And so what they've done is create this super-efficient, very-little-material system where they can basically build a light trap with just the pigment particles and nothing else."
The result? Strange and terrifying deep-sea species, like the crested bigscale, fangtooth, and Pacific blackdragon, all of which appear in the deep sea as barely more than faint silhouettes.
Pacific viperfish
David Csepp, NMFS/AKFSC/ABL
But interestingly, this unique disappearing trick wasn't passed on to these species by a common ancestor. Rather, they each developed it independently. As such, the different species use their ultra-blackness for different purposes. For example, the threadfin dragonfish only has ultra-black skin during its adolescent years, when it's rather defenseless, as Wired notes.
Other fish—like the oneirodes species, which use bioluminescent lures to bait prey—probably evolved ultra-black skin to avoid reflecting the light their own bodies produce. Meanwhile, species like C. acclinidens only have ultra-black skin around their gut, possibly to hide light of bioluminescent fish they've eaten.
Given that these newly described species are just ones that this team found off the coast of California, there are likely many more, and possibly much darker, ultra-black fish swimming in the deep ocean.
Information may not seem like something physical, yet it has become a central concern for physicists. A wonderful new book explores the importance of the "dataome" for the physical, biological, and human worlds.
Credit: agsandrew via Adobe Stock
13-8
The most important current topic in physics relates to a subject that hardly seems physical at all — information, which is central to thermodynamics and perhaps the universe itself.
The "dataome" is the way human beings have been externalizing information about ourselves and the world since we first began making paintings on cave walls.
The dataome is vast and growing everyday, sucking up an ever increasing share of the energy humans produce.
Physics is a field that is supposed to study real stuff. By real, I mean things like matter and energy. Matter is, of course, the kind of stuff you can hold in your hand. Energy may seem a little more abstract, but its reality is pretty apparent, appearing in the form of motion or gravity or electromagnetic fields.
What has become apparent recently, however, is the importance to physics of something that seems somewhat less real: information. From black holes to quantum mechanics to understanding the physics of life, information has risen to become a principal concern of many physicists in many domains. This new centrality of information is why you really need to read astrophysicist Caleb Scharf's new book The Ascent of Information: Books, Bits, Machines, and Life's Unending Algorithms.
Scharf is currently the director of the Astrobiology Program at Columbia University. He is also the author of four other books as well as a regular contributor to Scientific American.
(Full disclosure: Scharf and I have been collaborators on a scientific project involving the Fermi Paradox, so I was a big fan before I read this new book. Of course, the reason why I collaborated with him is because I really like the way he thinks, and his creativity in tackling tough problems is on full display in The Ascent of Information.)
What is the dataome?
In his new book, Scharf is seeking a deeper understanding of what he calls the "dataome." This is the way human beings have been externalizing information about ourselves and the world since we first began making paintings on cave walls. The book opens with a compelling exploration of how Shakespeare's works, which began as scribbles on a page, have gone on to have lives of their own in the dataome. Through reprintings in different languages, recordings of performances, movie adaptations, comic books, and so on, Shakespeare's works are now a permanent part of the vast swirling ensemble of information that constitutes the human dataome.
I found gems in these parts of the book that forced me to put the volume down and stare into space for a time to deal with their impact.
But the dataome does not just live in our heads. Scharf takes us on a proper physicist's journey through the dataome, showing us how information can never be divorced from energy. Your brain needs the chemical energy from food you ate this morning to read, process, and interpret these words. One of the most engaging parts of the book is when Scharf details just how much energy and real physical space our data-hungry world consumes as it adds to the dataome. For example, the Hohhot Data Center in the Inner Mongolia Autonomous Region of China is made of vast "farms" of data processing servers covering 245 acres of real estate. A single application like Bitcoin, Scharf tells us, consumes 7.7 gigawatts per year, equivalent to the output of half a dozen nuclear reactors!
Information is everywhere
But the dataome is not just about energy. Entropy is central to the story as well. Scharf takes the reader through a beautifully crafted discussion of information and the science of thermodynamics. This is where the links between energy, entropy, the limits of useful work, and probability all become profoundly connected to the definition of information.
The second law of thermodynamics tells us that you cannot use all of a given amount of energy to do useful work. Some of that energy must be wasted by getting turned into heat. Entropy is the physicist's way of measuring that waste (which can also be thought of as disorder). Scharf takes the reader through the basic relations of thermodynamics and then shows how entropy became intimately linked with information. It was Claude Shannon's brilliant work in the 1940s that showed how information — bits — could be defined for communication and computation as an entropy associated with the redundancy of strings of symbols. That was the link tying the physical world of physics explicitly to the informational and computational world of the dataome.
The best parts of the book are where Scharf unpacks how information makes its appearance in biology. From the data storage and processing that occurs with every strand of DNA, to the tangled pathways that define evolutionary dynamics, Scharf demonstrates how life is what happens to physics and chemistry when information matters. I found gems in these parts of the book that forced me to put the volume down and stare into space for a time to deal with their impact.
The physics of information
There are a lot of popular physics books out there about black holes and exoplanets and other cool stuff. But right now, I feel like the most important topic in physics relates to a subject that hardly seems physical at all. Information is a relatively new addition to the physics bestiary, making it even more compelling. If you are looking for a good introduction to how that is so, The Ascent of Information is a good place to start.
A new study tested to what extent dogs can sense human deception.
Credit: Adobe Stock / kozorog
Surprising Science
A study of 260 dogs found that, in some cases, dogs can tell when people are lying.
The experiments involved giving dogs information about the location of food.
The majority of the dogs did not follow false suggestions when they knew humans were lying.
Is humanity's best friend catching on to our shenanigans? Researchers at the University of Vienna discovered that dogs can in certain cases know when people are lying.
The scientists carried out a study with hundreds of dogs to determine to what extent dogs could spot deception. The team's new paper, published in Proceedings of the Royal Society B, outlined experiments that tested whether dogs, like humans, have some inner sense of how to assess truthfulness.
As the researchers wrote in their paper, "Among non-primates, dogs (Canis familiaris) constitute a particularly interesting case, as their social environment has been shared with humans for at least 14,000 years. For this reason, dogs have been considered as a model species for the comparative investigation of socio-cognitive abilities." The investigation focused specifically on understanding if dogs were "sensitive to some mental or psychological states of humans."
The experiment
The experiments involved 260 dogs, which were made to listen to advice from a human "communicator" whom they did not know. The human told them which one of two bowls had a treat hidden inside by touching it and saying, "Look, this is very good!" If the dogs took the person's advice, they would get the treat.
Once they established the trust of the dogs, the researchers then complicated the experience by letting dogs watch another human that they did not know transfer the treat from one bowl to another. In some cases, the original communicator would also be present to watch but not always.
The findings revealed that half of the dogs did not follow the advice of the communicator if that person was not present when the food was switched to a different bowl. The dogs had a sense that this human could not have known the true location of the treat. Furthermore, two-thirds of the dogs ignored the human's suggestion if she did see the food switch but pointed to the wrong bowl. The dogs figured out the human was lying to them.
Photos of experiments showing the dog, human communicator, and person hiding the treat. Credit: Lucrezia Lonardo et al / Proceedings of the Royal Society B.
"We thought dogs would behave like children under age five and apes, but now we speculate that perhaps dogs can understand when someone is being deceitful," co-author Ludwig Huber from the University of Vienna told New Scientist. "Maybe they think, 'This person has the same knowledge as me, and is nevertheless giving me the wrong [information].' It's possible they could see that as intentionally misleading, which is lying."
This is not the first time such experiments have been carried out. Previously, children under age five, macaques, and chimps were tested in a similar way. It turned out that children and other animals were more likely than dogs to listen to the advice of the liars. Notably, among the dogs, terriers were found to be more like children and apes, more eagerly following false suggestions.
Personal Growth
When we rely on the conscious mind alone, we lose; but when we listen to the body, we gain a winning edge.
Scroll down to load more…