Scott McLeod
Scott McLeod, J.D., Ph.D., is an Associate Professor of Educational Leadership at the University of Kentucky. He also is the Founding Director of the UCEA Center for the Advanced Study of Technology Leadership in Education (CASTLE), the nation's only academic center dedicated to the technology needs of school administrators, and was a co-creator of the wildly popular video series, Did You Know? (Shift Happens). He has received numerous national awards for his technology leadership work, including recognitions from the cable industry, Phi Delta Kappa, and the National School Boards Association. In Spring 2011 he was a Visiting Canterbury Fellow at the University of Canterbury in New Zealand. Dr. McLeod blogs regularly about technology leadership issues at Dangerously Irrelevant and Mind Dump, and occasionally at The Huffington Post. He can be reached at scottmcleod.net.
16 February, 2011
[cross-posted at the TechLearning blog]
---
\n\n
Why haven't schools changed more? Maybe because they can't.
\n
In their 2005 Phi Delta Kappan article, Can Schools Improve?, Christensen, Aaron, & Clark laid out the following framework:
\n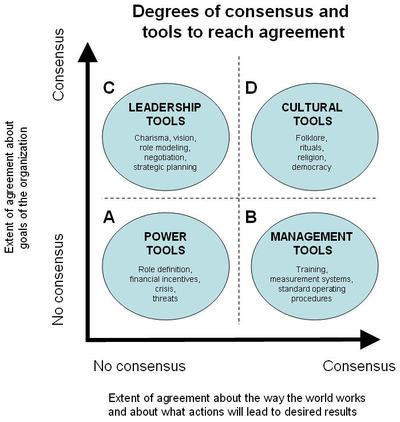 \n\n\n
\n
[click on the image to see a larger version]
\n\n
The vertical axis represents 'the degree to which members of an organization agree on the goals of the organization.' The horizontal axis reflects 'the extent to which members of the organization agree on how the world works and on what actions will lead to the desired results.'
\n
They went on to say that the tools that a leader needs to use to create a consensus are dependent on the situation. For example, if employees and other stakeholders agree on the goals of the organization but can't agree on which actions to take (quadrant C), leaders capitalize on the goal agreement by using charisma and strategic planning mechanisms to get everyone to reach consensus on actions. Conversely, if stakeholders agree on how the world works and which actions lead to results but can't agree on organizational goals (quadrant B), training and standardization of operating procedures leads to people individually doing what needs to be done despite the lack of overall consensus. If everyone agrees on both the organizational goals and how to get there (quadrant D), leaders use tools such as reliance on tradition and democratic decision-making to reinforce existing practices.
\n
Unfortunately, public schools in America are in quadrant A. In most schools, there is minimal consensus, at best, about what the overall goals of schooling should be: academic learning, socialization, life skills, character education, civic engagement, nutrition, physical fitness, exposure to the fine arts, job training, and so on. Moreover, there is no consensus about how the world works and what actions should be employed to reach desired results. In this situation, creating a crisis, clearly defining roles, and using financial incentives and/or threats are the only tools that leaders can use to implement change.
\n
Leadership tools must be matched to existing circumstances. For instance, if stakeholders can't agree on what the goals of the organization should be, 'leadership tools such as vision statements are dismissed as irrelevant.' Likewise, training programs will be ineffective if there is widespread disagreement about which actions will lead to desired results. As the authors note, 'When a leader has access only to tools that do not match his circumstances, he simply cannot succeed. This is a fundamental problem facing public education.'
\n
Administrators and other school change agents thus are in a bind. They operate in an environment that is stacked against them and have few viable tools to enable desired change. The authoritarian tools that they do have only can be employed to a certain extent before parents, students, and teachers begin to push back.
\n
So the authors conclude with a question: 'If schools are incapable of reinventing themselves because they can't create new capabilities and because school leaders can't use the tools they need to bring about change, then how can we possibly improve education?' Their answer is as follows:
\n
\n

Our current system is . . . incapable of changing itself. Most people know – even if they are loath to admit it – that it's easier to start from scratch than to try to salvage what's already there. We may wish otherwise, but we ought not to be wishful thinkers. Systemic, transformational change in public education can only happen if we are willing to start from scratch.
\n
The world is changing in significant, transformational ways. Is there hope for enacting the changes needed in schools on a widespread basis (as opposed to isolated examples)? Does the existing paradigm of K-12 schooling need to be torn down and replaced with something new? I'll leave those questions for you to discuss. But at least recognize that the current situation is stacked heavily against change agents.
\n
No, the Syrian civil war is not over. But it might be soon. Time for a recap
Strange Maps
The War in Syria has dropped off the radar, but it's not over (yet)
This 1-minute video shows how the fronts have moved – and stabilised – over the past 22 months
Watching this video may leave you both better informed, and slightly queasy: does war need a generic rock soundtrack?
Sarco assisted suicide pods come in three different styles, and allow you to die quickly and painlessly. They're even quite beautiful to look at.
The Sarco assisted suicide pod
Technology & Innovation
Death: it happens to everyone (except, apparently, Keanu Reeves). But while the impoverished and lower-class people of the world die in the same ol' ways—cancer, heart disease, and so forth—the upper classes can choose hip and cool new ways to die. Now, there's an assisted-suicide pod so chic and so stylin' that peeps (young people still say peeps, right?) are calling it the "Tesla" of death... it's called... the Sarco! 
Entrepreneur and author Andrew Horn shares his rules for becoming an assured conversationalist.
content.jwplatform.com
Videos
To avoid basing action on external validation, you need to find your "authentic voice" and use it.
Finding your voice requires asking the right questions of yourself.
There are 3-5 questions that you would generally want to ask people you are talking to.
Big think's weekly newsletter.
Get smarter faster from the comfort of your inbox.
See our newsletter privacy policy
here
Most Popular
Most Recent
Big think's weekly newsletter.
Get smarter faster from the comfort of your inbox.
See our newsletter privacy policy
here
© Copyright 2007-2018 & BIG THINK, BIG THINK EDGE,
SMARTER FASTER trademarks owned by The Big Think, Inc. All rights reserved.