Can schools change?
16 February, 2011
[cross-posted at the TechLearning blog]
---
\n\n
Why haven't schools changed more? Maybe because they can't.
\n
In their 2005 Phi Delta Kappan article, Can Schools Improve?, Christensen, Aaron, & Clark laid out the following framework:
\n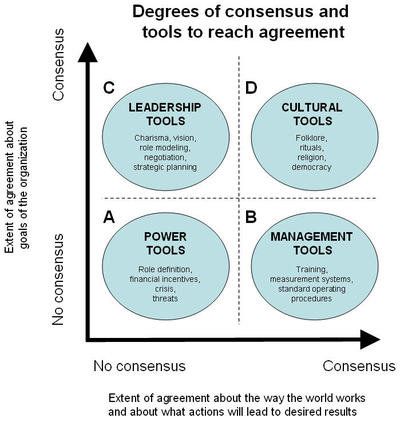 \n\n\n
\n
[click on the image to see a larger version]
\n\n
The vertical axis represents 'the degree to which members of an organization agree on the goals of the organization.' The horizontal axis reflects 'the extent to which members of the organization agree on how the world works and on what actions will lead to the desired results.'
\n
They went on to say that the tools that a leader needs to use to create a consensus are dependent on the situation. For example, if employees and other stakeholders agree on the goals of the organization but can't agree on which actions to take (quadrant C), leaders capitalize on the goal agreement by using charisma and strategic planning mechanisms to get everyone to reach consensus on actions. Conversely, if stakeholders agree on how the world works and which actions lead to results but can't agree on organizational goals (quadrant B), training and standardization of operating procedures leads to people individually doing what needs to be done despite the lack of overall consensus. If everyone agrees on both the organizational goals and how to get there (quadrant D), leaders use tools such as reliance on tradition and democratic decision-making to reinforce existing practices.
\n
Unfortunately, public schools in America are in quadrant A. In most schools, there is minimal consensus, at best, about what the overall goals of schooling should be: academic learning, socialization, life skills, character education, civic engagement, nutrition, physical fitness, exposure to the fine arts, job training, and so on. Moreover, there is no consensus about how the world works and what actions should be employed to reach desired results. In this situation, creating a crisis, clearly defining roles, and using financial incentives and/or threats are the only tools that leaders can use to implement change.
\n
Leadership tools must be matched to existing circumstances. For instance, if stakeholders can't agree on what the goals of the organization should be, 'leadership tools such as vision statements are dismissed as irrelevant.' Likewise, training programs will be ineffective if there is widespread disagreement about which actions will lead to desired results. As the authors note, 'When a leader has access only to tools that do not match his circumstances, he simply cannot succeed. This is a fundamental problem facing public education.'
\n
Administrators and other school change agents thus are in a bind. They operate in an environment that is stacked against them and have few viable tools to enable desired change. The authoritarian tools that they do have only can be employed to a certain extent before parents, students, and teachers begin to push back.
\n
So the authors conclude with a question: 'If schools are incapable of reinventing themselves because they can't create new capabilities and because school leaders can't use the tools they need to bring about change, then how can we possibly improve education?' Their answer is as follows:
\n
\n

Our current system is . . . incapable of changing itself. Most people know – even if they are loath to admit it – that it's easier to start from scratch than to try to salvage what's already there. We may wish otherwise, but we ought not to be wishful thinkers. Systemic, transformational change in public education can only happen if we are willing to start from scratch.
\n
The world is changing in significant, transformational ways. Is there hope for enacting the changes needed in schools on a widespread basis (as opposed to isolated examples)? Does the existing paradigm of K-12 schooling need to be torn down and replaced with something new? I'll leave those questions for you to discuss. But at least recognize that the current situation is stacked heavily against change agents.
\n
Big Think
Sponsored by Lumina Foundation
Upvote/downvote each of the videos below!

As you vote, keep in mind that we are looking for a winner with the most engaging social venture pitch - an idea you would want to invest in.
Lumina Foundation and Big Think have partnered to bring this entrepreneurial competition to life, and we hope you'll participate! We have narrowed down the competition to four finalists and will be announcing an audience's choice award and a judges' choice award in May.
The creator of the winning video — chosen by Big Think's audience, the Lumina Foundation, and an independent panel of experts (bios below) — will be flown to New York for a taping in the Big Think studio as a way to further promote their vision for a new, disruptive idea in post-secondary education.
Thank you to all of the contestants who spent time submitting applications, and best of luck to our final four competitors.
Finalist: Greater Commons - Todd McLeod
Greater Commons, founded by Todd McLeod and Andrew Cull, is an organization that helps people live happier, more successful and fulfilling lives through agile learning. The current education system is inefficient and exclusionary, in which many students who end up earning a degree, if at all, enter a career not related to their field of study. Greater Commons solves this problem and gap in post-high school secondary education in a variety of ways. Passionately and diligently, Great Commons helps others obtain skills, knowledge, wisdom, motivation, and inspiration so that they may live better lives.
Finalist: PeerFoward - Keith Frome
PeerForward is an organization dedicated to increasing the education and career success rates of students in low-income schools and communities by mobilizing the power of positive peer influence. PeerForward works with partner schools to select influential students as a part of a team, systemizing the "peer effect." Research in the fields of sociology of schools, social-emotional learning, adult-youth partnerships, and civic education demonstrates that students can have a positive effect on the academic outcomes of their peers. PeerForward is unique through its systemic solutions to post-secondary education.
Finalist: Cogniss - Leon Young
Cogniss combines technology and best practice knowledge to enable anyone to innovate and share solutions that advance lifelong learning. Cogniss is the only platform to integrate neuroscience, through which it solves the problem of access by providing a low-code platform that enables both developers and non-developers to build sophisticated education apps fast, and at a much lower cost. It addresses the uneven quality of edtech solutions by embedding research-based learning design into its software. App creators can choose from a rich set of artificial intelligence, game, social and data analytics, and gamification to build their perfect customized solution.
Finalist: Practera - Nikki James
Practera's mission is to create a world where everyone can learn through experience. Today's workplaces are increasingly dynamic and diverse, however, costly and time-consuming experiential learning is not always able to offer the right opportunities at scale. Many students graduate without developing the essential skills for their chosen career. Practera's team of educators and technologists see this problem as an opportunity to transform the educational experience landscape, through a CPL pedagogical framework and opportunities to apply students' strengths through active feedback.
Thank you to our judges!
Our expert judges are Lorna Davis, Dan Rosensweig, and Stuart Yasgur.
Lorna Davis is the Senior Advisor to Danone CEO and is a Global Ambassador for the B Corp movement. Lorna has now joined B-Lab, the non-for-profit that supports the B Corporation movement on an assignment to support the journey of large multi nationals on the path to using business as a force of good.
Dan Rosensweig joined Chegg in 2010 with a vision for transforming the popular textbook rental service into a leading provider of digital learning services for high school and college students. As Chairman and CEO of Chegg, Dan commits the company to fulfilling its mission of putting students first and helping them save time, save money and get smarter.

Stuart Yasgur leads Ashoka's Social Financial Services globally. At Ashoka, Stuart works with others to initiate efforts that have mobilized more than $500 million in funding for social entrepreneurs, engaged the G20 through the Toronto, Seoul and Los Cabos summits and helped form partnerships with leading financial institutions and corporations.
Again, thank you to our incredible expert judges.
Upstreamism advocate Rishi Manchanda calls us to understand health not as a "personal responsibility" but a "common good."
Sponsored by Northwell Health
Upstreamism tasks health care professionals to combat unhealthy social and cultural influences that exist outside — or upstream — of medical facilities.
Patients from low-income neighborhoods are most at risk of negative health impacts.
Thankfully, health care professionals are not alone. Upstreamism is increasingly part of our cultural consciousness.
The Bajau people's nomadic lifestyle has given them remarkable adaptions, enabling them to stay underwater for unbelievable periods of time. Their lifestyle, however, is quickly disappearing.
Wikimedia Commons
Culture & Religion
The Bajau people travel in small flotillas throughout the Phillipines, Malaysia, and Indonesia, hunting fish underwater for food.
Over the years, practicing this lifestyle has given the Bajau unique adaptations to swimming underwater. Many find it straightforward to dive up to 13 minutes 200 feet below the surface of the ocean.
Unfortunately, many disparate factors are erasing the traditional Bajau way of life.
Big think's weekly newsletter.
Get smarter faster from the comfort of your inbox.
See our newsletter privacy policy
here
Most Popular
Most Recent
Big think's weekly newsletter.
Get smarter faster from the comfort of your inbox.
See our newsletter privacy policy
here
© Copyright 2007-2019 & BIG THINK, BIG THINK EDGE,
SMARTER FASTER trademarks owned by The Big Think, Inc. All rights reserved.