Calling all bloggers! - Leadership Day 2010
Scott McLeod
Scott McLeod, J.D., Ph.D., is an Associate Professor of Educational Leadership at the University of Kentucky. He also is the Founding Director of the UCEA Center for the Advanced Study of Technology Leadership in Education (CASTLE), the nation's only academic center dedicated to the technology needs of school administrators, and was a co-creator of the wildly popular video series, Did You Know? (Shift Happens). He has received numerous national awards for his technology leadership work, including recognitions from the cable industry, Phi Delta Kappa, and the National School Boards Association. In Spring 2011 he was a Visiting Canterbury Fellow at the University of Canterbury in New Zealand. Dr. McLeod blogs regularly about technology leadership issues at Dangerously Irrelevant and Mind Dump, and occasionally at The Huffington Post. He can be reached at scottmcleod.net.
16 February, 2011
Since the past three have been so successful,* I am putting out a call for people to participate in Leadership Day 2010. As I said three years ago:
---
\n
\n

Many of our school leaders (principals, superintendents, central office administrators) need help when it comes to digital technologies. A lot of help, to be honest. As I've noted again and again on this blog, most school administrators don't know

\n

\n
what it means to prepare students for the 21st century;
\n
how to recognize, evaluate, and facilitate effective technology usage by students and teachers;
\n
what appropriate technology support structures (budget, staffing, infrastructure) look like or how to implement them;
\n
how to utilize modern technologies to facilitate communication with internal and external stakeholders;
\n
the ways in which learning technologies can improve student learning outcomes;
\n
how to utilize technology systems to make their organizations more efficient and effective;
\n
and so on...
\n

\n

Administrators' lack of knowledge is not entirely their fault. Most of them didn't grow up with these technologies. Many are not using digital tools on a regular basis. Few have received training from their employers or their university preparation programs on how to use, think about, or be a leader regarding digital technologies.

\n

So... let's help them out.

\n
\n
How to participate
\n
\n
On Friday, July 30, 2010, blog about whatever you like related to effective school technology leadership: successes, challenges, reflections, needs, wants, etc. Write a letter to the administrators in your area. Post a top ten list. Make a podcast or a video. Highlight a local success or challenge. Recommend some readings. Do an interview of a successful technology leader. Respond to some of the questions below or make up your own. If you participated in years past, post a follow-up reflection. Whatever strikes you.
\n
The official hashtag is  #leadershipday10
\n
TO ENSURE THAT I FIND YOUR POST, please complete the short online participation form AFTER you post on Friday. This will allow me to mention and directly link to your post when I do my summary post a few days later. Everyone also will be able to see the complete list of submissions. If you want to link back to this post or leave a link to yours in the comment area, that's okay too!
\n
\n
Some prompts to spark your thinking
\n
\n
What do effective K-12 technology leaders do? What actions and behaviors can you point to that make them effective leaders in the area of technology?
\n
Do administrators have to be technology-savvy themselves in order to be effective technology leaders in their organizations?
\n
What are some tangible, concrete, realistic steps that administrators can take to move their school organizations forward?
\n
What are some tangible, concrete, realistic steps that can be taken to move administrators themselves forward? Given the unrelenting pressures that they face and their ever-increasing time demands, what are some things that administrators can do to become more knowledgeable and skilled in the area of technology leadership?
\n
Perhaps using the new National Educational Technology Standards for Administrators (NETS-A) as a starting point, what are the absolutely critical skills or abilities that administrators need to be effective technology leaders?
\n
What strengths and deficiencies are present in the new NETS-A?
\n
What is a technology tool that would be extremely useful for a busy administrator (i.e., one he or she probably isn't using now)?
\n
What should busy administrators be reading (or watching)?
\n
How can administrators best structure necessary conversations with internal or external stakeholders?
\n
How should administrators balance enablement with safety, risk with reward, fear with empowerment?
\n
\n
Here are the ABSOLUTELY EXCELLENT posts from the past three years
\n
\n
A badge for your blog or web site
\n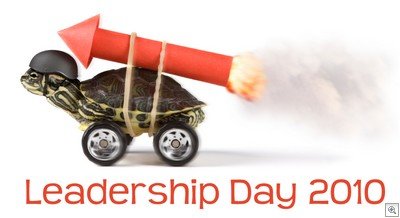 \n
I hope you will join us for this important day because, I promise you, if the leaders don't get it, it isn't going to happen.
\n
Checklist
\n
\n
Post on Friday, July 30, 2010 about effective school technology leadership.
\n
Complete the short online participation form so I know where to find your post.
\n
Publicize as desired using the #leadershipday10 hashtag.
\n
\n
* Footnote 
\n
Last year I intended to individually summarize and link to everyone's posts (like I had in years past), but I was wholly unprepared for the sheer volume of participation in Leadership Day 2009 (see graph below). I apologize to everyone for not doing what I had done in previous years. I am extremely grateful to Karen McMillan and Dennis Richards, who together did the bulk of the aggregation of the posts that are listed in the 2009 summary spreadsheet above. That list would not exist without them. I think I've got a much better system now, so I hope my struggles last year won't be a barrier to your participation in this year's event. We'd love to have your perspective!
\n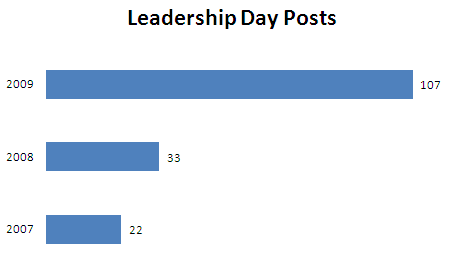 A federal judge ruled that the Trump administration likely violated the reporter's Fifth Amendment rights when it stripped his press credentials earlier this month.
WASHINGTON, DC - NOVEMBER 16: CNN chief White House correspondent Jim Acosta (R) returns to the White House with CNN Washington bureau chief Sam Feist after Federal judge Timothy J. Kelly ordered the White House to reinstate his press pass November 16, 2018 in Washington, DC. CNN has filed a lawsuit against the White House after Acosta's press pass was revoked after a dispute involving a news conference last week. (Photo by Alex Wong/Getty Images)
Politics & Current Affairs
Acosta will be allowed to return to the White House on Friday.
The judge described the ruling as narrow, and didn't rule one way or the other on violations of the First Amendment.
The case is still open, and the administration may choose to appeal the ruling.
Progressive America would be half as big, but twice as populated as its conservative twin.
Image: Dicken Schrader
Strange Maps
America's two political tribes have consolidated into 'red' and 'blue' nations, with seemingly irreconcilable differences.
Perhaps the best way to stop the infighting is to go for a divorce and give the two nations a country each
Based on the UN's partition plan for Israel/Palestine, this proposal provides territorial contiguity and sea access to both 'red' and 'blue' America
New research identifies an unexpected source for some of earth's water.
Surprising Science
A lot of Earth's water is asteroidal in origin, but some of it may come from dissolved solar nebula gas.
Our planet hides majority of its water inside: two oceans in the mantle and 4–5 in the core.
New reason to suspect that water is abundant throughout the universe.
Big think's weekly newsletter.
Get smarter faster from the comfort of your inbox.
See our newsletter privacy policy
here
Most Popular
Most Recent
Big think's weekly newsletter.
Get smarter faster from the comfort of your inbox.
See our newsletter privacy policy
here
© Copyright 2007-2018 & BIG THINK, BIG THINK EDGE,
SMARTER FASTER trademarks owned by The Big Think, Inc. All rights reserved.