Calling all bloggers! - Leadership Day 2010
16 February, 2011
Since the past three have been so successful,* I am putting out a call for people to participate in Leadership Day 2010. As I said three years ago:
---
\n
\n

Many of our school leaders (principals, superintendents, central office administrators) need help when it comes to digital technologies. A lot of help, to be honest. As I've noted again and again on this blog, most school administrators don't know

\n

\n
what it means to prepare students for the 21st century;
\n
how to recognize, evaluate, and facilitate effective technology usage by students and teachers;
\n
what appropriate technology support structures (budget, staffing, infrastructure) look like or how to implement them;
\n
how to utilize modern technologies to facilitate communication with internal and external stakeholders;
\n
the ways in which learning technologies can improve student learning outcomes;
\n
how to utilize technology systems to make their organizations more efficient and effective;
\n
and so on...
\n

\n

Administrators' lack of knowledge is not entirely their fault. Most of them didn't grow up with these technologies. Many are not using digital tools on a regular basis. Few have received training from their employers or their university preparation programs on how to use, think about, or be a leader regarding digital technologies.

\n

So... let's help them out.

\n
\n
How to participate
\n
\n
On Friday, July 30, 2010, blog about whatever you like related to effective school technology leadership: successes, challenges, reflections, needs, wants, etc. Write a letter to the administrators in your area. Post a top ten list. Make a podcast or a video. Highlight a local success or challenge. Recommend some readings. Do an interview of a successful technology leader. Respond to some of the questions below or make up your own. If you participated in years past, post a follow-up reflection. Whatever strikes you.
\n
The official hashtag is  #leadershipday10
\n
TO ENSURE THAT I FIND YOUR POST, please complete the short online participation form AFTER you post on Friday. This will allow me to mention and directly link to your post when I do my summary post a few days later. Everyone also will be able to see the complete list of submissions. If you want to link back to this post or leave a link to yours in the comment area, that's okay too!
\n
\n
Some prompts to spark your thinking
\n
\n
What do effective K-12 technology leaders do? What actions and behaviors can you point to that make them effective leaders in the area of technology?
\n
Do administrators have to be technology-savvy themselves in order to be effective technology leaders in their organizations?
\n
What are some tangible, concrete, realistic steps that administrators can take to move their school organizations forward?
\n
What are some tangible, concrete, realistic steps that can be taken to move administrators themselves forward? Given the unrelenting pressures that they face and their ever-increasing time demands, what are some things that administrators can do to become more knowledgeable and skilled in the area of technology leadership?
\n
Perhaps using the new National Educational Technology Standards for Administrators (NETS-A) as a starting point, what are the absolutely critical skills or abilities that administrators need to be effective technology leaders?
\n
What strengths and deficiencies are present in the new NETS-A?
\n
What is a technology tool that would be extremely useful for a busy administrator (i.e., one he or she probably isn't using now)?
\n
What should busy administrators be reading (or watching)?
\n
How can administrators best structure necessary conversations with internal or external stakeholders?
\n
How should administrators balance enablement with safety, risk with reward, fear with empowerment?
\n
\n
Here are the ABSOLUTELY EXCELLENT posts from the past three years
\n
\n
A badge for your blog or web site
\n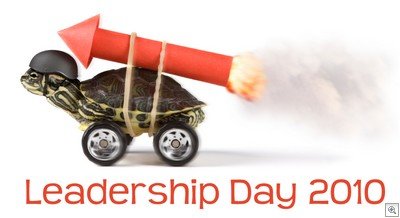 \n
I hope you will join us for this important day because, I promise you, if the leaders don't get it, it isn't going to happen.
\n
Checklist
\n
\n
Post on Friday, July 30, 2010 about effective school technology leadership.
\n
Complete the short online participation form so I know where to find your post.
\n
Publicize as desired using the #leadershipday10 hashtag.
\n
\n
* Footnote 
\n
Last year I intended to individually summarize and link to everyone's posts (like I had in years past), but I was wholly unprepared for the sheer volume of participation in Leadership Day 2009 (see graph below). I apologize to everyone for not doing what I had done in previous years. I am extremely grateful to Karen McMillan and Dennis Richards, who together did the bulk of the aggregation of the posts that are listed in the 2009 summary spreadsheet above. That list would not exist without them. I think I've got a much better system now, so I hope my struggles last year won't be a barrier to your participation in this year's event. We'd love to have your perspective!
\n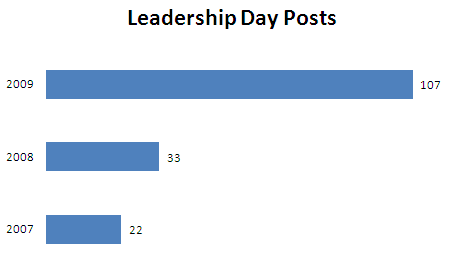 Sharon Salzberg, world-renowned mindfulness leader, teaches meditation at Big Think Edge.
Image: Big Think
Big Think Edge
Try meditation for the first time with this guided lesson or, if you already practice, enjoy being guided by a world-renowned meditation expert.
Sharon Salzberg teaches mindfulness meditation for Big Think Edge.

Subscribe to Big Think Edge before we launch on March 30 to get 20% off monthly and annual memberships.
The 21st century is experiencing an Asianization of politics, business, and culture.
Videos
Our theories about the world, even about history or the geopolitics of the present, tend to be shaped by Anglo perspectives of the Western industrial democracies, particularly those in the United States and the United Kingdom.
The West, however, is not united. Canada, for instance, acts in many ways that are not in line with American or British policies, particularly in regard to populism. Even if it were united, though, it would not represent most of the world's population.
European ideas, such as parliamentary democracy and civil service, spread across the world in the 19th century. In the 20th century, American values such as entrepreneurialism went global. In the 21st century, however, what we're seeing now is an Asianization — an Asian confidence that they can determine their own political systems, their own models, and adapt to their own circumstances.
Research has shown that men today have less testosterone than they used to. What's happening?
Sex & Relationships
Several studies have confirmed that testosterone counts in men are lower than what they used to be just a few decades ago.
While most men still have perfectly healthy testosterone levels, its reduction puts men at risk for many negative health outcomes.
The cause of this drop in testosterone isn't entirely clear, but evidence suggests that it is a multifaceted result of modern, industrialized life.
Can sensitive coral reefs survive another human generation?
Videos
Coral reefs may not be able to survive another human decade because of the environmental stress we have placed on them, says author David Wallace-Wells. He posits that without meaningful changes to policies, the trend of them dying out, even in light of recent advances, will continue.
The World Wildlife Fund says that 60 percent of all vertebrate mammals have died since just 1970. On top of this, recent studies suggest that insect populations may have fallen by as much as 75 percent over the last few decades.
If it were not for our oceans, the planet would probably be already several degrees warmer than it is today due to the emissions we've expelled into the atmosphere.
Big think's weekly newsletter.
Get smarter faster from the comfort of your inbox.
See our newsletter privacy policy
here
Most Popular
Most Recent
Big think's weekly newsletter.
Get smarter faster from the comfort of your inbox.
See our newsletter privacy policy
here
© Copyright 2007-2018 & BIG THINK, BIG THINK EDGE,
SMARTER FASTER trademarks owned by The Big Think, Inc. All rights reserved.