Calling all bloggers! - Leadership Day 2008
16 February, 2011
---
\n
\n

Many of our school leaders (principals, superintendents, central office administrators) need help when it comes to digital technologies. A lot of help, to be honest. As I've noted again and again on this blog, most school administrators don't know

\n

\n
what it means to prepare students for the 21st century;
\n
how to recognize, evaluate, and facilitate effective technology usage by students and teachers;
\n
what appropriate technology support structures (budget, staffing, infrastructure) look like or how to implement them;
\n
how to utilize modern technologies to facilitate communication with internal and external stakeholders;
\n
the ways in which learning technologies can improve student learning outcomes;
\n
how to utilize technology systems to make their organizations more efficient and effective;
\n
and so on...

\n

Administrators' lack of knowledge is not entirely their fault. Most of them didn't grow up with these technologies. Many are not using digital tools on a regular basis. Few have received training from their employers or their university preparation programs on how to use, think about, or be a leader regarding digital technologies.

\n

So... let's help them out.
\n
In response to that post, on July 4, 2007 – American Independence Day – a number of you helped me celebrate independent (and hopefully innovative) thinking and leadership by blogging about effective school technology leadership:
\n
\n

A year later our leaders still need help, of course. So I am putting out a new call for people to participate in Leadership Day 2008.

\n

Guidelines

\n

On July 4, 2008, blog about whatever you like related to effective school technology leadership: successes, challenges, reflections, needs. Write a letter to the administrators in your area. Post a top ten list. Make a podcast or a video. Highlight a local success or challenge. Recommend some readings. Do an interview of a successful technology leader. Respond to some of the questions below or make up your own. Whatever strikes you. Please tag your post with these Technorati tags:

\n
\n
\n
and/or link back to this post. If you don't have a blog, comment on someone else's post and/or send your thoughts to me and I will post them for you. I will do a summary afterward of what folks wrote and talked about [bloggers, this means some new readers probably will head your direction!].
\n
Some prompts to spark your thinking
\n
\n
What do effective K-12 technology leaders do? What actions and behaviors can you point to that make them effective leaders in the area of technology?
\n
Do administrators have to be technology-savvy themselves in order to be effective technology leaders in their organizations?
\n
What are some tangible, concrete, realistic steps that can be taken to move administrators forward? Given the unrelenting pressures that they face and their ever-increasing time demands, what are some things that administrators can do to become more knowledgeable and skilled in the area of technology leadership?
\n
Perhaps using the NETS-A as a starting point, what are the absolutely critical skills or abilities that administrators need to be effective technology leaders?
\n
What is a technology tool that would be extremely useful for a busy administrator (i.e., one he / she probably isn't using now)?
\n
What should busy administrators be reading (or watching)?
\n
A badge for your blog or web site
\n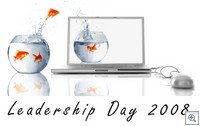 \n
[click on image for larger version]
\n
Please join us for this important day because, I promise you, if the leaders don't get it, it isn't going to happen.
\n
Understanding thinking talents in yourself and others can build strong teams and help avoid burnout.
Big Think Edge
Learn to collaborate within a team and identify "thinking talent" surpluses – and shortages.

Angie McArthur teaches intelligent collaboration for Big Think Edge.

Subscribe to Big Think Edge before we launch on March 30 to get 20% off monthly and annual memberships.
Rediscovering the principles of self-actualisation might be just the tonic that the modern world is crying out for.
Personal Growth
Abraham Maslow was the 20th-century American psychologist best-known for explaining motivation through his hierarchy of needs, which he represented in a pyramid. At the base, our physiological needs include food, water, warmth and rest.
"I was so moved when I saw the cells stir," said 90-year-old study co-author Akira Iritani. "I'd been hoping for this for 20 years."
Yamagata et al.
Surprising Science
The team managed to stimulate nucleus-like structures to perform some biological processes, but not cell division.
Unless better technology and DNA samples emerge in the future, it's unlikely that scientists will be able to clone a woolly mammoth.
Still, studying the DNA of woolly mammoths provides valuable insights into the genetic adaptations that allowed them to survive in unique environments.
Does believing in true love make people act like jerks?
Thought Catalog via Unsplash
Sex & Relationships
Ghosting, or cutting off all contact suddenly with a romantic partner, is not nice.
Growth-oriented people (who think relationships are made, not born) do not appreciate it.
Destiny-oriented people (who believe in soulmates) are more likely to be okay with ghosting.
Big think's weekly newsletter.
Get smarter faster from the comfort of your inbox.
See our newsletter privacy policy
here
Most Popular
Most Recent
Big think's weekly newsletter.
Get smarter faster from the comfort of your inbox.
See our newsletter privacy policy
here
© Copyright 2007-2018 & BIG THINK, BIG THINK EDGE,
SMARTER FASTER trademarks owned by The Big Think, Inc. All rights reserved.