The tipping point where the planet becomes a 'Hothouse Earth' is terrifyingly real
"Hothouse Earth" is basically a self-sustaining engine of warming and carbon. Ummm...
07 August, 2018
Credit: PNAS
We are, suggest scientists publishing in the Proceedings of the National Academy of Sciences, just one degree (C) away from hitting a "tipping point" beyond which the planet has never experienced.
---
When average global temperatures reach 2 degrees C (4 degrees F) higher than pre-industrial times, we've hit that point. The problem is that we're halfway there already. 
Beyond that temperature, our world will be in what the scientists are calling a 'Hothouse Earth' state, where climate change will be absolutely uncontrollable, and vast regions will be uninhabitable.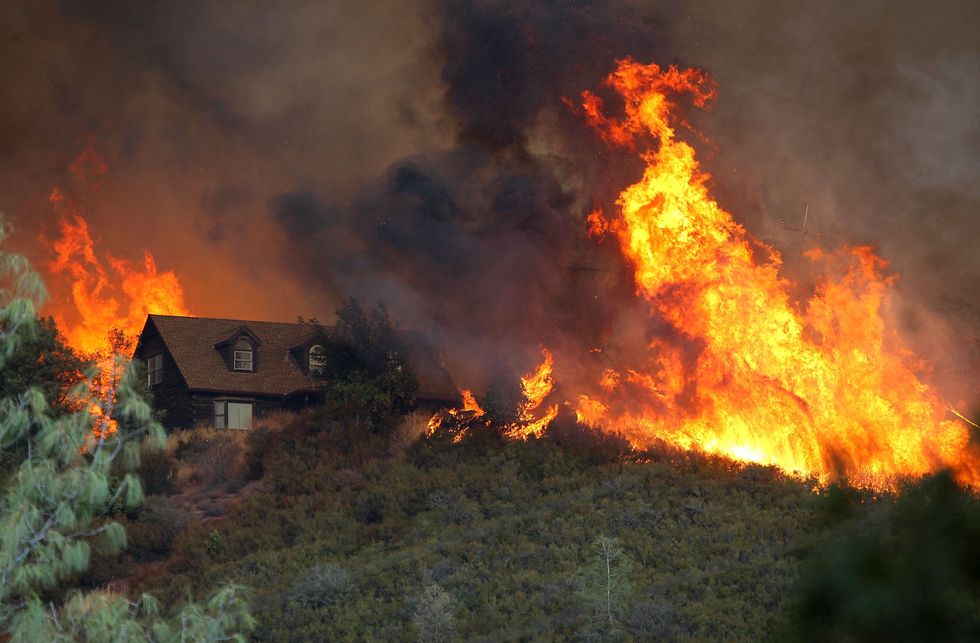 Flames from the Rocky Fire approach a house on July 31, 2015 in Lower Lake, California.  (Photo by Justin Sullivan/Getty Images)
"We note that the Earth has never in its history had a quasi-stable state that is around 2C warmer than the preindustrial and suggest that there is substantial risk that the system, itself, will 'want' to continue warming because of all of these other processes—even if we stop emissions," study author Katherine Richardson from the University of Copenhagen told The Guardian.
What happens after that threshold is reached is that Earth's feedback loop, which normally cools the planet and offsets some of the human activity, will actually fail. Or, rather, it will reverse. More carbon is fed into our atmosphere as rainforests dry up and permafrost melts, releasing methane. That self-reinforces the warming effects we're already seeing. And as more rainforests evaporate, Arctic permafrost melts, ice caps at both poles of the planet disappear, and coral reefs die off, even more carbon is released into the atmosphere, adding yet more fuel to the dysfunctional system. Basically, it means Earth itself becomes a primary source of greenhouse gas emissions. It will come to a point where nothing humans can do will help mitigate the changes.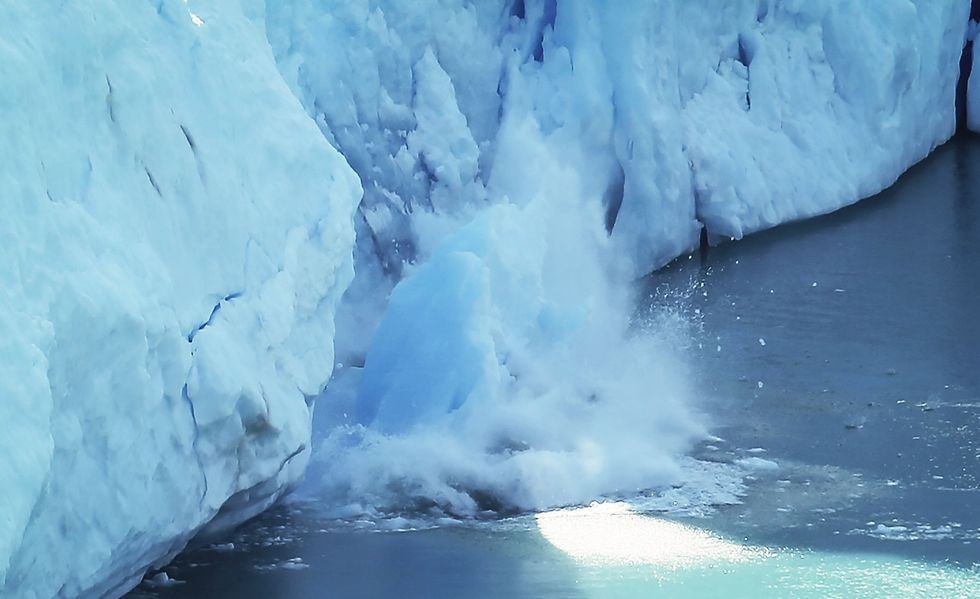 Ice calves at the Perito Moreno glacier in Los Glaciares National Park, part of the Southern Patagonian Ice Field, the third largest ice field in the world, on November 27, 2015 in Santa Cruz Province, Argentina. (Photo by Mario Tama/Getty Images)
While the scientists who penned the article are stating this is not yet a theory, but rather an extension of existing scientific studies providing more food for thought, predictions include:
Sea levels increasing by 33 to 300 feet (10 to 60 meters) 
Temperatures increasing by 7 to 9 degrees F (4 to 5 C) worldwide
Humans, unable to live near the equator, forced to migrate to both the North and South poles to survive
"I do hope we are wrong, but as scientists, we have a responsibility to explore whether this is real," said Johan Rockström, executive director of the Stockholm Resilience Centre and one of the study authors. "We need to know now. It's so urgent. This is one of the most existential questions in science."

If the magic (?) number of 2 degrees sounds familiar, it should; that's the target (ideally, 1.5 degrees) that the Paris Agreement, originally signed by 179 countries (with the United States pulling out of last year), spelled out for a reduction in carbon emissions this century. 
However, even if the world ceased all carbon emissions by 2050, that's still not enough to stop the feedback loop from cascading into the nightmare scenario outlined in the paper:
"If the [2 degree] threshold is crossed, the resulting trajectory would likely cause serious disruptions to ecosystems, society, and economies." 
Also, the event would pose "severe risks for health, economies, political stability, and ultimately, the habitability of the planet for humans."
Think this will make anybody sit up and take notice?
To create wiser adults, add empathy to the school curriculum.
Sponsored by Charles Koch Foundation
Stories are at the heart of learning, writes Cleary Vaughan-Lee, Executive Director for the Global Oneness Project. They have always challenged us to think beyond ourselves, expanding our experience and revealing deep truths.
Vaughan-Lee explains 6 ways that storytelling can foster empathy and deliver powerful learning experiences.
Global Oneness Project is a free library of stories—containing short documentaries, photo essays, and essays—that each contain a companion lesson plan and learning activities for students so they can expand their experience of the world.
Philosophers like to present their works as if everything before it was wrong. Sometimes, they even say they have ended the need for more philosophy. So, what happens when somebody realizes they were mistaken?
Numerous U.S. Presidents invoked the Insurrection Act to to quell race and labor riots.
Photo by Michael Ochs Archives/Getty Images
Politics & Current Affairs
U.S. Presidents have invoked the Insurrection Act on numerous occasions.
The controversial law gives the President some power to bring in troops to police the American people.
The Act has been used mainly to restore order following race and labor riots.
Got any embarrassing old posts collecting dust on your profile? Facebook wants to help you delete them.
Facebook
Technology & Innovation
The feature is called Manage Activity, and it's currently available through mobile and Facebook Lite.
Manage Activity lets users sort old content by filters like date and posts involving specific people.
Some companies now use AI-powered background checking services that scrape social media profiles for problematic content.
Surprising Science
Researchers from Japan add a new wrinkle to a popular theory and set the stage for the formation of monstrous black holes.
Scroll down to load more…