Scientists accidentally engineer mutant bacteria that gorges on plastic bottles
It's not a solution yet, but perhaps the start of one.
17 April, 2018
The mutant enzyme clings to PET plastic, breaks it down into terephthalic acid and ethylene glycol (two environmentally benign substances) and feasts on them. (Image: Shutterstock/Wikicommons/Big Think)
A few years ago, at an Osaka, Japan recycling plant, scientists discovered a bacteria called Ideonella sakaiensis that eats one of the most common forms of plastic, known as polyethylene terephthalate or PET. That form of plastic is found in water bottles, food containers, and polyester. You know the items with the "1" symbol in your recycling bin? Those tend to be made of PET. 
---
Researchers from Britain's University of Portsmouth and the U.S. Department of Energy's National Renewable Energy Laboratory (NREL) were trying to model the enzyme and ended up with a mutant strain of the same thing, with a crucial difference: it eats plastic even better.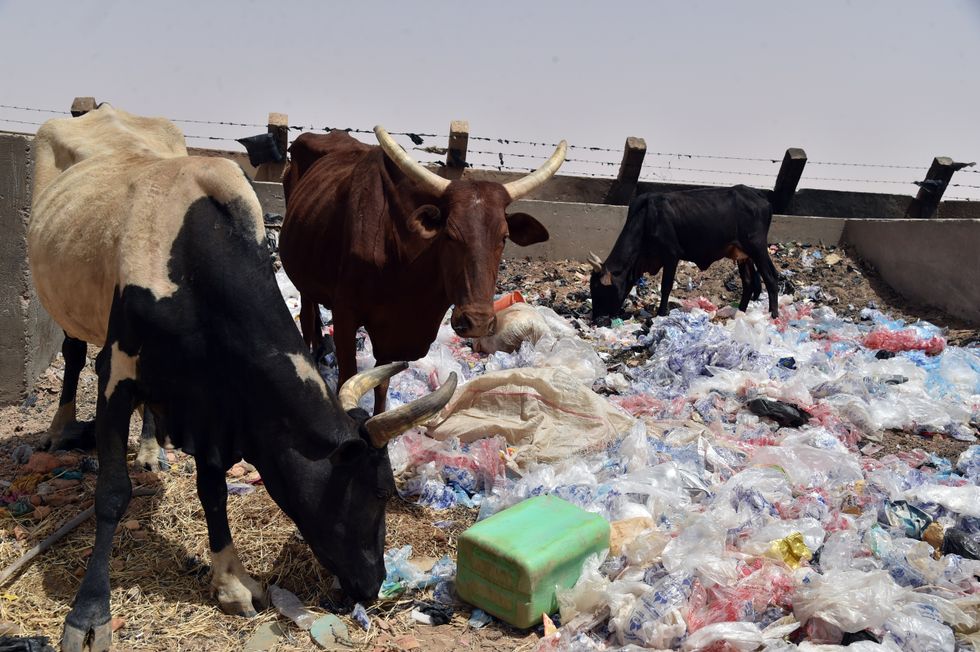 "We hoped to determine its structure to aid in protein engineering, but we ended up going a step further and accidentally engineered an enzyme with improved performance at breaking down these plastics," said NREL's lead researcher Gregg Beckham. 
University of Portsmouth professor John McGeehan, who conducted the research with Beckham, went even further in a statement.
"Serendipity often plays a significant role in fundamental scientific research and our discovery here is no exception. Although the improvement is modest, this unanticipated discovery suggests that there is room to further improve these enzymes, moving us closer to a recycling solution for the ever-growing mountain of discarded plastics."
There's speculation that, with further mutations, the PETase mutant enzyme might even be used to degrade/eat the newer kinds of plastic known as Polyethylene furandicarboxylate or PEF. 

It's at least a promising beginning in this field of study.  
And here's author Laurence Gonzales on our culture of garbage.
To create wiser adults, add empathy to the school curriculum.
Sponsored by Charles Koch Foundation
Stories are at the heart of learning, writes Cleary Vaughan-Lee, Executive Director for the Global Oneness Project. They have always challenged us to think beyond ourselves, expanding our experience and revealing deep truths.
Vaughan-Lee explains 6 ways that storytelling can foster empathy and deliver powerful learning experiences.
Global Oneness Project is a free library of stories—containing short documentaries, photo essays, and essays—that each contain a companion lesson plan and learning activities for students so they can expand their experience of the world.
Philosophers like to present their works as if everything before it was wrong. Sometimes, they even say they have ended the need for more philosophy. So, what happens when somebody realizes they were mistaken?
Numerous U.S. Presidents invoked the Insurrection Act to to quell race and labor riots.
Photo by Michael Ochs Archives/Getty Images
Politics & Current Affairs
U.S. Presidents have invoked the Insurrection Act on numerous occasions.
The controversial law gives the President some power to bring in troops to police the American people.
The Act has been used mainly to restore order following race and labor riots.
Got any embarrassing old posts collecting dust on your profile? Facebook wants to help you delete them.
Facebook
Technology & Innovation
The feature is called Manage Activity, and it's currently available through mobile and Facebook Lite.
Manage Activity lets users sort old content by filters like date and posts involving specific people.
Some companies now use AI-powered background checking services that scrape social media profiles for problematic content.
Surprising Science
Researchers from Japan add a new wrinkle to a popular theory and set the stage for the formation of monstrous black holes.
Scroll down to load more…