The key to solving Parkinson's disease may not be in the brain
It's becoming more clear what the root cause of Parkinson's is, and the solution may be farther south than the brain, nestled in our gut microbiome.
08 May, 2018
In 1817, English surgeon James Parkinson reported that some patients with a condition he referred to as 'shaking palsy' suffered from constipation. The disease has been named after him ever since and in one of the six cases he described, helping to alleviate that patient's gastrointestinal complaints also helped some with the movement-related problems of the very same patient.
---
In fact, today, new evidence is pointing to the stomach and gastrointestinal tract as a possible solution—or, at least, part of one—for those suffering from the disease. 
Just over half of all Parkinson's patients have constipation as one of the common symptoms of the disease.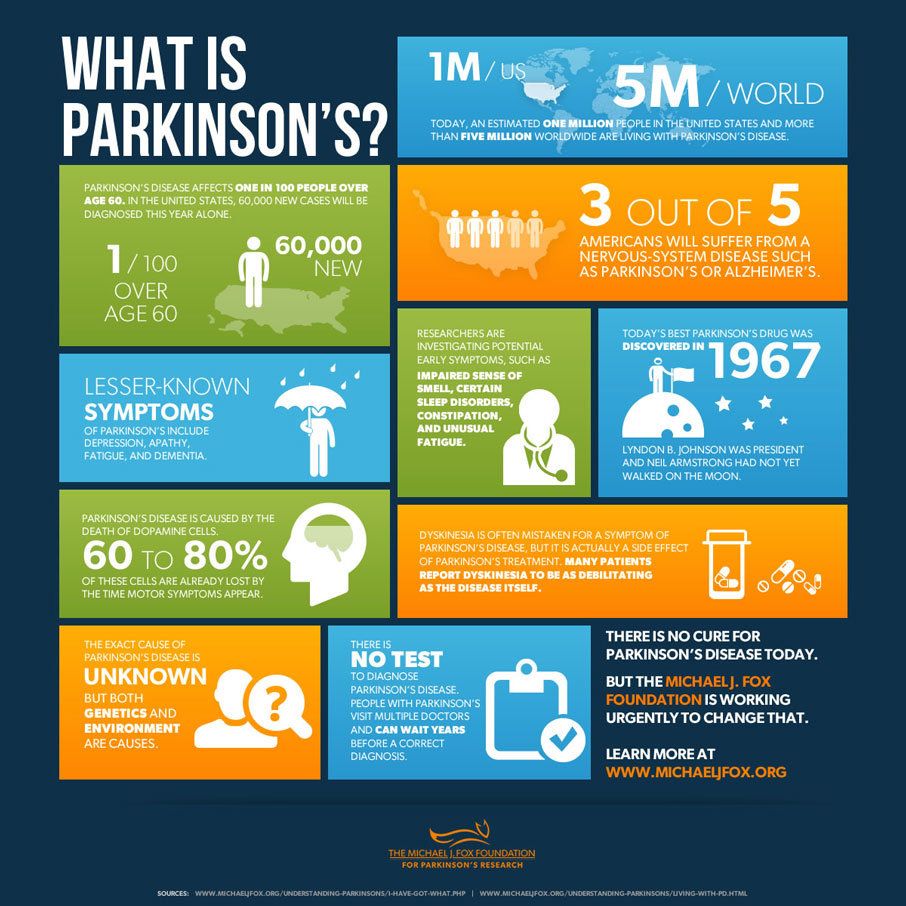 Click here for a larger view. (Credit: The Michael J Fox Foundation)
For a number of years, studies focused pretty much exclusively on the brain as the central cause of Parkinson's. Specifically, scientists focused on the loss of neurons producing dopamine, a molecule involved in movement as well as some other functions. That evolved into a focus on alpha-synuclein, a protein that twists into an odd shape in Parkinson's patients. 
That finding led to a 2003 theory by neuroanatomist Heiko Braak of the University of Ulm in Germany. He and his fellow researchers were led back to the original idea, by Dr. Parkinson himself, that the root cause might be in the gut. 
And that theory, ultimately, was because of the post-mortem study of patients, wherein it was discovered that Lewy bodies, which are clumps of alpha-synuclein, appeared in both the brain and the gastrointestinal nervous system that relates to gut function. 
That's where it gets even more interesting—as yet, it's unsolved just how the Lewy bodies travel to the brain, but there's strong evidence that they travel through the vagus nerve, which is a bundle of fibers connecting the brain stem to the major bodily organs, including the gut. 
"Even if the pathology [of Parkinson's] is very much driven by brain abnormalities, it doesn't mean that the process starts in the brain," says Michael Schlossmacher, a physician at the Ottawa Hospital Research Institute.
Some strong evidence also leads to the concept that intestinal and gut inflammation might be responsible. 
1) Patients with Crohn's disease, also known as ulcerative colitis, are 28 per cent more likely to develop Parkinson's, indicating genetic links to the disorders. 
2) Patients treated with drugs that reduce inflammation—known as tumor necrosis factor inhibitors—caused a 78 per cent drop in neurodegenerative disease.  
The full truth of what actually happens in Parkinson's patients is still being discovered and researched, but these are tantalizing clues. 
Big Think Edge
The meaning of the word 'confidence' seems obvious. But it's not the same as self-esteem.
Confidence isn't just a feeling on your inside. It comes from taking action in the world.
Join Big Think Edge today and learn how to achieve more confidence when and where it really matters.
The team caught a glimpse of a process that takes 18,000,000,000,000,000,000,000 years.
Image source: Pixabay
Surprising Science
In Italy, a team of scientists is using a highly sophisticated detector to hunt for dark matter.
The team observed an ultra-rare particle interaction that reveals the half-life of a xenon-124 atom to be 18 sextillion years.
The half-life of a process is how long it takes for half of the radioactive nuclei present in a sample to decay.
The controversial herbicide is everywhere, apparently.
Surprising Science
U.S. PIRG tested 20 beers and wines, including organics, and found Roundup's active ingredient in almost all of them.
A jury on August 2018 awarded a non-Hodgkin's lymphoma victim $289 million in Roundup damages.
Bayer/Monsanto says Roundup is totally safe. Others disagree.
A scientific look into a ubiquitous phenomenon.
Big think's weekly newsletter.
Get smarter faster from the comfort of your inbox.
See our newsletter privacy policy
here
Most Popular
Most Recent
Big think's weekly newsletter.
Get smarter faster from the comfort of your inbox.
See our newsletter privacy policy
here
© Copyright 2007-2019 & BIG THINK, BIG THINK EDGE,
SMARTER FASTER trademarks owned by The Big Think, Inc. All rights reserved.