NYU School of Medicine: 'Free tuition for all students.'
Citing increasing student debt and the desire to see more family and pediatric physicians, the school might have started a trend.
17 August, 2018
At an average of $55,000 per year in tuition, many students who enter NYU's School of Medicine end up following a career path that takes them into a high-paying specialty to offset their loans of $200,000 to $400,000. 
---
With that in mind, NYU has decided to offer free tuition to students, regardless of need, encouraging them to go into family medicine, pediatrics, and research instead. The announcement came at the end of the White Coat Ceremony, where each student is issued their white coat, symbolizing the beginning of their journey.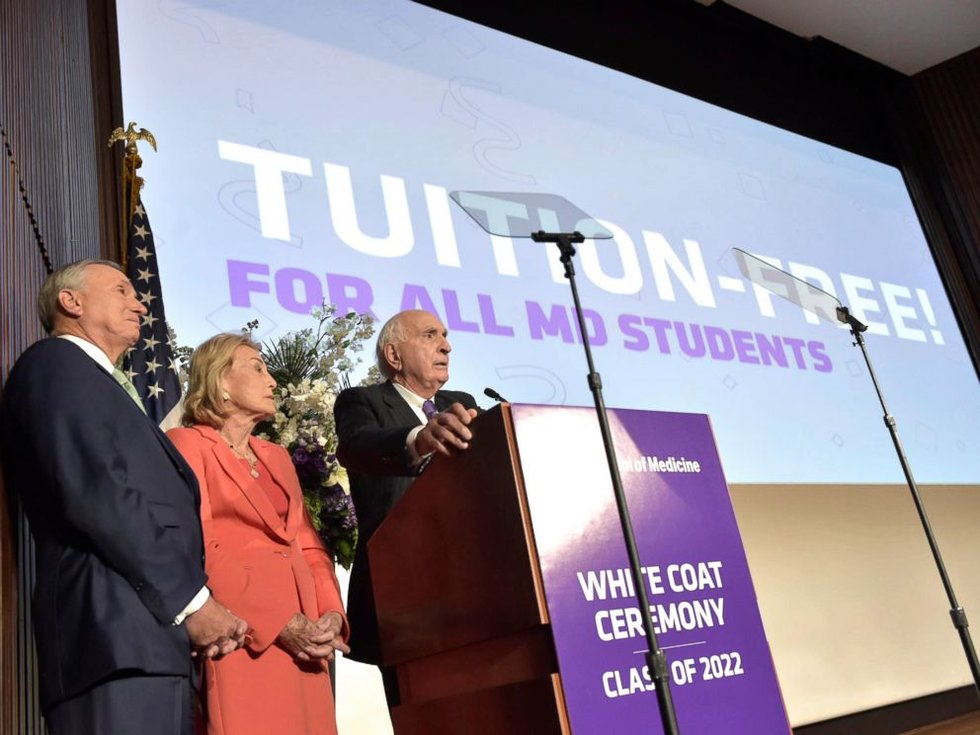 New York University's School of Medicine announces it is offering full-tuition scholarships to all current and future students in its MD degree program, regardless of need or merit, Aug. 16, 2018. Image credit NYU School of Medicine.
"I'm proud to announce that as of right now, every student that we admit to New York University School of Medicine comes tuition-free," Kenneth G. Langone, chair of the board of trustees, declared in a video announcement on Thursday. "And this includes the incoming class and the upperclassmen as well that are here right now—no more tuition. They walk out of here unencumbered, looking at a future where they can do what their passion tells them, which is to help people live better quality lives," he added.
It's possible that other top medical schools will follow suit in order to remain competitive; for now, this will be the only top-ranked medical school that will do so. 
The plan, which will cover the standard tuition of approx. $55,000 per year, will not cover room and board or fees, which average $27,000 per year.  
"This decision recognizes a moral imperative that must be addressed, as institutions place an increasing debt burden on young people who aspire to become physicians," said Robert I. Grossman, dean of the medical school and chief executive officer of NYU Langone Health.
To cover tuition, the university has raised three-quarters of the expected $600 million needed from private donations and grants. 
Three out of four medical students who graduated in 2017 were in debt, usually around $200,000. This can be one factor that ends with medical students committing suicide. Indeed, medical students are three times more likely to commit suicide than the rest of the general population in their age range—and debt can be one of the reasons. 
The NYU announcement comes on the heels of another popular medical school, the Columbia College of Physicians and Surgeons, announcing in December a $250 million fund to pay for tuition for all future medical students.  
New research links urban planning and political polarization.
Pixabay
Politics & Current Affairs
Canadian researchers find that excessive reliance on cars changes political views.
Decades of car-centric urban planning normalized unsustainable lifestyles.
People who prefer personal comfort elect politicians who represent such views.
Progressive America would be half as big, but twice as populated as its conservative twin.
Image: Dicken Schrader
Strange Maps
America's two political tribes have consolidated into 'red' and 'blue' nations, with seemingly irreconcilable differences.
Perhaps the best way to stop the infighting is to go for a divorce and give the two nations a country each
Based on the UN's partition plan for Israel/Palestine, this proposal provides territorial contiguity and sea access to both 'red' and 'blue' America
Science and the squishiness of the human mind. The joys of wearing whatever the hell you want, and so much more.
Flickr / 13winds
Think Again Podcasts
Why can't we have a human-sized cat tree?
What would happen if you got a spoonful of a neutron star?
Why do we insist on dividing our wonderfully complex selves into boring little boxes
Big think's weekly newsletter.
Get smarter faster from the comfort of your inbox.
See our newsletter privacy policy
here
Most Popular
Most Recent
Big think's weekly newsletter.
Get smarter faster from the comfort of your inbox.
See our newsletter privacy policy
here
© Copyright 2007-2018 & BIG THINK, BIG THINK EDGE,
SMARTER FASTER trademarks owned by The Big Think, Inc. All rights reserved.