NYU School of Medicine: 'Free tuition for all students.'
Citing increasing student debt and the desire to see more family and pediatric physicians, the school might have started a trend.
17 August, 2018
At an average of $55,000 per year in tuition, many students who enter NYU's School of Medicine end up following a career path that takes them into a high-paying specialty to offset their loans of $200,000 to $400,000. 
---
With that in mind, NYU has decided to offer free tuition to students, regardless of need, encouraging them to go into family medicine, pediatrics, and research instead. The announcement came at the end of the White Coat Ceremony, where each student is issued their white coat, symbolizing the beginning of their journey.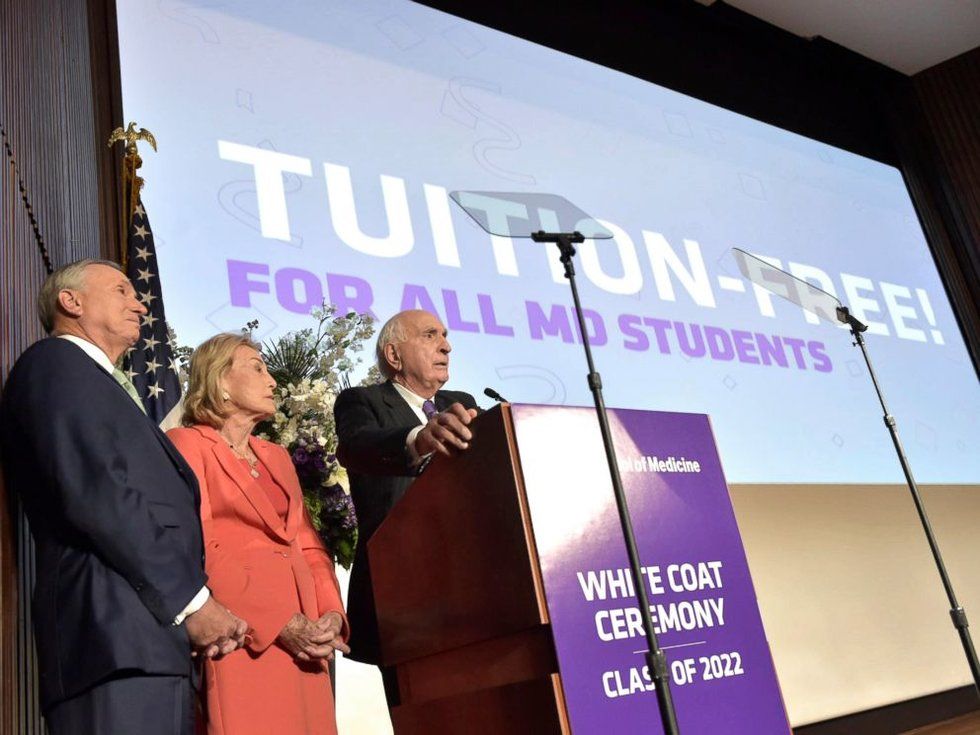 New York University's School of Medicine announces it is offering full-tuition scholarships to all current and future students in its MD degree program, regardless of need or merit, Aug. 16, 2018. Image credit NYU School of Medicine.
"I'm proud to announce that as of right now, every student that we admit to New York University School of Medicine comes tuition-free," Kenneth G. Langone, chair of the board of trustees, declared in a video announcement on Thursday. "And this includes the incoming class and the upperclassmen as well that are here right now—no more tuition. They walk out of here unencumbered, looking at a future where they can do what their passion tells them, which is to help people live better quality lives," he added.
It's possible that other top medical schools will follow suit in order to remain competitive; for now, this will be the only top-ranked medical school that will do so. 
The plan, which will cover the standard tuition of approx. $55,000 per year, will not cover room and board or fees, which average $27,000 per year.  
"This decision recognizes a moral imperative that must be addressed, as institutions place an increasing debt burden on young people who aspire to become physicians," said Robert I. Grossman, dean of the medical school and chief executive officer of NYU Langone Health.
To cover tuition, the university has raised three-quarters of the expected $600 million needed from private donations and grants. 
Three out of four medical students who graduated in 2017 were in debt, usually around $200,000. This can be one factor that ends with medical students committing suicide. Indeed, medical students are three times more likely to commit suicide than the rest of the general population in their age range—and debt can be one of the reasons. 
The NYU announcement comes on the heels of another popular medical school, the Columbia College of Physicians and Surgeons, announcing in December a $250 million fund to pay for tuition for all future medical students.  
Research in plant neurobiology shows that plants have senses, intelligence and emotions.
Getty Images
Surprising Science
The field of plant neurobiology studies the complex behavior of plants.
Plants were found to have 15-20 senses, including many like humans.
Some argue that plants may have awareness and intelligence, while detractors persist.
E-cigarettes may be safer than traditional cigarettes, but they come with their own risks.
Surprising Science
A new study used an MRI machine to examine how vaping e-cigarettes affects users' cardiovascular systems immediately after inhalation.
The results showed that vaping causes impaired circulation, stiffer arteries and less oxygen in their blood.
The new study adds to a growing body of research showing that e-cigarettes – while likely safer than traditional cigarettes – are far from harmless.
Since the idea of locality is dead, space itself may not be an aloof vacuum: Something welds things together, even at great distances.

Videos
Realists believe that there is an exactly understandable way the world is — one that describes processes independent of our intervention. Anti-realists, however, believe realism is too ambitious — too hard. They believe we pragmatically describe our interactions with nature — not truths that are independent of us.
In nature, properties of Particle B may be depend on what we choose to measure or manipulate with Particle A, even at great distances.
In quantum mechanics, there is no explanation for this. "It just comes out that way," says Smolin. Realists struggle with this because it would imply certain things can travel faster than light, which still seems improbable.