Stephen Hawking's final theory, written just before he died, was released today
Stephen Hawking's final paper is all about the multiverse, quantum relativity, string theory, relativity and more.
02 May, 2018
---
We've covered Stephen Hawking's final theory before, relating to the multiverse and the dazzling postulate that there were infinite Big Bangs, one right after the other, and that we exist in a slowed-down universe which allowed for solar systems, stars, and galaxies to form.  
Hawking's theory, co-authored with physicist Thomas Hertog of KU Leuven University in Belgium, posits that we can obtain quantifiable data that must be collected via space probe in order to be proven correct.
Says Hertog, "We wanted to transform the idea of a multiverse into a testable scientific framework."
And that is what the paper is based on: Quantifying the background radiation from the beginning of time, which—if their theory is correct—should be measurable. 
Basically, the theory holds that after the Big Bang, the universe expanded in what's known as exponential inflation but some "bubbles" of that space stopped inflating or slowed down enough for stars and galaxies to form. 
"The usual theory of eternal inflation predicts that globally our universe is like an infinite fractal, with a mosaic of different pocket universes, separated by an inflating ocean," Hawking explained.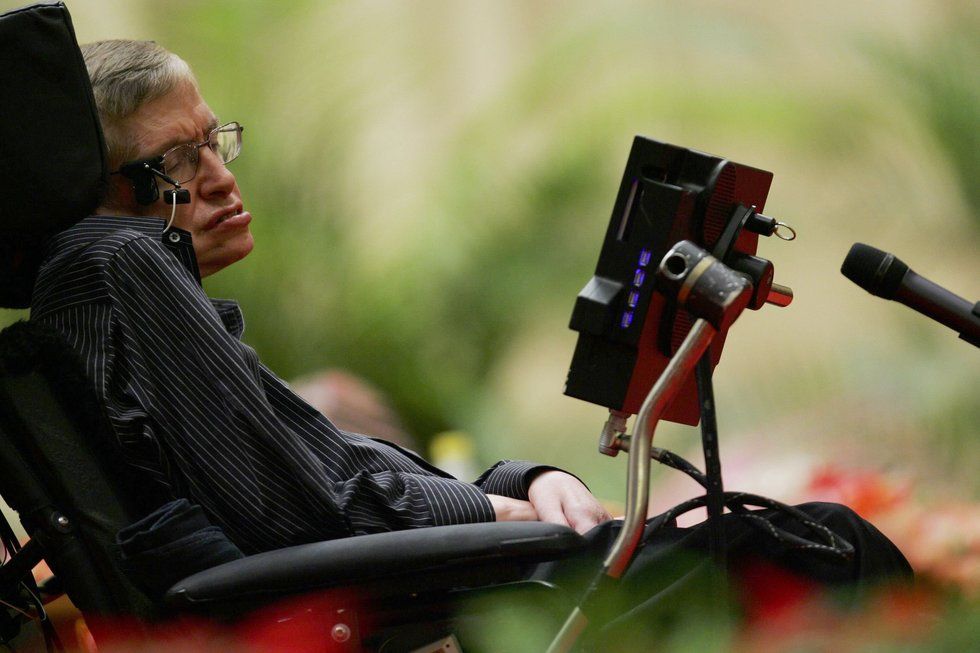 BEIJING - JUNE 19: (CHINA OUT) British scientist Stephen Hawking, delivers a lecture entitled 'The Origin of the Universe' at the Great Hall of the People June 19, 2006 in Beijing, China.(Photo by China Photos/Getty Images)
"The local laws of physics and chemistry can differ from one pocket universe to another, which together would form a multiverse. But I have never been a fan of the multiverse. If the scale of different universes in the multiverse is large or infinite the theory can't be tested."
If you'd like to take a stab at reading and beginning to comprehend it, have a go at this abstract version. Or the full one is also online. 
And after trying hard to understand all of this, I think I'm going to pop a strong ibuprofen. 
Here's Hertog himself, explaining it as best he can in 22 minutes. 
The Russian-built FEDOR was launched on a mission to help ISS astronauts.
Most people think human extinction would be bad. These people aren't philosophers.
Shutterstock
Politics & Current Affairs
A new opinion piece in The New York Times argues that humanity is so horrible to other forms of life that our extinction wouldn't be all that bad, morally speaking.
The author, Dr. Todd May, is a philosopher who is known for advising the writers of The Good Place.
The idea of human extinction is a big one, with lots of disagreement on its moral value.
Picking up where we left off a year ago, a conversation about the homeostatic imperative as it plays out in everything from bacteria to pharmaceutical companies—and how the marvelous apparatus of the human mind also gets us into all kinds of trouble.
Think Again Podcasts
"Prior to nervous systems: no mind, no consciousness, no intention in the full sense of the term. After nervous systems, gradually we ascend to this possibility of having to this possibility of having minds, having consciousness, and having reasoning that allows us to arrive at some of these very interesting decisions."

"We are fragile culturally and socially…but life is fragile to begin with. All that it takes is a little bit of bad luck in the management of those supports, and you're cooked…you can actually be cooked—with global warming!"