Stephen Hawking's final theory, written just before he died, was released today
Stephen Hawking's final paper is all about the multiverse, quantum relativity, string theory, relativity and more.
02 May, 2018
---
We've covered Stephen Hawking's final theory before, relating to the multiverse and the dazzling postulate that there were infinite Big Bangs, one right after the other, and that we exist in a slowed-down universe which allowed for solar systems, stars, and galaxies to form.  
Hawking's theory, co-authored with physicist Thomas Hertog of KU Leuven University in Belgium, posits that we can obtain quantifiable data that must be collected via space probe in order to be proven correct.
Says Hertog, "We wanted to transform the idea of a multiverse into a testable scientific framework."
And that is what the paper is based on: Quantifying the background radiation from the beginning of time, which—if their theory is correct—should be measurable. 
Basically, the theory holds that after the Big Bang, the universe expanded in what's known as exponential inflation but some "bubbles" of that space stopped inflating or slowed down enough for stars and galaxies to form. 
"The usual theory of eternal inflation predicts that globally our universe is like an infinite fractal, with a mosaic of different pocket universes, separated by an inflating ocean," Hawking explained.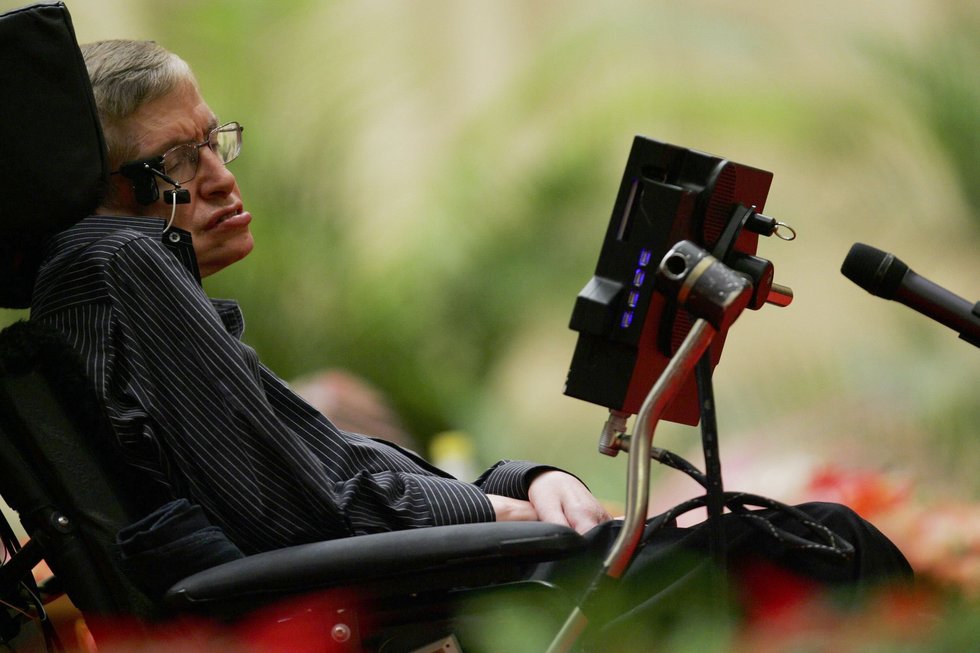 BEIJING - JUNE 19: (CHINA OUT) British scientist Stephen Hawking, delivers a lecture entitled 'The Origin of the Universe' at the Great Hall of the People June 19, 2006 in Beijing, China.(Photo by China Photos/Getty Images)
"The local laws of physics and chemistry can differ from one pocket universe to another, which together would form a multiverse. But I have never been a fan of the multiverse. If the scale of different universes in the multiverse is large or infinite the theory can't be tested."
If you'd like to take a stab at reading and beginning to comprehend it, have a go at this abstract version. Or the full one is also online. 
And after trying hard to understand all of this, I think I'm going to pop a strong ibuprofen. 
Here's Hertog himself, explaining it as best he can in 22 minutes. 
Researchers discover a link between nonverbal synchronization and relationship success.
Pixabay
Sex & Relationships
Scientists say coordinating movements leads to increased intimacy and sexual desire in a couple.
The improved rapport and empathy was also observed in people who didn't know each other.
Non-verbal clues are very important in the development stages of a relationship.
Humans evolved to live in the cold through a number of environmental and genetic factors.
Image source: Wikimedia Commons
Surprising Science
According to some relatively new research, many of our early human cousins preceded Homo sapien migrations north by hundreds of thousands or even millions of years.
Cross-breeding with other ancient hominids gave some subsets of human population the genes to contend and thrive in colder and harsher climates.
Behavioral and dietary changes also helped humans adapt to cold climates.
The comics titan worked for more than half a century to revolutionize and add nuance to the comics industry, and he built a vast community of fans along the way.
(Photo: GABRIEL BOUYS/AFP/Getty Images)
Culture & Religion
Lee died shortly after being rushed to an L.A. hospital. He had been struggling with multiple illnesses over the past year, reports indicate.
Since the 1950s, Lee has been one of the most influential figures in comics, helping to popularize heroes that expressed a level of nuance and self-doubt previously unseen in the industry.
Lee, who's later years were marked by some financial and legal tumult, is survived by his daughter, Joan Celia "J.C." Lee.
Big think's weekly newsletter.
Get smarter faster from the comfort of your inbox.
See our newsletter privacy policy
here
Most Popular
Most Recent
Big think's weekly newsletter.
Get smarter faster from the comfort of your inbox.
See our newsletter privacy policy
here
© Copyright 2007-2018 & BIG THINK, BIG THINK EDGE,
SMARTER FASTER trademarks owned by The Big Think, Inc. All rights reserved.