Scientists study tattooed corpses, find pigment in lymph nodes
It turns out, that tattoo ink can travel throughout your body and settle in lymph nodes.
27 June, 2018
17th August 1973: An American tattoo artist working on a client's shoulder. (Photo by F. Roy Kemp/BIPs/Getty Images)
In the slightly macabre experiment to find out where tattoo ink travels to in the body, French and German researchers recently used synchrotron X-ray fluorescence in four "inked" human cadavers — as well as one without. The results of their 2017 study? Some of the tattoo ink apparently settled in lymph nodes.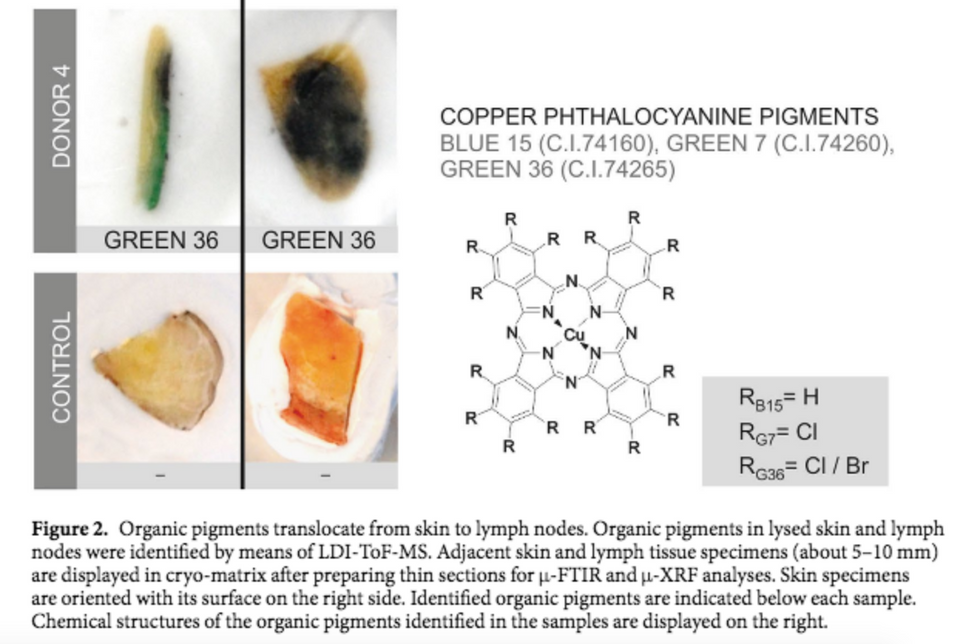 Image from the study.
As the authors explain in the study — they hail from Ludwig Maximilian University of Munich, the European Synchrotron Radiation Facility, and the German Federal Institute for Risk Assessment — it would have been unethical to test this on live animals since those creatures would not be able to give permission to be tattooed.
Because of the prevalence of tattoos these days, the researchers wanted to find out if the ink could be harmful in some way.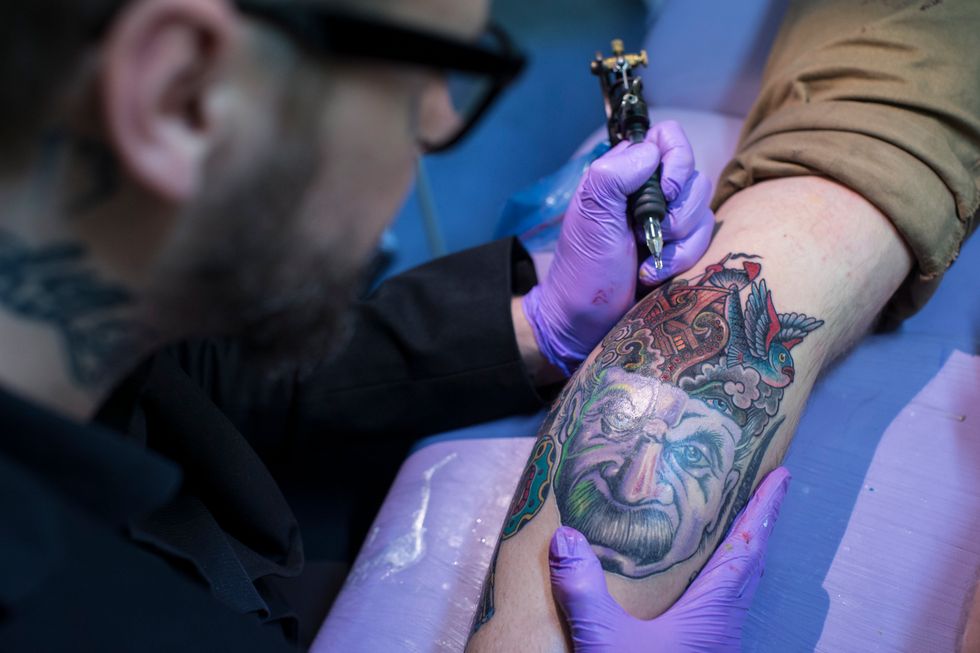 "The increasing prevalence of tattoos provoked safety concerns with respect to particle distribution and effects inside the human body," they write.
It works like this: Since lymph nodes filter lymph, which is the fluid that carries white blood cells throughout the body in an effort to fight infections that are encountered, that is where some of the ink particles collect.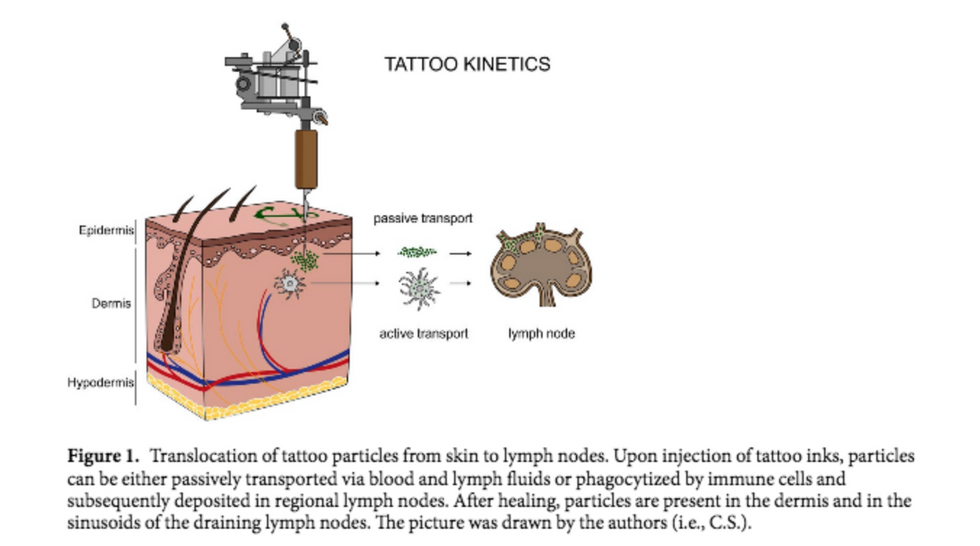 Image by authors of the study.
Titanium dioxide appears to be the thing that travels. It's a white tattoo ink pigment that's mixed with other colors all the time to control shades.
The study's authors will keep working on this in the meantime.
"In future experiments we will also look into the pigment and heavy metal burden of other, more distant internal organs and tissues in order to track any possible bio-distribution of tattoo ink ingredients throughout the body. The outcome of these investigations not only will be helpful in the assessment of the health risks associated with tattooing but also in the judgment of other exposures such as, e.g., the entrance of TiO2 nanoparticles present in cosmetics at the site of damaged skin."
To create wiser adults, add empathy to the school curriculum.
Sponsored by Charles Koch Foundation
Stories are at the heart of learning, writes Cleary Vaughan-Lee, Executive Director for the Global Oneness Project. They have always challenged us to think beyond ourselves, expanding our experience and revealing deep truths.
Vaughan-Lee explains 6 ways that storytelling can foster empathy and deliver powerful learning experiences.
Global Oneness Project is a free library of stories—containing short documentaries, photo essays, and essays—that each contain a companion lesson plan and learning activities for students so they can expand their experience of the world.
Philosophers like to present their works as if everything before it was wrong. Sometimes, they even say they have ended the need for more philosophy. So, what happens when somebody realizes they were mistaken?
Numerous U.S. Presidents invoked the Insurrection Act to to quell race and labor riots.
Photo by Michael Ochs Archives/Getty Images
Politics & Current Affairs
U.S. Presidents have invoked the Insurrection Act on numerous occasions.
The controversial law gives the President some power to bring in troops to police the American people.
The Act has been used mainly to restore order following race and labor riots.
Got any embarrassing old posts collecting dust on your profile? Facebook wants to help you delete them.
Facebook
Technology & Innovation
The feature is called Manage Activity, and it's currently available through mobile and Facebook Lite.
Manage Activity lets users sort old content by filters like date and posts involving specific people.
Some companies now use AI-powered background checking services that scrape social media profiles for problematic content.
Surprising Science
Researchers from Japan add a new wrinkle to a popular theory and set the stage for the formation of monstrous black holes.
Scroll down to load more…