One Of The Most Thoughtful Videos About The Right To Choose That I've Seen Yet
Bill Nye the Science Guy breaks down the abortion "debate" very nicely in just over 4 minutes.
29 March, 2016
---
One of the things that Bill Nye does best is to make passionate arguments in a quiet, rather unassuming way.
While he gets a tiny bit heated a few minutes into this clip, he turns that back around and comes to us from a much more level-headed post of view by the end. 
I know that many abortion debates turn into heat, and vitriol, and daggers from the eyes, but this is one that should at least get people talking.
His point is solid: if you're going to consider a fertilized egg as a human being, then, as happens to the vast majority of fertilized eggs, who will you imprison or sue when it doesn't attach to the womb? It's dangerous territory.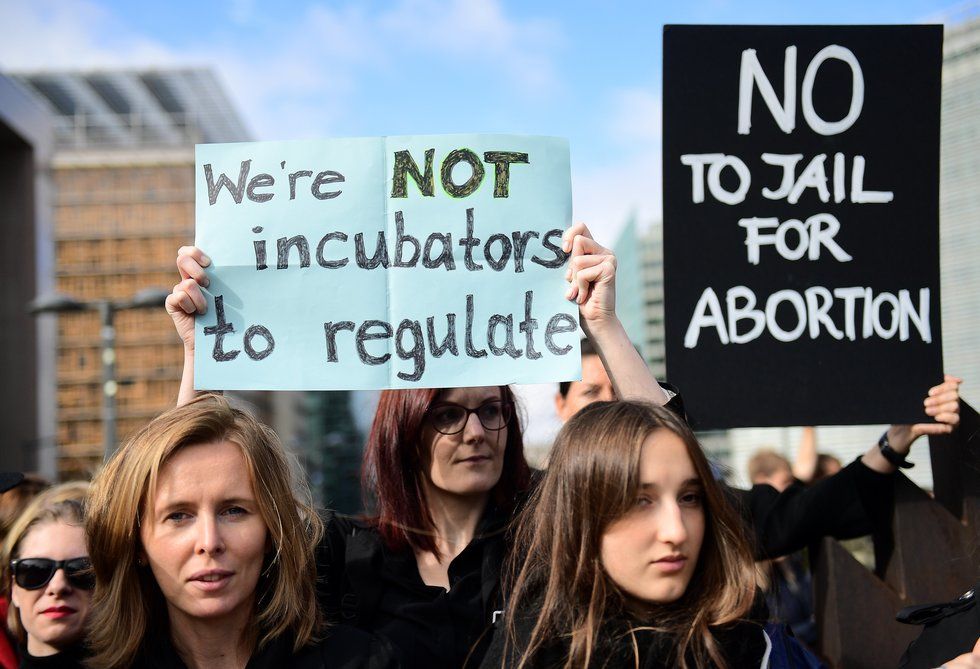 And speaking of laws based on ignorance, despite the Supreme Court ruling on Roe V. Wade in 1973, 11 states have passed legislation basically making abortion illegal or at least nearly impossible to access (and, in one state, making facilities and possibly the women who had the services pay for fetal burial. I'm not kidding).
In addition to the final month of the presidential election, I suspect this conversation will be had many, many times for the foreseeable future. Meanwhile, I'm with Bill — facts and science, please. 
Watch the video here (or read the transcript below).
TRANSCRIPT
Bill Nye: Many, many, many, many more hundreds of eggs are fertilized than become humans. Eggs get fertilized, and by that I mean sperm get accepted by ova a lot. But that's not all you need. You have to attach to the uterine wall, the inside of a womb, a woman's womb. But if you're going to hold that as a standard, that is to say if you're going to say when an egg is fertilized it's therefore has the same rights as an individual, then whom are you going to sue? Whom are you going to imprison? Every woman who's had a fertilized egg pass through her? Every guy who's sperm has fertilized an egg and then it didn't become a human? Have all these people failed you? It's just a reflection of a deep scientific lack of understanding and you literally or apparently literally don't know what you're talking about. And so when it comes to women's rights with respect to their reproduction, I think you should leave it to women. This is really — you cannot help but notice. I'm not the first guy to observe this: You have a lot of men of European descent passing these extraordinary laws based on ignorance. Sorry you guys. I know it was written or your interpretation of a book written 5,000 years ago, 50 centuries ago, makes you think that when a man and a woman have sexual intercourse they always have a baby. That's wrong and so to pass laws based on that belief is inconsistent with nature. I mean it's hard not to get frustrated with this everybody. And I know nobody likes abortion, okay. But you can't tell somebody what to do. I mean she has rights over this, especially if she doesn't like the guy that got her pregnant. She doesn't want anything to do with your genes; get over it, especially if she were raped and all this. So it's very frustrating on the outside, on the other side. We have so many more important things to be dealing with. We have so many more problems to squander resources on this argument based on bad science, on just lack of understanding.
It's very frustrating. You wouldn't know how big a human egg was if it weren't for microscopes, if it weren't for scientists, medical researchers looking diligently. You wouldn't know the process. You wouldn't have that shot, the famous shot or shots where the sperm are bumping up against the egg. You wouldn't have that without science. So then to claim that you know the next step when you obviously don't is trouble. Let me do that again. Let me just pull back. At some point we have to respect the facts. Recommending or insisting on abstinence has been completely ineffective. Just being objective here. Closing abortion clinics. Closing, not giving women access to birth control has not been an effective way to lead to healthier societies. I mean I think we all know that. And I understand that you have deeply held beliefs and it really is ultimately out of respect for people, in this case your perception of unborn people. I understand that. But I really encourage you to look at the facts. And I know people are now critical of the expression fact-based but what's wrong with that? So I just really encourage you to not tell women what to do and not pursue these laws that really are in nobody's best interest. Just really be objective about this. We have other problems to solve everybody. Come on. Come on. Let's work together.
What can 3D printing do for medicine? The "sky is the limit," says Northwell Health researcher Dr. Todd Goldstein.
Northwell Health
Sponsored by Northwell Health
Medical professionals are currently using 3D printers to create prosthetics and patient-specific organ models that doctors can use to prepare for surgery.
Eventually, scientists hope to print patient-specific organs that can be transplanted safely into the human body.
Northwell Health, New York State's largest health care provider, is pioneering 3D printing in medicine in three key ways.
The periodic table was a lot simpler at the beginning of the universe.
Great ideas in philosophy often come in dense packages. Then there is where the work of Marcus Aurelius.
(Getty Images)
Personal Growth
Meditations is a collection of the philosophical ideas of the Roman Emperor Marcus Aurelius.
Written as a series of notes to himself, the book is much more readable than the dry philosophy most people are used to.
The advice he gave to himself 2,000 years ago is increasingly applicable in our hectic, stressed-out lives.
Can dirt help us fight off stress? Groundbreaking new research shows how.
University of Colorado Boulder
Surprising Science
New research identifies a bacterium that helps block anxiety.
Scientists say this can lead to drugs for first responders and soldiers, preventing PTSD and other mental issues.
The finding builds on the hygiene hypothesis, first proposed in 1989.
Are modern societies trying too hard to be clean, at the detriment to public health? Scientists discovered that a microorganism living in dirt can actually be good for us, potentially helping the body to fight off stress. Harnessing its powers can lead to a "stress vaccine".
Researchers at the University of Colorado Boulder found that the fatty 10(Z)-hexadecenoic acid from the soil-residing bacterium Mycobacterium vaccae aids immune cells in blocking pathways that increase inflammation and the ability to combat stress.
The study's senior author and Integrative Physiology Professor Christopher Lowry described this fat as "one of the main ingredients" in the "special sauce" that causes the beneficial effects of the bacterium.
The finding goes hand in hand with the "hygiene hypothesis," initially proposed in 1989 by the British scientist David Strachan. He maintained that our generally sterile modern world prevents children from being exposed to certain microorganisms, resulting in compromised immune systems and greater incidences of asthma and allergies.
Contemporary research fine-tuned the hypothesis, finding that not interacting with so-called "old friends" or helpful microbes in the soil and the environment, rather than the ones that cause illnesses, is what's detrimental. In particular, our mental health could be at stake.
"The idea is that as humans have moved away from farms and an agricultural or hunter-gatherer existence into cities, we have lost contact with organisms that served to regulate our immune system and suppress inappropriate inflammation," explained Lowry. "That has put us at higher risk for inflammatory disease and stress-related psychiatric disorders."
University of Colorado Boulder
Christopher Lowry
This is not the first study on the subject from Lowry, who published previous work showing the connection between being exposed to healthy bacteria and mental health. He found that being raised with animals and dust in a rural environment helps children develop more stress-proof immune systems. Such kids were also likely to be less at risk for mental illnesses than people living in the city without pets.
Lowry's other work also pointed out that the soil-based bacterium Mycobacterium vaccae acts like an antidepressant when injected into rodents. It alters their behavior and has lasting anti-inflammatory effects on the brain, according to the press release from the University of Colorado Boulder. Prolonged inflammation can lead to such stress-related disorders as PTSD.
The new study from Lowry and his team identified why that worked by pinpointing the specific fatty acid responsible. They showed that when the 10(Z)-hexadecenoic acid gets into cells, it works like a lock, attaching itself to the peroxisome proliferator-activated receptor (PPAR). This allows it to block a number of key pathways responsible for inflammation. Pre-treating the cells with the acid (or lipid) made them withstand inflammation better.
Lowry thinks this understanding can lead to creating a "stress vaccine" that can be given to people in high-stress jobs, like first responders or soldiers. The vaccine can prevent the psychological effects of stress.
What's more, this friendly bacterium is not the only potentially helpful organism we can find in soil.
"This is just one strain of one species of one type of bacterium that is found in the soil but there are millions of other strains in soils," said Lowry. "We are just beginning to see the tip of the iceberg in terms of identifying the mechanisms through which they have evolved to keep us healthy. It should inspire awe in all of us."
Check out the study published in the journal Psychopharmacology.
Big think's weekly newsletter.
Get smarter faster from the comfort of your inbox.
See our newsletter privacy policy
here
Most Popular
Most Recent
Big think's weekly newsletter.
Get smarter faster from the comfort of your inbox.
See our newsletter privacy policy
here
© Copyright 2007-2019 & BIG THINK, BIG THINK EDGE,
SMARTER FASTER trademarks owned by The Big Think, Inc. All rights reserved.