Neil deGrasse Tyson's new book explores the symbiotic relationship between science and the military
In a new book co-authored with Avis Lang, Neil deGrasse Tyson explores the morally complicated, symbiotic relationship between science and the military.
12 September, 2018
As an astrophysicist, and as a human being, Neil deGrasse Tyson says in his new book, Accessory to War: The Unspoken Alliance Between Astrophysics and the Military, that he was shocked and very upset to learn, while at a conference on space travel as the second Gulf War broke out, that people were actually cheering for the missiles created by defense contractors.
---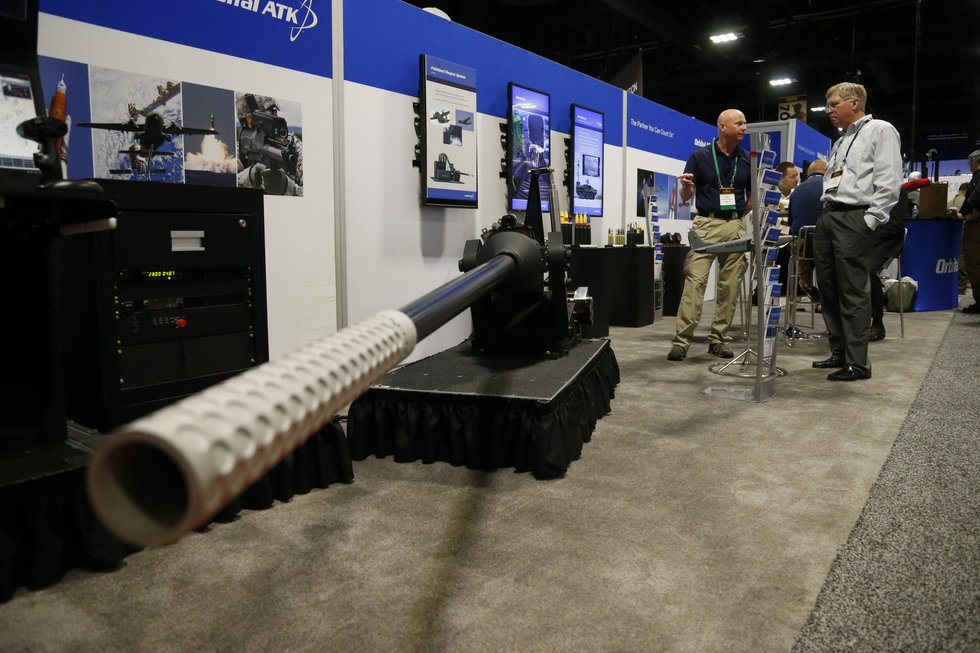 Attendees inspect the latest military technology and gear during the Special Operations Forces Industry Conference (SOFIC) on May 23, 2018 in Tampa, Florida. (Photo by Brian Blanco/Getty Images)
"It was just odd; I was at a conference, a space conference, when the second Gulf War was ramping up big time. At that space conference were all these contractors that make the missiles, the weapons, the bombs and they of course broke into many of the sessions to bring the live coverage, the live TV coverage, and every time it was announced that this was a Lockheed Martin missile or a Boeing missile or General Dynamics, that group would applaud and cheer. It was like, people are dying in this. I got very upset," Tyson told CBS This Morning on Friday. (Video is below).
It's a key concept explored in the book, co-authored by researcher Avis Lang. And, interestingly, the book details the ways in which science and the military have a yin-yang relationship that is also codependent on each other, no matter how upsetting. The military frequently depends on science to wage war, and science frequently depends on the military to fund and develop scientific discoveries.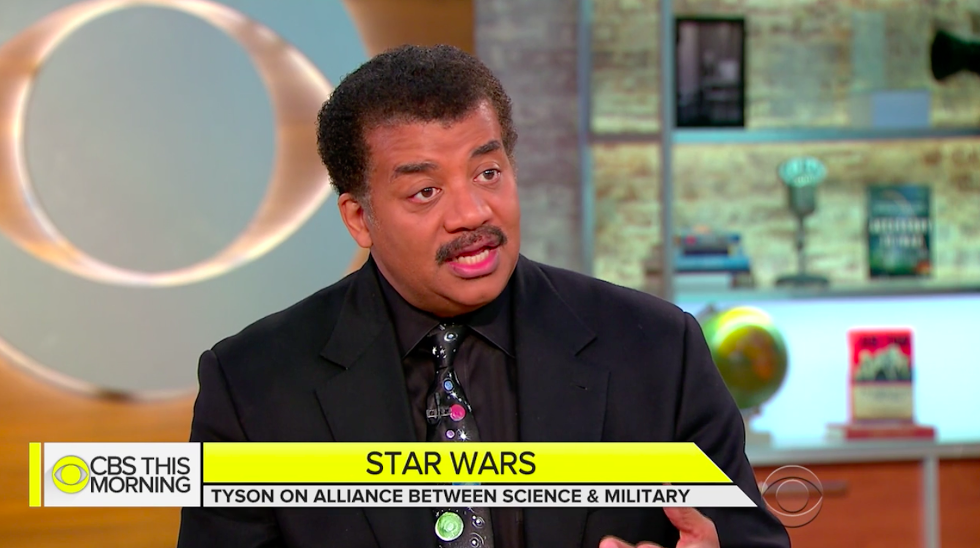 Image captured from CBS This Morning interview, 9/7/18
He's quick to avoid jumping into the "Space Force" political minefield that was launched recently, however. "I don't have a horse in that race," he replied to a question on that. Ever practical, he understands the connection between military-funded ideas and the civilian technologies and capabilities that they facilitate.
"Space assets are not just the value of the satellites that were constructed, it's the value of the commerce that they enabled. GPS satellites were a military construct."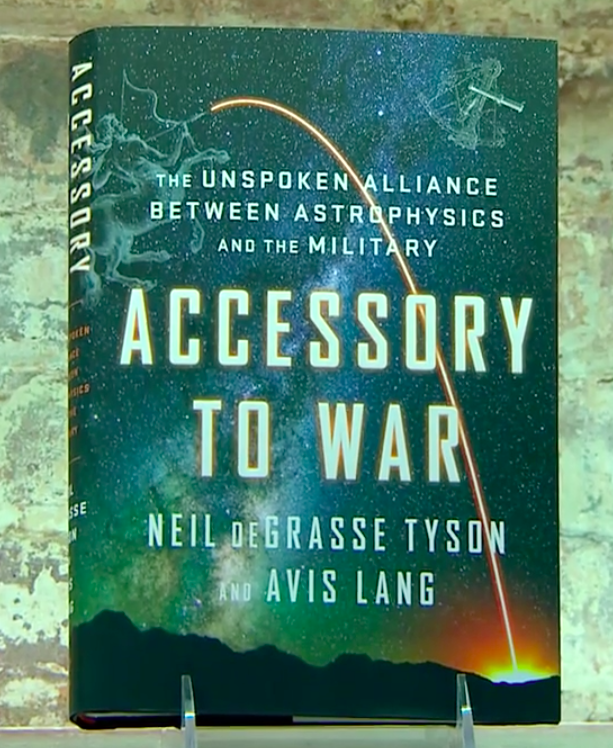 Book cover, "Accessory To War: The Unspoken Alliance Between Astrophysics and the Military"
"This relationship goes long and it goes deep," he said in an interview with Salon.com.
Indeed, in the Salon interview, Tyson references Einstein's relationship with the A-bomb; the inventor of E=MC2 had his own internal conflict on using science to wage war, but he knew if Hitler succeeded in developing it first, he would use it on huge numbers of people. Still, after Hiroshima, Einstein stated, "Woe is me" and publicly said that had he known Hitler would be unsuccessful in making the bomb, he wouldn't have encouraged it.
It's a bit of a dilemma, for sure. Here, he explains it in more detail.
Antimicrobial resistance is growing worldwide, rendering many "work horse" medicines ineffective. Without intervention, drug-resistant pathogens could lead to millions of deaths by 2050. Thankfully, companies like Pfizer are taking action.
Image courtesy of Pfizer.
Antimicrobial-resistant pathogens are one of the largest threats to global health today.
As we get older, our immune systems age, increasing our risk of life threatening infections. Without reliable antibiotics, life expectancy could decline for the first time in modern history.
If antibiotics become ineffective, common infections could result in hospitalization or even death. Life-saving interventions like cancer treatments and organ transplantation would become more difficult, more often resulting in death. Routine procedures would become hard to perform.
Without intervention, resistant pathogens could result in 10 million annual deaths by 2050.
By taking a multi-faceted approach—inclusive of adherence to good stewardship, surveillance and responsible manufacturing practices, as well as an emphasis on prevention and treatment—companies like Pfizer are fighting to help curb the spread.
Sponsored
Entrepreneur and author Andrew Horn shares his rules for becoming an assured conversationalist.
content.jwplatform.com
Videos
To avoid basing action on external validation, you need to find your "authentic voice" and use it.
Finding your voice requires asking the right questions of yourself.
There are 3-5 questions that you would generally want to ask people you are talking to.
Sarco assisted suicide pods come in three different styles, and allow you to die quickly and painlessly. They're even quite beautiful to look at.
The Sarco assisted suicide pod
Technology & Innovation
Death: it happens to everyone (except, apparently, Keanu Reeves). But while the impoverished and lower-class people of the world die in the same ol' ways—cancer, heart disease, and so forth—the upper classes can choose hip and cool new ways to die. Now, there's an assisted-suicide pod so chic and so stylin' that peeps (young people still say peeps, right?) are calling it the "Tesla" of death... it's called... the Sarco! 
Swiss researchers identify new dangers of modern cocaine.
Getty Images
Mind & Brain
Cocaine cut with anti-worming adulterant levamisole may cause brain damage.
Levamisole can thin out the prefrontal cortex and affect cognitive skills.
Government health programs should encourage testing of cocaine for purity.
Big think's weekly newsletter.
Get smarter faster from the comfort of your inbox.
See our newsletter privacy policy
here
Most Popular
Most Recent
Big think's weekly newsletter.
Get smarter faster from the comfort of your inbox.
See our newsletter privacy policy
here
© Copyright 2007-2018 & BIG THINK, BIG THINK EDGE,
SMARTER FASTER trademarks owned by The Big Think, Inc. All rights reserved.