How NASA's ICESat-2 will track ice changes in Antarctica, Greenland
Using advanced laser technology, scientists at NASA will track global changes in ice with greater accuracy.
14 September, 2018
Leaving from Vandenberg Air Force base in California this coming Saturday, at 8:46 a.m. ET, the Ice, Cloud, and Land Elevation Satellite-2 — or, the "ICESat-2" — is perched atop a United Launch Alliance Delta II rocket, and when it assumes its orbit, it will study ice layers at Earth's poles, using its only payload, the Advance Topographic Laser Altimeter System (ATLAS).
---
The device will fire one laser split into six green beams, at 10,000 pulses each second. These pulses of light contain trillions of photons; just about a dozen will make it back to the satellite, but of those that do, it will measure how long it took for them to return to the satellite after bouncing off of ice, landscape, trees, etc.
These measurements will be taken every 28 inches (71 cm), which will return an incredible amount of data as it studies the world. For example, it will be able to track ice changes annually in the Antarctic and Greenland ice sheets, within 4 mm (0.16 inches).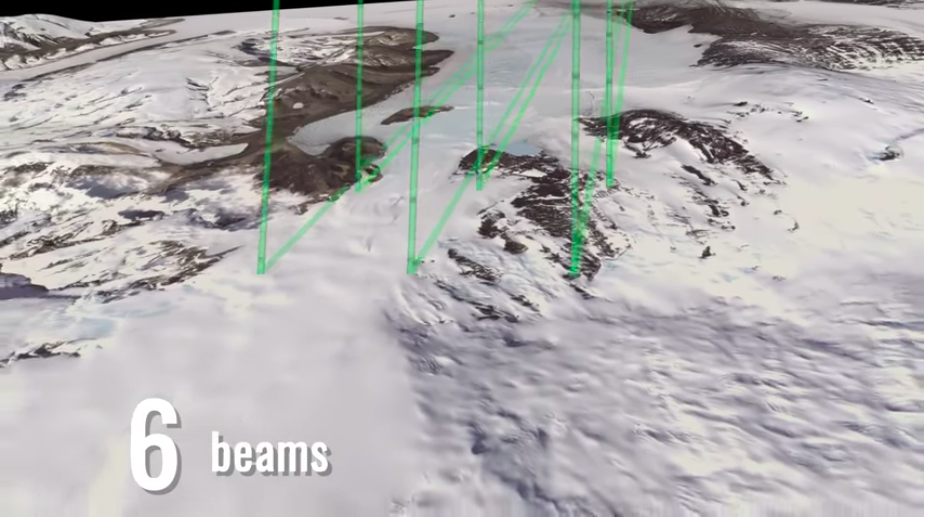 Image from NASA/Goddard video
The overarching goal here is to measure ice levels as they ebb and flow, especially at Earth's coldest regions. That will then provide unprecedented data for those studying climate change and its impact across the world. The first iteration, ICESat-I, used a single laser, the Geoscience Laser Altimeter System, and it fired them at 40 pulses per second — 250 times slower than the new model. Data from a follow-up study using aircraft, known as IceBridge, as well as that from ICESat-I, will be used as comparisons to what ICESat-2 gathers.
Indeed, the accuracy is the thing that's really powerful here. A press release about ICESat-2 gave a good indication of how much more precise this one is than its predeccesor:
As a comparison, if the two instruments [ICESat-I and II] took measurements over a football field, GLAS would have collected data points outside the two end zones, but ICESat-2's ATLAS would take measurements between each yard line.

As to the technology involved, even some of the people who worked on it are shocked at its capability; Thorsten Markus, the mission's project scientist at NASA's Goddard Space Flight Center, declared: "I'm a physicist, and I'm still shocked it works."
Here are 10 quick facts about this mission that explain it quite well:
NASA astronomer Michelle Thaller is coming back to Big Think to answer YOUR questions! Here's all you need to know to submit your science-related inquiries.
Videos
Big Think's amazing audience has responded so well to our videos from NASA astronomer and Assistant Director for Science Communication Michelle Thaller that we couldn't wait to bring her back for more!

And this time, she's ready to tackle any questions you're willing to throw at her, like, "How big is the Universe?", "Am I really made of stars?" or, "How long until Elon Musk starts a colony on Mars?"
All you have to do is submit your questions to the form below, and we'll use them for an upcoming Q+A session with Michelle. You know what to do, Big Thinkers!
Lumina Foundation is partnering with Big Think to unearth the next large-scale, rapid innovation in post-high school education. Enter the competition here!
If you have a strong imagination, this won't help you with academic study.
Mind & Brain
Imagination is sometimes claimed to be a uniquely human ability, and it has long intrigued psychologists. "Nevertheless, our understanding of the benefits and risks that individual differences in imagination hold for psychological outcomes is currently limited," note two researchers who have created a new psychometric test – the Imaginative Behaviour Engagement Scale (IBES) – for measuring how much imagination a person has, and then used it to investigate whether, as some earlier work hinted, having a stronger imagination might aid learning and creativity.
An Ivy League education without the Ivy League price tag. 
A recent graduate, wondering how he can easily continue his education at home for free.
Technology & Innovation
We recently published an article outlining how you can take Yale University courses for free. Given the response to that article, we have decided to show you more classes that you can access at no cost. Just like last time, a certificate of completion is available for all of these classes for a fee, if you want to prove that you have bettered yourself this way. 

So, here are 8 Harvard University courses you can take right now, for free.

Introduction to Computer Science
Knowing how to code is a vital skill in in today's digital world. This entry level course teaches the basics of computational thinking, programming problem solving, data structures, and web development, among other things. It will leave the learner able to code in several languages including C, Python, and Java.

The class is self-paced, and consists of a time investment of 10-20 hours to finish nine problem sets and a final project, which is done online. This class will help you learn several of the five programming languages that Bjarne Stroustrup, inventor of C++, says you should learn in his Big Think interview.
An emphasis on personal responsibility might explain why conservatives tend to be in better physical health than liberals.
Pixabay
Personal Growth
A growing body of research suggests there's some relationship between our measurable personality traits and our political beliefs.
A recent study examined the relationship between political beliefs, personal responsibility and overall health.
The results suggest that an emphasis on responsibility might explain health differences between liberals and conservatives.
Big think's weekly newsletter.
Get smarter faster from the comfort of your inbox.
See our newsletter privacy policy
here
Most Popular
Most Recent
Big think's weekly newsletter.
Get smarter faster from the comfort of your inbox.
See our newsletter privacy policy
here
© Copyright 2007-2018 & BIG THINK, BIG THINK EDGE,
SMARTER FASTER trademarks owned by The Big Think, Inc. All rights reserved.