How NASA's ICESat-2 will track ice changes in Antarctica, Greenland
Using advanced laser technology, scientists at NASA will track global changes in ice with greater accuracy.
14 September, 2018
Leaving from Vandenberg Air Force base in California this coming Saturday, at 8:46 a.m. ET, the Ice, Cloud, and Land Elevation Satellite-2 — or, the "ICESat-2" — is perched atop a United Launch Alliance Delta II rocket, and when it assumes its orbit, it will study ice layers at Earth's poles, using its only payload, the Advance Topographic Laser Altimeter System (ATLAS).
---
The device will fire one laser split into six green beams, at 10,000 pulses each second. These pulses of light contain trillions of photons; just about a dozen will make it back to the satellite, but of those that do, it will measure how long it took for them to return to the satellite after bouncing off of ice, landscape, trees, etc.
These measurements will be taken every 28 inches (71 cm), which will return an incredible amount of data as it studies the world. For example, it will be able to track ice changes annually in the Antarctic and Greenland ice sheets, within 4 mm (0.16 inches).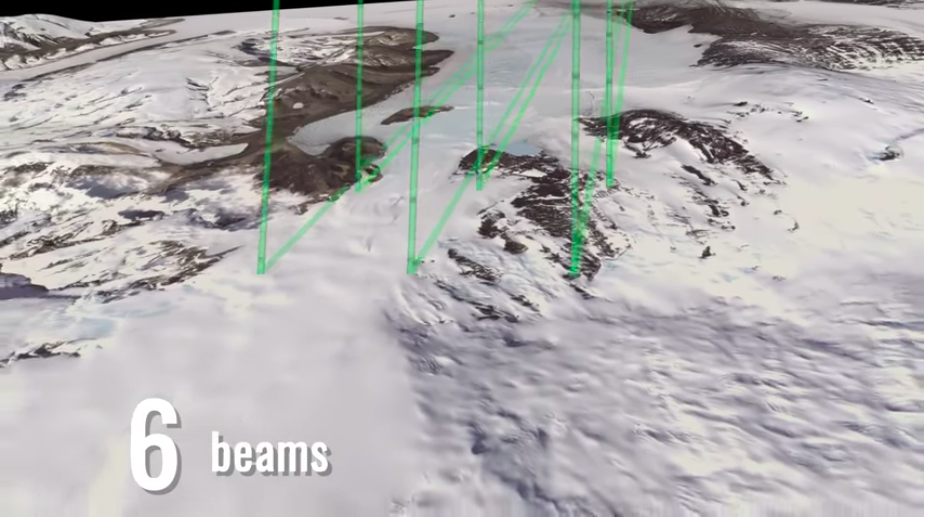 Image from NASA/Goddard video
The overarching goal here is to measure ice levels as they ebb and flow, especially at Earth's coldest regions. That will then provide unprecedented data for those studying climate change and its impact across the world. The first iteration, ICESat-I, used a single laser, the Geoscience Laser Altimeter System, and it fired them at 40 pulses per second — 250 times slower than the new model. Data from a follow-up study using aircraft, known as IceBridge, as well as that from ICESat-I, will be used as comparisons to what ICESat-2 gathers.
Indeed, the accuracy is the thing that's really powerful here. A press release about ICESat-2 gave a good indication of how much more precise this one is than its predeccesor:
As a comparison, if the two instruments [ICESat-I and II] took measurements over a football field, GLAS would have collected data points outside the two end zones, but ICESat-2's ATLAS would take measurements between each yard line.

As to the technology involved, even some of the people who worked on it are shocked at its capability; Thorsten Markus, the mission's project scientist at NASA's Goddard Space Flight Center, declared: "I'm a physicist, and I'm still shocked it works."
Here are 10 quick facts about this mission that explain it quite well:
Pfizer's partnerships strengthen their ability to deliver vaccines in developing countries.
Susan Silbermann, Global President of Pfizer Vaccines, looks on as a health care worker administers a vaccine in Rwanda. Photo: Courtesy of Pfizer.
Sponsored
Community healthcare workers face many challenges in their work, including often traveling far distances to see their clients
Pfizer is helping to drive the UN's sustainable development goals through partnerships.
Pfizer partnered with AMP and the World Health Organization to develop a training program for healthcare workers.
The stories we tell define history. So who gets the mic in America?
Videos
History is written by lions. But it's also recorded by lambs.
In order to understand American history, we need to look at the events of the past as more prismatic than the narrative given to us in high school textbooks.
Including different voices can paint a more full and vibrant portrait of America. Which is why more walks of American life can and should be storytellers.

There is no doubt that the historical Jesus, the man who was executed by the Roman State in the first century CE, was a brown-skinned, Middle Eastern Jew.
Hans Zatzka (Public Domain)/The Conversation, CC BY-ND
popular
I grew up in a Christian home, where a photo of Jesus hung on my bedroom wall. I still have it. It is schmaltzy and rather tacky in that 1970s kind of way, but as a little girl I loved it. In this picture, Jesus looks kind and gentle, he gazes down at me lovingly. He is also light-haired, blue-eyed, and very white.
The controversy around the Torah codes gets a new life.
Michael Drosnin
Surprising Science
Mathematicians claim to see a predictive pattern in the ancient Torah texts.
The code is revealed by a method found with special computer software.
Some events described by reading the code took place after the code was written.
Big think's weekly newsletter.
Get smarter faster from the comfort of your inbox.
See our newsletter privacy policy
here
Most Popular
Most Recent
Big think's weekly newsletter.
Get smarter faster from the comfort of your inbox.
See our newsletter privacy policy
here
© Copyright 2007-2018 & BIG THINK, BIG THINK EDGE,
SMARTER FASTER trademarks owned by The Big Think, Inc. All rights reserved.