Electrical brain stimulation can reduce violent impulses by more than 50%
In a fascinating and somewhat unexpected result, mild electrical stimulation of the prefrontal cortex part of the brain can reduce violent urges and even raise moral awareness.
03 July, 2018
In potentially groundbreaking research, the Journal of Neuroscience published today the results of research at the University of Pennsylvania and the Nanyang Technological University (NTU) in Singapore showing a possible breakthrough in humans who are likely to violently assault others. It also improves what the researchers refer to as "moral awareness"—that is, the ability to decide if an act is morally reprehensible.
---
The methodology? In a double-blind experiment, they enlisted 86 healthy adults and performed 20 minutes of brain stimulation in the prefrontal cortex on half of them. Then, they asked the group to read two hypothetical scenarios: One involved a violent physical assault (one man smashed a bottle over another's head for hitting on his girlfriend), and the other, a sexual assault (an evening involving intimate foreplay that leads to date rape).
Immediately afterward, the participants were asked if they might behave as the protagonist did in the stories, on a rating scale.
In those who had the transcranial direct current stimulation, the likelihood of carrying out the physical and sexual assaults was 47% and 70% lower respectively than those who did not.
Transcranial direct current stimulation, or tDCS, is a 2 milliAmp current to the prefrontal cortex of the brain, which in this case lasted for 20 minutes.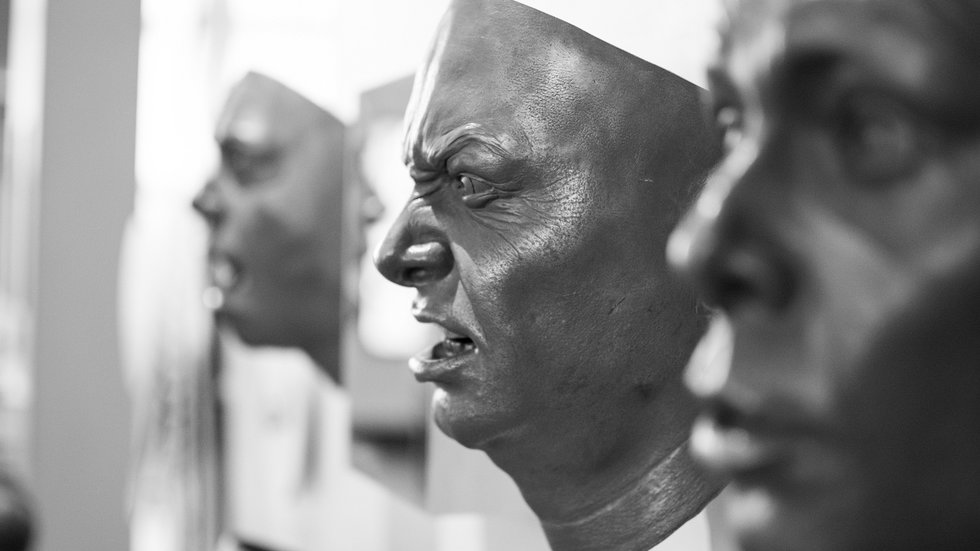 (Credit: Patrik Nygren via Flickr)
"When most people think of crime they think bad neighborhoods, poverty, discrimination, and those are all correct," said study co-author Adrian Raine of the University of Pennsylvania. "But we also believe that there's a biological contribution to crime which has been seriously neglected in the past. What this shows is that there could be a new, different approach to try and reduce crime and violence in society."
"Much of the focus in understanding causes of crime has been on social causation," said co-author Adrian Raine in a statement. "That's important, but research from brain imaging and genetics has also shown that half of the variance in violence can be chalked up to biological factors. We're trying to find benign biological interventions that society will accept, and transcranial direct-current stimulation is minimal risk. This isn't a frontal lobotomy."
It's also not the same—nor nearly as harsh—as electroconvulsive therapy, a.k.a. electroshock therapy. 
The study authors cautioned that these are early findings, and more research will be done and the results will have to be replicated. 
Still, this is very promising. 
Sharon Salzberg, world-renowned mindfulness leader, teaches meditation at Big Think Edge.
Image: Big Think
Big Think Edge
Try meditation for the first time with this guided lesson or, if you already practice, enjoy being guided by a world-renowned meditation expert.
Sharon Salzberg teaches mindfulness meditation for Big Think Edge.

Subscribe to Big Think Edge before we launch on March 30 to get 20% off monthly and annual memberships.
The navigation tool has placed a school in the sea, among other things.
Strange Maps
Google has apologized for the sudden instability of its maps in Japan.
Errors may stem from Google's long-time map data provider Zenrin – or from the cancellation of its contract.
Speculation on the latter option caused Zenrin shares to drop 16% last Friday.
They didn't know it, but the rituals of Iron Age Scandinavians turned their iron into steel.
Shutterstock
Culture & Religion
Iron Age Scandinavians only had access to poor quality iron, which put them at a tactical disadvantage against their neighbors.
To strengthen their swords, smiths used the bones of their dead ancestors and animals, hoping to transfer the spirit into their blades.
They couldn't have known that in so doing, they actually were forging a rudimentary form of steel.
A new computer model solves a pair of Jovian riddles.
(NASA/JPL-Caltech/SwRI/MSSS/Kevin M. Gill)
Surprising Science
Astronomers have wondered how a gas giant like Jupiter could sit in the middle of our solar system's planets.
Also unexplained has been the pair of asteroid clusters in front of and behind Jupiter in its orbit.
Putting the two questions together revealed the answer to both.
Big think's weekly newsletter.
Get smarter faster from the comfort of your inbox.
See our newsletter privacy policy
here
Most Popular
Most Recent
Big think's weekly newsletter.
Get smarter faster from the comfort of your inbox.
See our newsletter privacy policy
here
© Copyright 2007-2018 & BIG THINK, BIG THINK EDGE,
SMARTER FASTER trademarks owned by The Big Think, Inc. All rights reserved.