Electrical brain stimulation can reduce violent impulses by more than 50%
In a fascinating and somewhat unexpected result, mild electrical stimulation of the prefrontal cortex part of the brain can reduce violent urges and even raise moral awareness.
03 July, 2018
In potentially groundbreaking research, the Journal of Neuroscience published today the results of research at the University of Pennsylvania and the Nanyang Technological University (NTU) in Singapore showing a possible breakthrough in humans who are likely to violently assault others. It also improves what the researchers refer to as "moral awareness"—that is, the ability to decide if an act is morally reprehensible.
---
The methodology? In a double-blind experiment, they enlisted 86 healthy adults and performed 20 minutes of brain stimulation in the prefrontal cortex on half of them. Then, they asked the group to read two hypothetical scenarios: One involved a violent physical assault (one man smashed a bottle over another's head for hitting on his girlfriend), and the other, a sexual assault (an evening involving intimate foreplay that leads to date rape).
Immediately afterward, the participants were asked if they might behave as the protagonist did in the stories, on a rating scale.
In those who had the transcranial direct current stimulation, the likelihood of carrying out the physical and sexual assaults was 47% and 70% lower respectively than those who did not.
Transcranial direct current stimulation, or tDCS, is a 2 milliAmp current to the prefrontal cortex of the brain, which in this case lasted for 20 minutes.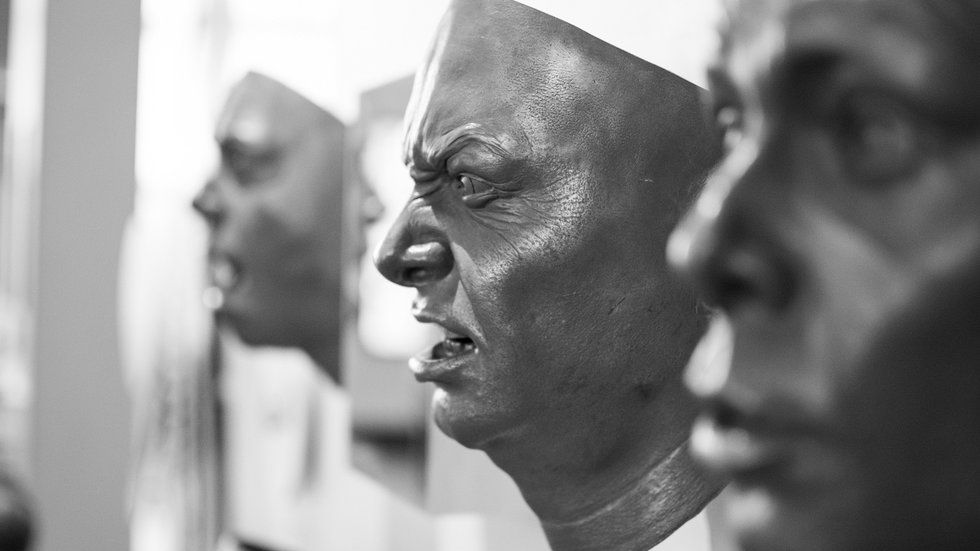 (Credit: Patrik Nygren via Flickr)
"When most people think of crime they think bad neighborhoods, poverty, discrimination, and those are all correct," said study co-author Adrian Raine of the University of Pennsylvania. "But we also believe that there's a biological contribution to crime which has been seriously neglected in the past. What this shows is that there could be a new, different approach to try and reduce crime and violence in society."
"Much of the focus in understanding causes of crime has been on social causation," said co-author Adrian Raine in a statement. "That's important, but research from brain imaging and genetics has also shown that half of the variance in violence can be chalked up to biological factors. We're trying to find benign biological interventions that society will accept, and transcranial direct-current stimulation is minimal risk. This isn't a frontal lobotomy."
It's also not the same—nor nearly as harsh—as electroconvulsive therapy, a.k.a. electroshock therapy. 
The study authors cautioned that these are early findings, and more research will be done and the results will have to be replicated. 
Still, this is very promising. 
Step inside the unlikely friendship of a former ACLU president and an ultra-conservative Supreme Court Justice.

Sponsored by Charles Koch Foundation
Former president of the ACLU Nadine Strossen and Supreme Court Justice Antonin Scalia were unlikely friends. They debated each other at events all over the world, and because of that developed a deep and rewarding friendship – despite their immense differences.
Scalia, a famous conservative, was invited to circles that were not his "home territory", such as the ACLU, to debate his views. Here, Strossen expresses her gratitude and respect for his commitment to the exchange of ideas.
"It's really sad that people seem to think that if you disagree with somebody on some issues you can't be mutually respectful, you can't enjoy each other's company, you can't learn from each other and grow in yourself," says Strossen.
The opinions expressed in this video do not necessarily reflect the views of the Charles Koch Foundation, which encourages the expression of diverse viewpoints within a culture of civil discourse and mutual respect.
French newspapers report that the trial hasn't lived up to expectations.
Image source: Charly Triballeau / AFP / Getty Images
Technology & Innovation
The French government initially invested in a rural solar roadway in 2016.
French newspapers report that the trial hasn't lived up to expectations.
Solar panel "paved" roadways are proving to be inefficient and too expensive.
Erik Verlinde has been compared to Einstein for completely rethinking the nature of gravity.
Photo by Willeke Duijvekam
Surprising Science
The Dutch physicist Erik Verlinde's hypothesis describes gravity as an "emergent" force not fundamental.
The scientist thinks his ideas describe the universe better than existing models, without resorting to "dark matter".
While some question his previous papers, Verlinde is reworking his ideas as a full-fledged theory.
Scientists make an important discovery for the future of computing.
Pixabay
Surprising Science
Researchers find a new state of matter called "topological superconductivity".
The state can lead to important advancements in quantum computing.
Utilizing special particles that emerge during this state can lead to error-free data storage and blazing calculation speed.