Electrical brain stimulation can reduce violent impulses by more than 50%
In a fascinating and somewhat unexpected result, mild electrical stimulation of the prefrontal cortex part of the brain can reduce violent urges and even raise moral awareness.
03 July, 2018
In potentially groundbreaking research, the Journal of Neuroscience published today the results of research at the University of Pennsylvania and the Nanyang Technological University (NTU) in Singapore showing a possible breakthrough in humans who are likely to violently assault others. It also improves what the researchers refer to as "moral awareness"—that is, the ability to decide if an act is morally reprehensible.
---
The methodology? In a double-blind experiment, they enlisted 86 healthy adults and performed 20 minutes of brain stimulation in the prefrontal cortex on half of them. Then, they asked the group to read two hypothetical scenarios: One involved a violent physical assault (one man smashed a bottle over another's head for hitting on his girlfriend), and the other, a sexual assault (an evening involving intimate foreplay that leads to date rape).
Immediately afterward, the participants were asked if they might behave as the protagonist did in the stories, on a rating scale.
In those who had the transcranial direct current stimulation, the likelihood of carrying out the physical and sexual assaults was 47% and 70% lower respectively than those who did not.
Transcranial direct current stimulation, or tDCS, is a 2 milliAmp current to the prefrontal cortex of the brain, which in this case lasted for 20 minutes.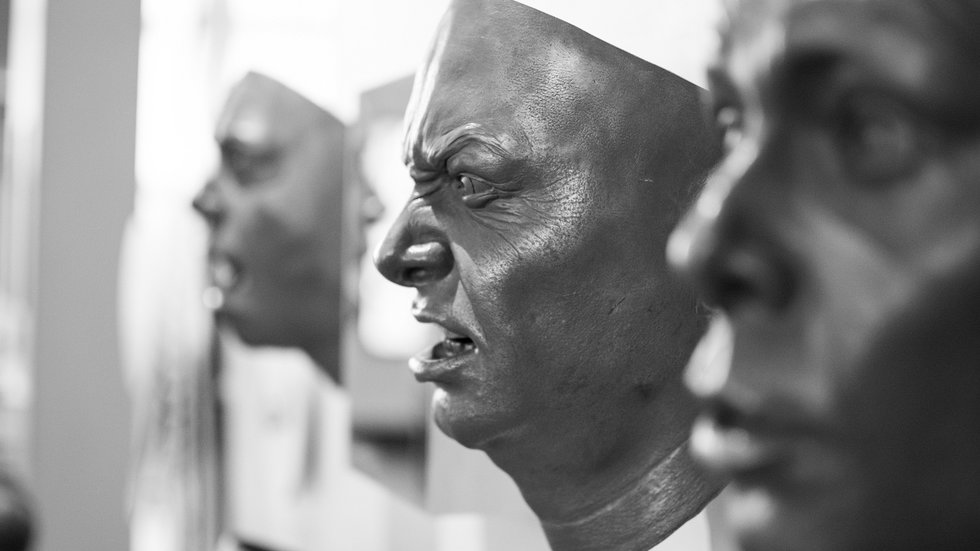 (Credit: Patrik Nygren via Flickr)
"When most people think of crime they think bad neighborhoods, poverty, discrimination, and those are all correct," said study co-author Adrian Raine of the University of Pennsylvania. "But we also believe that there's a biological contribution to crime which has been seriously neglected in the past. What this shows is that there could be a new, different approach to try and reduce crime and violence in society."
"Much of the focus in understanding causes of crime has been on social causation," said co-author Adrian Raine in a statement. "That's important, but research from brain imaging and genetics has also shown that half of the variance in violence can be chalked up to biological factors. We're trying to find benign biological interventions that society will accept, and transcranial direct-current stimulation is minimal risk. This isn't a frontal lobotomy."
It's also not the same—nor nearly as harsh—as electroconvulsive therapy, a.k.a. electroshock therapy. 
The study authors cautioned that these are early findings, and more research will be done and the results will have to be replicated. 
Still, this is very promising. 
Antimicrobial resistance is growing worldwide, rendering many "work horse" medicines ineffective. Without intervention, drug-resistant pathogens could lead to millions of deaths by 2050. Thankfully, companies like Pfizer are taking action.
Image courtesy of Pfizer.
Antimicrobial-resistant pathogens are one of the largest threats to global health today.
As we get older, our immune systems age, increasing our risk of life threatening infections. Without reliable antibiotics, life expectancy could decline for the first time in modern history.
If antibiotics become ineffective, common infections could result in hospitalization or even death. Life-saving interventions like cancer treatments and organ transplantation would become more difficult, more often resulting in death. Routine procedures would become hard to perform.
Without intervention, resistant pathogens could result in 10 million annual deaths by 2050.
By taking a multi-faceted approach—inclusive of adherence to good stewardship, surveillance and responsible manufacturing practices, as well as an emphasis on prevention and treatment—companies like Pfizer are fighting to help curb the spread.
Sponsored
No, the Syrian civil war is not over. But it might be soon. Time for a recap
Strange Maps
The War in Syria has dropped off the radar, but it's not over (yet)
This 1-minute video shows how the fronts have moved – and stabilised – over the past 22 months
Watching this video may leave you both better informed, and slightly queasy: does war need a generic rock soundtrack?
Sarco assisted suicide pods come in three different styles, and allow you to die quickly and painlessly. They're even quite beautiful to look at.
The Sarco assisted suicide pod
Technology & Innovation
Death: it happens to everyone (except, apparently, Keanu Reeves). But while the impoverished and lower-class people of the world die in the same ol' ways—cancer, heart disease, and so forth—the upper classes can choose hip and cool new ways to die. Now, there's an assisted-suicide pod so chic and so stylin' that peeps (young people still say peeps, right?) are calling it the "Tesla" of death... it's called... the Sarco! 
Entrepreneur and author Andrew Horn shares his rules for becoming an assured conversationalist.
content.jwplatform.com
Videos
To avoid basing action on external validation, you need to find your "authentic voice" and use it.
Finding your voice requires asking the right questions of yourself.
There are 3-5 questions that you would generally want to ask people you are talking to.
Big think's weekly newsletter.
Get smarter faster from the comfort of your inbox.
See our newsletter privacy policy
here
Most Popular
Most Recent
Big think's weekly newsletter.
Get smarter faster from the comfort of your inbox.
See our newsletter privacy policy
here
© Copyright 2007-2018 & BIG THINK, BIG THINK EDGE,
SMARTER FASTER trademarks owned by The Big Think, Inc. All rights reserved.